July is my least favorite month, work-wise.
First, it's a lot of sales, which I think are helpful to share but become daunting.
Second, it's a million degrees outside, but fall is arriving in stores, so the content feels disjointed.
And this week, with temperatures that make it feel like you're sitting on the sun, my enthusiasm for getting dressed is about as strong as my desire to turn on the oven: ZERO.
So let's talk about a simple formula to follow when the heat is blazing but you have to look but together.
Our key piece today is this linen, pull-on short from J.Crew, available in several neutral colors, in sizes XXS – 3X.
It's just the thing for heatwave dressing, with lots of pairing options from your current wardrobe.
Outfit Formula #25: The Linen Short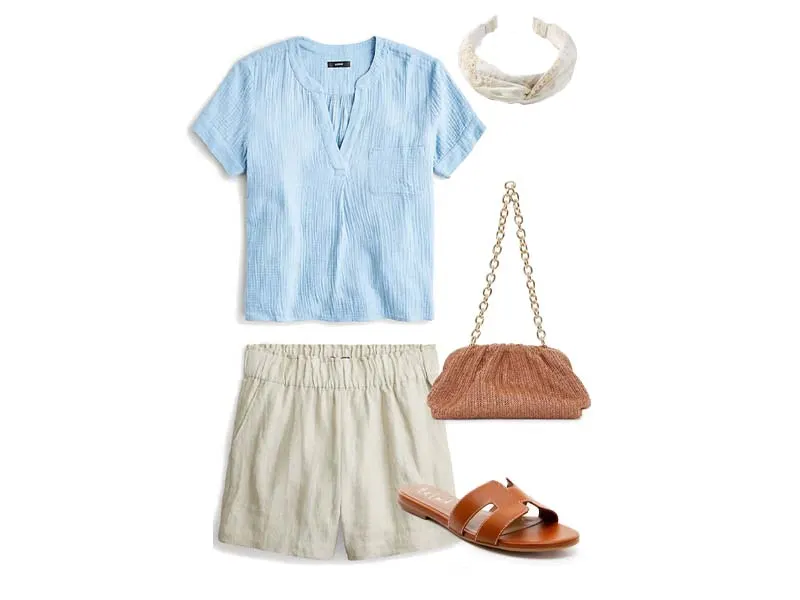 Pull-on linen shorts, $59.50 | Leather Sandals, $155 | Headband, $24 | Gauze popover shirt, $79.50 | Raffia clutch, $148
This is a simple formula with elevating elements.
Start with the linen short of your choice. You can use any style, from a drawstring to a traditional button and zipper.
We're using a pair of casual pull-on shorts.
It's the fabric we're focusing on, so we need to be thoughtful with the other materials we use.
I think there is no better option than the Gauze Pop Over, also by J.Crew. This reader favorite is an ideal top that keeps you cool but dresses up your look just enough. I call this a "better-than-a-tee-shirt-tee-shirt."
They added more color options, including this pretty light blue called hydrangea, with three colors on sale in sizes XXS – 3X.
The shirt's texture works well with the linen since they are the same weight and similar blend. It also adds some visual interest necessary to keep the outfit looking too flat, a challenge you run into when working with just a few pieces.
The big question: tuck or untuck the shirt?
It's really up to you. A little half tuck would be cute, but you can easily wear this out. Just be sure the bottom of the shirt covers the elastic of the waistband. Otherwise, it will be too long.
But the accessories take the outfit up a notch without needing a layer.
These tan "H" sandals from Tuckernuck are another big favorite of our community this summer. This sort of luggage tan is rich and elegant. You can find an almost identical option on Amazon here.
Then, a texture-heavy bag, with gold chain detail, a big trend for fall 😉.
The tan sandals and raffia bag combine to create a cohesive, purposeful look.
Finally, I added an optional headband. You don't need it, but if it fits your style, I like the extra hint of pattern and texture it creates.
I would also add a simple pair of gold hoops, like this best-selling pair from Amazon, and your everyday bracelets and rings.
52 Outfits in 2022!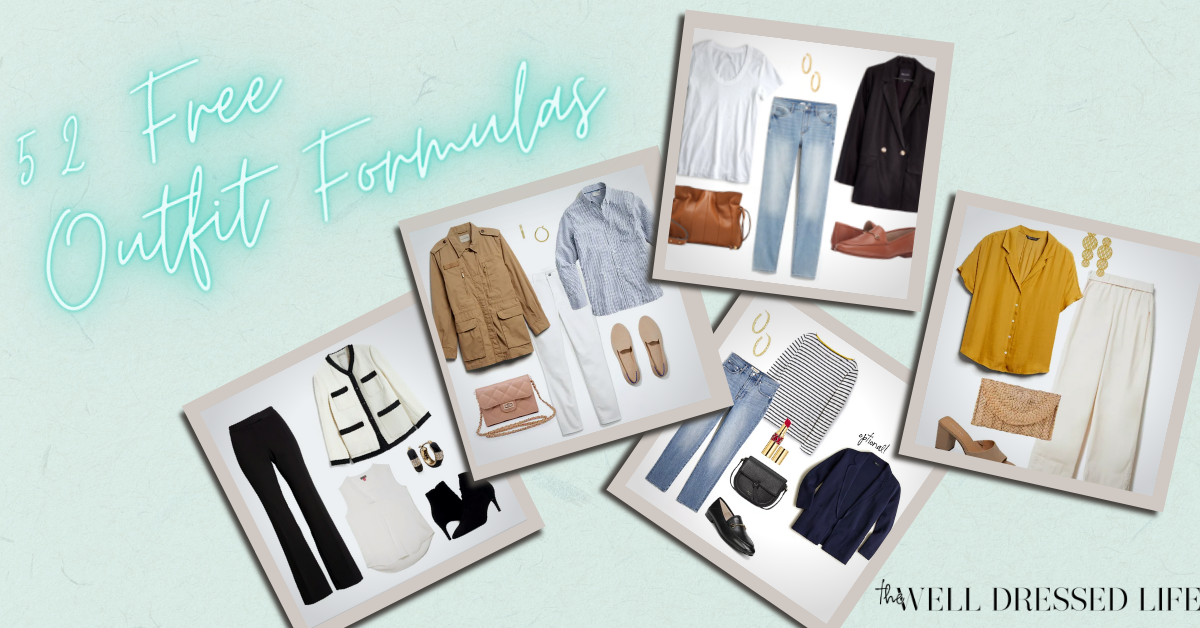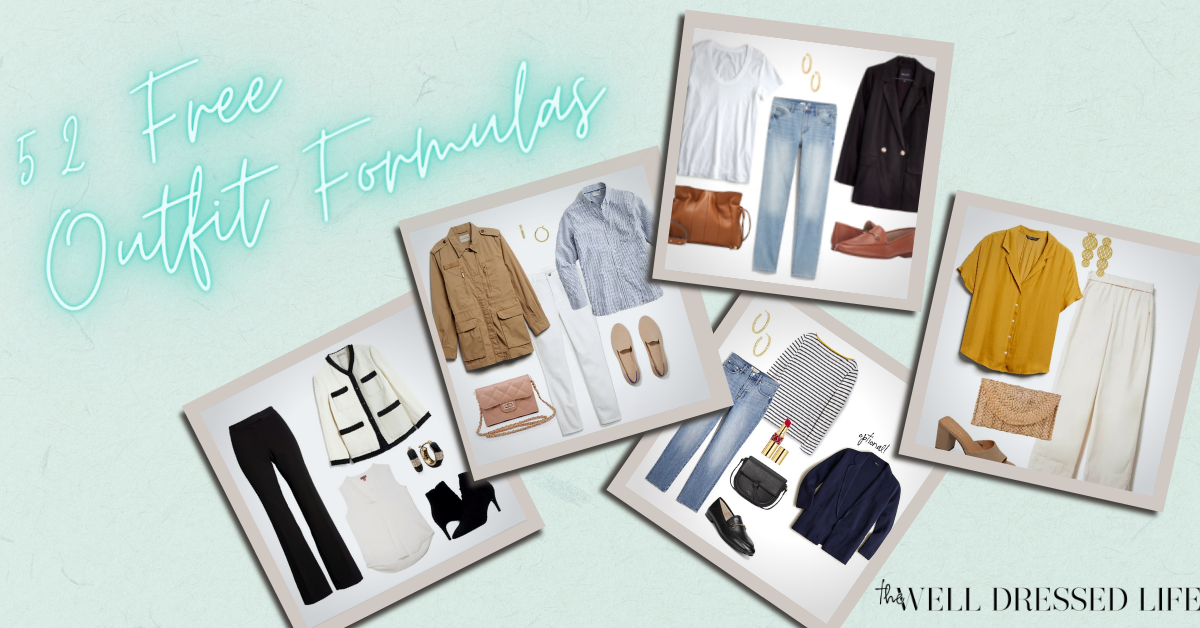 Follow Us on Instagram!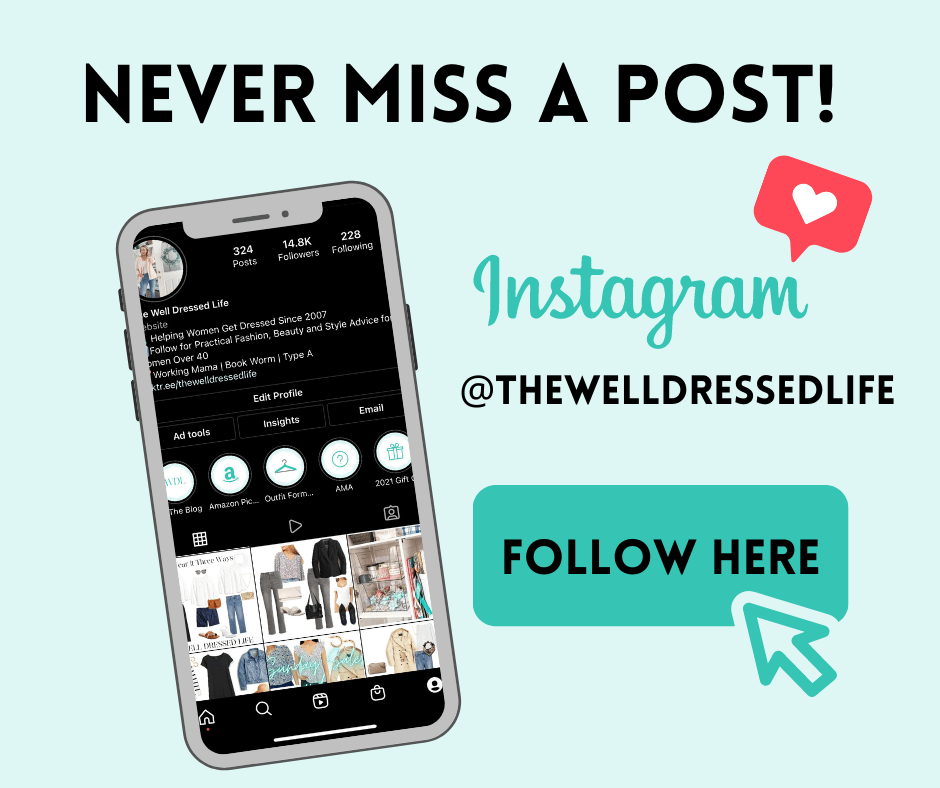 Our Style Content is Inspired by Our Readers
Our readership inspires all of our posts and is not sponsored or paid for by brands or retailers.
Recommendations are based on my experience as a personal stylist and wardrobe consultant for over a decade. I worked with busy, down-to-earth women who wanted to look chic and feel confident but were often confused by so much of retail.
Some links are affiliate links, which means if you purchase via our site, we receive a small commission.

If you enjoy our content and would like to help us grow, please follow on Instagram and join our Private Facebook Group to access more advice and exclusive in-depth conversations with other like-minded women.
Learn about our mission to help women look and feel their very best, every day, here.
Sign Up for Daily Content and Receive Our Free Classic Wardrobe Checklist