I may be writing this in a pair of shorts, with several weeks of summer left, but in the world of fashion, Fall has arrived.
So let's breakdown what's trending for the upcoming season.
Because understanding trends and the role they play in classic style is essential in creating an elevated personal style.
And, it's fun.
So first, let's talk about the difference between a fad and a trend.
The Difference Between a Fad and a Trend
A fad is "a style, activity, or interest that is very popular for a short period." While a trend is a "development or change in a situation or in the way that people are behaving."
I don't care about or focus on fads. They are a flash in the pan, holding little significance in the landscape of style.
For example, a fad right now would be cropped blazers. If you can pull them off and enjoy playing with fashion, they are fun, but they don't hold any longevity.
To me they are the modern day version of a shrug.
While a trend that shows longevity will change the landscape of style and significantly impact what retailers offer and how we dress.
Figuring out what is trending is one of my favorite parts of my job. It's a million times more fun than dealing with online trolls.
I love seeing a trend emerge and tracking it throughout a few seasons to see what sticks and what fades.
During Covid, fashion and retail were snoozefests. How many long cardigans does someone need?
It was a lot of the same.
But even then, trends emerged that turned into modern basics. Take the jogger pant, for example.
In 2019 the jogger was just a cute new style of pants. But after a few years of Americans staying close to home, it became the ideal choice for something between leggings and sweatpants.
Today, they are considered a wardrobe staple and are widely available from designers to discount brands in various fabrics from cotton to leather.
Why are Trends Important in Classic Style
Simply put, balancing a mix of trends in classic style keeps your look fresh and modern.
Understanding what is coming up in style will be a huge help when you edit your wardrobe, helping you see what you have in a new light.
Not only does it help you get rid of things, but it also will show you what to keep.
At a higher level, trends keep styles and fashions moving forward. Many eventually become classics in their own right.
Often, trends help delineate decades. For example, consider the difference in skirt silhouettes in the 40s vs. the 50s, the style of jeans in the 70s vs. the 80s, or the use of shoulder pads in the 80s vs. the 90s.
When we look back on the 2020s, I predict we'll see tonal dressing, lux textures, and casual elements define much of this decade's style narrative.
So to keep your style up to date, here are seven trends for Fall of 2022 that will elevate your outfits and have real staying power in your wardrobe.
7 Fall 2022 Style Trends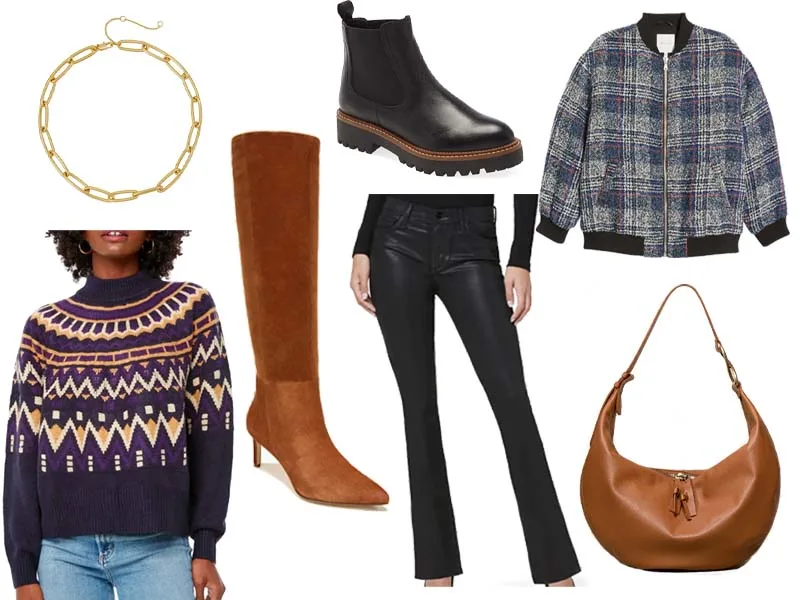 Bomber Jackets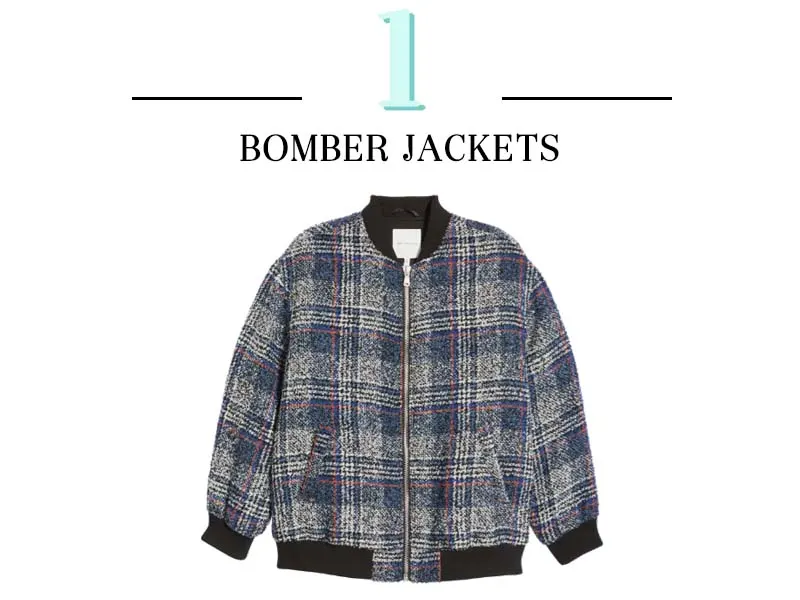 Plaid Tweed Bomber Jacket, $130
You are going to see bomber-style jackets across all categories starting in Fall of 2022, from athleisure to workwear.
The style comes off the heels of offices becoming more casual, where a blazer may feel too stuffy or, perhaps, you just want some variety.
And you'll see it in all kinds of fabrications, including leather (another huge trend), texture pattern (above) and outdoor options.
Featured: Plaid Tweed Bomber Jacket by AVEC LES FILLES Regular & Plus,
Nordstrom, Anniversary Sale Price: $130
Lug Boots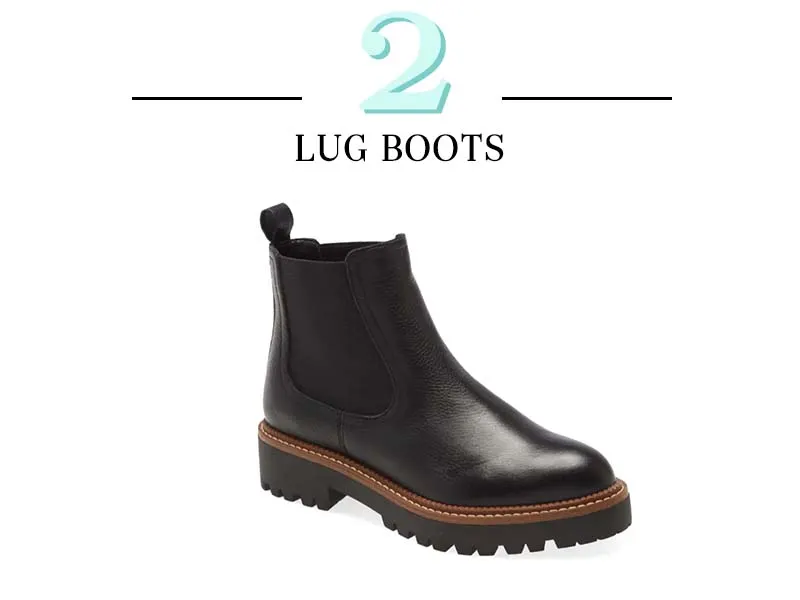 Water Resistant Chelsea Boot, $69.90
Lug Boots are an interesting trend.
We first noticed it when teens, including my older daughters, started wearing Doc Martins as they discovered 90s style for the first time. (Been there, done that, thank you.)
But then a cleaner, lighter version of them showed up in women's retail. You might remember the Tory Burch pair readers loved in last year's Nordstrom Sale.
This year, we're seeing even more streamlined versions of them at lower price points. Including our featured boot, now available in the Nordstrom Sale.
You can wear these with jeans, coated trousers, or with tights under skirts and dresses.
Featured: CASLON® Miller Water Resistant Chelsea Boot
Nordstrom Anniversary Sale Price: $69.90
Leather
Coated Bootcut Jeans, $178
Leather anything and everything will be everywhere.
Real leather, faux leather or coated fabric made to look like leather is where it's at. You'll see this especially in bottoms and accents on outerwear.
So don't get rid of your faux leather leggings anytime soon. You may want to add a pair of coated jeans to the mix too.
Many of you grabbed these fantastic KUT coated skinny jeans at the Nordstrom Sale (for $65) or picked up the Banana Republic coated jeans last year, so you are ready to go.
Above is a new option, in a boot cut for some variety of shape.
See here: How to Wear Black Coated Jeans Three Ways
Featured: JOE'S Provocateur Coated Bootcut Jeans
Shade of Brown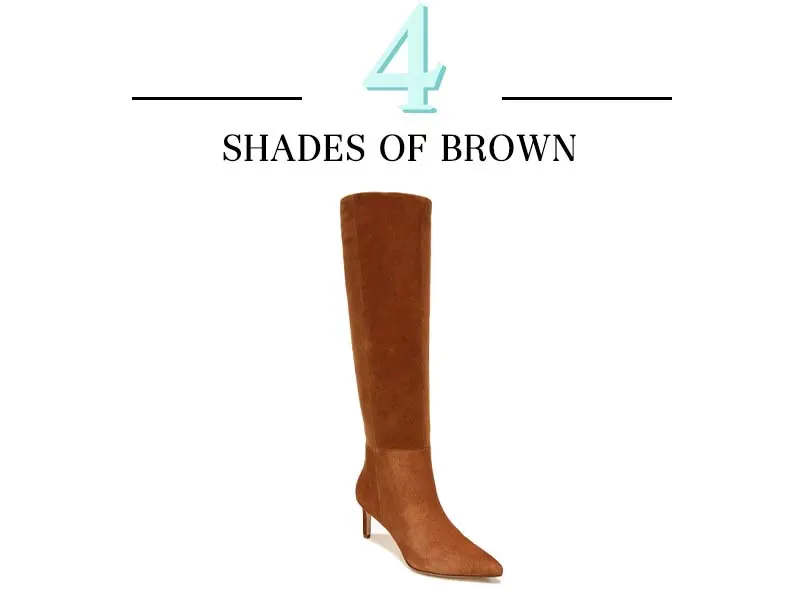 Knee High Boot, $430
Brown is the new black. In Fall 2022, brown in all shades and saturations will be at the forefront.
From rich chocolate to chestnut (above) and camel, you'll see it paired heavily with black, navy, winter white, and denim.
This is the trend I am most looking forward to working with, because it's a basic that feels fresh. And I know people will have a problem with mixing brown and black together, but it's so chic it hurts.
It's also the most versatile, allowing you to try small elements first.
For example, I picked up this adorable tiny bag from the Amazon Prime Days to start using now with a white button down and summer denim. Then carry it with a black turtleneck and pants and a camel overcoat.
Or you can splurge with our featured item the VERONICA BEARD Lavaca Knee High Boot.
I can't, they are so gorgeous. Also available in black, but you'll get amazing wear out of either color.
Nordic Knits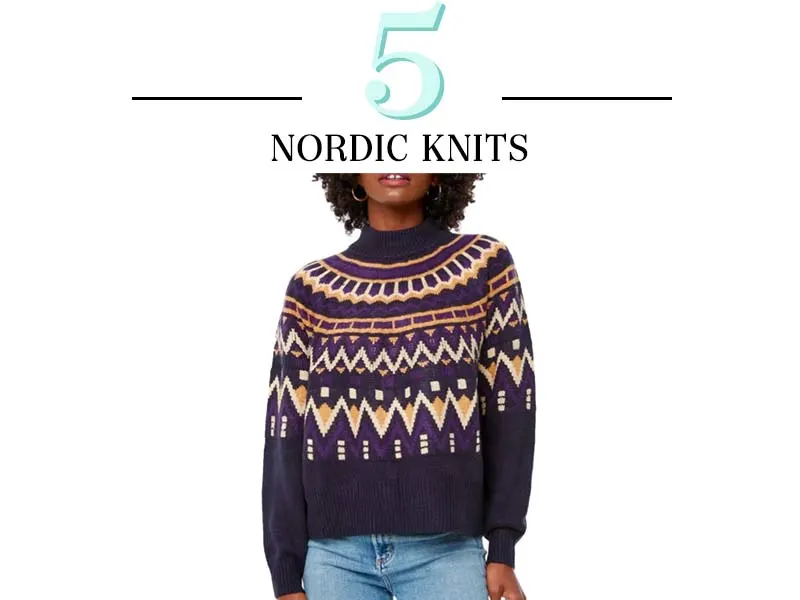 Fair Isle Sweater, $64
A very interesting trend I did not see coming is the importance of a Nordic and Fair Isle prints.
You've always been able to buy these at L.L. Bean as they've been a staple in cold weather dressing, but we're seeing them explode at the designer level. Like this Moncler one for a mere $875.
Which just means stores like LOFT, Express and even Amazon (who had them last year) will have even more options at more reasonable prices.
Featured: Fair Isle Fern Sweater at Tuckernuck, On Sale $64
Crescent Shaped Bags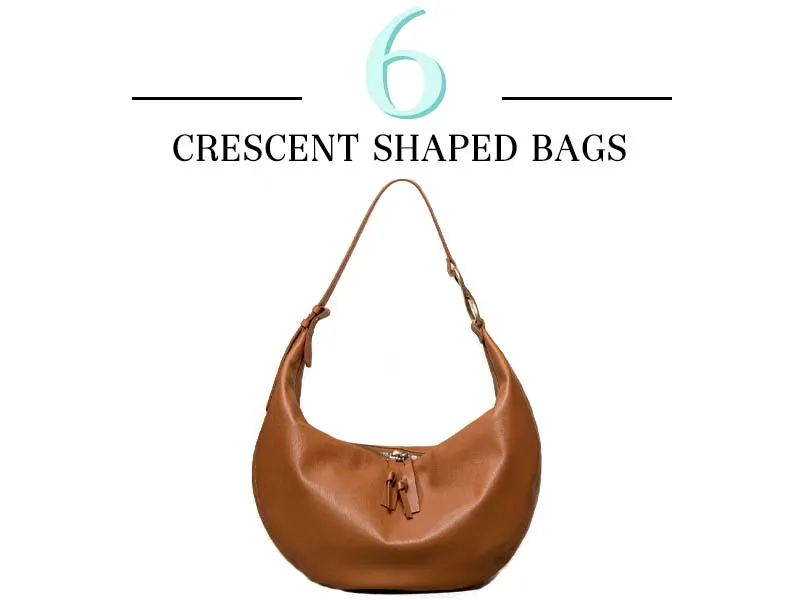 Oversized Crescent Bag, $378
Be on the lookout for versions of the crescent shape in shoulder style and small occasion bags.
Something like this M.Gemi bag, which is larger than it looks, will be popping up in department stores and Target come the Fall.
Chunky Chains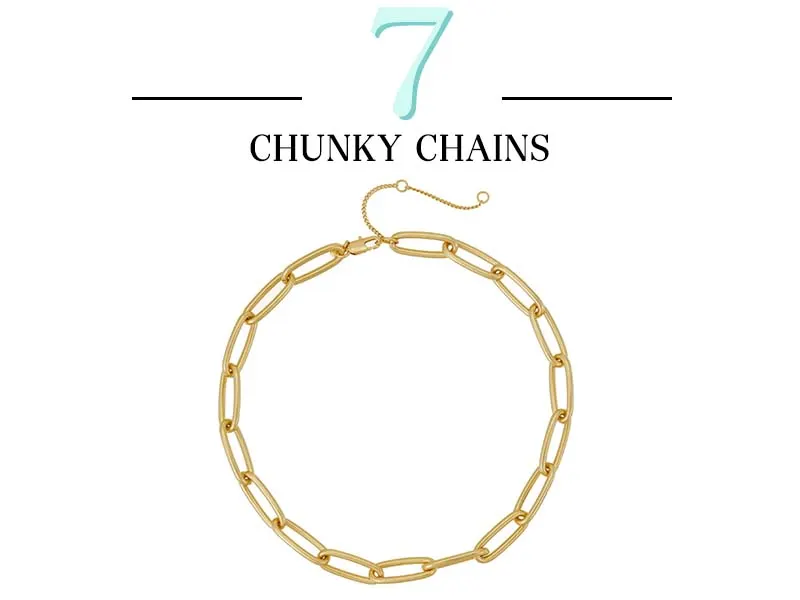 Madewell Chunky Chain Necklace, $33
We've seen chunky chain necklaces rise in popularity over the past several seasons, and they aren't going anywhere.
You can wear them alone, or learn the art of layering. Either way, they are a simple and affordable element to mix into your wardrobe.
But the trend doesn't stop there, we'll also see chains incorporated into handbags and belts throughout fall and winter.
Featured: Madewell Chunky Chain Necklace, $33
52 Outfits in 2022!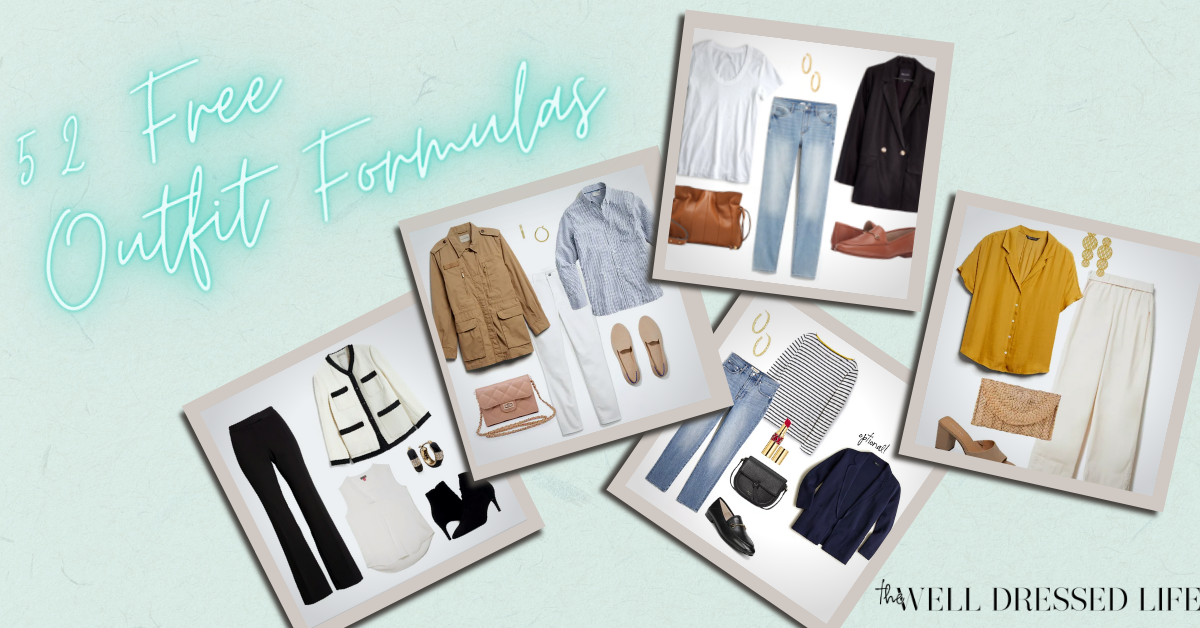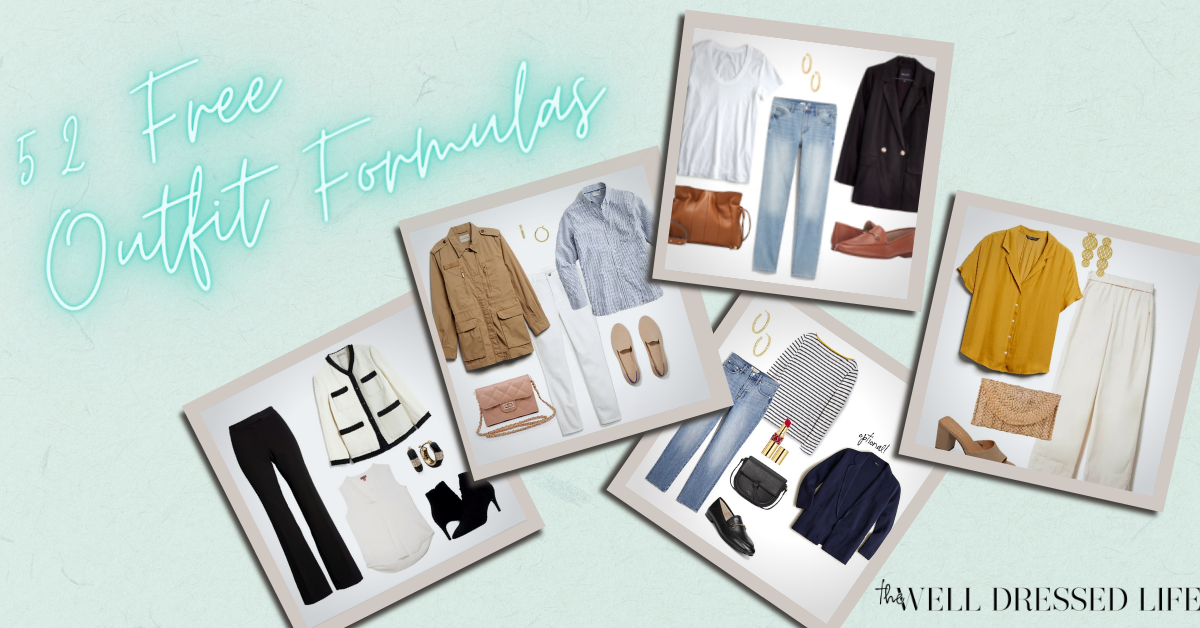 Follow Us on Instagram!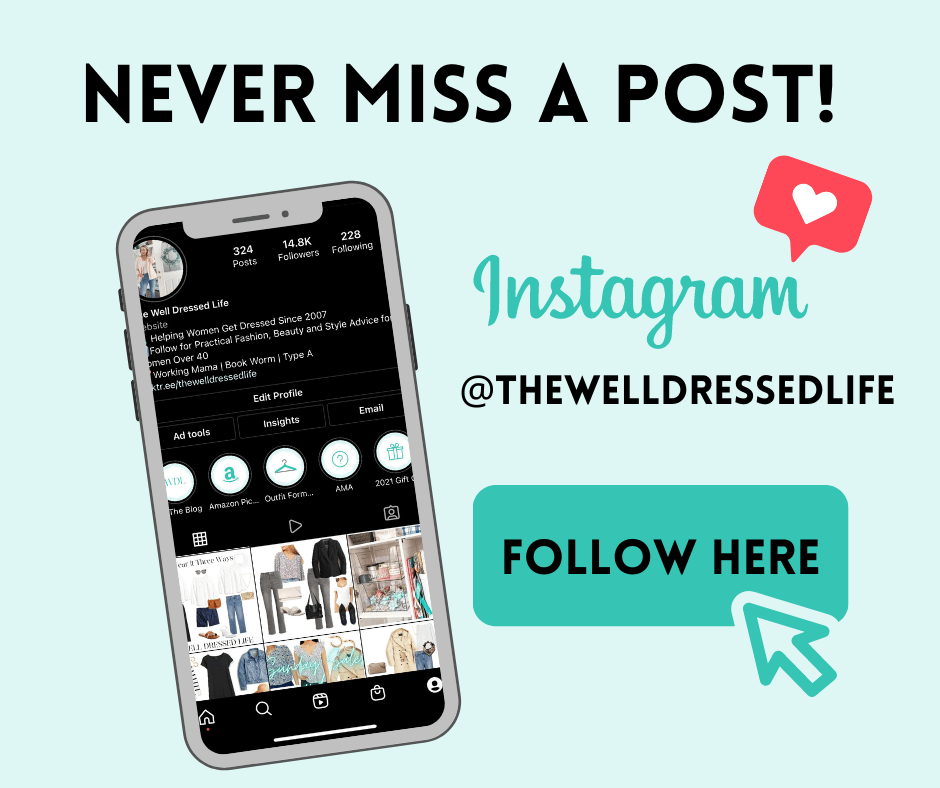 Our Style Content is Inspired by Our Readers
Our readership inspires all of our posts and is not sponsored or paid for by brands or retailers.
Recommendations are based on my experience as a personal stylist and wardrobe consultant for over a decade. I worked with busy, down-to-earth women who wanted to look chic and feel confident but were often confused by so much of retail.
Some links are affiliate links, which means if you purchase via our site, we receive a small commission.

If you enjoy our content and would like to help us grow, please follow on Instagram and join our Private Facebook Group to access more advice and exclusive in-depth conversations with other like-minded women.
Learn about our mission to help women look and feel their very best, every day, here.
Sign Up for Daily Content and Receive Our Free Classic Wardrobe Checklist