If you're considering a new pair of white sneakers to add to your wardrobe, we rounded up our 8 favorites.
You can wear classic white sneakers with everything, from jeans and shorts, to dresses and skirt.
White sneakers paired with flowly dresses and suites were showing up as a street-style trend before the pandemic.
Now that we're on the other side of it and back to normal life, they are a staple of our new, more casual culture.
And you can spend an outrageous amount if you want to, but there is absolutely no reason for a sneakers to cost $500.
Prices that are outrageous for the sake of being outrageous irks me.
And I've spent a ridiculous amount on shoes before, but it certainly wasn't for sneakers.
In many cases, after you hit a certain price point threshold, the item is expensive purely for vanity sake.
Most of the sneakers below are well under $100, and two are a little more at around $130.
8 Great Classic White Sneakers for Women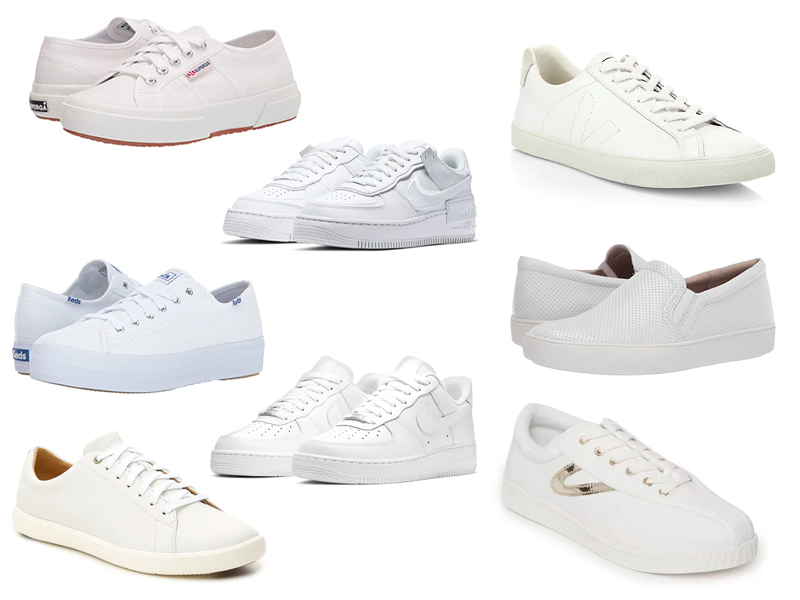 Tips for Wearing White Sneakers:
Consider these "dress" sneakers. Don't take them to the gym, and do not try to wear your gym sneakers in their place. They are two different things.
You want them to be all white. We want these to look fresh and crisp.
Look for a slim and low profile. Avoid anything too clunky or heavy. Instead, you want these to feel light, so look for silhouette that skims your ankle.
Have fun with them! Pair them with printed skirts and silky dresses; you can wear them with jeans, a tee, and a blazer, and depending on your style, you can even wear them with a suit.
Below are our top eight sneakers, in a variety of styles and price points. They are all great, it's just a matter of which one you like best.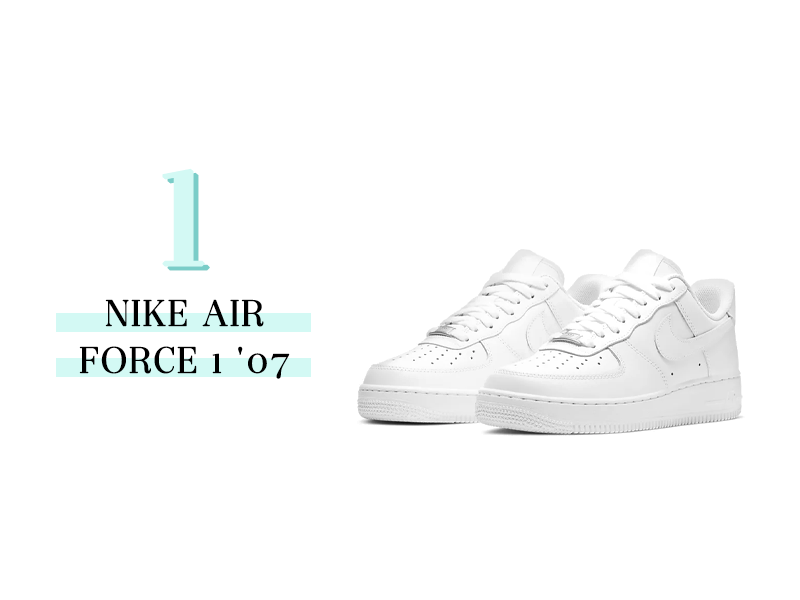 Nike Air Force 1, $100
I wouldn't be a fashion writer if I didn't talk about Nike Air Force 1's, the original style that set off the street style trend that eventually influenced modern style.
These are heavy, with a high top style … everything I just told you to avoid.;)
I'm highlighting these because (1) if you want the real "fashion" option, these are it. And most importantly, (2) so you can be inspired by the original and make it work more practically with other options.
Like with these next pair of sneakers, also by Nike:
Nike Air Force 1 Shadow Sneaker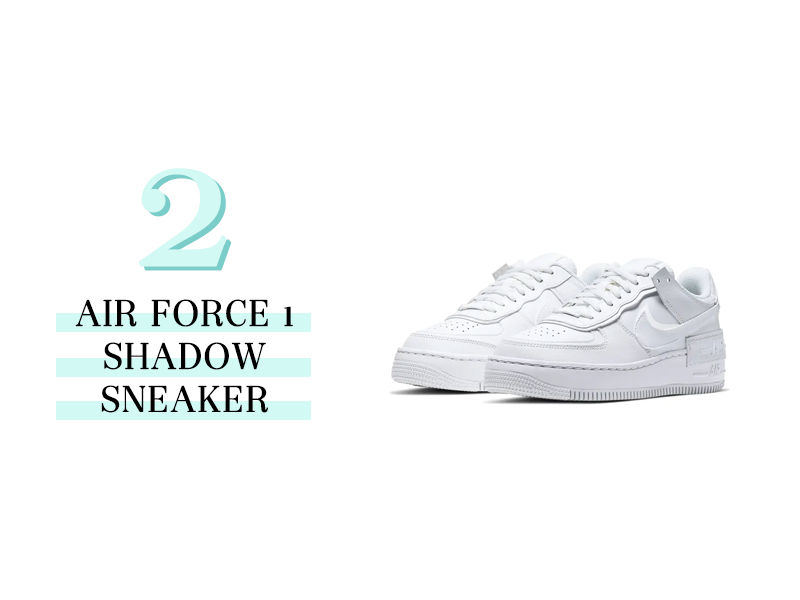 Nike Air Force 1 Shadow, $120
We featured the Nike Air Force 1 Shadow in our most recent Outfit Formula.
These have a lower profile so they are easier to wear with different bottoms. I love the extra details on the shoe, especially in the all white as they have dimension but aren't in your face.
Very comfortable, sporty, and on trend.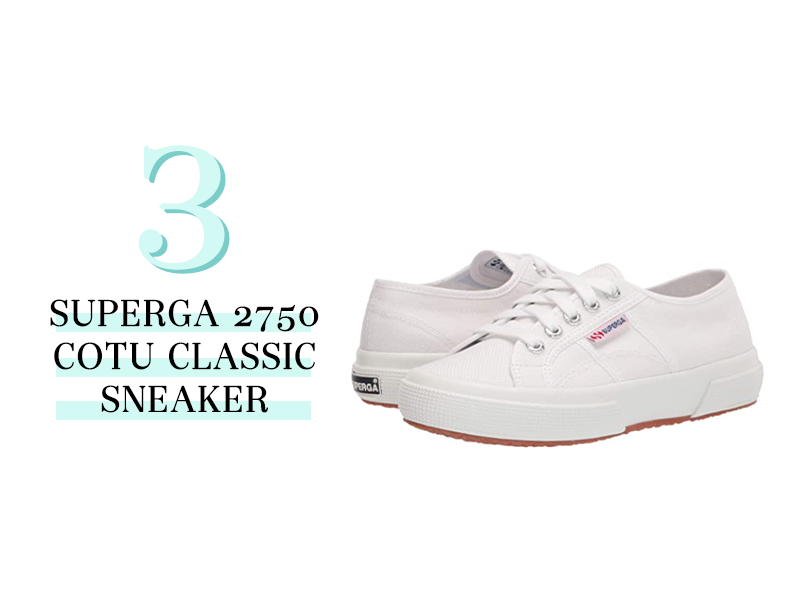 Superga 2750 Cotu Classic Sneaker, $50
Catherine, Duchess of Cambridge, known for her stunning wardrobe mix of couture and high-street brands, frequently wears Superga's
Royals, they're just like us!.
And because the Duchess and I are practically twins, we both like to wear them with skinny jeans and a striped boatneck top.
They are a cute, comfortable and affordable everyday sneaker.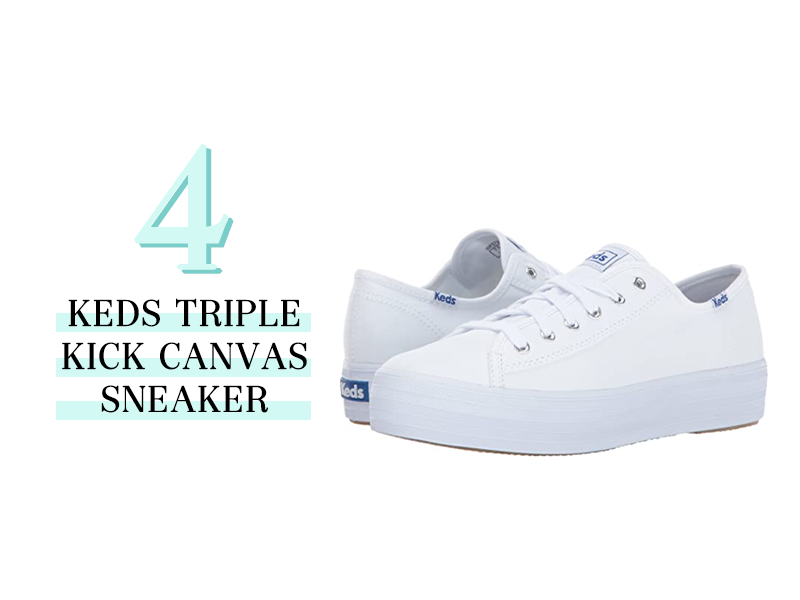 Keds Triple Kick Canvas Sneaker, $60
Next up, Keds, one of the original white "outfit" sneakers.
Because these are very casual, I wouldn't wear them with dresses or anything you're trying to dress down. However with shorts, jeans, etc, they are great.
They are easy to wear, casual and affordable.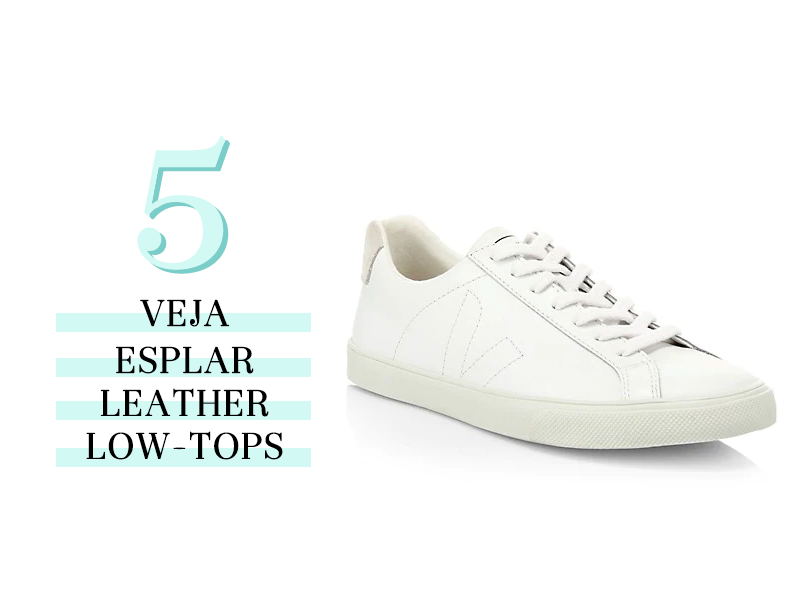 Veja Women's Esplar Leather Low-Top Sneakers, $130
I absolutely love Veja sneakers. They're like the designer version of Keds.
They are chic, slim, light and go with everything.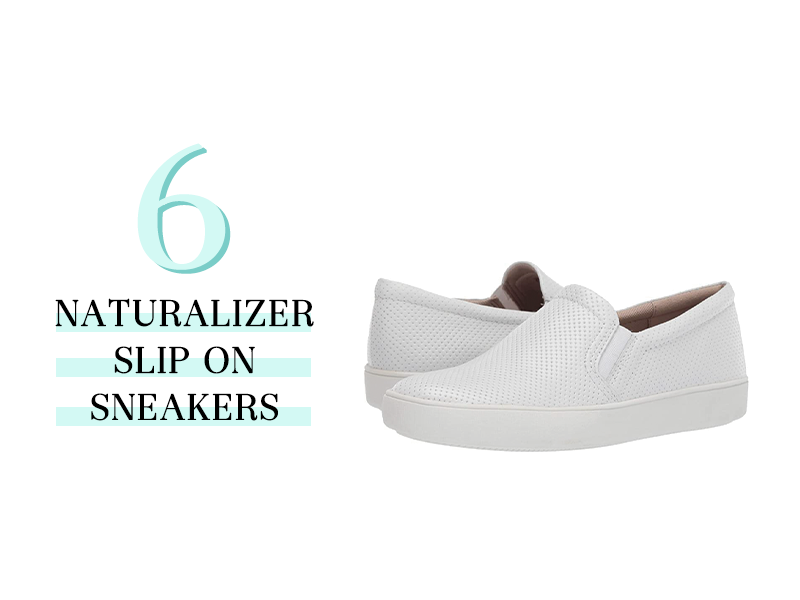 Naturalizer Slip-On Sneakers, $63
Looking for a slip-on option?
Naturalizer makes a lovely, simple slip-on sneaker, great for long days on your feet, travel, etc.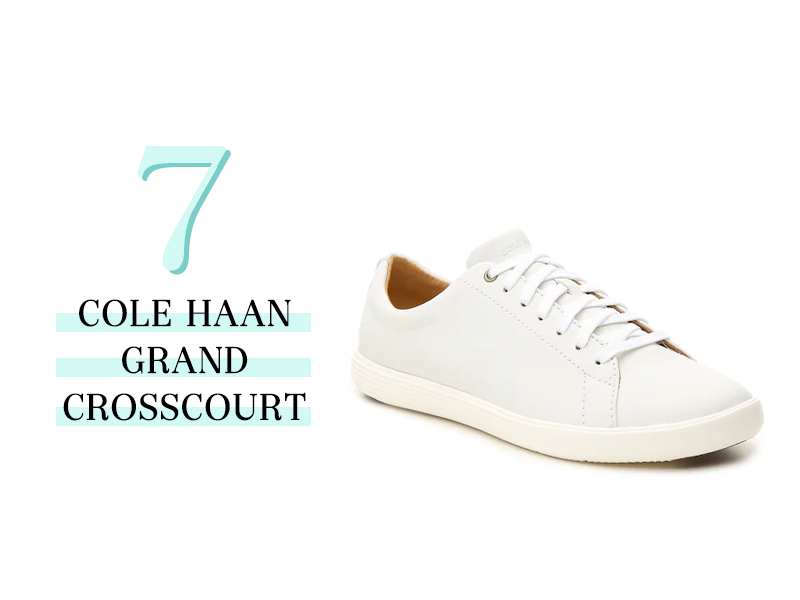 Cole Haan Grand Crosscourt, $65
These Cole Haan leather tennis sneakers are one of my personal favorites.
They are the perfect white sneaker for the season: comfortable, polished, slim and at a fantastic price for the quality.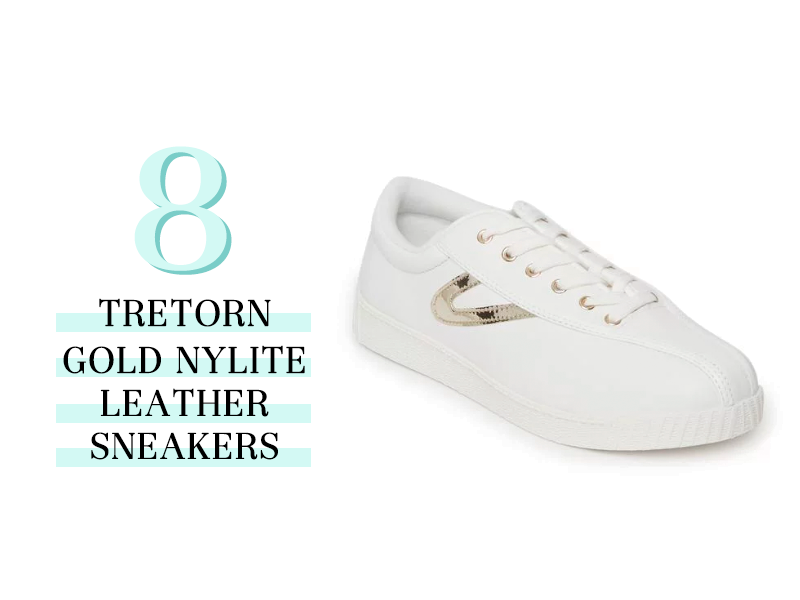 Tretorn Gold Nylite Leather Sneakers, $85
Tretorn sneakers are super polished and versatile.
Our featured sneaker has a gold accent, which is fun if you wear a lot of gold.
But if you want an all white version, you can get it here.