You can wear classic white sneakers with everything, from joggers to satin skirts. It was a street-style trend well before the pandemic, and now that we're merging back into normal life, it's become a staple of our new, more casual culture.
Recently a popular LA-based blog I follow did a round-up of classic white sneakers for women, and their recommendations were bananas. Of the six options they featured, not one was under$200, and the most expensive was over $500.
Like I said, bananas.
Prices that are outrageous for the sake of being outrageous bothers me. And I've spent a ridiculous amount on shoes before, but it certainly wasn't for sneakers.
In many cases, after you hit a certain threshold of price point, the item is expensive purely for vanity.
So I decided to create my own list of white sneakers that I love for those of us with a more modest budget.
Tips for Wearing White Sneakers:
Consider these "dress" sneakers. Please do not take them to the gym, and do not try to wear your gym sneakers in their place.
You want them to be all white. Avoid bright logos and accents. We want these to look fresh and crisp.
Pair them with any bottom except bootcut jeans or pants. Bootcuts look best with a heel. They need a heel to help elongate your leg. If you wear bootcut jeans with a sneaker or flat of any kind, you'll look frumpy and dated.
You want a slim and low profile. Avoid anything too clunky or heavy. You want these to feel light, so look for a thin sole and a silhouette that skims under your ankle.
Have fun with them! Pair them with printed skirts and silky dresses; you can wear them with jeans, a tee, and a blazer, and depending on your style, you can even wear them with a suit.
Classic White Sneakers for Women
I originally set our budget to $150 but I didn't need to go that high. With the exception of one pair below (Clarks for $130) all of these chic options are under$70.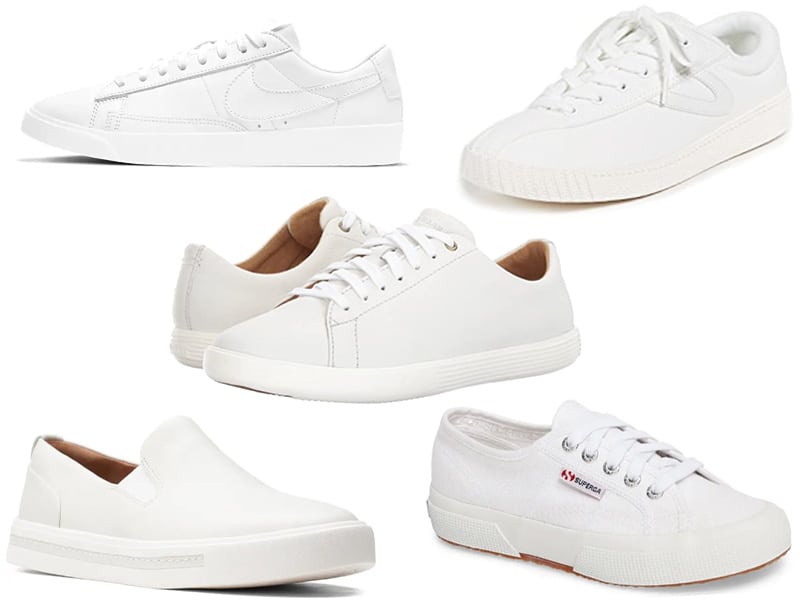 Classic: Cole Haan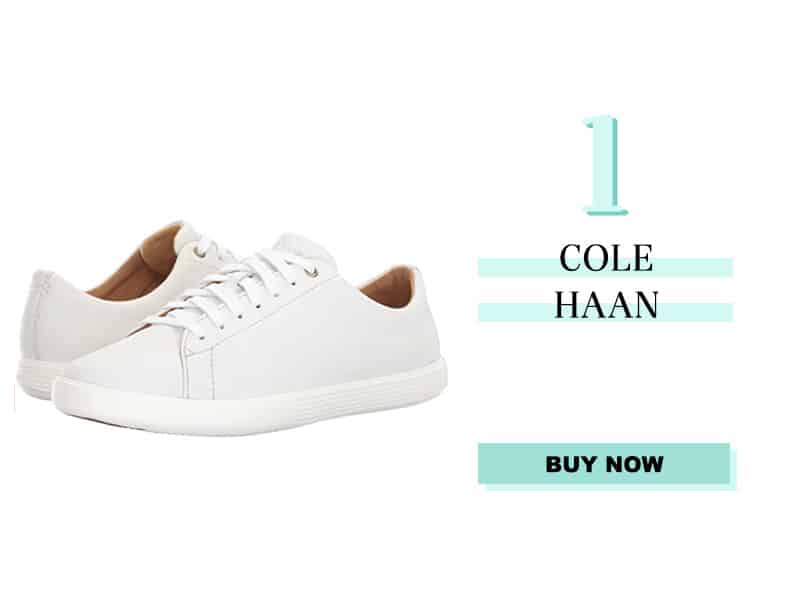 Cole Haan, $80
These Cole Haan tennis sneakers are my personal favorite. I wear them all the time. They are the perfect white sneaker for the season: comfortable, polished, slim and at a fantastic price for the quality.
Trendy: Tretorn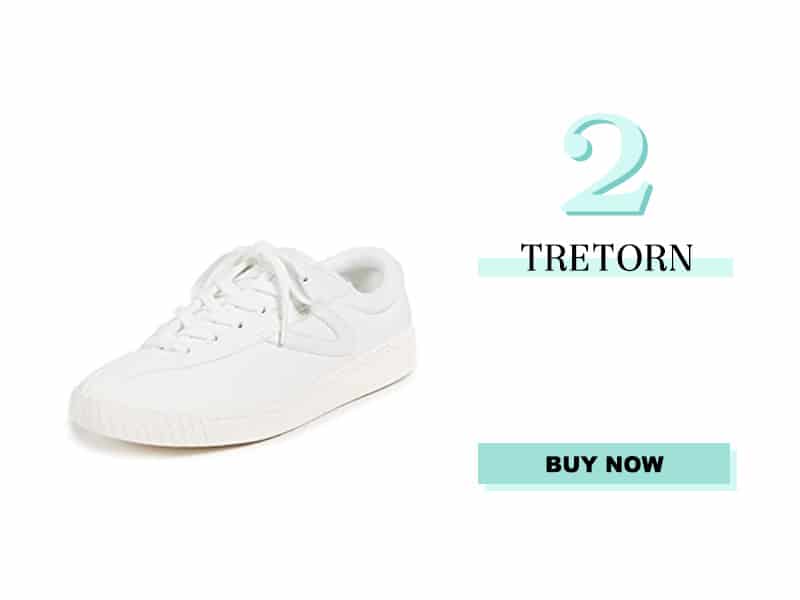 Tretorn, $52 – $75(depending on retailer)
Tretorn sneakers are super polished and will go with anything. These are especially nice with jeans and a blazer. The contrast between the formal feeling blazer and the athletic inspired sneakers looks so cool. They get rave reviews for comfort and style, so much so that retailers like Nordstrom, Bloomingdales and Neiman's can't keep them in stock.
Shopbop currently has a selection of small sizes (4.5 – 6.5) here.
Zappos has a slightly better inventory.
Sporty: Nike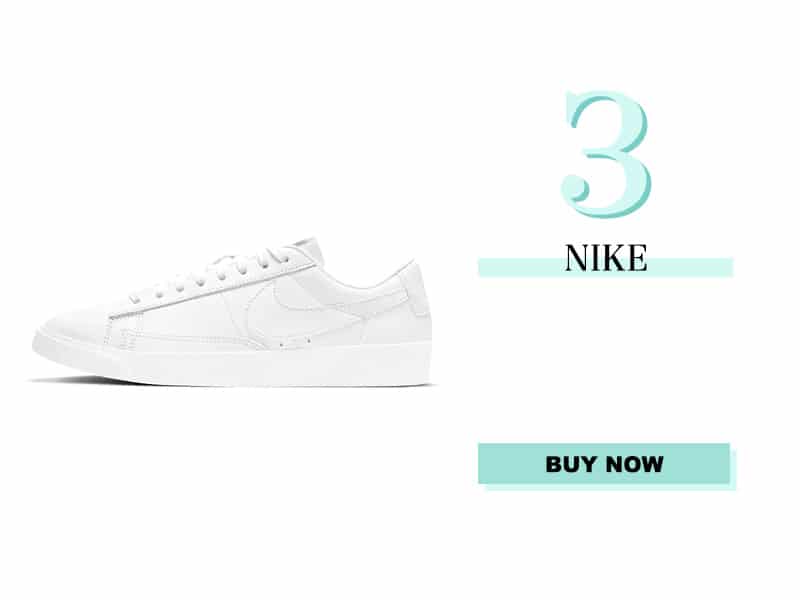 Nike, $47
For a classic, sporty style for under$50 Nike makes a leather sneaker that will work with leggings, ankle length jeans or casual dresses. They are ideal for weekends, or busy casual days. On sale at Nike for under $50 in all sizes.
Comfort: Clarks

Clarks, $130
The most expensive sneaker on the list is this slip on style from Clarks. If you are looking for the kind of comfort you can spend the day walking in, these are it.
Timeless: Superga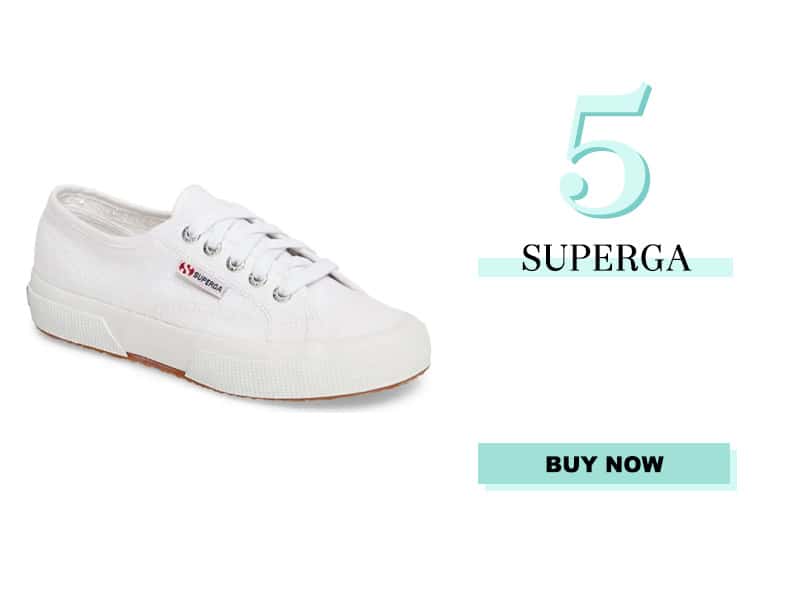 Superga, $65
Kate Middleton, known for a stunning wardrobe of couture and high-street brands, made Superga's famous. They are cute, comfortable, and under $70. (Royals, they're just like us!) And because the Duchess and I are practically twins, we both like to wear them with skinny jeans and a striped boatneck top. They're just a great everyday sneaker.
Our Style Content is Inspired by Our Readers
Our readership inspires all of our posts and is not sponsored or paid for by brands or retailers.
Recommendations are based on my experience as a personal stylist and wardrobe consultant for over a decade. I worked with busy, down-to-earth women who wanted to look chic and feel confident but were often confused by so much of retail.
Some links are affiliate links, which means if you purchase via our site, we receive a small commission.

If you enjoy our content and would like to help us grow, please follow on Instagram and join our Private Facebook Group to access more advice and exclusive in-depth conversations with other like-minded women.
Learn about our mission to help women look and feel their very best, every day, here.
Sign Up for Daily Content and Receive Our Free Classic Wardrobe Checklist