A few weeks back we featured these gray jeans in a Weekend Inspiration post. Since then, we've received dozens of request for more ideas to get as much wear out of them as possible. So today we are showing you how to wear gray jeans three different ways.
How to Wear Gray Jeans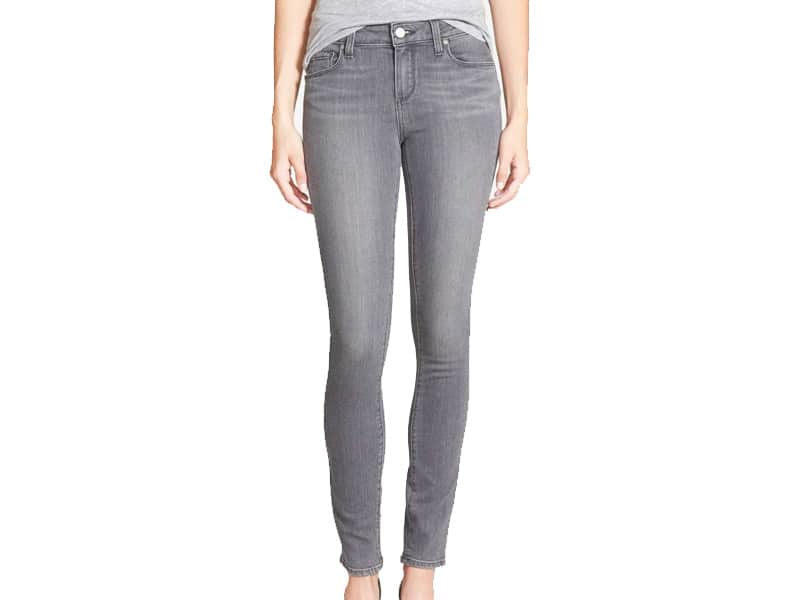 Jeans, $189
I'm not going to lie, this is one of my most favorite posts. Everything came together just right. We wanted to show not only three options, but three totally different looks. Many readers bought these Paige jeans last month, and just as many picked up these Old Navy Rockstar jeans. We always try to provide as many price options as possible in a variety of sizes.
Let's start with the prettiest causal outfit ever:
How to Wear Gray Jeans: Casual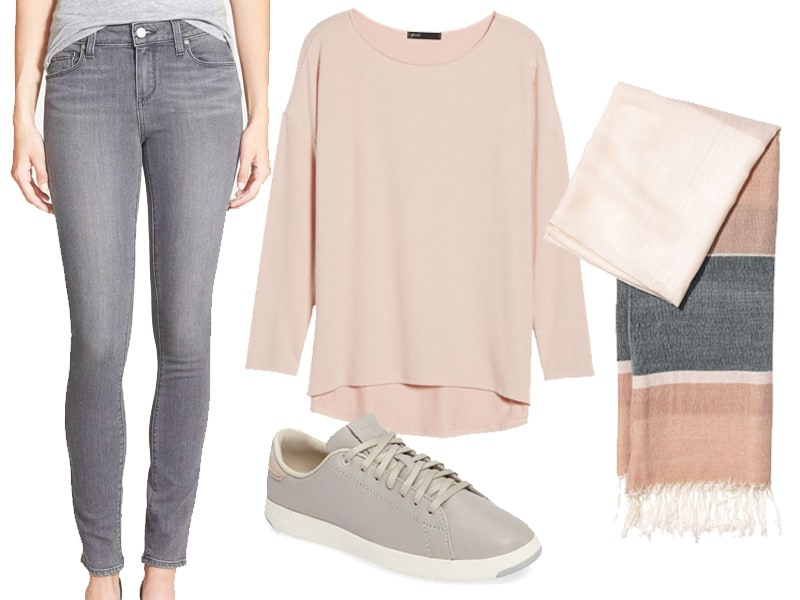 Outfit 1: Top, $49 | Sneaker, $130 | Scarf, $13
I'm in love with this mix of soft neutrals. Remember casual doesn't ever have to been sloppy, in fact, it can be super chic. Just like we did last month, I paired pink with gray. It's a classic combination that looks so fresh. I like this simple fleece Gibson top. It's under $50 and comes in four wearable colors and an array of sizes including petite.
Can we talk about these sneakers? Because the are heavenly. Cole Haan makes such a good shoe. These, in a soft dove gray buttery leather, are the chicest sneakers I've ever seen. They are not inexpensive, but might be worth the spend if you are in the market for a weekend sneaker that makes no effort to look like a sneaker you would wear to the gym.
Finally, this scarf is exactly what I was looking for. It's equally soft and muted, and adds just the right layer without bulk.
How to Wear Gray Jeans: Date Night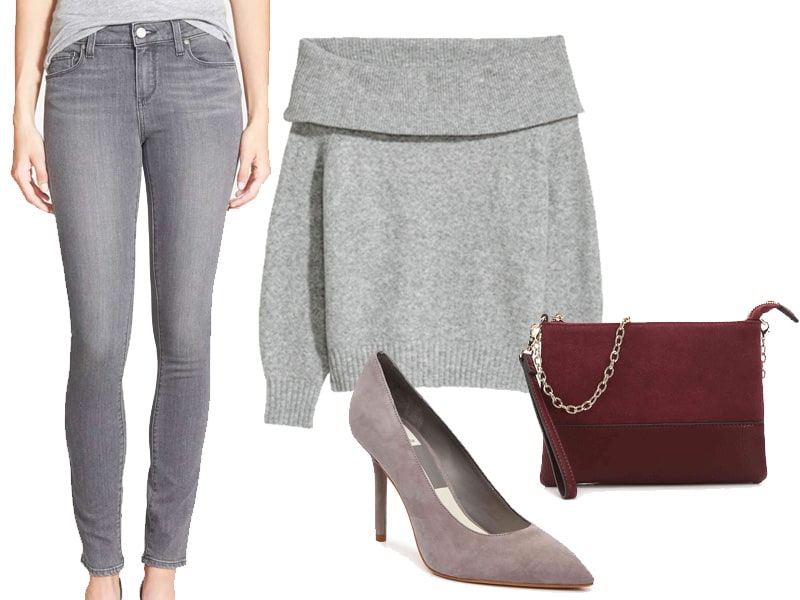 Outfit 2: Sweater, $30 | Heel, $70 | Bag, $35
Hello, date night. One of the easiest ways to wear gray is in a monochromatic outfit. To pull off all one color, you need to work in shades of that color. If you wore the exact same tone and saturation of one color your outfit would be flat. Instead, look for varring tones. This will give your look depth and interest. Here, we did just that.
I don't think I want to spend more than $30 on an off the shoulder sweater. I'm wearing it a few times, and then I'm done, so this one from H&M is just what I want. For the shoe, I went with these simple suede heels. They are higher than what I would wear all day, but for a few hours I could manage. Dolce Vita makes a decent heel, especially when they are on sale
For the bag, I found this gorgeous burgundy suede crossbody that can easily be carried as a clutch. It's $35 at DSW, a steal if you consider wearing burgundy is the equivalent of a neutral. To pull the look together with a burgundy lipstick.
How to Wear Gray Jeans: Brunch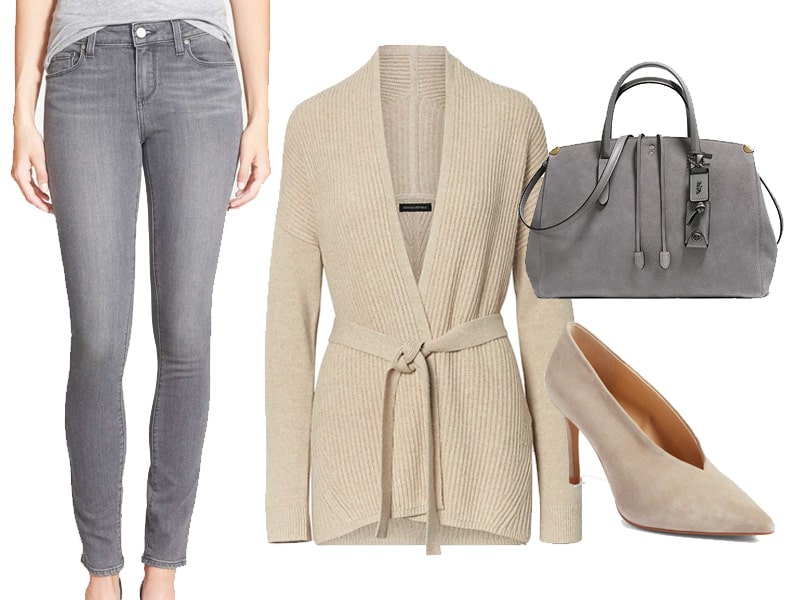 Outfit 3: Sweater, $102 | Heel, $120 | Bag, $595
Finally, an everyday outfit. You can wear this to a casual work meeting, or brunch with friends. I like to combination of beige and gray, it's wonderfully sophisticated. We featured a similar sweater last year in gray from Banana Republic, and readers went crazy for it. This version is available in black, gray and beige. You'll leave the cardigan on, so layer a simple shell underneath. Old Navy makes a fantastic and crazy affordable tank.
The shoes are a bit of a trend. They have a V-shaped topline, so they almost look like a hybrid of a pump and a bootie. The bag is a total splurge, I know. I like its look and line. Even though Coach jumped the shark for a few years ago and sold out by covering every single product it made with a hideous logo (I have no strong opinions) when they actually make a traditional handbag, it's gorgeous.
Shop this Post