In our most recent Sunday Sales post I highlighted these gray jeans from Wit & Wisdom, on sale at Nordstrom for only $46. Sizes are still available from 00 – 16. I find they run true to size.
Our readers LOVE Wit & Wisdom, they are a top selling brand.
So today, I'm showing you how to wear gray jeans this season, and using them as our key piece.
How to Wear Gray Jeans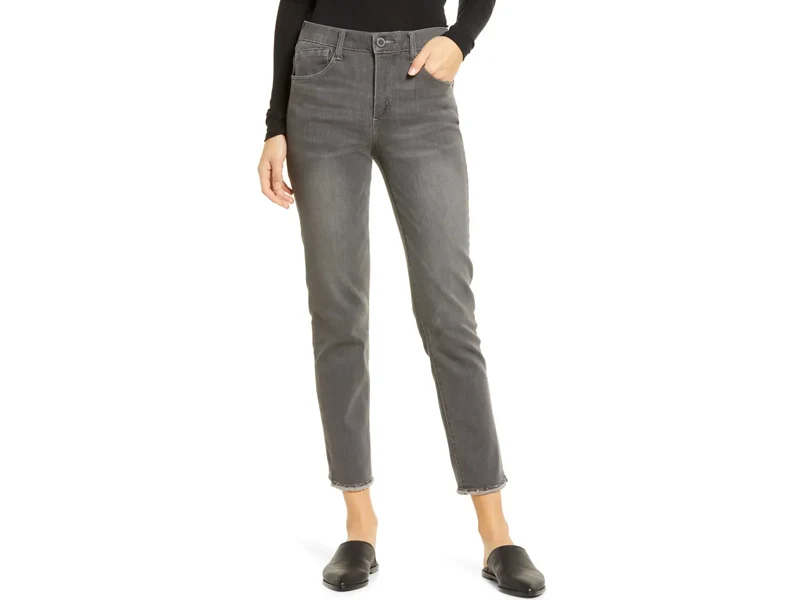 Gray Jeans, $47
Wit & Wisdom makes a solid jean at a nice price point even at full price, which is always under $100. They have great stretch, wash well, and hold their shape.
So if you are looking for any kind of jean, put them, as a brand, on your list to consider.
Talking specifically about these gray jeans, a few things to call out. First, the fray hem is a cute detail that keeps the piece casual.
You want these to hit you at our around your ankle, similar to how they look on the model. Any shorter and you'll start to look like you're wearing floods.
I created two different looks with these, but want to note before we break down outfits that these also a great option if you want throw on a sweatshirt and sneakers.
You could also wear your striped Breton with casual loafers.
You have lots of options.
How to Wear Gray Jeans this Spring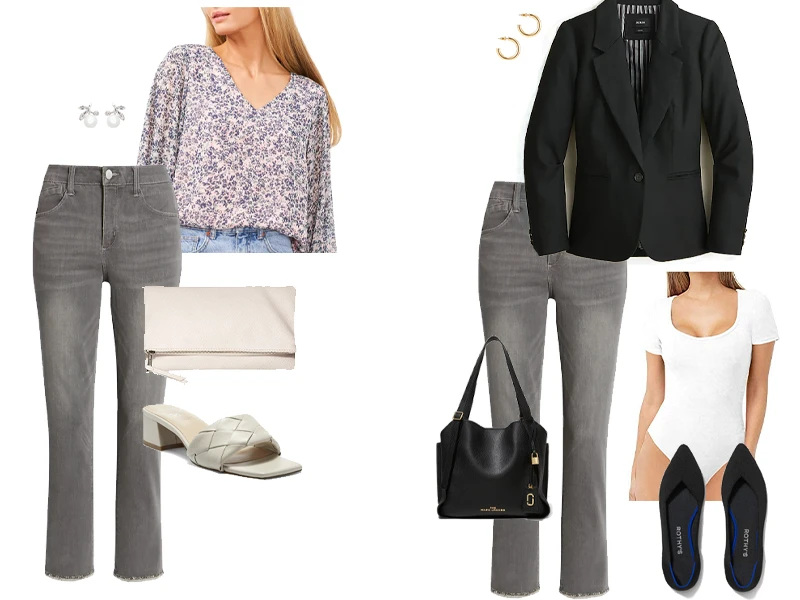 Today, I wanted to talk specifically about prints in the first look and the body suit in the second.
I know, I know, a bodysuit? Stay with me.
Casual Feminine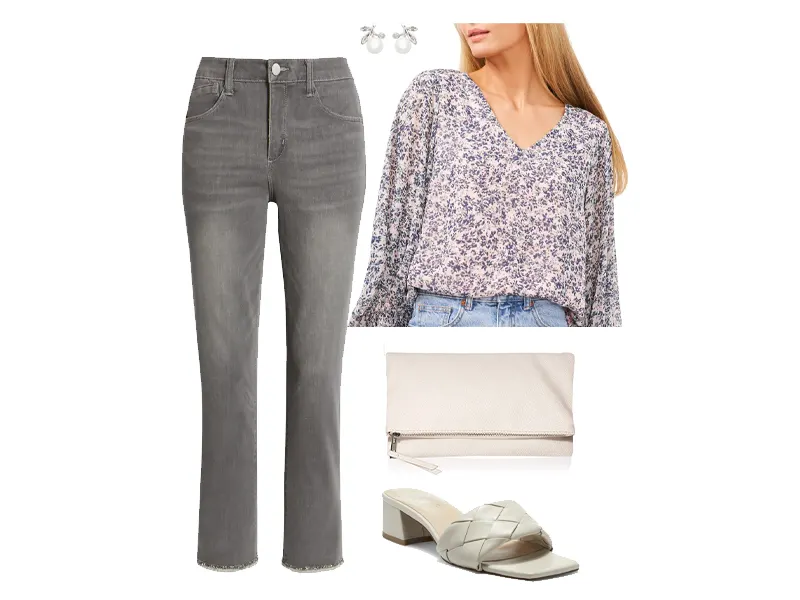 Floral Smocked Shirt, $79 | Woven Strap Sandal, $99 | Foldover Clutch, $25 | Pearl Stud Earrings, $50
There is a reason why I don't feature many prints and patterns here that warrants a bit of a conversation.
Why I don't feature many prints and patterns.
First, I find the majority of prints in women's retail either juvenile or lacking sophistication.
You don't want the print you are wearing to be the first and only thing you see in your outfit. If you do, that's cool, but that style doesn't fall into the classic, timeless and modern category we cover.
Often, when I do find a print I like, nine times out of ten, I hate the style of the blouse.
Sometimes I find a flattering print and style, get excited for a minute, and realize it's $500.
And no one would be happy with me if I featured a $500 blouse.
So to find a blouse with a pretty print, flattering shape, and is under $100 – that's a unicorn.
This pink floral blouse from Vince Camuto works so well here. There are tiny flecks of gray in the pattern that go beautifully with the jeans.
And the style is feminine and romantic without being over the top.
I appreciate that they kept the neckline clean and in a v-neck and put the details on the sleeve. It's a much more flattering cut that all body types can wear.
So, of course, I love this blouse, and it was in stock yesterday at Nordstorm and sold out overnight.
But I found sizes here at Dillard's online. And, please don't send me mean emails about lack of sizing, I have no control over it, and I'm as frustrated as you are.
The blouse is also available in blue and would look great with any blue denim or white bottom you have.
I'm using these popular woven sandals for shoes in color "new cream" also from Vince Camuto. I have these in the Dulce color, and they run true to size. I also have a wider foot, and they are very comfortable.
Then, two details I don't want you to miss.
First, this ivory fold-over clutch is only $25 on Amazon, and it's fantastic for spring. You'll carry it all the time if you like clutches.
Second, these $50 floral pearl earrings are gorgeous; I picked them because they mimic the floral pattern of the blouse. And I used the silver tone to work back to the gray and complement the silver-tone zipper on the clutch.
This little detail creates a soft and composed look.
Polished Casual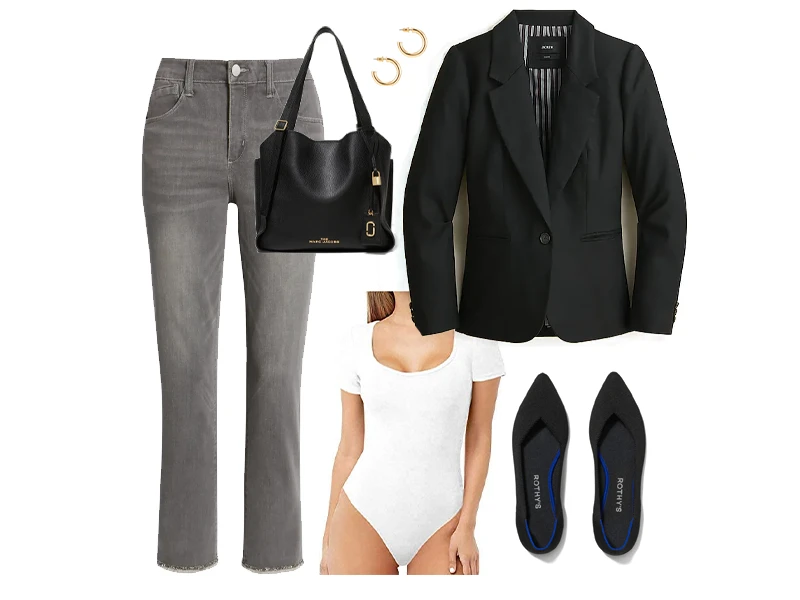 Stretch Linen Blazer, $188 | Scoop Tee, $17 | Flats, $145 | Leather Tote, $450 | Hoops, $14
Next is a more structured outfit that you can take to brunch or the office, depending on your industry.
I'm using the Stretch Linen Blazer from J.Crew. It's a simple, classic cut, lightweight blazer in regular, petite, and tall from a 00 – 24.
If you have the Madewell Boyfriend Blazer, that will work here, too – note that the J.Crew option is more fitted and the Madewell blazer is boxier.
Ok, now for the under piece. You can wear anything you want: a white tee, the Nic + Zoe Perfect Tank, but I tried this bodysuit and was pleasantly surprised.
For the record, I will never wear it without a blazer or sweater on top, but I love how smooth it fits and finishes the outfit so nicely. Size up if you order.
Here's a fun tip I learned, you don't have to snap the bottom to get the smoothing effect. Instead, you can just put it on and tuck the bottom under, as if you were going to snap it; this will give you a little more room if you have a long torso.
For shoes, I went with the Rothy pointed flats for shoes. You can wear any black shoes, from a pump to block heel sandals.
Then, this STUNNING and expensive bag from Marc Jacobs – remember, my job is to give you options, there are lower priced alternatives throughout the site.
And, finally, my favorite gold hoops from Amazon because the hardware on the tote is also gold tone.