Over the last few months, I've featured a variety of coated pants, so today, let's style them up!
But first, what even are coated pants?
Typically, they are similar to a jean, in a slim cut and finished with a waxy coating that mimics the texture and sheen of leather, so you get the look of leather at a more affordable price.
Don't let the "waxy" coating scare you, they are actually quiet comfortable, and unlike leather, are light weight and move with your body.
You can incorporate them into any outfit you would wear with jeans or black pants. The finish adds visual interest the really elevates the richness of your look.
I've already received multi messages asking if these are "age appropriate. So, before we dive into the our three outfits, remember this: your age has nothing to do with your style choices. .
If you like the look – wear it.
Coated pants and leather bottoms are a new, modern wardrobe staple and a key piece if you are looking for classic style with a bit of edge.
Black Coated Pant Options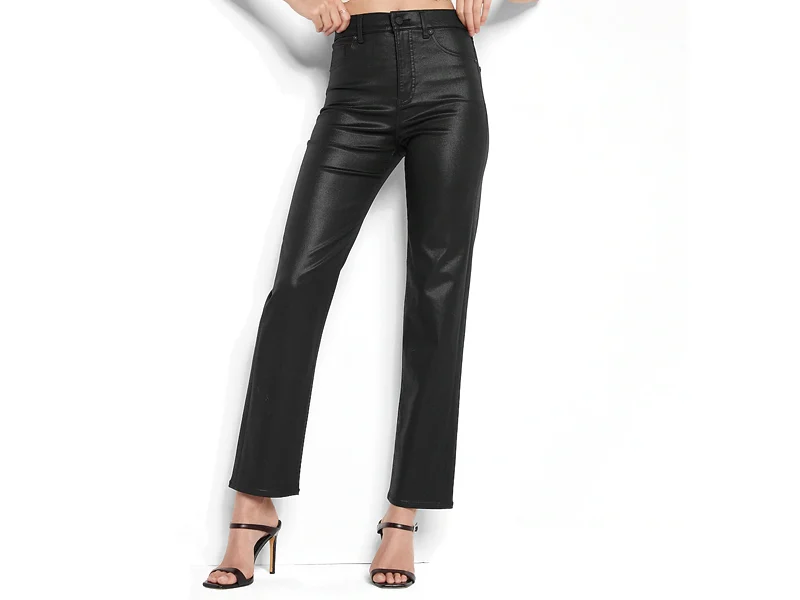 Black Coated Pants, $98
As always, let's start with some options.
On Monday, we featured these black coated pants from Express. They are high waisted, with a straight leg and hit at your ankle. Sizes range for a 00 – 18, with lengths in regular, long, petite, and short.
In December, these Banana Republic coated jeans were best sellers. Sizes are getting limited, but they have regular, tall, and petite up to a size 35. They are an additional 60% off, making them about $40.
If you like the look of a skinny bottoms, I like these coated leggings from NYDJ. They have five pocket detail and are full length. Available in 00 – 16 here and plus sizes 1X – 3X here.
How to Wear Black Coated Pants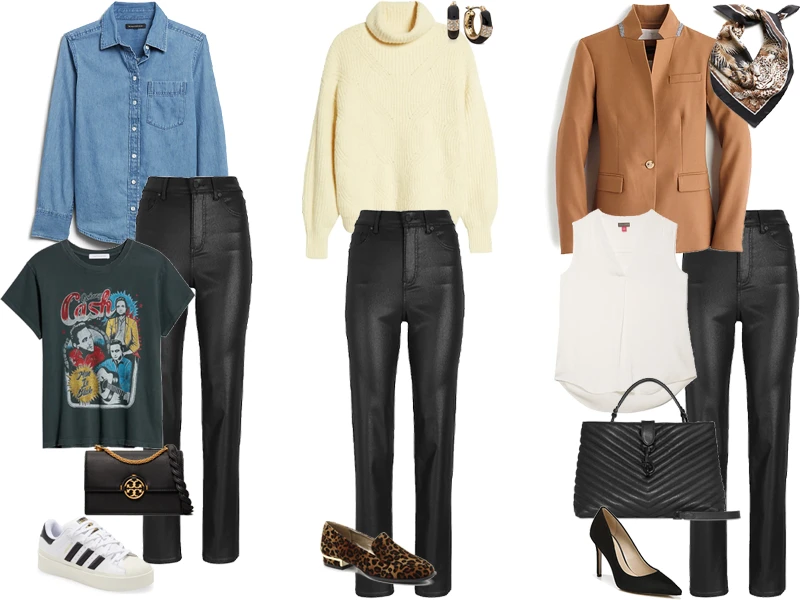 Seriously? How fabulous are these looks?
When incorporating these into your outfits, remember, wear them like regular black pants.
Sporty Graphic Tee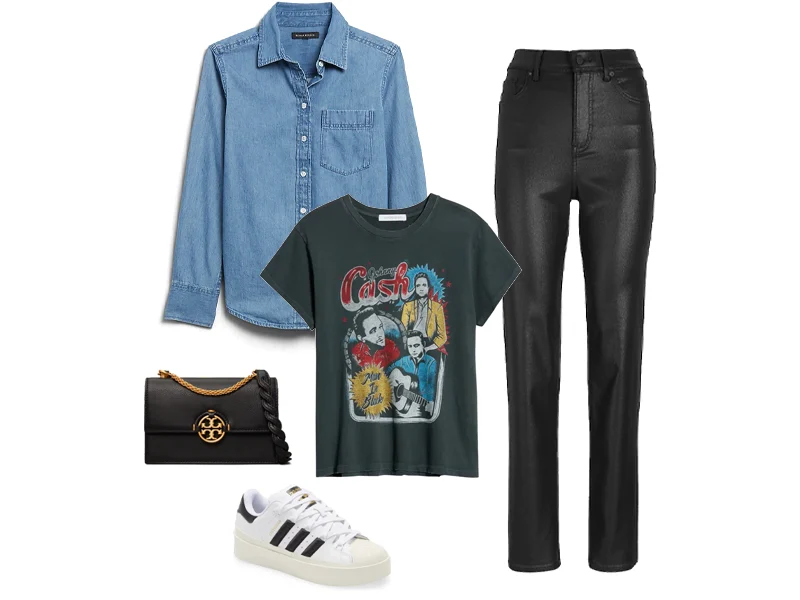 Classic Denim Shirt, $79.50 | Johnny Cash Tee, $78 | Adidas Superstars, $110 | Miller Mini Bag, $358
For our first outfit, I want you to pair your coated pants with your favorite graphic tee. Daydreamer is a fun tee shirt brand at Nordstrom. I like their fit and quality. But you can use whatever you have 🙂
Then I took a classic denim shirt, this one is from Banana Republic, another Reader Favorite, and used it as a top layer. You can wear it loosely, untucked and unbuttoned, or, button up half way and tie at your waist.
For shoes, I went with the Adidas Superstar sneaker because the looks both sporty and glam. I actually bought these for one of my girls for Christmas and they are adorable, with a bit of a platform sole. Very cute.
Finally, I like to create tension in an outfit, meaning, I pair something like a edgy graphic tee, with a very ladylike bag, here I'm using the Tory Burch Miller Mini Bag.
Cozy Sweater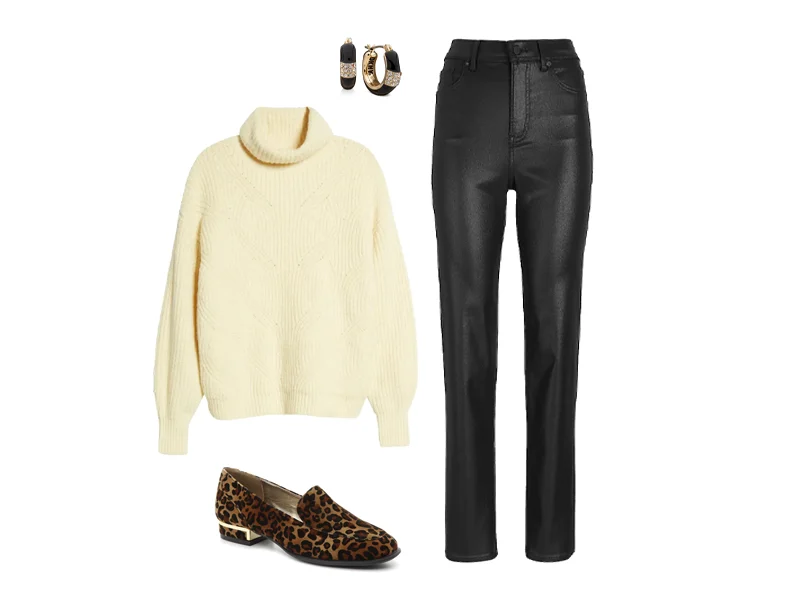 Cable Turtleneck Sweater, $69 | Hoop Earrings, $35 | Leopard Loafer, $59
This outfit is all about layering in interesting fabrics and finishes. That is really the difference maker when you are building an outfit of basics. When each basic brings a little something extra to the look, you create something simple, yet special.
First, a chunky turtleneck sweater. This ivory option is available at Nordstrom for $69, in sizes XXS – XXL. You can wear it out, or half tuck it depending on how it fits and what feels comfortable.
For shoes, a pair of leopard loafers, on sale at DSW for $50, in medium and wide. The shoes have a gold detail on the heel, so I used an affordable earring with gold and black enamel detail that ties everything together.
Buttoned Up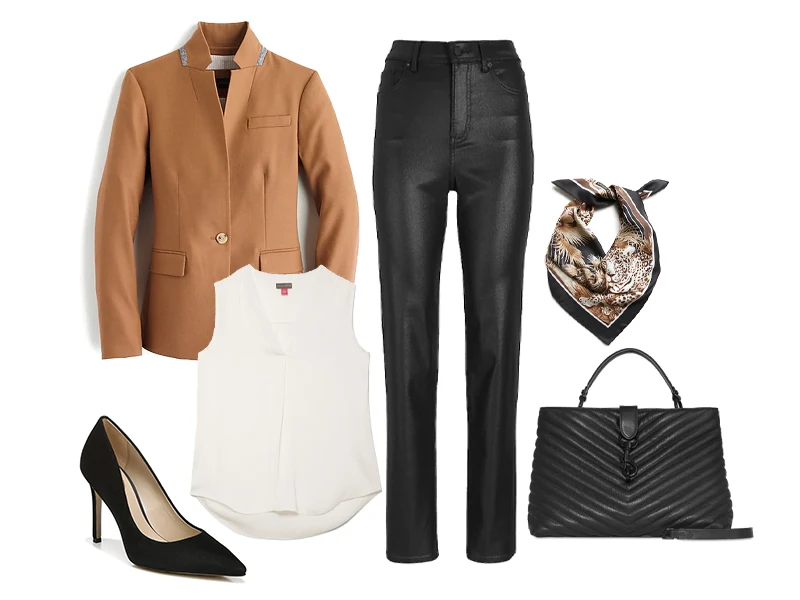 Wool Blazer, $228 | Satin Blouse, $59 Black Suede Pump, $140 | Silk Bandana, $65 |Large Satchel, $298
You can take our third look anywhere from work to dinner.
Here, I'm using the always popular Regent Blazer from J.Crew in sizes 00 – 24 in classic, petite and tall. This is a wardrobe staple for so many of us. You can pair it with a pencil skirt, jeans, or these coated bottoms.
I wanted to highlight the CeCe bow blouse we featured last week for the under-layer, but it sold out. So, if you have it, wear it here.
Instead, I'm using this Vince Camuto sleeveless shell, a top many readers have in their closets. It's a workhorse, ideal for under blazers or sweaters, available in white or black.
I'm a big fan of all of these accessories.
You may recognize the scarf from Banana Republic. Tie it around your neck or on the handle of your bag. It adds a little punch of pattern.
Then, round it all out with a pair of suede pumps by Sam Edleman. (When was the last time you wore pumps???) and this STUNNING bag by Rebecca Minkoff gives me YSL vibes for a quarter of the price.
Bonus Outfit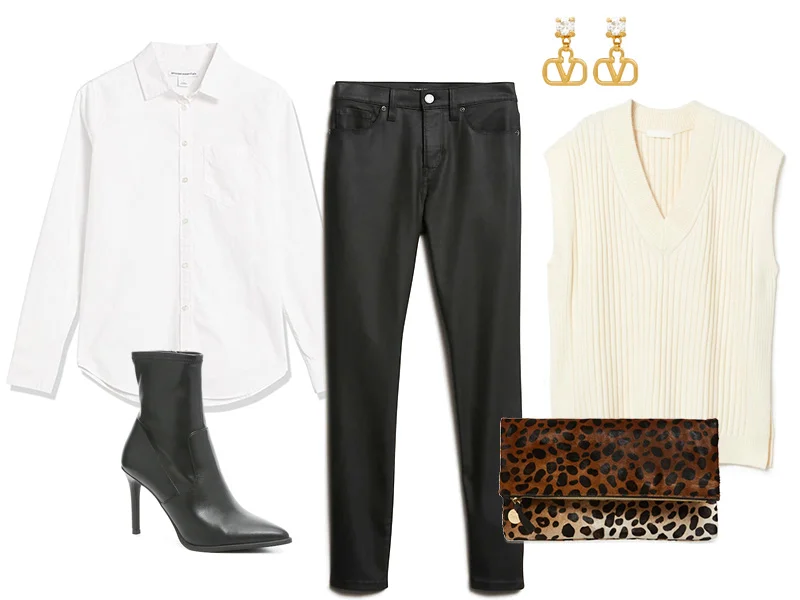 How to Wear an Oversized Sweater Vest
Finally, we featured this look late last year. It featured the Banana Republic coated jeans with a crisp button-down, oversized vest, and sleek accessories. You can see it in its entirety here.