Today, we're breaking down how to wear an oversized sweater vest. This popular outfit formula mixes layers and texture, creating a classic look with a bit of edge, ideal for a date night, dinner with friends, or a casual but festive holiday event.
As always, I'm creating this outfit formula with many pieces our readers already own that are still available it buy in case you need to fill in some gaps in your wardrobe.
Remember to use our How to Wear posts two ways, first, as inspiration. See what you have already hanging in your closet. You might be surprised with your options.
Second, as recommendations. Everything we feature I would recommend to a client, or I personally wear and have purchased with my own money.
Let's get started.
How to Wear an Oversized Sweater Vest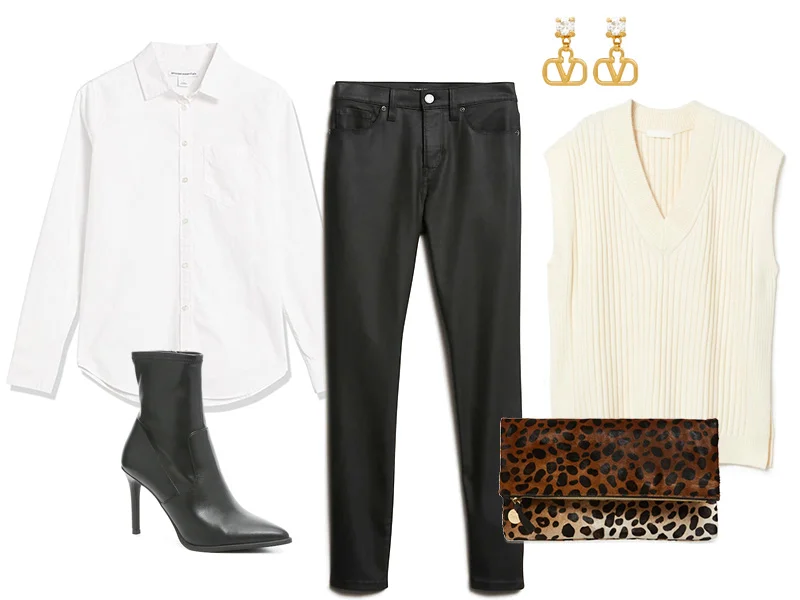 Rib-knit Sweater Vest, $35 |Skinny Coated Jean, $110 | Button Down Poplin Shirt, $25 |Bootie, $70 | Earrings, $200 | Leopard Clutch, $275, or $48 dupe.
First, let's talk about the key piece, a simple knit sweater vest. I DO NOT want you to spend here. This is a trend that won't be around long enough to invest in, so save here and spend elsewhere.
I'm featuring a cream-colored option from H&M that is under $40 available in sizes up to an XXL. Keep in mind; this particular piece is oversized and exaggerated. It's supposed to be statement-making.
For a slightly more conservative look, go with something like this cashmere blend sleeveless shell from J.Crew (in sizes up to 3X). Consider sizing up with this if you intend for it to be an over piece.
You will layer this or any vest of your liking over a simple, inexpensive white button-down. This is another area to save since we're using it as an under-piece. I like this white button-down from Amazon Essentials. I have several of them, and they wash and wear well and are around $25.
A plus size option in a similar price point is this crisp white tunic button-down also from Amazon.
Next up, we need pants.
For this look to work you have to use a slim cut pant because the volume of the look is in your top. Anytime you wear an oversized top, the bottom needs to be slim or "skinny." This is how you create balance.
I'm using the slim-cut coated skinny jeans from Monday's What to Buy at Banana Republic post. As I write this they are still available in all sizes, including petite and tall. This runs true to size up to an XXL.
For shoes you have two strong options.
I'm featuring these sleek high heel ankle boots from DSW for $70 because I like that they dress the look up. If you go with this shoe, or a similar style, they go under the hem of the jeans. You want the toe of the boot to extend your leg, almost as if the boot and the pant are one.
Alternatively, if you replace the coated jeans with faux leather leggings (I like either Spanx or Commando), you can pair this with a lug boot. The chunky boot works if the bottom is a legging because it balances the volume of the sweater/shirt combo.
Finally, I would go with one big, substantial piece. I'm using the Valentino earrings, similar to a pair we featured earlier in the season that sold out.
For a bag, if you splurged on the Clare V leopard clutch at Nordstrom, now is the time to pull it out. If you are looking for a dupe, I purchased this foldover clutch from Tuckernuck for only $48, and it's lovely and practical alternative.
Shop this Post
Our Style Content is Inspired by Our Readers
Our readership inspires all of our posts and is not sponsored or paid for by brands or retailers.
Recommendations are based on my experience as a personal stylist and wardrobe consultant for over a decade. I worked with busy, down-to-earth women who wanted to look chic and feel confident but were often confused by so much of retail.
Some links are affiliate links, which means if you purchase via our site, we receive a small commission.

If you enjoy our content and would like to help us grow, please follow on Instagram and join our Private Facebook Group to access more advice and exclusive in-depth conversations with other like-minded women.
Learn about our mission to help women look and feel their very best, every day, here.
Sign Up for Daily Content and Receive Our Free Classic Wardrobe Checklist