What if I told you that we've got this whole conversation about age-appropriate dressing wrong?
Dozens of times a day, I am asked about how to dress age-appropriate.
It's the first sentence of every email I receive from readers looking for advice, "Hi, I'm 61, 32, 54 … can I wear …?"
So today, I want to share my rather radical approach to age-appropriate dressing.
What if, instead of looking at our age as a limitation, we view it as an opportunity.
Crazy, right?
I started my career shopping for and dressing women when I was a 22-year-old baby. Today, I'm 42, a mother of three with over 20 years of experience, both personal and professional, under my belt.
In the past two decades, I learned so much about the challenges women face while aging. First-hand, I know that it isn't easy maintaining our sense of self and style in a world that wants to limit us after we turn a certain age.
Add to that our ever-changing bodies, and increased personal responsibilities, it's easy to see how many of us, myself included, can get into a rut or feel like we lost our way.
So before I get into the nitty-gritty, let me say this: the one thing I know for sure is that we've got this whole age-appropriate conversation wrong.
Aging should be a celebration, so instead of thinking of all the things you "shouldn't" wear, it's time to embrace the world of opportunity that awaits us with each passing year.
This site focuses on timeless, classic, ageless style.
Classic style is inherently ageless. You may have to replace a piece I recommend here or there with something that works within your budget or with your body type, but the style tips and theories offered here are all timeless.
I've never liked the idea of telling women what they should and should not wear. Instead, I hope you see this site as a guide to achieving a modern, classic style with a bit of a twist, regardless of the year you were born.
Over the years, I've created a sort of hierarchy or checklist to mentally go through for clients and readers when they start to wonder about appropriateness.
Age, as you'll see, is the last piece to consider.
How to Dress Age Appropriately
My first and only tip is to Stop Worrying About Dressing Appropriately For Your Age.

A New Way to Think About Age Appropriate Dress
Body type is the most important factor to consider. Wear clothes that work best for the body you have right now. Take some time to learn about the most flattering shapes and silhouettes for you. It makes all the difference in the world.
Be sure to read our How to Dress Your Body Type Guide Here.
Let's use an example. Say you are 48 years old and look incredible in a pair of leather pants. You know they work for your body type. Now what?
Consider your lifestyle or the specific event you are dressing for. Can you wear them to church, temple, or any religious service you attend? Probably not.
But a girls' weekend in Vegas or a date night out in the city? You bet.
Now let's make sure they look elevated. Buy the best quality you can afford, spend a little more, or find a better pair at a discount. At 22, you'd probably grab a cheap pair at Forever 21 today; you'll buy them at Nordstrom, or Banana Republic.
Finally, your age is only a factor when it comes to your taste. Thankfully, our tastes evolve with time for most of us, and we don't like the same things we did in our younger years.
At 22, you're wearing a midriff-baring top; at 48, you probably don't want to wear that. Instead, you go for something more sophisticated, like a cashmere sweater or tailored blazer and heels you can walk in.
By pairing them with more "grown-up" pieces, you're grounding the look to match where you are in life.
And guess what, if you have abs of steel, you're headed out some place crazy, and that cropped top is what you want to wear – go for it.
My Best Tips to Timeless, Ageless Style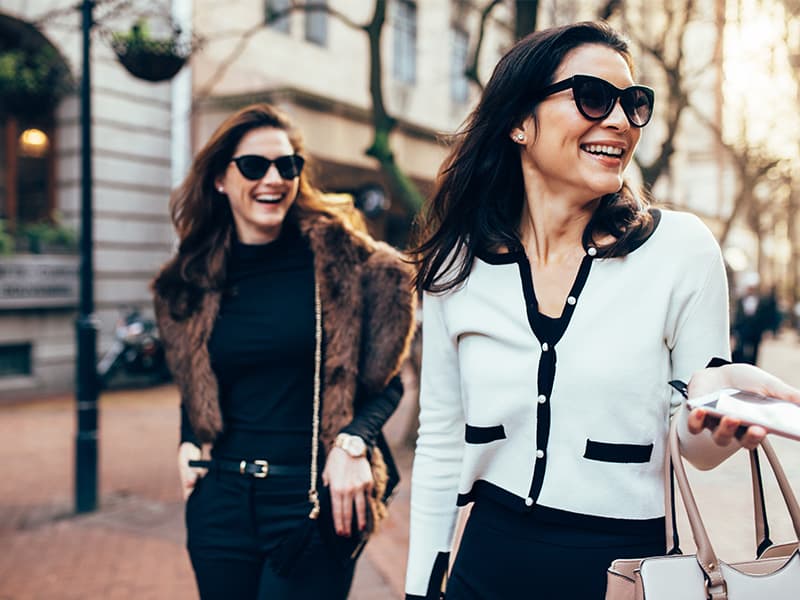 Quality over Quantity
Get comfortable with the idea of investing in yourself. Buy the best quality you can afford. Start to think strategically about the items in your closet, so you get more wear out of fewer, higher quality pieces.
Be Cautious with Patterns
The challenge with patterns is that so many in retail look cheap and flimsy and does nothing to elevate your style. Use them with a light hand. A few dresses in the summer are fabulous. A fun pair of pants? Sure!
But as a layer or a top, they need to make sense and bring value to the outfit. And you need to LOVE It.
Incorporating texture, instead, is a more sophisticated way to elevate your look.
Be judicious with pattern and bring interest to your outfits with textures and layered accessories.
Invest in Your Accessories
Nothing elevates a look more than your bag and shoes. Investment is different for every person.
Today, at my place in life, I would rather have a few better quality shoes than a closet full of heels from the DSW clearance section – which use to be my jam.
Maybe Stuart Weitzman and Jimmy Choo are your kinds of splurges, or perhaps it's Nine West and Sam Edelman; in any case, always look to evolve the quality of your pieces.
When it comes to bags, look for simple, clean designs. Avoid logos, studs, patchwork, or anything that dangles like charms and chains. You don't want your bag to fight with your outfit.
And wear your better jewelry every day – what are you waiting for?
Shop in the Right Stores
If you were my best friend and I found out you were shopping in the juniors department, I would say this: You're too old. I am too old. Anyone over the age of 25 is too old.
Is that offensive? I don't think so.
The clothes in junior departments and youth focused stores are cut for teens and early twenty-somethings. Plus, they are usually cheaply made.
Here are my go-to stores and brands for our over 35, 40, 50+ clients; many includes plus, petite, and tall options in their inventory.
"Age Appropriate" Department Stores
Nordstrom has always been my favorite, but I've found them more challenging to shop over the last few years. I like some of their private label brands like Classique and Nordstrom Collection; if you like St. John, they have a decent selection that isn't as overwhelming as shopping in their stores.
Their shoe selection is still the best out there, as is the range of undergarments they offer. I'm less than thrilled with their in-store accessories, and their plus and petite section leave a lot to be desired.
Service is not what it use to be, but it's still better than anything else out there.
Lord and Taylor – their customer service is abysmal, but they have an excellent dress selection for work or special occasions in various sizes and price points.
Neiman Marcus – actually has some reasonable prices and better quality. I love their private label sweaters, especially the cashmere. They also have a great shoe selection and better separates.
Brands (
that aren't cut for kids):
Anne Klein
Ann Taylor
BOSS
Boden
Banana Republic
Clavin Klein
Eileen Fisher
Lafayette 148
MICHAEL Michael Kors
Talbots
Tuckernuck
Everlane
Elie Tahari
T. Tahari
J. Crew
J. Crew Factory
Old Navy
Enjoy Getting Dressed!
Remember when fashion magazines would do Style at Every Age issues and spreads? I read them religiously. Even when I was in my late teens and twenties, I always loved what the 40-year-olds were wearing.
Looking back, I think it was because the women, usually a celebrity, always seemed so poised. Like she wasn't figuring things out anymore. The experimental phase of life was over.
Her pieces were well made, they fit beautifully, and the woman carried herself with quiet confidence.
That's what I think we need to celebrate. The confidence, the knowing, the respect we have for ourselves, the not caring so much about what others think.
I may have been a gorgeous young thing, who could wear anything, but I was crippled with insecurity.
How lucky are we to be living in a time when we are finally celebrating women getting better with age?
So when dressing your "age," don't focus on what you can't do or what you have been told to avoid.
Instead, celebrate where you are in life by investing in better quality, focus on fit, and include sophisticated elements that elevate your look.
Have fun and wear what makes you feel confident. Do that, and you'll create a timeless, always appropriate personal style no matter your age.