6 Ways to Stop Feeling Frumpy and Start Feeling Like Yourself Again
"Frumpy" is often used to describe how someone looks.
But I think frumpy is a feeling that eventually manifests in how we present ourselves.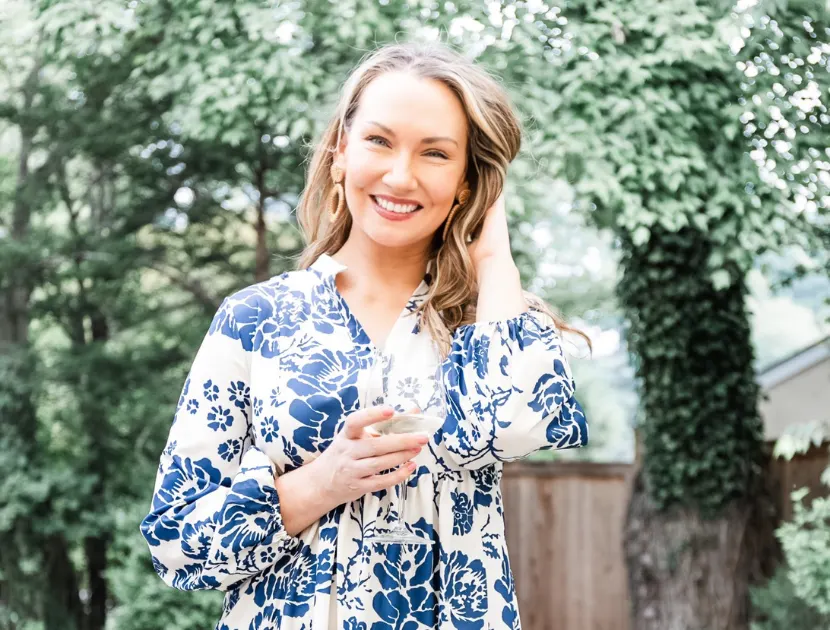 Feeling frumpy happens to all of us.
Sometimes it's just a day, maybe it lasts a couple of weeks, or perhaps you can't remember the last time you didn't feel frumpy.
When I turned 40, I truly stopped caring about what other people think.
So if you ran into me at Target one day, and I happened to look like a bridge troll, I couldn't care less.
But looking like a bridge troll too many days in a row affects my mental health … and it brings on the frump.
My outlook turns negative; I resent my body for changing on me, and I get sad looking at my reflection in the mirror.
"What happened to you?" plays on a loop in my brain.
Next thing you know my hair is in a dirty knot and I'm wearing sweatpants. Because, who cares.
How we present ourselves physically to the world directly correlates to how we feel inside. And how we feel on the inside can be significantly impacted by external factors, like what we're wearing, our hair, our skin, etc.
It's why things like a fresh blowout or a manicure can feel so fantastic or how a great outfit can totally change your day for the better.
I've talked at length about all the things I do to keep me mentally and physically in shape. Healthy routines, a good diet, exercise, blah blah blah, it's all important, and it's boring, and it takes buckets of self-discipline and a long time to see results.
Today, I'm sharing six simple, external things you can do that will almost immediately take the frumpy feeling away and make you feel better about how you look in your clothes and how you feel.
And it doesn't involve sweating, losing weight, waking up at 4 am to meditate, or spending a ton of money.
Upgrade Your Underwear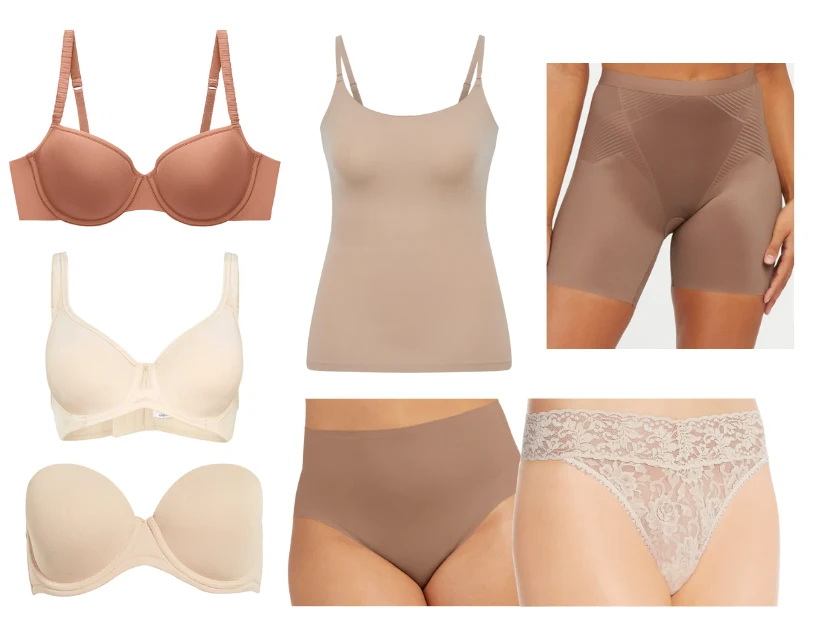 Your undergarments are the foundation of your outfit; if they are off, your whole look is off too.
Underwear has three essential roles : to support, to add shape and structure and to make you feel good.
And I have three specific things I want you to do so you can stop the frump:
Get Fitted for a New Bra
This is the number one game changer.
When you get the girls back in place, you change how your clothes fit. You'll bring back your waistline, and feel fit.
I recommend getting measured by a professional at a small local boutique or a better department store. They will not only know how to do it properly, but they will also be able to help you find the best brand and style for your needs.
So if you had a baby, breastfed, gained weight, lost weight, are in perimenopause or out of menopause, you'll want a new fitting any time your body changes.
And replace your bras; they do a lot of work and wear out.
If you rotate between a few everyday bras, washing and wearing regularly, you'll get about a year or so of life out of them.
You can see some of our favorite bras here.
Invest in Shape-Wear
When I talk about shape-wear, people lose their minds.
So let's be clear, I'm not talking about girdles, I want you to breathe, and if you live in Florida, we know it's too hot.
But sometimes, shape-wear designed to slim and smooth makes all difference in how your clothes fit when needed.
Ditch the Granny Panties
I'm all for comfort, ladies, but you know exactly what I'm talking about.
No one is telling you to wear a string up your bum, but the ratty, tired, stretched-out elastic bottoms you're putting on because "no one cares" is dragging you down.
Update with something new, and go full coverage; that's fine!
We need to remember that wearing something pretty isn't reserved for younger women, so buy something that makes YOU feel good, pretty, and feminine.
The Frumpy Starter Pack
Two factors in your clothes will make you feel frumpy – wearing things that are too big and outdated items, especially prints.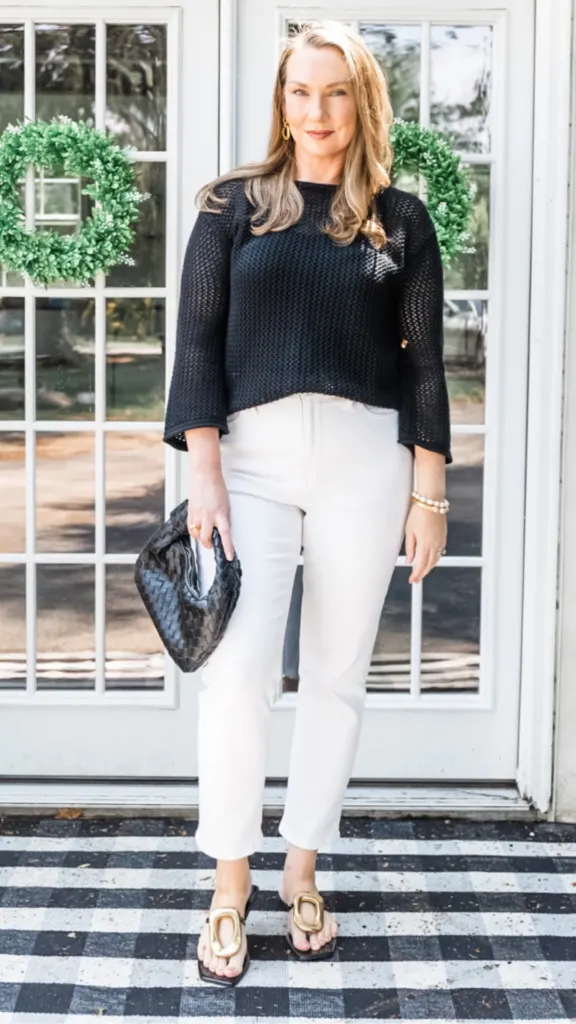 Oversized Clothes
When we are self-conscious about a part of our body, we tend to cover it up.
Take our midsection. I've never met a woman who didn't want to minimize it.
And since our instinct is to cover up, we wear long, oversized pieces.
But in reality, all that does is make us look bigger than we are, we change our shape, drag down our outfit, and make us look and feel frumpy.
Instead, opt for tailored pieces that fit well. They are timeless, are always appropriate, and have a longer lifespan in your closet.
You want your clothes to fit YOUR body and work for your proportions.
I know that's easier said than done.
Figuring out your body type and learning to dress for it is a process, but start by swapping out one oversized piece for a better-fitting option and see how much better you feel.
Edit Out Bad Prints
I'm not telling you to ditch all prints.
They are an essential aspect of personal style.
But am I telling you, and you might want to hear this, there are a lot of cheap, bad prints making you look older than you are.
Be discerning regarding the prints you keep and bring into your wardrobe.
You need to LOVE it; it should speak to you like a piece of art.
Don't just buy a printed top because you need something to wear with jeans.
And think before you buy something cheap because the more inexpensive the item, the worse the print design tends to be.
Dress with the Intention
I have a girlfriend who wakes up and gets dressed everyday, no matter the day, no matter what's going on.
Before her kids are up, she's dressed.
One day, she was in my kitchen, I looked like a bridge troll, she had on a little skort and polo, with crisp sneakers, and a cute baseball hat.
Her life is just as chaotic as mine, she doesn't have help, she has a crazy job and kids.
This is what she does to keep it together. She wakes up and dresses with intention. And then she can go about her day.
So I started doing it, breaking my terrible habit of throwing on whatever until I have to get dressed for real.
And it absolutely changes how you feel.
To make it less overwhelming, lay out the outfit the night before, even if it's just a simple tee shirt and shorts.
Create an Everyday Jewelry Capsule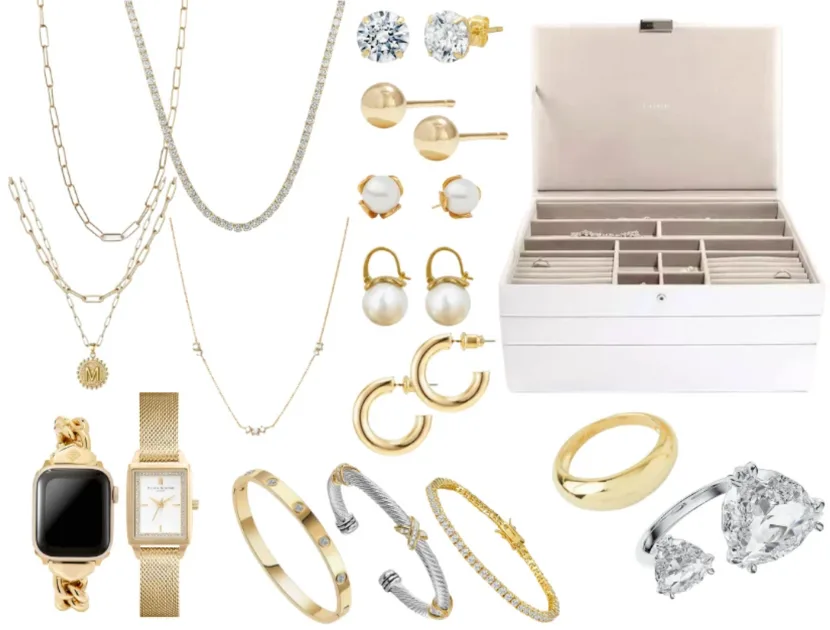 You can take that tee shirt and shorts outfit and immediately elevate it with accessories.
Make this easy by pulling together a jewelry capsule.
Start with what you have.
Collect your hoops, studs, delicate necklaces, etc, and put them on a tray you can see and easily access.
Don't be afraid to wear your better pieces everyday, life is too short.
Then over time, add to it. You can pick up inexpensive pieces from Amazon as you maybe wait to bring in more considered purchases.
You'll be amazed at how much better you feel.
Get Your Glow Back
Skincare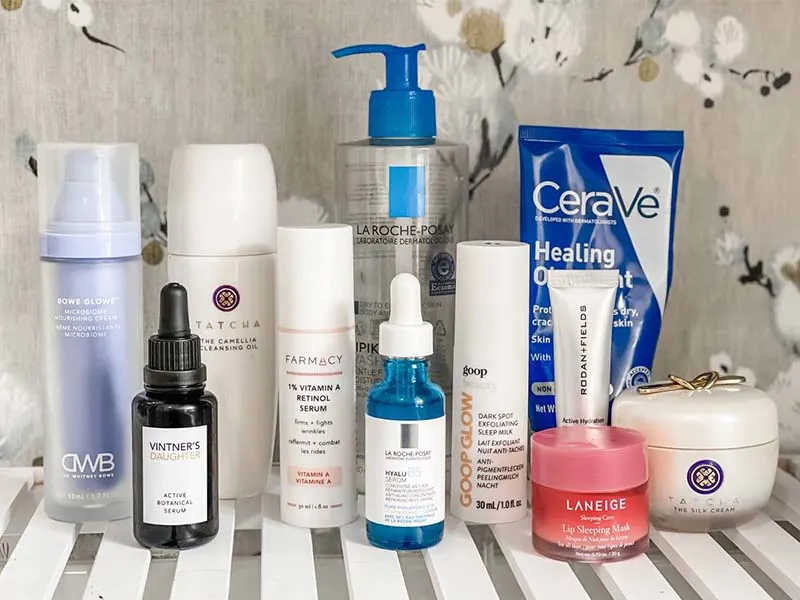 Skincare can be complicated and overwhelming.
So a gentle reminder, if you have a routine that you've fallen away from, get back on it.
Results come from consistency and I've seen the best results when I started to Skin Cycle.
But if you are not really into skincare, if you are a soap and water girl, add just a few things.
Get a good moisturizer and use it morning and night, make sure you are using an SPF every single day.
Drink a TON of water.
And for an extra boost, add a glow serum to bring some life to your face.
I like the Watermelon Glow Niacinamide Dew Drops Serum but Glow Recipe.
Fake a Tan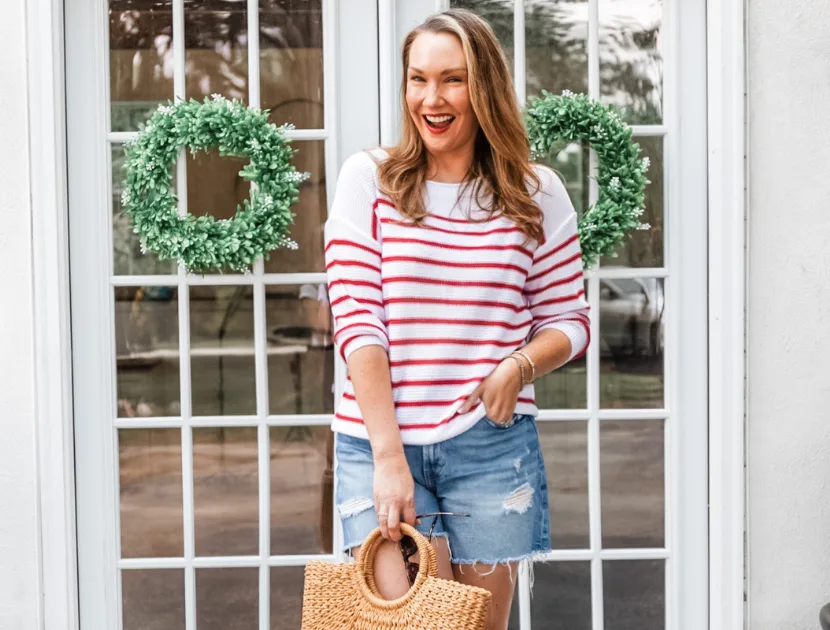 This is obviously not for everyone, but when I'm feeling frumpy in the summer, I get a spray tan.
I know I should embrace my natural skin tone, but I look radioactive in the sun, so a little sunless tan goes a long way in helping me feel pretty and healthy.
Game-Changing Grooming
Listen, you can groom your heart out. I'm all for it.
But your nails and your eyebrows are the small details that elevate how you look and you'll feel like the best version of yourself.
You are worth the hour at the nail salon, and while your there, have them shape your eyebrows.
Your eyebrows enhances your face shape, and when cleaned up and well groomed, you'll look younger, and more vibrant.