The most overlooked category in most women's wardrobes is their undergarments. If you could only spend in one area, I would tell you to focus on bras and other foundation garments, because a good foundation is everything.
When I worked with private clients and took them shopping for new clothes, our first stop was often the lingerie department at Nordstrom. Here, I would have my client get a proper fitting; she would pick up a few everyday bras, maybe some shapewear, and anything else she might need to freshen up her underwear drawer.
This experience gave me a lot of insight into the best undergarments for women. The good news is you don't need a lot, just the right pieces. With an assortment of better basics and a handful of items for special occasions, you can drastically improve how you look in your clothes and feel confident every time you leave the house.
I talk at length about where to save and where to splurge when it comes to your wardrobe. Underwear, for me, is an investment. Buy better quality, and you will be astonished at how much better your clothes fit. I've tried dozens of brands over the years and I can tell you that the high-quality undergarments wash and wear the best.
The Price Difference
There is a big difference between a $15 – $30 bra and a $60 – $80 bra in both support and overall quality. However, you DO NOT have to spend well over $100. Like everything in retail, quality doesn't always scale with price point. So, unless a $210 bra is going to magically lift and reshape my postpartum boobs over time, I'll put my money other places, thank you.
Get Your Fit Right
Before we dive into recommendations, I implore you to get a bra fitting. I'm just as passionate about the importance of well fitting undergarments as I am about having your clothes tailored. It's a game changer.
Bras, in particular, do a lot of work. The "lift" we get from a high-quality bra brings the girls back up to where they started and in turn, gives us back our waistline.
When our bras don't fit correctly, we throw the line of our body off.
Scroll to the bottom for my picks for the best undergarments for women.
Better department stores have specialists who are trained to not only measure you correctly, but they also understand how brands fit. Like clothes, bras fit differently depending on their cut, shape, function and manufacturer. Working with someone who is educated in this area is incredibly helpful.
You can also consider going to a local lingerie shop as you'll also get personalized attention working with an expert, and your purchase supports a small business.
What are my thoughts on Victoria Secret? Glad you asked. Aside from how much I loathe their culture of propagating poor body image standards to girls and women globally, I find their fit and quality pretty terrible, and their customer service not much better. They are not worth what they charge.
Your Underwear Has a Shelf Life.
I have to say this because after working with private clients for over a decade I saw everything, and most women are holding on to foundation garments well past their prime. Your underwear has a shelf life.
This shelf life has a few points to consider such as frequency of wear, if it is getting stretched out, staining and odor absorption – because even with the best of care, fibers will lock in odors, etc.
The consensus from industry experts is that your bra will last six months to one year, depending on how many bras you own and how frequently you are wearing them. Bras that you wear with less frequency, like a strapless or convertible bra, will last longer.
But remember, our breasts change all the time. So, if you have recently lost weight, gained weight, had a baby, are breastfeeding, just stopped breastfeeding, are in perimenopause or just out of menopause, have a new bra fitting to see if what you are wearing still works for you.
When it comes to other undergarments, shapewear will last as long as it works, and that depends on how often you wear it and if you are caring for it properly. I have a few pairs of Spanx I only wear on occasion and have had them for at least two years.
Same with camisoles, and underwear. The better you take care of these pieces, as long as they fit, you should get at least a year or more of life out of them.
Below are my picks for the best undergarments for women. I rounded these up based on what's worked for me and clients over the years. Of course, if you have a personal recommendation, add it in the comments below!
The Best Undergarments for Women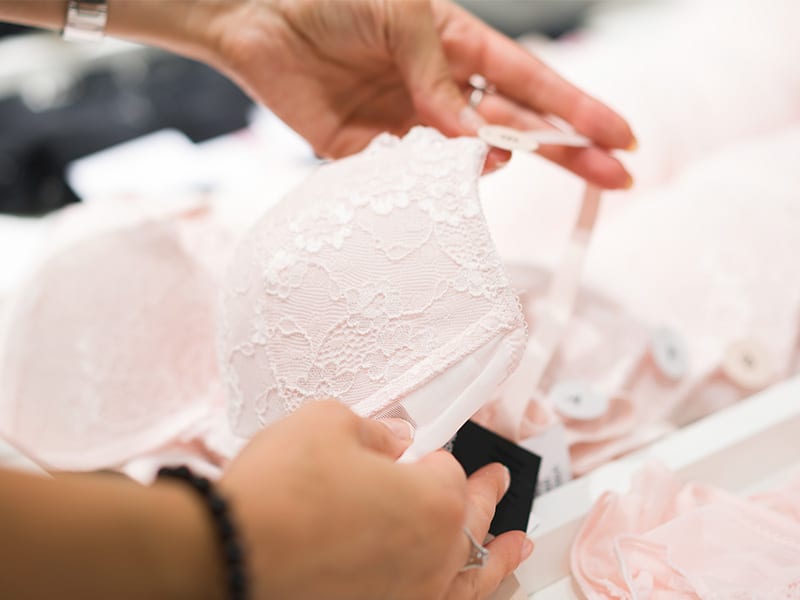 Best Bras
I love this under $50 everyday bra by Wacoal. It's made of jersey so it has some stretch and an underwire. Another option is this tee shirt bra by Natori, which has been my go-to for years.
When in doubt always buy "nude" bras. They are the most versatile. I buy all of my staple undergarments in a neutral, and have a few in black. Avoid white because it shows under tops. Remember this when going to a formal event. If you wear a white bra under a black top and are then photographed, you will see the bra through the top in the picture.
Other options:
No underwire: How Perfect Full Figure Wire Free Bra, $55, or How Perfect Soft Cup Bra, $62 both by Wacoal.
Strapless and Converatble: Wacoal Red Carpet Convertible Strapless Bra, $68
Minimizer: Simone Perele, $93 | Tons of color and size options
Plus size: CURVY COUTURE Flawless Side Smoother, $68.00
Sports Bra: Under Armour, $40
Underwear
For me, Hanky Panky Signature Lace Low-Rise Thong are hands down my favorite. I stock up on them once a year during a Nordstrom sale, in nude and black and I'm all set. They wash well, maintain their shape and are very comfortable.
If you're not into thongs, Everlane makes a crazy comfortable and high rise bikini for $12.
Shapewear
No one likes wearing shapewear, but sometimes a girls gotta do what a girls gotta do. Over the years I've tried all the brands, including off price ones, and Spanx always comes out as the winner. Sometimes I wear a simple pair of their shorts under wrap dresses to help keep things smooth and maintain a little modesty. Other times, like now while I'm still trying to get my mid section back from having a baby, I wear something a little more serious.
Camisoles
With all the sheer and semi sheer tops on the market, a nude cami is essential – but they are not easy to find. If you have the budget, this v-neck cami by Hanro is fabulous. It stays in place and is lightweight so you don't feel like you are adding bulk with another layer.
For $20 this Hanes cami is almost just as nice. I have both and would save with the Hanes so I could spend on a bra and shapewear.
Of course, we want to know some of your can't-live-without, favorite undergarments. Tell us in the comments below.
Shop this Post