Let's break down how to style joggers.
Last month our series, "What to Buy at," featured Banana Republic. I love BR for their classic modern style and commitment to offering an inclusive size range. They make my job so much easier.
After that post, I received several questions about how to wear these joggers, specifically, how to style joggers in an outfit for work and weekends. So today, I'm breaking down a few options to wear for whatever work looks like for you and ideas to make them casual, since right now those worlds are merging together.
If you are new to our site (welcome!), today is an excellent example of how many of our posts are designed to help you build a functional, practical, and chic wardrobe. I use items from popular, mainstream retailers, focusing on realistic price points and inclusive size options.
My goal is to help you build a wardrobe much like I did when I worked with my private styling clients. I reuse popular items throughout each season, so what you purchase through this site becomes a piece you turn frequently.
In the looks below, I used a combination of items you may already own, along with some new options, all well priced, all available in a range of sizes.
How to Style Joggers for Work
Joggers, $56
Maybe the best thing to come out of 2020 is jogger pants. They are having a big moment. With work and home life being one and the same, it's nice to have a few pieces you can grab that straddle both worlds.
The cut, tapered leg, and drape of a jogger make them a more polished alternative to leggings and sweatpants. At this point, we know how much better it feels to get dressed in some capacity for our day. Feeling pulled together makes all the difference in our mood and productivity.
These BR joggers are best sellers, on sale for under $60 in a range of sizes and colors. Black (above) and olive (ideas below) are the easiest colors to wear. Sizes are inclusive up to a XXL in missy and petite.
Like Black Pants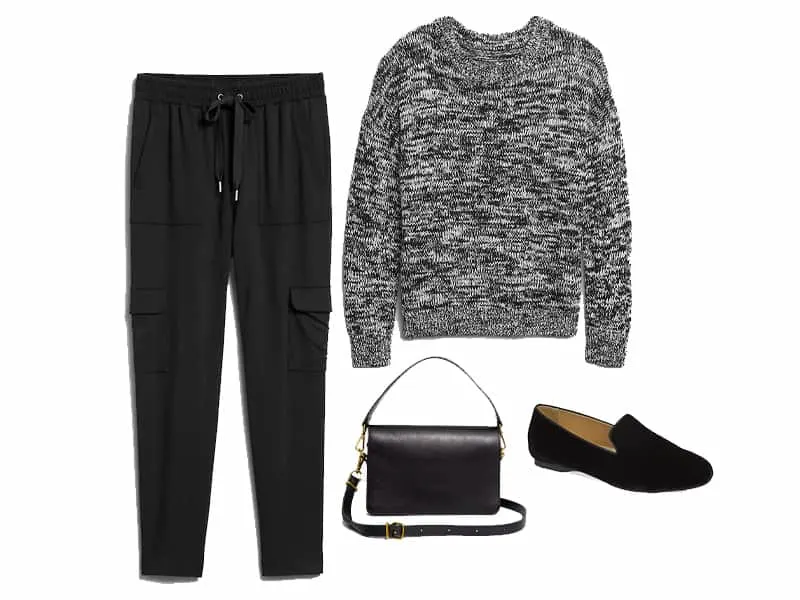 Sweater, $41, Loafers, $140, Crossbody, $130
Don't let the casual nature of these pants throw you. Wear them like you would any pair of black pants. Here, I used this black and white marled sweater from Gap. It's easy-peasy, comes in regular, tall and petite up to an XXL and on sale for $41. This is suppose to be oversized, not giant, but not fitted. I like how the sweater complements the joggers; both feel cozy and casual.
Then, to add a level of polish, some better pieces, like a structured crossbody bag by Madewell and these insanely comfortable loafers by Birdie.
With a Jacket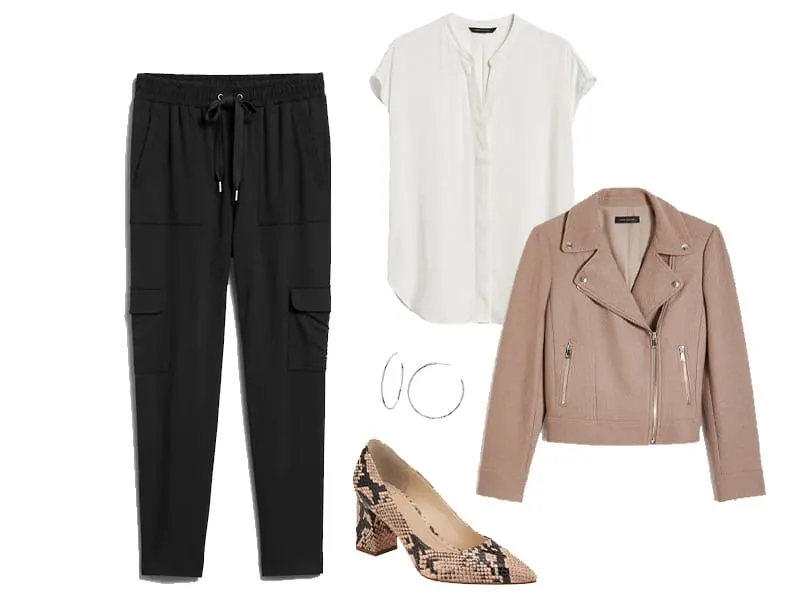 Tank, $48, Jacket, $169, Heels, $105, Hoops, $60
The trick to wearing a casual jogger with a jacket is to make sure the fabric of the jacket works with the jogger's material. Here,I'm using the Ann Taylor motto jacket we featured earlier this month. It's done in a knit, which means it will complement the blend of the joggers.
As a layer,I used this popular sleeveless shell (also from BR, in white and black). For this look, tuck the shell into the pants and give it a little blouse by pulling it out a bit.
Then, I added block heels in a python print that combines the two neutrals.
Finally, because the motto's zippers are silver, you want to wear silver-tone accessories, like these hoops. It will help the look feel purposeful.
Party Up Top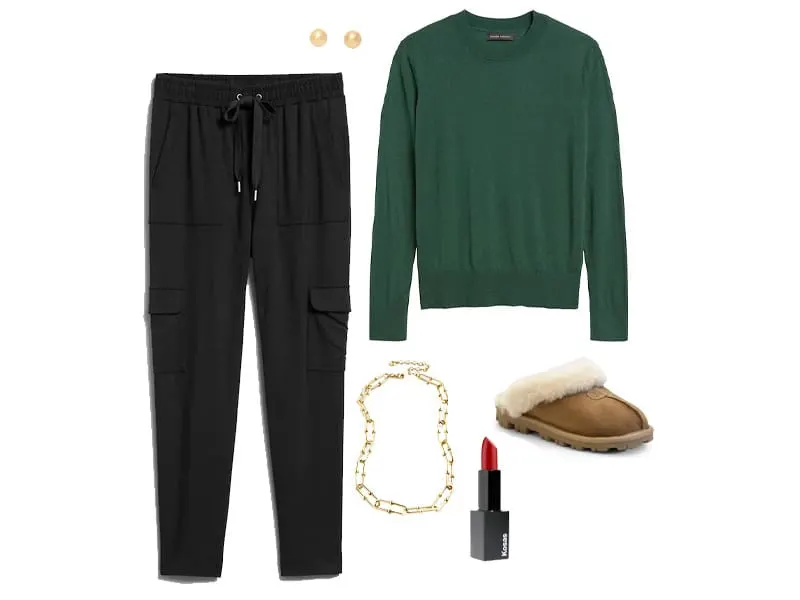 Sweater, $47, Necklace, $48, Earrings, $195, Lipstick, $28, Slippers, $120
If you are working from home and Zooming all day long, keeping things polished up top and comfy below is sometimes the way to go.
Here, I'm using another Reader Fave, this under $50 silk and cashmere-blend sweater (members of our Private Facebook Page RAVE about it). It comes in six seasonal colors; I'm featuring the "pine."
When video conferencing, think about wearing colors that bring light and warmth to your face. The sweater is a lovely base to add some simple accessories, like a chain link necklace and stud earrings. These small details will add layers to your look and help you look more professional.
What's not professional are these Ugg slippers 🙂 Who knew when I bought them in late 2019 just how much I would wear them, lol.
Finally, consider your make-up if you are regularly on camera. You may need a darker or brighter lipstick, so you don't look washed out. My favorite is this red lip by Kosas.
---
Below is our article from March (when all of this nonsense started). I used a similar pair of olive joggers to create three casual outfits. Almost all of the items are still available.
How to Style Joggers for the Weekend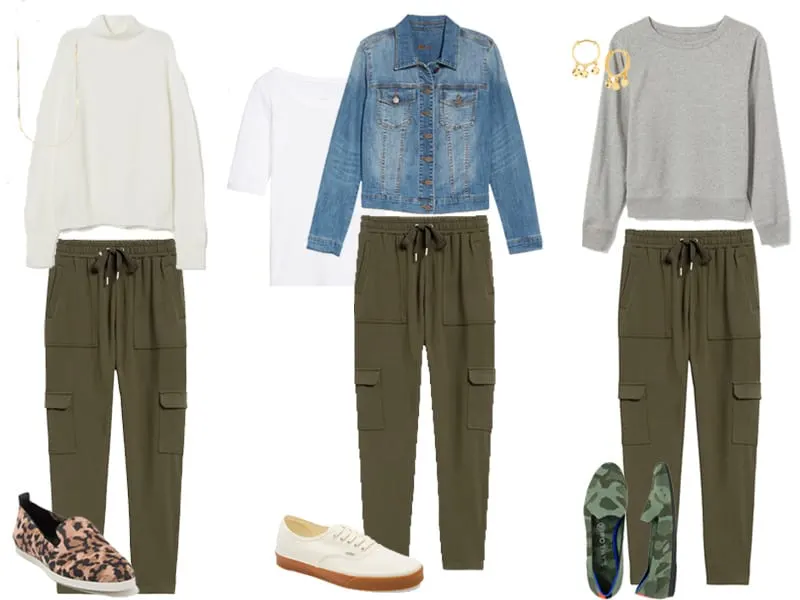 Joggers in olive, similar here
Joggers are what you want to wear when you don't want to wear sweats. They are slightly better, and make all the different in that space between feeling sloppy and like you still have your life together.
I'm featuring them in a dark army green. It's a fantastic, updated neutral.
Let's dive into the first outfit:
White Tee and Denim Jacket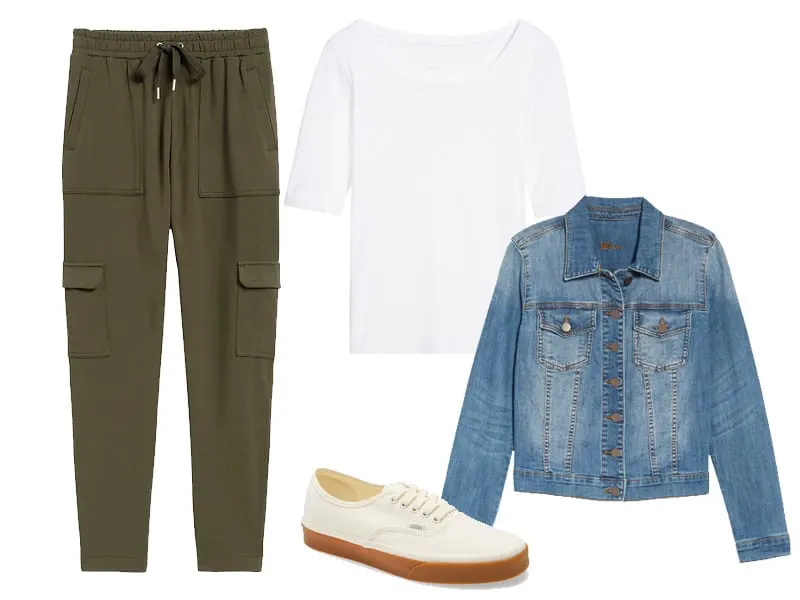 Joggers, | Tee, $25 | Jacket, $79 | Sneakers, $50
You likely have these pieces already hanging in your closet. I want to call out the tee shirt because it's what many of you are looking for. It's a lovely ballet neckline with a sleeve that goes to your elbow, making it ideal for layering or to wear alone.
It's available in: white here, from a 00 (XXS) – 18 (XXL) and plus size 1X – 4X here.
Then I added our favorite denim jacket by KUT. I just love it, I wear it all the time. It's available in petite and missy up to an XXL.
Finally, I included these sweet tie top sneakers by Vans. I almost stopped myself from featuring them here, since my girls are obsessed with their slip on version, but these, with their contrasting sole and warm "marshmallow" color feel right for grown ups.
Cozy Sweater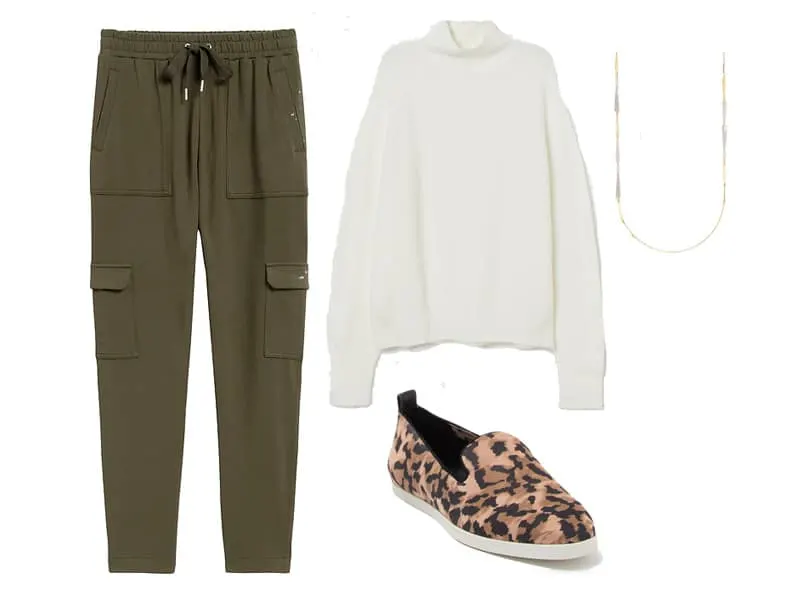 Joggers, | Sweater, $25 | Necklace, $40 | Sneaker, $48
Temperatures are all over the place right now, at least on the east coast. One day it's warm, the next it's dark and chilly.
My love of H&M sweaters is well documented. So I paired the joggers with this white, slightly oversized turtleneck sweater. (It's getting limited in sizes but is available in regular and petite.)
I added a long necklace by Kendra Scott (on sale for under $40 at Nordstrom Rack) – because why not? Jewelry makes me feel human.
Finally, I am crazy about these shoes by Louise et Cie. They are a leather slip on sneaker in a leopard print available in lots of sizes for under $50, also a Nordstrom Rack. I was not allowing myself to buy another leopard print shoe, but will be breaking that rule with these.
Better Than a Sweats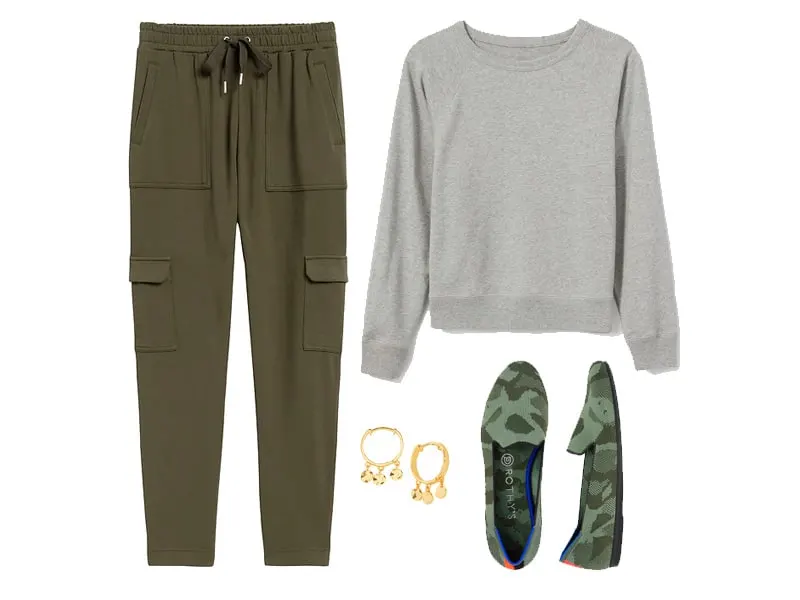 Joggers, $69.50 | Sweatshirt, $38 | Flats, $145 | Earrings, $36
I took the joggers and added a simple grey sweatshirt by Everlane. I find they run slightly small, so size up, or pay close attention to the measurements.
Then I added these chic and comfortable Rothy's in camo. I'm wearing my Rothly's in my office almost daily. There's something about wearing a real shoe that helps me feel grounded.
Now, keep in mind, my office is a few steps away from my house. I have to go outside to get in, so wearing shoes is required. I get it might be less important if you are currently working at your dining room table – just something to consider.

Finally, these earrings, by our new favorite Gorjana. I'm mentioning them because they come in gold AND silver tone, and so many readers have requested more silver options. They are incredibly affordable and a simple way to raise your spirit.
---
Our Style Content is Inspired by Our Readers
Our readership inspires all of our posts and is not sponsored or paid for by brands or retailers.
Recommendations are based on my experience as a personal stylist View Post and wardrobe consultant for over a decade. I worked with busy, down-to-earth women who wanted to look chic and feel confident but were often confused by so much of retail.
Some links are affiliate links, which means if you purchase via our site, we receive a small commission.
If you enjoy our content and would like to help us grow, please consider following on Instagram and join our Private Facebook Group to access more advice and exclusive in-depth conversations with other like-minded women.
---