Let's talk about how to create a classic jewelry capsule.
I'm frequently asked what you should have on hand to layer accessories into your outfits easily.
The key here is easy.
You want pieces you don't have to really think about.
Building a basic jewelry collection is like building out your actual wardrobe. It takes some strategy and thought.
It might take some time to pull it together, depending on how much you want to spend or invest.
Once you have these pieces or a version of them on hand, you'll have something to use every time you get dressed.
How to Create a Classic Jewelry Capsule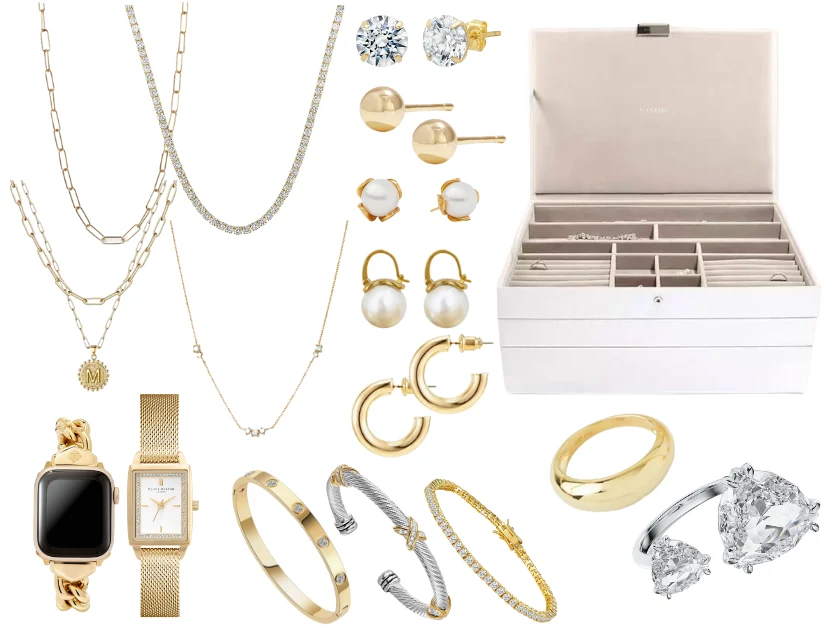 Before we dive in, a few notes:
First, I made sure all of these are available in both gold and white or silver-tone.
Second, remember everyone has different budgets and comfort levels with prices, especially when it comes to jewelry.
I tried to balance quality with affordability with this line up, most of these are very affordable.
You can certainly shop this post, or use it as a checklist of sorts as you create your own capsule.
If you have fine pieces, wear them! Stop saving them for a special occasion.
Finally, this is just a baseline. Once you have these pieces (or versions of them), layer in statement and novelty items, much like you would with your wardrobe.
Earrings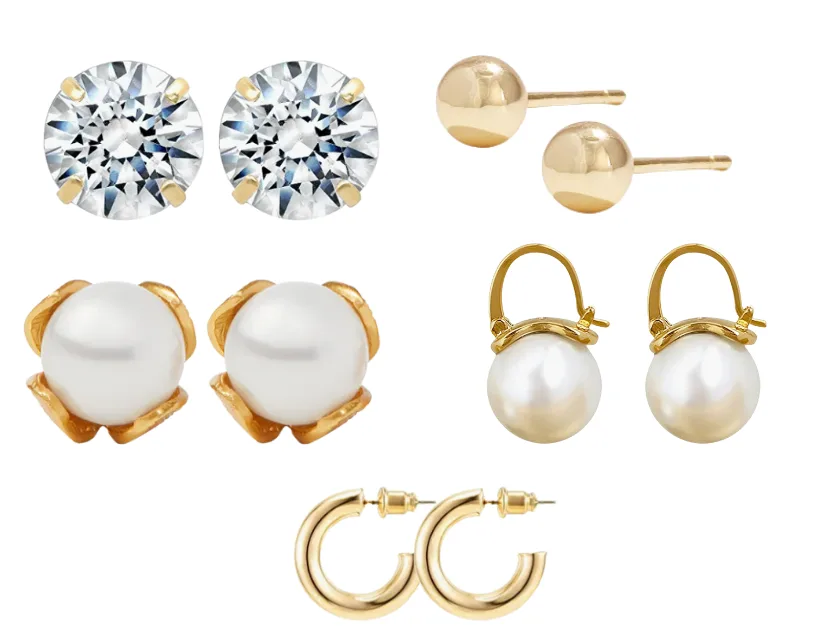 Earrings: "Diamond" Studs, $85 | Ball Studs, $38 | Pearl Studs, $75 | Pearl Dangle, $15 | Hoops, $14
To start, you need a few earrings.
First, studs. Whether you have a pair of real diamonds or going with a CZ, a simple pair of studs will work with everything hanging in your closet. While I would love a pair of heirloom quality diamond earrings at some point, I wear these by Swarovski.
Your choice of yellow or white gold, in .5 – 3 ct. I went with 3 ct because why not AND I think I have big ears so I can carry it.
You could also use a pair of simple ball studs. These are nice when you wear a statement necklace and don't want your earrings to compete.
You can find these anywhere. We've been featuring this pair from Uncommon James for under $40.
You can try these from Quince in silver or gold for the same price.
Next, pearls.
They may seem old-fashioned, but I've been wearing them more and more.
They go with everything from a white tee to a classic black dress.
I like to wear a classic pair with a twist.
Above, I'm sharing two of my favorite.
First is the Penelope Pearl Stud from Julie Vos for $75.
Available in two sizes, I wear the large, but I recommend the smaller size for more everyday use.
I also found these "dangle" pearl earrings on Amazon for only $15.
Finally, you need a hoop.
Collectively, we love this pair from Pavoli, at the insane price of $14, available in silver or gold in a range of sizes.
I wear the 20 mm almost every day.
Watches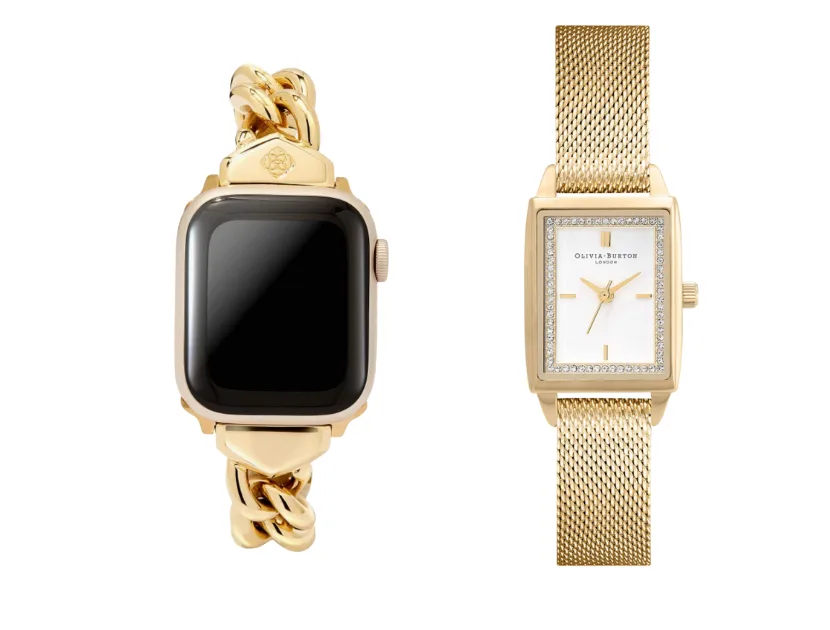 Apple Watch Band, $128 | Watch, $195
If you wear an Apple Watch, you know they can dress down a look. So I love this Kendra Scoot band that instantly turns it into jewelry.
Available in gold, silver, or rose gold for $128.
If you prefer a traditional watch, you can go crazy here.
There are so many options in a range of price points.
And honestly, I need to be educated more in this area to give real investment timepiece advice.
But I do like a slim profile, mesh band and a little bling. I think this simple tank watch from Olivia Burton (available at Nordstrom) is lovely and just under $200.
Necklaces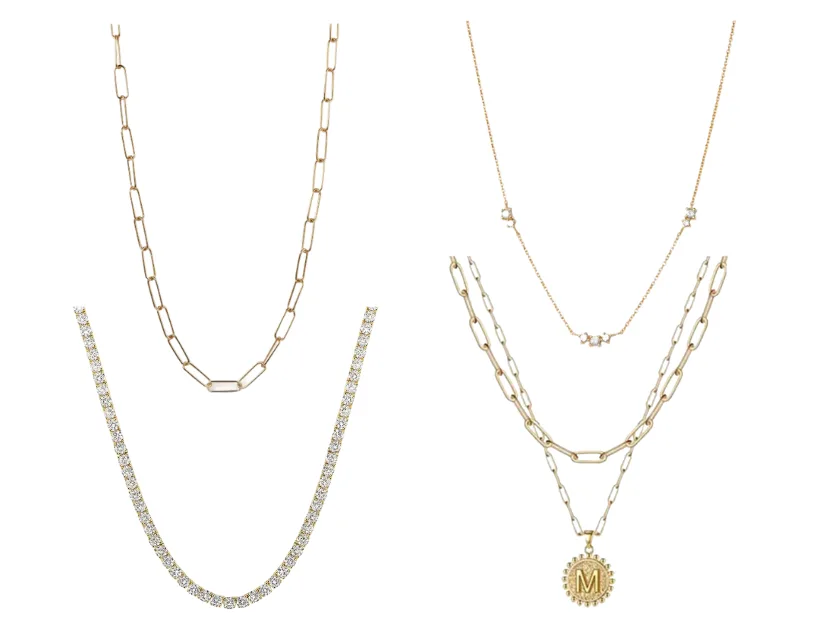 Necklaces: Chain, $178 | Delicate, $98 | Tennis, $32 | Layered, $15
You don't need all these, but looking at my own pieces, these are my go-to's.
First, a simple, lightweight chain necklace.
I have this one from Mejuri, available in gold or silver, for under $200.
Next, a delicate short option. This can be floating diamonds or pearls (real or faux, it doesn't matter).
The option above is also from Mejuri, featuring stationed sapphires for under $100.
Next, I've wanted a diamond tennis necklace forever. But, I don't have an extra 10K laying around.
So I'm thrilled with this Amazon find for $30.
It does the trick, adds some sparkle, and can be worn alone or layered.
Available in yellow or white gold. I ordered the yellow gold and the white as well; it's easy to have both at a price.
Please note the white-gold is a different SKU.
Wrapping up necklaces, you'll get a lot of wear out of a layered necklace set.
Again, you can find versions of this everywhere and infuse your own personality into it.
I like this best-selling, inexpensive initial set from Amazon in gold, rose, or silver for $15.
You can also find custom options on Etsy that you can personalize a million different ways in a range of prices.
Bracelets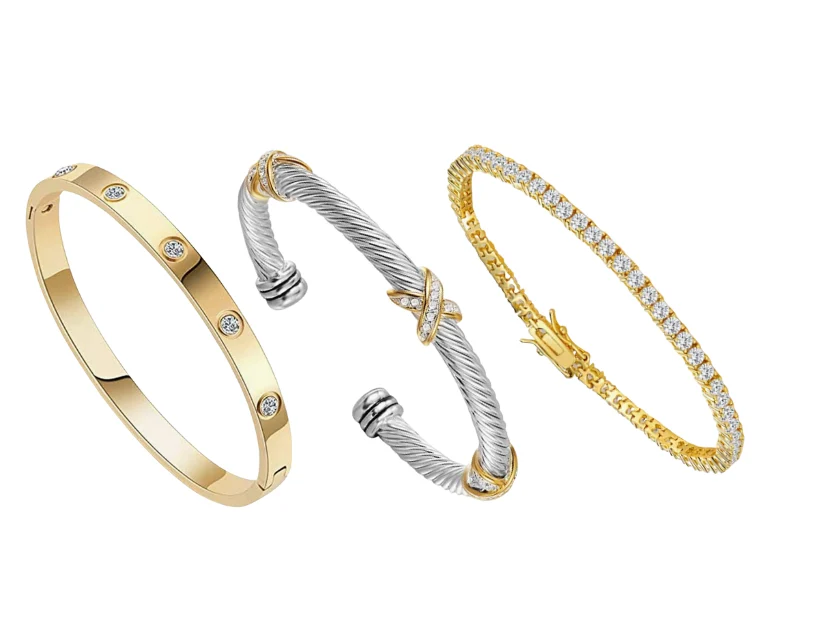 Bracelets: Hinged Bangle, $16 | Mixed Metal Cuff, $20 | Tennis, $17
Of all the categories, bracelets are my jam.
I layer them on every single day.
Narrowing down to a list of "must-haves' I'm going with three, starting with a hinged bangle.
The design is inspired by the iconic Cartier love bracelet (also on my dream wish list).
You can wear it with everything all the time. Works great as an anchor to layer with other pieces.
Next up, a cuff.
I like a piece that mixes metals.
For example, I love gold jewelry, but my wedding bands are platinum, so a piece or two that mixes the two together helps create a cohesive look.
This $20 David Yurman Dupe has been extremely popular with readers.
I've had mine for a year, and wear it every day and it's still looks like new.
Finally, you can't go wrong with a tennis bracelet.
This one "goes" with the necklace above, also in yellow or white gold, in a range of sizes for $17.
Rings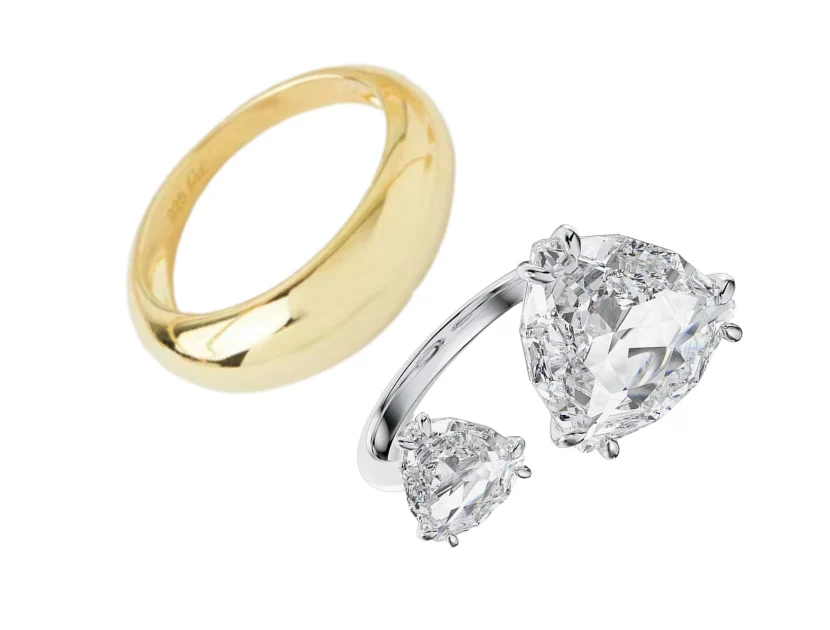 Finally, a note on rings.
Rings are super personal.
You might have your wedding set on your left hand; maybe you have something that's been passed down.
Wear what you have and what is special to you every day. I don't think they have to "match" the rest of your jewelry.
Where I like to have fun is in statement or cocktail rings.
You could do something simple, like this domed ring from Verishop, for $70 on your right hand.
For me, the gaudier, the better because it contrasts my good taste ;).
I love a bold ring, like this Swarovski Cocktail ring.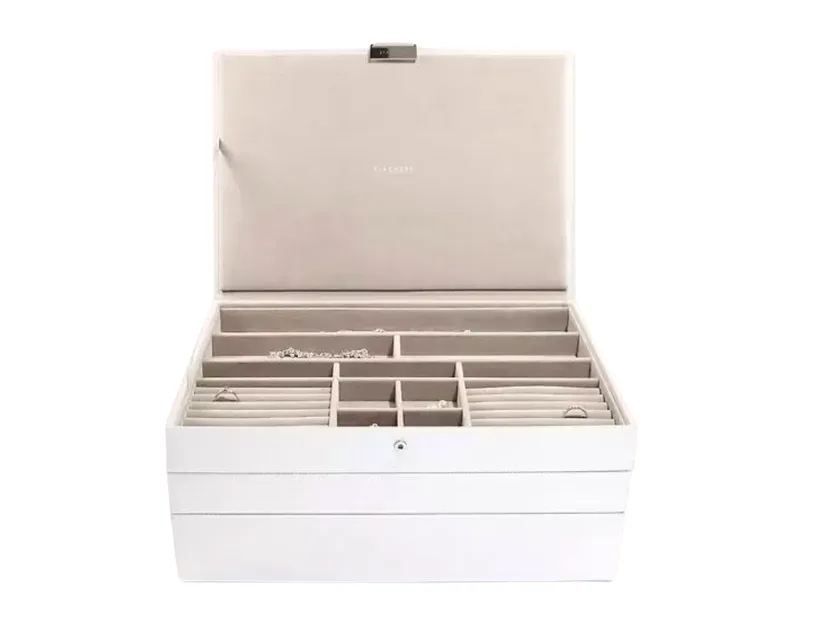 Jewelry Stacker Starter Set, $130
Finally, keep your jewelry safe and organized is important.
You need to see what you have in order to incorporate it into your daily outfits.
I purchased this stackable jewelry box system from The Container Store a few years ago and absolutely love it.
I keep my everyday pieces and rings in the top box, and more statement pieces in the middle. T
he bottom is a deeper box perfect for oversized cuffs or even sunglasses.
---
---