Let's talk about how to create a classic jewelry capsule. I'm frequently asked about what exactly you should have on hand in order to easily layer accessories into your outfits. The key here is easy. It's been my experience working with clients that if your pieces aren't thoughtfully edited and organized, you probably won't take the extra step to put them on.
Because jewelry is personal and subjective, I've avoided a comprehensive guide up until now. But today, I thought I would share what I consider modern basics.
Building a basics collection of jewelry is a lot like building out your actual wardrobe. It takes some strategy and thought. Depending on how much you want to spend or invest, it might take some time to pull it together.
Once you have these pieces or a version of them on hand, you'll have something to use every time you get dressed.
How to Create a Classic Jewelry Capsule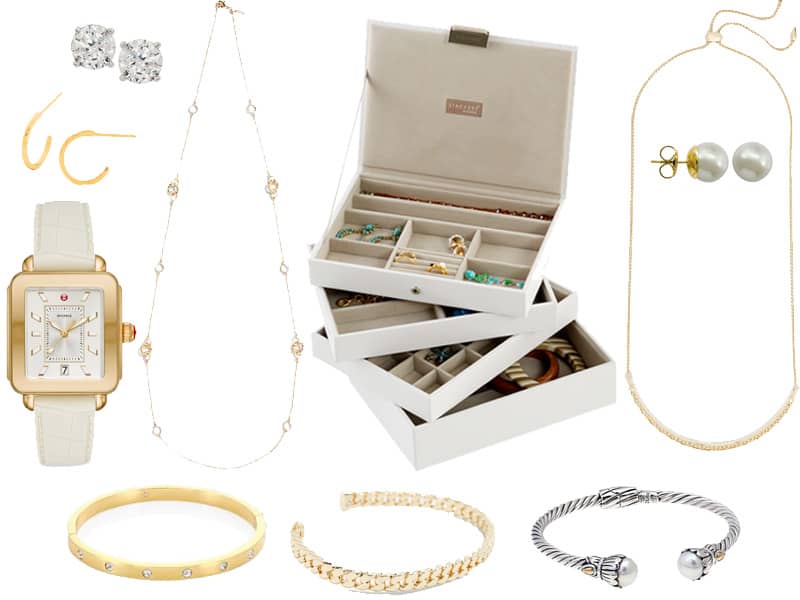 Before we dive in, a few notes:
First, I made sure almost all of these are also available in silver or silver-tone.
Second, remember everyone has different budgets and comfort levels with prices, especially when it comes to jewelry. I tried to balance quality with affordability with this line up.
You can certainly shop this post, or use it as a checklist of sorts as you create your own capsule.
Finally, this is just a baseline. Once you have these pieces (or versions of them), layer in statement and novelty items, much like you would with your wardrobe.
Earrings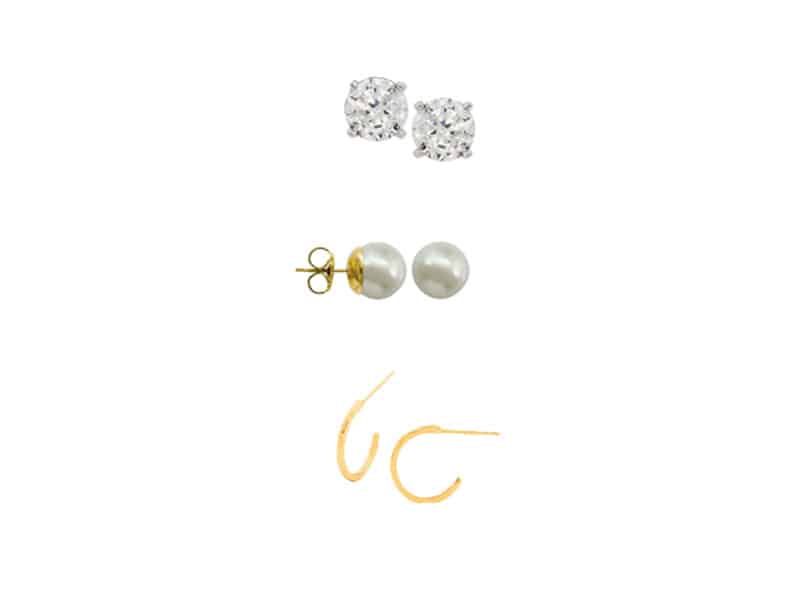 Earrings: Studs, $27 | Pearls, $37 | Hoops, $45
To start, you need a few earrings.
First, studs. Whether you have a pair of real diamonds or going with a CZ, a simple pair of studs will work with everything hanging in your closet. While I would love a pair of heirloom quality diamond earrings at some point, I'm sticking with these under $30 studs from QVC.
I discovered these over a decade ago when I was a buyer for QVC and had been wearing them ever since. They are realistic, sparkly, and comfortable to wear. What I like about them the most (aside from the price) is that they are sterling with a coating of platinum. For someone with sensitive ears (mine turn green if I wear anything other than at least silver), they are ideal.
Next, pearls. They may seem old fashioned, but I've been wearing them more and more. They elevate an inexpensive dress, and offer a lovely alternative to the diamond/cz stud.
Prices are all over the place with these, you can go with an affordable simulated pair, like these for under $40 at Bloomingdales, or a several hundred with a traditional pair by Mikimoto.
Finally, a hoop of some kind will provide some movement to an outfit. I LOVE these by Gorjana, in gold or silver. They are the perfect size for everyday use. If you've been following along for the last year, you know I'm a big fan of Gorjana for their quality and price.
Watch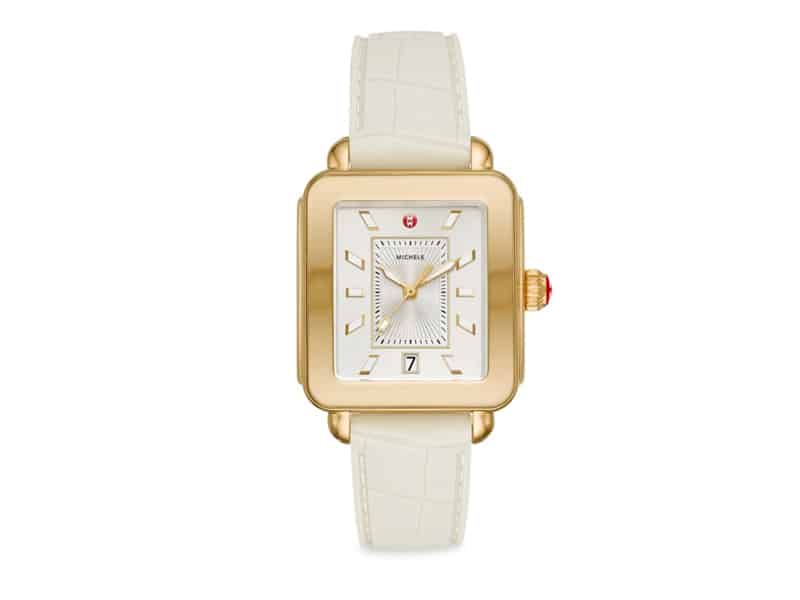 Watch, $395
It's nice to see traditional watches make a comeback amid Apple watches and Fitbits. Admittedly, I wear a Fitbit, and I HATE how it looks when I'm dressed.
You can spend a small fortune on a watch, and you may want to. But for today, I'm highlighting Deco Sport by Michele. They are reasonable (for a watch) and gorgeous.
You buy one face, and they can add additional straps so you can create several different looks.
Necklaces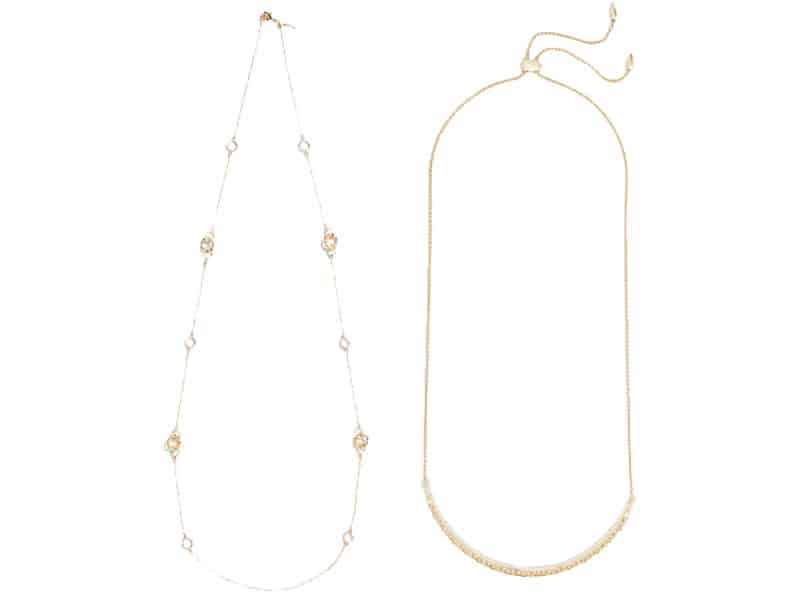 Necklaces: Long Link Necklace, $28 | Choker Necklace, $95
In my book, you only "need" two kinds of necklaces, a long and short one.
A long necklace helps elongate the line of your body. It works best with high necklines, like a turtle, boat, and crewnecks. It gives movement and interest to tunics or high neck halter dresses. They know no limit in terms of seasons or occasions.
These days, it's not easy to find a universal one—something you can wear with everything. This was the most challenging item to source for this post.
Then I found this one from Banana Republic in silver and gold for under $30. Go, buy it and wear it all summer long. You'll love it.
Next you need a shorter necklace, to fill in open necklines (like under a collared shirt) or layer with other pieces. This Kendra Scott piece is called a "chocker" but it's not like the ones we wore in the 90's. It has an adjustable slider so you can make it sit where you like.
It's really beautiful, and feels special without being over the top. It's available in gold, rose gold and silver tones.
Bracelets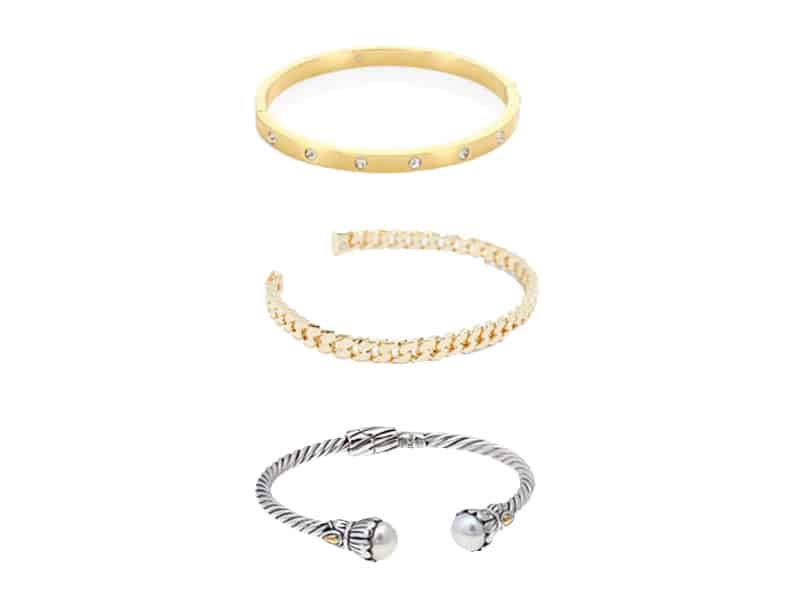 Bracelets: Hinged Bangle, $45 | Chain Cuff, $40 | Pearl Cable Cuff, $129
Of all the categories, bracelets are my jam. I layer them on almost every day.
Narrowing down to a list of "must-haves' I'm going with a hinged bangle. This one is under $50 by Kate Spade. The design is inspired by the iconic Cartier love bracelet (on my dream wish list). You can wear it with everything all the time. Works great as an anchor to layer with other pieces.
Next up, a cuff. I just ordered this chain cuff for myself. It's a timeless piece for under $40, and another perfect layer.
Finally, it's perfectly acceptable and stylish to mix metals, but like everything we talk about, you have to do it with purpose for it to look chic.
By incorporating a two-tone cuff (this one has a subtle speck of gold with a pearl accent), you instantly create cohesion for the different toned metals.
For example, let's say your wedding rings, and studs are set in platinum, but you prefer gold-tone for everything else. Add this cuff (or something similar), and you pull all of your stand-alone pieces together.
Storage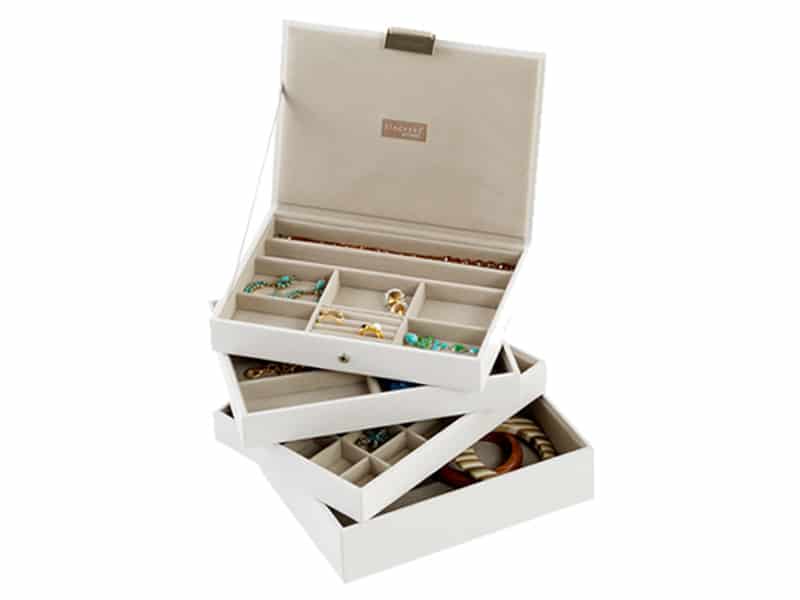 Jewelry Box, $25 – $35
Finally, keep your jewelry safe and organized is important. You need to see what you have in order to incorporate it into your daily outfits. I purchased this stackable jewelry box system from The Container Store in January and absolutely love it.
I keep my everyday pieces and rings in the top box, and more statement pieces in the middle. The bottom is a deeper box perfect for oversized cuffs or even sunglasses.
Below is the combination I have at home:
Top: (1) Stackers Classic Lidded Box White
Middle: (2) Stackers Classic 25-Section Tray White
Bottom: (1) Stackers Classic Deep Open Tray White
---
Our Content is Inspired by Our Readers
Our readership inspires all of our posts and is not sponsored or paid for by brands or retailers.
Recommendations are based on my experience as a personal stylist View Post and wardrobe consultant for over a decade. I worked with busy, down-to-earth women who wanted to look chic and feel confident but were often confused by so much of retail.
Some links are affiliate links, which means if you purchase via our site, we receive a small commission.
If you enjoy our content and would like to help us grow, please consider following on Instagram and join our Private Facebook Group to access more advice and exclusive in-depth conversations with other like-minded women.
---