Ever since I was a young girl, I loved the look of a classic white button-down. I remember seeing Carolina Herrera for the first time on T.V., gracefully walking out from behind the curtain of one of her fashion shows, in her tailored black pants and perfect white shirt.
I never saw anyone so elegant.
She immediately became my north star of style.
But it's only been over the last few years that I've felt "grown-up" enough to feel comfortable in it.
These days, having a few simple outfit combinations that feel polished but not overdone has helped me stay productive while managing work and the current chaos of home life.
Classic White Button Down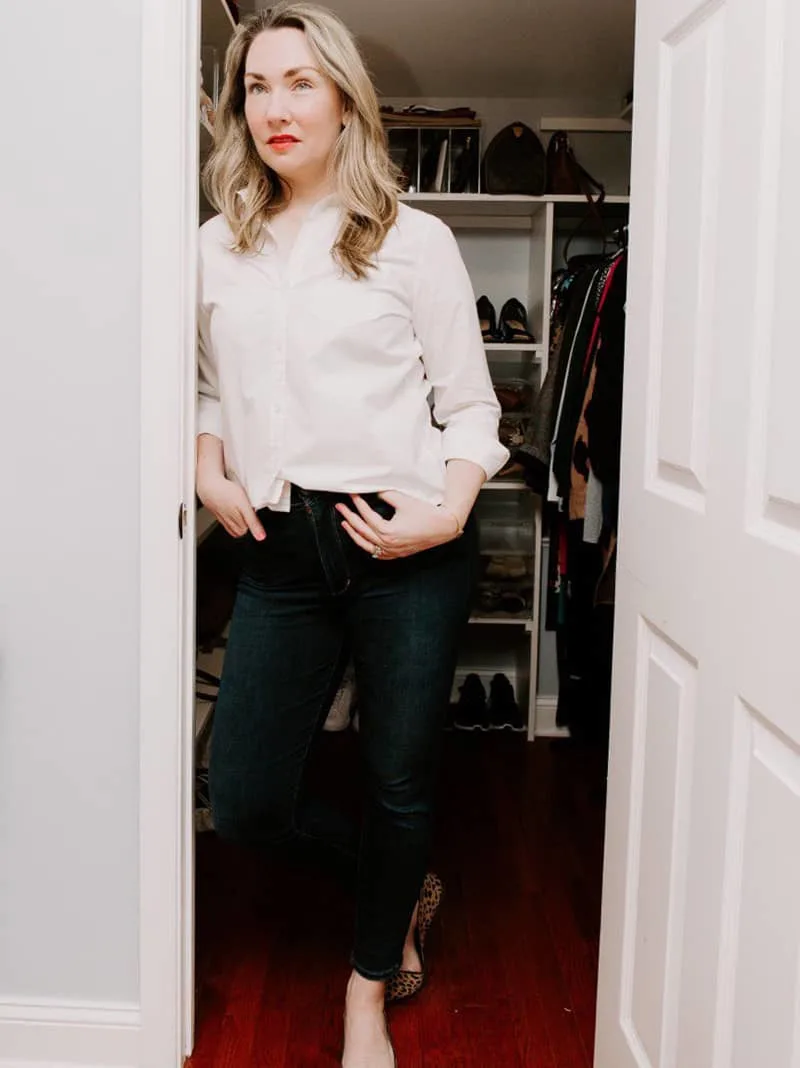 Classic White Button Down, $21
Today, I'm all about a classic cut, not boxy, not overly fitted. And I don't want to spend a small fortune. A white button-down is a lot like a white tee shirt. In my opinion, there's no rhyme or reason to pricing, and quality is rarely reflected in the cost.
In my pursuit of a shirt that fits well and works for my budget and lifestyle, I tried dozens of brands. Imagine my surprise and delight when out of everything, the one I like the most came from Amazon Essentials for $21.00.
I'm wearing the medium; it runs true, with sizing starting at XS – XXL.
It's not sheer, the fit is excellent, and it washes well.
I picked up several, so I always have some on hand. Here, I paired it with a pair of dark skinny jeans. Of course, you can wear them with a straight leg for the same look. And I'm wearing my favorite Rothy's that have turned into a slipper alternative.
General Fit and Care
Remember, not all pieces work universally. Button downs are tricky for many when it comes to fit. If you have a full bust, it's not always worth the alterations you would need to do to get the fit right. (It usually involves sizing up and altering down or having something custom made.)
But if they work for you, they can be a polished and ladylike staple in your classic wardrobe. Especially
I wear mine half tucked in the front – a trick that helps minimize your midsection. Doing so creates a chic, casual vibe like you're Diane Keaton in any move she's ever been in.
What's the best way to keep them white? Well, Carolina Herrera herself once said, "A bar of dove soap and warm water." Works beautifully. Just scrub around the color, cuff, and under the arms to keep them from turning yellow, rinse, and throw it in the dryer on low.
Our Style Content is Inspired by Our Readers
Our readership inspires all of our posts and is not sponsored or paid for by brands or retailers.
Recommendations are based on my experience as a personal stylist and wardrobe consultant for over a decade. I worked with busy, down-to-earth women who wanted to look chic and feel confident but were often confused by so much of retail.
Some links are affiliate links, which means if you purchase via our site, we receive a small commission.

If you enjoy our content and would like to help us grow, please follow on Instagram and join our Private Facebook Group to access more advice and exclusive in-depth conversations with other like-minded women.
Learn about our mission to help women look and feel their very best, every day, here.
Get on The INSIDER Waitlist for Spring/Summer 2021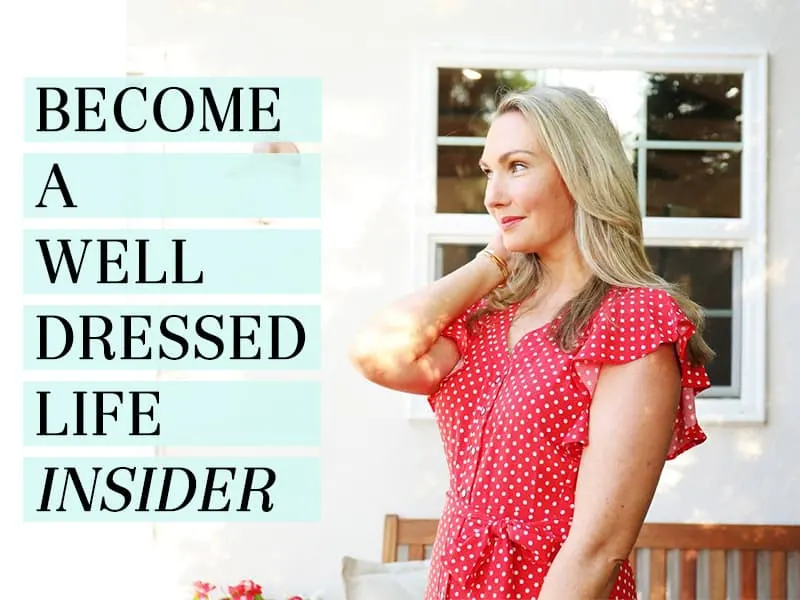 Sign Up for Daily Content and Receive Our Free Classic Wardrobe Checklist