Reader Favorites is a monthly series that highlights the most popular items on the blog from the last 30 days. Think of it like a round up of items highly recommended from your friends.
We'll use these pieces different ways in upcoming style posts to help you get the most of what you're buying and share ideas on how and where to wear them.
Shop below and stay tuned for more outfit inspiration.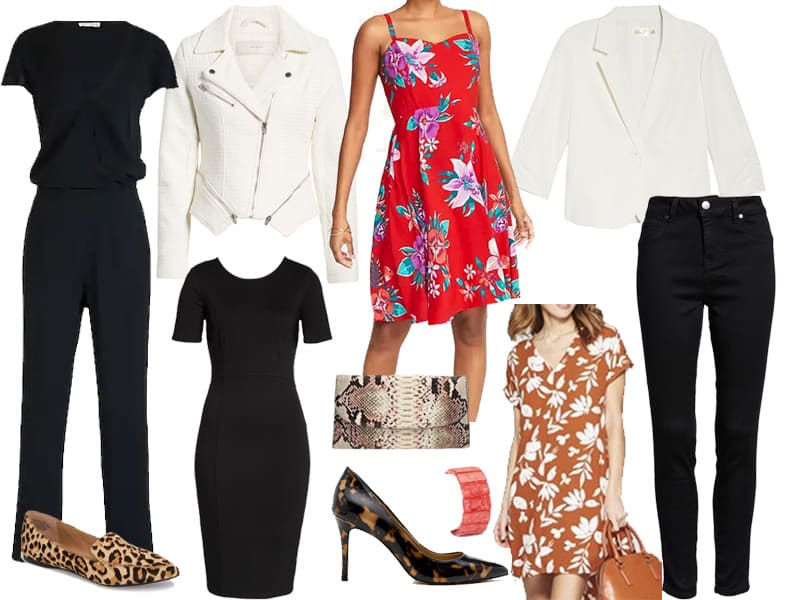 Jumpsuit, $50 | Moto Jacket, $128 | Leopard Loafer, $90 | Sheath Dress, $98 | Ruched Blazer, $78 | Black Jeans, $39 | Floral Dress, $23 | Cami Dress, $30 | Snakeskin Clutch, $99 | Pumps, $128 | Bracelet, $12
We talked about jumpsuits last Friday and featured a slightly more elevated wrap style suit. This ankle length version works beautifully with casual elements, like a denim jacket and a simple pair of flats.
An updated and more casual version of a moto jacket fills the void in your wardrobe between cardigan and blazer. Done in a seasonally appropriate fabric and color you can pair this with anything from jeans to dresses. Sizes are limited.
A reader favorite for a few months now these leopard loafers have a slim profile, so they don't feel bulky and will blend nicely with slimmer legged, lightweight bottoms.
Need a wear-anywhere black dress? This under $100 classic sheath has a comfy fit and sleeves making it ideal for any time of year. While it looks conservative in the front, the exposed zipper that runs the length of the back gives it just enough edge to keep it interesting.
Simply put, this blazer is an ideal piece for a business casual outfit or to keep on hand as a layer for dresses. We've used it dozens of ways this season, the most popular was when paired with a maxi dress.
Under $40 for a great fitting pair of jeans is unheard of, but these slim ankle jeans by 1822 Denim are just that. They offer a high waist and incredible comfort. Size down to accommodate for them to stretch out.
Throw this simple floral dress on with a pair of flat sandals for an instantly chic yet low-key outfit for vacation. Add a straw tote and some sunglasses, and you're set to sightsee and lunch wherever your travels take you.
Another inexpensive, vacation worthy dress, this time from Old Navy comes in four color/pattern options and a full range of sizes. Take some inspiration from our recent post where we styled it with two different ways, for day and night.
A splurge worthy, carry all the time, not-so-basic, basic clutch will add some edginess to a classic wardrobe. Shades of beige and lavender, combined with an embossed snakeskin print work together to create an unexpected neutral.
Another basic with a twist, these tortoiseshell patterned patent pumps are surprisingly comfortable considering their height. They work beautifully with black dresses and bottoms or any kind of jean.
Inexpensive, trendy jewelry is easy to find, but finding some with actual wearable style is a different story. Enter Sugarfix by BaubleBar exclusively available at Target. What the pieces lack in substance they make up for in price point. Everything is well under $20 so you can buy a piece or two and try out a different look without making a huge dollar commitment.