The big buzz in skincare is Skin Cycling.
If you haven't heard of it and are a skincare enthusiast like me, keep reading.
Skin Cycling is a term and system created by Dr. Whitney Bowe, an award-winning, board-certified dermatologist, and scientist in New York.
It's a system that takes the guesswork out of when to apply active products, so you get the absolute most out of them, eliminate irritation, and build healthy, youthful-looking skin.
I shared this back in December, and I heard from so many readers that after implementing these steps, they saw a noticeable difference in their skin.
I've been doing this for almost a year now, and I will never look back.
What's great about this is that you don't have to change or buy new skin care products.
This is simply a system that makes what you already have work better.
What is Skin Cycling?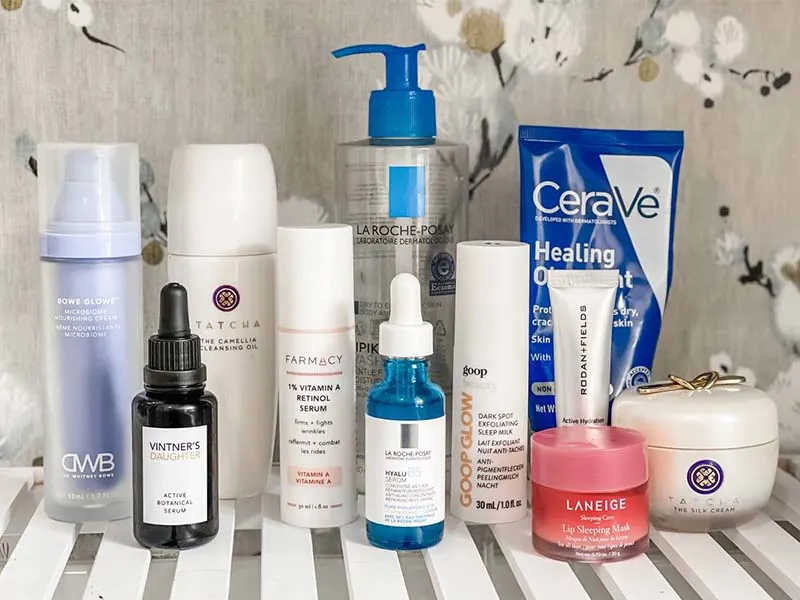 Maintaining healthy skin as we age is easier than ever, but with so many products at our fingertips, it's also overwhelming.
We know what works: exfoliation, retinoids, hydration, and sunscreen, sunscreen, sunscreen.
For the most part, I spend on skincare products.
I have incredibly sensitive skin, and I can honestly say, since becoming diligent and investing in my routine a few years ago, my skin has never looked better.
Last year, I researched the best order to apply your nighttime skincare and shared my routine here.
Learning the correct way to layer products made a big difference.
But I still had one question: when should you apply certain products?
I knew I didn't want to exfoliate every night, and retinoids are too strong for nightly use, at least for me.
So like a lot of women, I was randomly alternating nights with no real understanding of what worked.
That's where Skin Cycling comes in to clear things up.
I discovered Dr. Bowe on TikTok.
She is also on Instagram.
I encourage you to follow her on either platform as her content is wonderfully helpful.
She created the concept of Skin Cycling to allow the active ingredients in your products work better and give your skin barrier time to heal by purposefully staggering your usage out over four days.
Below, I'm sharing my favorite products and more affordable options when appropriate.
But use what you already have if you love it.
Dr. Bowe's Four Night Skin Cycling Routine: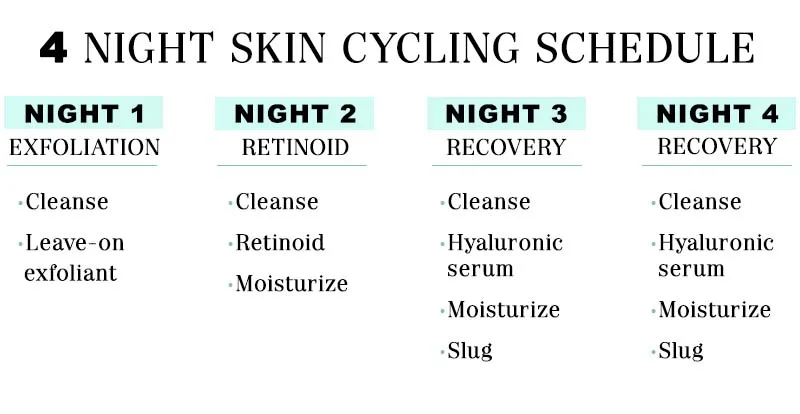 You'll start with a clean face every night, and I am a big proponent of double cleansing.
On your first night, you exfoliate
.
Dr. Bowe recommends a leave-on chemical exfoliator instead of a physical exfoliant that you would rinse off because physical exfoliants can be too tough on the skin.
Currently, I'm use Paula's Choice SKIN PERFECTING 2% BHA Liquid Salicylic Acid Exfoliant. It's an affordable product I discovered thanks to readers recommending it in our comments!
Let this sit for a moment, and you can layer on a little moisturizer before bed.
On night two, you'll use your retinoid product
.
On a clean, DRY face, you'll apply your retinoid.
For prescription retinoids, you only want to use a pea size amount—one on your face, one on your neck, and two on your chest area. Rub any leftovers on the top of your hands.
As I update this I'm actually trying Dr. Bowe's Rential Treatement.
So far, I like it. It's light and not irritating but I haven't used it enough to give a full review.
I've also used the Roc Retinol Correxion Deep Wrinkle Anti-Aging Night Cream, which is super affordable and has many loyal users.
Add a little moisturizer on top after it settles before bed.
Nights three and four are my favorite, focused on recovery.
Dr. Bowe's research shows that our skin benefits from using active ingredients and then giving the skin barrier time to process and heal.
And this is when I started to see the most improvement.
On recovery nights, we focus on healing and hydrating.
After a double cleanse, you can use a hydrating sheet mask, I like this one from Amazon, or apply a hyaluronic serum on damp skin.
I like this affordable one from La Rouche Posey. or this splurgy one from Caudalie.
Once that sets, I gently press in a small amount of Vintner's Daughter.
This isn't necessary, but I have used Vintner's Daughter religiously for years.
It is my holy grail product, filled with nutrient-rich botanicals that nourish and moisturize. It's changed my skin.
Then you moisturizer.
I started using Dr. Bowe's Bowe Glow Microbiome Nourishing Cream, as a first layer.
This is what helps rebuild your skin barrier.
Then I had very thin layer of a night cream.
I love anything from Tatcha.
Either their Dewy Skin Cream or The Silk Cream is just beautiful.
Finally, if you want to, you can "slug."
Slugging is simply coating your face in an occlusive moisturizer, like Vaseline or any petrolatum-based formula, to "lock" in moisture.
It sounds ridiculous, and you look like a glazed donut, but you wake up looking plump and glowy.
For this, I use CeraVe Healing Ointment. It's inexpensive (you don't have to spend here) and doesn't clog my pores.
Then repeat the process; you'll start to see your skin respond immediately.