I've been hearing from our community about how challenging they find shopping online for clothes. So today, I thought I would map out some of my best tips to help you navigate the world of e-commerce, so you keep more of what you buy and save yourself trips to the post office.
Our Current Situation
Retailers and malls were experiencing dwindling sales and low foot traffic long before the time of social distancing. Shopping, for many consumers, was getting not only frustrating but boring.
Many of the stores and shopping destinations currently on the cusp of never recovering from our economy's freezing were in dire straits before this because they didn't adapt to the changing world.
Now, all retailers are going to have to overhaul how they do business.
The aspects that made shopping a fun outing are largely missing. And now that we are 12 months into this mess, retailers have adjusted their plans, so you will see less and less inventory in the stores.
Without an in-store experience, retailers will find more ways to incentivize us to shop online, like deep discounts, bonuses, and free shipping.
But that brings along its own set of frustrations. So let's net out how to do it well, so you save time, money, and sanity.
My Best Tips for Shopping Online

Know Your Measurements
The long held belief by almost all of us that we are a certain size is pointless. I can wear anywhere from a small to a large, and a six to a 12 – all depending on the brand.
You need to take your measurements and have them on hand to compare to the size guide provided on store sites. I keep mine in the notes app on my phone. You want to have your shoulder, bust, waist, hips and inseam.
Use Retailers Sizing Guide
Next, you must refer to each retailers size guide before you add to cart. Every single one is different. The reason is because sizes are not regulated in the retail industry. Manufacturers can (and do) create their own size scale, with no rhyme or reason.
Below, I captured the size charts from three of our most popular retailers: Old Navy, J.Crew and Banana Republic.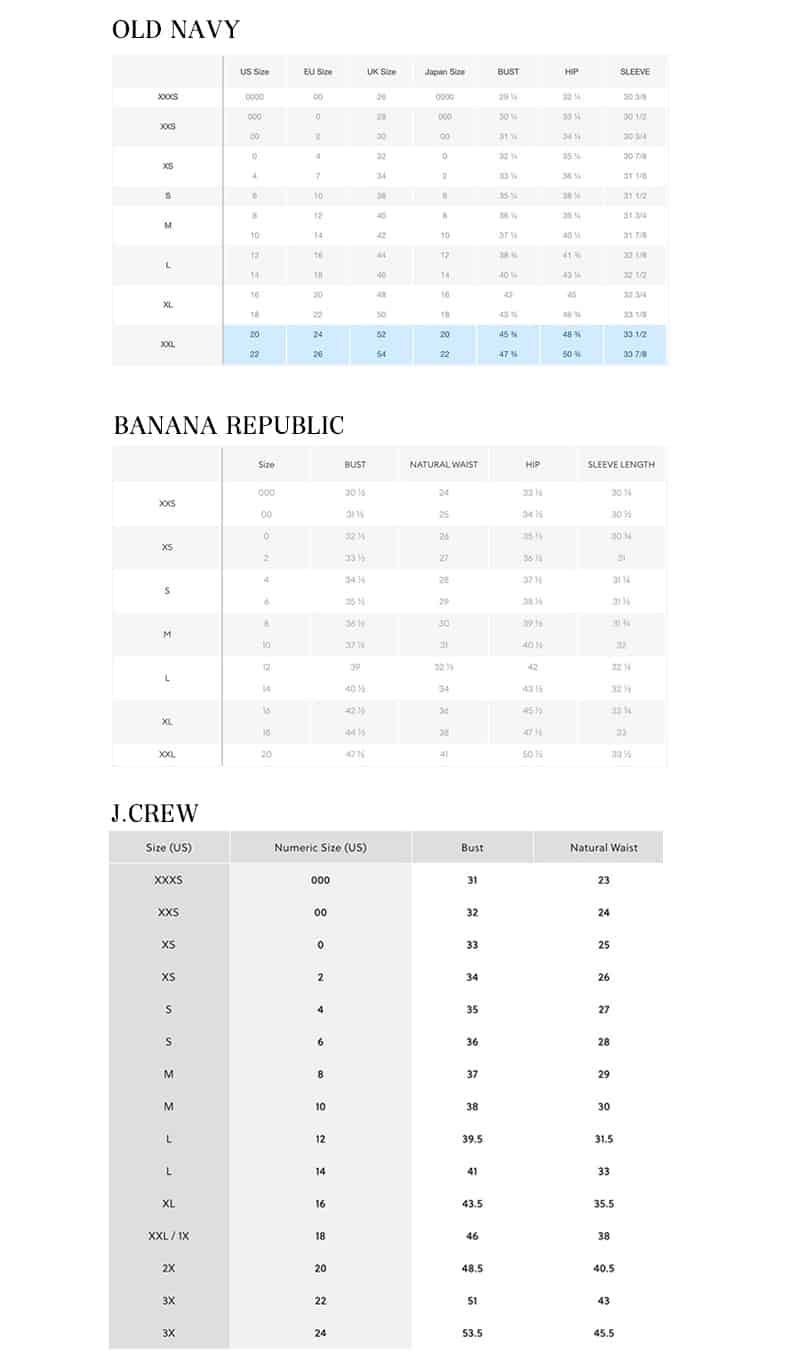 Let's say your bust measures out at 38″. You would be a large in Old Navy and a Medium in J.Crew and Banana Republic. That's a full size difference (which hold true in real life) and these brands are all under the same ownership.
The discrepancy is even larger with brands that target different demographics – for example, I would swim in a size 10 suit from Talbots, but be a perfect fit in Theory.
Read Reviews
Many retailers offer customer reviews that provide both a star rating AND comments. If you see something you like with a low star rating, be sure to read the accompanying comments. Often, customers write poor reviews because of shipping issues, or matters of personal tastes that have nothing to do with the fit and quality of a product.
Check the Return Policy
As the retail landscape changes, I can guarantee return policies will become more generous, and additional conveniences will be offered, like prepaid shipping labels, pick up, etc. Just give it some time.
However, it's still important to check.
Not long ago, I made an impulse buy off of Instagram to try a brand that kept showing up in my feed. By the time I opened the package, a few days after receiving it, I had pretty much missed the window to send it back. They had a ten-day return period with convoluted requirements for return and refunds.
It was so much extra work I ended up eating the order and learned a valuable lesson.
What (and Who) to Avoid
Speaking of what to avoid, proceed with caution when it comes to "social media brands." These are brands like the above example that focus their marketing entirely on platforms like Facebook and Instagram.
Their shipping times tend to be so long you forget you even placed an order and have impossible return periods. More so, they're not transparent about manufacturing practices.
This will change with time, and more legitimate, ethical businesses will have to sell on social, but the first round feel predatory.
If you see a product or brand you'd like to try, first do a quick Google search to find as much information as possible. Always read their "about" page. If they don't have one, it doesn't sound professional or they don't provide key information like a customer service number or address, avoid it.
Wear it Three Ways
Follow the same guidelines online that we recommend for in store purchases. This is where I find online shopping incredibly helpful. It's just you shopping!
Before you pull the trigger on a purchase, ask yourself a few questions:
Do I LOVE it (assuming it fits the way you hope)?
If it's a mix and match item, can you wear it at least two, maybe three ways?
If it's a better basic, how frequently will you reach for it?
Depending on the price, could you benefit from having more than one?
What's nice about online shopping is you have no pressure. You can toggle back and forth between your Pinterest boards and your shopping cart. You can search for discount codes, or options at different stores. You can walk away for a minute without feeling bad about wasting someones time.
Online shopping can be incredibly efficient and fun with just a little pre-work!
Our Style Content is Inspired by Our Readers
Our readership inspires all of our posts and is not sponsored or paid for by brands or retailers.
Recommendations are based on my experience as a personal stylist and wardrobe consultant for over a decade. I worked with busy, down-to-earth women who wanted to look chic and feel confident but were often confused by so much of retail.
Some links are affiliate links, which means if you purchase via our site, we receive a small commission.

If you enjoy our content and would like to help us grow, please follow on Instagram and join our Private Facebook Group to access more advice and exclusive in-depth conversations with other like-minded women.
Learn about our mission to help women look and feel their very best, every day, here.
Get on The INSIDER Waitlist for Spring/Summer 2021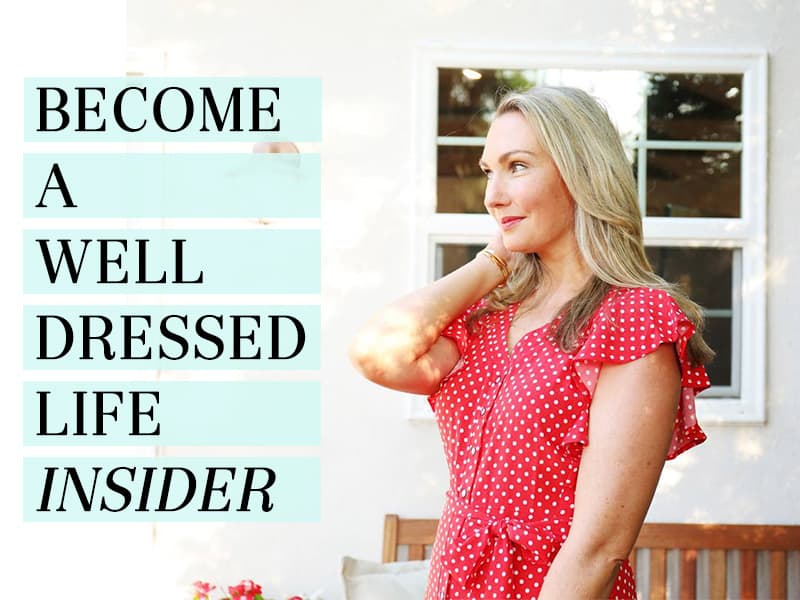 Sign Up for Daily Content and Receive Our Free Classic Wardrobe Checklist