Figuring out your personal style is the first step in creating a functional wardrobe you love.
When you can clearly define your personal style, getting dressed becomes easier and fun and you'll save a ton of money.
Discovering your personal style seems easy enough, but start to dive into it, and you'll quickly realize it can be confusing and overwhelming.
Have you ever sat down and thought about what kind of clothes and outfits you like?
Probably not, because as busy women, who has the time?
For many, myself included, there comes the point in life when we end up with less of a style and more a closet full of clothes we accumulated over the years.
How to Find Your Personal Style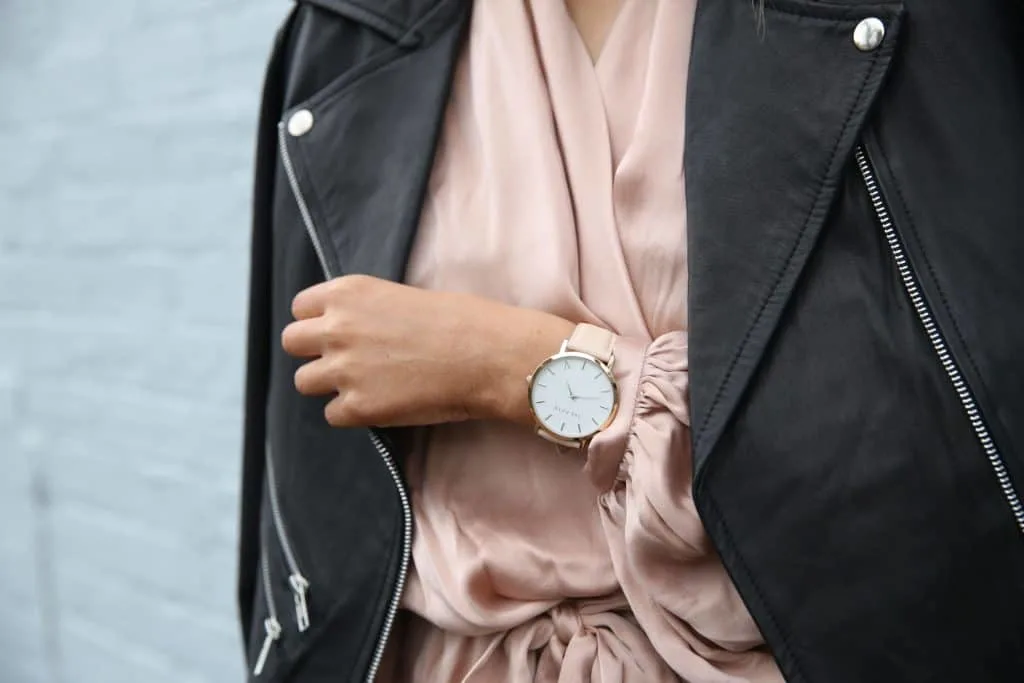 The decades after I graduated from college were a series of personal style trial and error.
I fully embraced late nineties style with my low-rise jeans and mid-drift tops, not so much a personal style as a required uniform for frat parties and college life.
After graduating, I remember trying to look like a "grown-up" or my version of one. Thankfully, that was a quick phase, and I spent most of my twenties and early thirties experimenting with different styles, all while having babies and building a business.
While I've always understood the fundamentals of dressing, like proportion and fit, navigating it personally is very different.
As we age and watch our bodies change, it took me a minute to understand that what worked in my 20's and 30's doesn't work on my body at 40 after three pregnancies – no matter how much I work out.
At my core, regardless of my age or size, I've always loved classic American style. As a young girl, I worshiped Oscar de la Renta and Carolina Herrara. I dreamed of growing up to exude their effortless elegance.
But it wasn't until my late 30s and now at 40 when I felt like who I am as a woman and my personal style match. Like they are finally meeting at the same point.
Because for years, I was convinced what I liked was boring. So I bought things because:
I thought I should like it.

It was on sale.

I was just happy it fit.

Or all of the above – sound familiar?
Maybe that's the beauty of aging, the confidence you get in being able to say, this is who I am.
Today, we'll talk about how to find your personal style based on what worked for me and the strategies we used to help clients over the years so you can feel confident showing up as who you are in the world.
How to Find Your Personal Style in 6 Easy Steps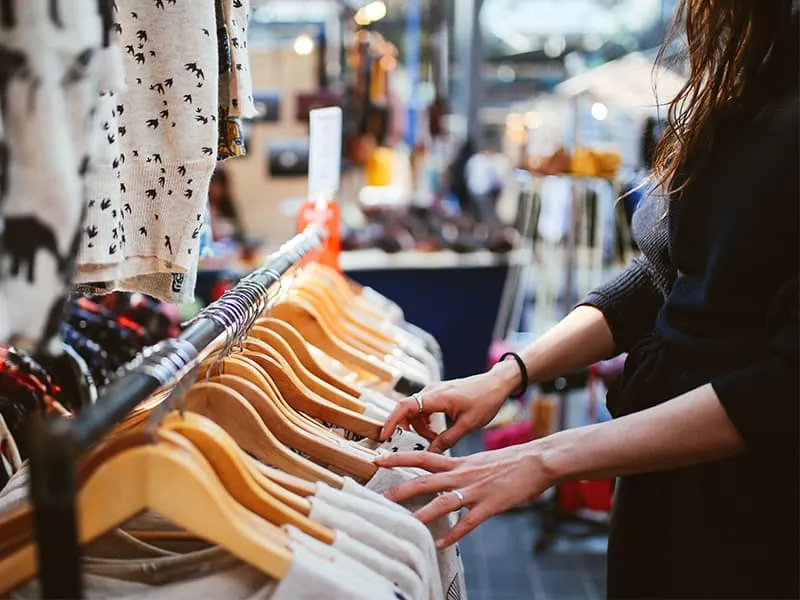 What Styles Do you Want to Live In?
When I worked with clients, the first step in our process was to figure out her style.
I created a client questionnaire, which included a section that asked them to think about women with a style they admire. It could be anyone, from a celebrity to someone they worked with.
It was an easy first step to get a sense of what the client liked.
To start this process, ask yourself, who do I think always looks great?
This is like a brain dump; it can be anyone with any kind of style. THEN, take that list and narrow it down to those styles you want to try to recreate.
For example, I adore Diane Keaton and Helena Bonham Carter. I appreciate their bold, wild, and unique style.
But do I want to dress like them?
No.
Readers often tell me they get stuck here because they like everything. And I get that!
It's a lot like when you're in the process of decorating your home. You can enjoy all kinds of styles, but what do you want to live in?
Can you like more than one style? Sure!
And that's what makes your style unique. It's how you combine those elements in your unique way.
I narrowed my list down to three:
Gwyneth Paltrow

Oliva Palermo

Carolina Herrera
What do they have in common? They all share a classic American style with some modern elements that feel relaxed and casual.
Who's on your list?
Create a Personal Style Vision Board
Of course, we don't have the resources (budget, stylist, make-up artist, etc.) to dress like a celebrity. So we want to create a visual to help guide us.
This step is by far my best, most well-received tip. We go through this process in detail in our Free Wardrobe Challenge.
It's the most effective way to break down the difference between styles you appreciate and how you want to dress every day.
AND it helps you build a wardrobe you love quickly and easily.
Spend some time on Pinterest. Create a personal style board, and "pin" all the looks you like. Then, and this is important, go through them and edit them down to only the ones you love.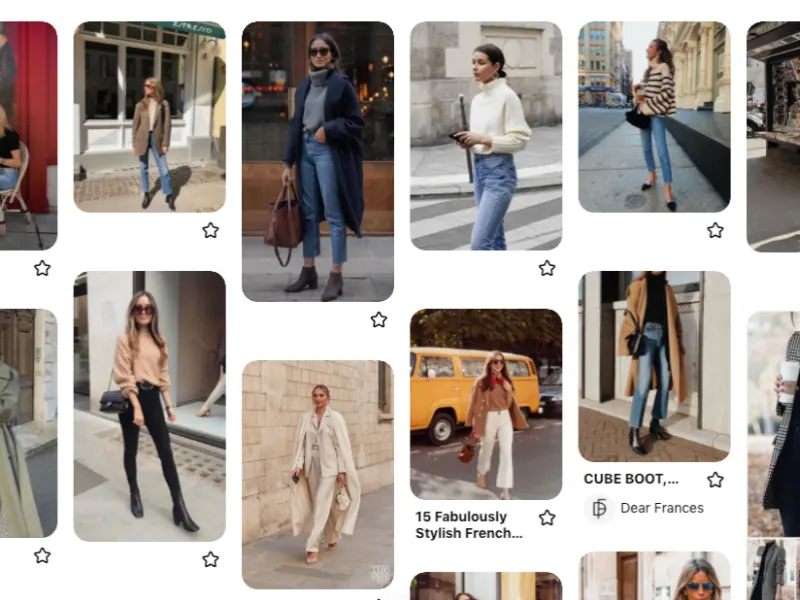 You may have pinned all different styles. But remember, there is a difference between appreciating a style and wanting to live in it. So the pins you keep should only be the ones you want to live in.
After you gather a few dozen pictures, look for cohesive elements.
Do you prefer:
Pants or skirts?

Silver or gold?

Mixing prints and patterns or monochromatic?

Romantic or tailored pieces?

What colors show up over and again?
You'll quickly discover there is a thread of commonality within the looks you keep.
Having clarity around your preferences is the first step in understanding your style and making better choices in the future.
Once your board is together, use it as a guide while shopping. Before you purchase, ask yourself if that piece will help you create the look you are going for.
Edit out the Clothes that No Longer Serve You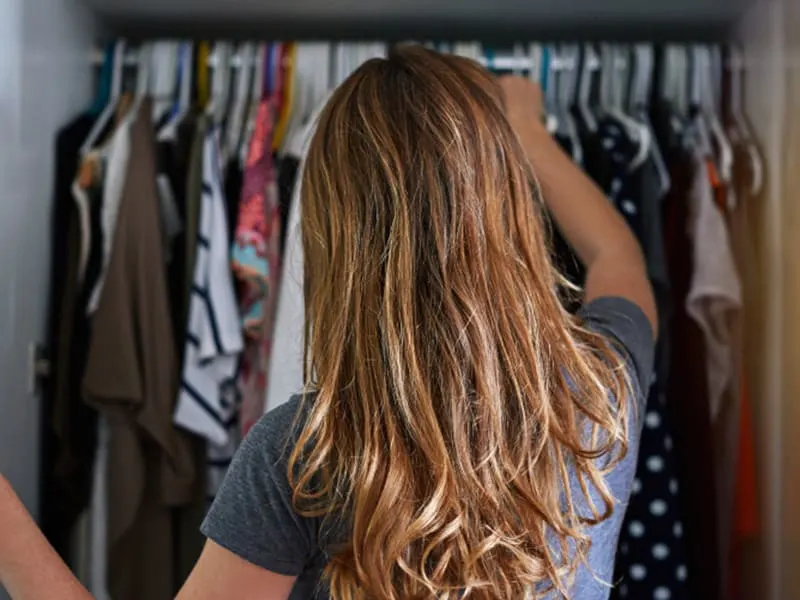 Armed with your Pinterest board, do a quick edit of everything in your current wardrobe that doesn't get you to your ultimate style goal.
Quite literally, stand in your closet with your Pinterest board open and see if your current wardrobe reflects what you like.
Don't be discouraged if it doesn't. That's generally the takeaway.
Follow our tips on how to organize your closet in 60 minutes.
Be ruthless. You'll feel lighter when you get rid of items you don't like, need, or use
Figure out Your Signature Pieces

As you look at your favorite styles, try to determine the pieces that keep showing up.
For me, my signature pieces ended up being dark skinny jeans, an animal print flat or bag, a crisp button-down, white tee shirts, a tan boot, and better jewelry and, for work, sleek dresses and neutral-to-me pumps.
These pieces work as an anchor for your style. They are the items you can always count on to ensure your outfit "looks like you."
Wear it Three Ways
Our wardrobes and style go off the rails because we don't put the proper time and strategy into shopping. We need to be intentional about what we bring into our closets.
A simple tip to follow when building your wardrobe is only to buy something you can wear three different ways.
The pieces that meet this criterion are what should be your core wardrobe pieces. These will help define your personal style and make it easier to get dressed.
Of course, you'll buy items that you can't wear three ways, but they should be few and far between.
Trust Your Style Instincts
As you move through discovering your style, you'll start to feel more confident in your choices. It's essential to trust your instincts.
Don't talk yourself into a purchase you're not thrilled to make.
Stop wear something because someone told you to.
Avoid buying something just because it's on sale.
The process of building a wardrobe and curating your personal style takes time.
Try not to feel overwhelmed by everything you might need. Write a list of what you could use to pull some outfits together and only purchase from that list.