Today's post is an important read if you are planning on participating in our LIVE Fall/Winter 2021 Wardrobe Challenge, starting on Friday, September 3rd. More details coming soon.
Let's talk about how to purge your clothes so you can finally have a wardrobe you love.
Is it hard for you to let go of all those clothes hanging in your closet that you know don't serve you well?
The ones that are old and dated.
The ones that don't make you feel your best.
The ones that are "just ok," but you make do.
Yes?
Then you are far from alone.
How to Purge Clothes and Create a Closet You Love
Before I launched The Well Dressed Life, I spend about a decade as a personal stylist, working with clients, helping them shop and create a functional wardrobe that they loved.
When I started with a new client, our first step was to clean out and edit their wardrobes.
Honestly, it was my least favorite part of my job, but the most necessary. Almost every time I came home from that initial appointment, I was exhausted.
At first, I didn't understand why I was so tired. It's not like my job was hard.
But I eventually realized; it wasn't the physical task that drained me so much but the constant negotiations back and forth with the client.
Most clients wanted to tell me the life story of every item they purchased and debate every single piece we were purging.
The challenge became the longer I was in business, the faster I worked. I instantly knew what should stay and what should go.
Because I wasn't emotionally attached to the clothes, I could edit a decent-sized wardrobe in under an hour.
Purging Your Clothes is Emotional
As it turned out I wasn't the only one drained; clients would let me know they too were surprised how wiped out they felt after our time together.
Because our clothes are an extension of who we are, a link to our past and future, and tied to a part of us, parting with even the most unwearable piece can be stressful.
To make the experience easier for both of us, I had to figure out a way to streamline the process and lessen the rush of anxiety many clients felt.
Since I've stopped working with clients, we've published countless posts on editing and organizing your wardrobe (here and here). We even created our seasonal 4 Week Wardrobe Challenge (the fall session starts on Friday, September 3rd) over in our private Facebook group.
But we've never dived into the mindset you need to move through the process.
If you grasp the steps but struggle with actually letting go, there are a few things you can do to lessen the strain and stress.
Simple Steps to Purge Clothes Once and For All

Know Your Style
You cannot curate your wardrobe if you don't know your style. Likewise, if you don't know your style, you will not create a framework for determining what stays and what goes.
Before you attempt to edit your wardrobe, take some time to figure out what you like.
When we worked with clients, before we even entered their closets, we asked them to pull pictures from magazines and catalogs or create a Pinterest board of looks they loved.
Giving yourself a visual will help you see a common theme.
For example, do you like pants more than skirts?
Solid colors or bold prints?
Going through these steps before starting your edit made a massive difference for our clients. It gave them "permission" to let go and provided some much-needed clarity and focus.
When you struggle to retire an item, hold it up to your inspiration pictures and ask yourself, "Does this get me to my desired personal style?"
If the answer is yes, you keep it. But, no, let it go.
Read Our Post: How to Discover Your Personal Style
You Already Spent the Money
"How can I get rid of something I spent money on and barely wore?"
We all know how frustrating it feels to look at your donation pile and see nothing but wasted money. We've all been there.
But once you can grasp the idea of a "sunk cost," that you already spent the money, whether it's hanging in your closet or someones else's, at this point, it doesn't matter. It will be so much easier to look at it as clutter and remove it.
Hanging on to it and not wearing it doesn't give your purchase any value. Often, it does the opposite and becomes a negative or a pain point in your closet. You look at it and become frustrated and annoyed.
Is it in excellent condition but doesn't work for you? Sell it on Thredup or Poshmark (see our tips here). If it's in decent shape but not sellable, donate to someone who can benefit from it and move on.
It's Not Coming Back in Style.
I often say I care less about making you look stylish and more about looking current and modern. Looking dated, especially as we age, is what we're trying to avoid.
While trends come and go, each new iteration has subtle details that make it modern. Unless we're talking about a Chanel tweed jacket or YSL suit, I promise you, 90% of what you own isn't coming back.
So how do you know when something is dated?
Well, the inspiration picture exercise above helps. Do you see what you have hanging in your closet in your pictures? Don't look so much at the style; instead, look at details like buttons, pocket placements, length and widths of pants, shoulder shape, and color saturation.
Think of it like this: the classic pair of black pants you bought in 2000 is now TWENTY years old. The styling, the line, the construction, and the fit – are all outdated.
Consider asking your closest friends or even your kids for guidance. My girls are frighteningly good at giving, brutal fashion advice
The point is, you might need a fresh set of eyes to see what you're wearing objectively.
* And I know that everyone has that one piece that works with everything and lasts forever, but that is a unicorn. The blazer you bought at Kohl's on the clearance rack is not that piece.
Don't "Save" Your Stuff for Someone Else.
One of the most consistent things clients would say when we were cleaning out their closets, and I held up a piece to remove was, "oh, not that, I'll see if my daughter wants it."
I eventually realized they were using that as an excuse not to have to make a decision.
"No, she doesn't! She's 12!"
Let me say this with love; with few exceptions, your friends and neighbors don't want what you are giving away. So don't pass your old stuff on to other people; you're just giving them more clutter.
The exception is, of course, heirloom-quality, timeless designer or sentimental pieces. I have several pieces put aside for my daughters.
If you are no longer wearing them, have them cleaned and stored correctly to stay in good condition. I have a few vintage bags put aside for my girls, the white suit I wore at my rehearsal dinner, and some designer pieces I splurged on that don't fit anymore.
Other than that, don't use "passing" down a piece as an excuse to not have to decide it.

Take It Out of Your Main Closet
If you are undecided about a few items, don't stress. Instead, move them to a separate closet or store them in a box. Then, after a few weeks, or even at the end of the season, if you haven't reached for them, you know you can finally let them go.
Same for clothes you're hoping to fit into again. If you're on a weight loss journey, don't keep those pieces in your closet. You don't want to wake up and see garments that are too small. So place them in a different cabinet, or keep them in a bin under your bed.
When you're ready to try them on again, use the same exercise and principles you used for the rest of your closet.
Fit Doesn't Mean You Keep
Remember, just because something fits doesn't mean it's for you. As women, we are so used to the struggle of finding things that fit; we often ignore whether we like it or not.
I found this out personally when I resubscribed to Stitch Fix for some postpartum clothes after my last baby. I was so happy something zipped up I often kept the piece with no thought to whether I liked it. I eventually ended up spending more money than I wanted, which turned into a large donation pile.
Think about how many things you have that you are lukewarm about in terms of style but kept because you're just happy it fits?
Your Closet is NOT a Department Store
You don't need to stock your closet like a department store. While I'm far from a minimalist, the sheer volume I've seen in closets is overwhelming.
Stop buying things on sale simply because they are at a discount.
Not only does that fill your space with unnecessary "stuff," it's a gross waste of money.
Making a habit of thoughtfully considered purchases will help keep your closet organized, is better for your wallet, and limits the endless waste in the retail industry.
Getting organized and building a wardrobe you love is a lot like getting fit and healthy.
There is no quick fix or magic wand to turn it around quickly. It takes a great deal of time and discipline. Editing your wardrobe is like those first few workouts back at the gym. First, it's miserable, but then you feel great, and then it gets easier.
Take The Well Dressed Life, Four Week Wardrobe Challenge for a step-by-step guide to editing your wardrobe. It's free and game-changing.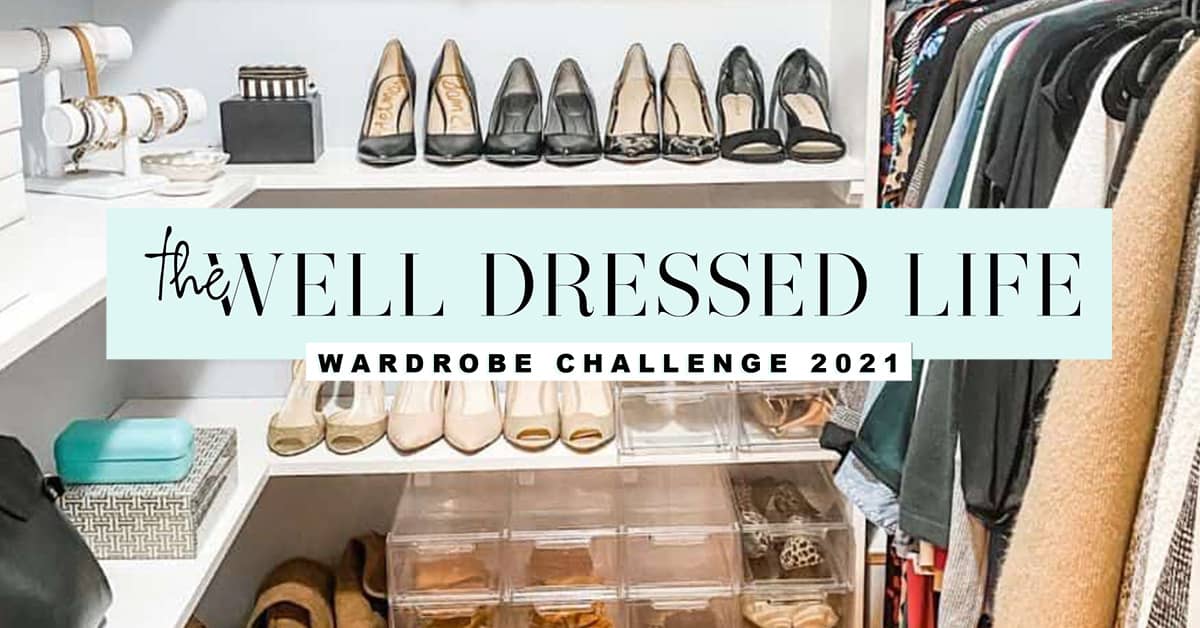 Our Style Content is Inspired by Our Readers
Our readership inspires all of our posts and this post is not sponsored or paid for by brands or retailers.
Recommendations are based on my experience as a personal stylist and wardrobe consultant for over a decade. I worked with busy, down-to-earth women who wanted to look chic and feel confident but were often confused by so much of retail.
Some links are affiliate links, which means if you purchase via our site, we receive a small commission.

If you enjoy our content and would like to help us grow, please follow on Instagram and join our Private Facebook Group to access more advice and exclusive in-depth conversations with other like-minded women.
Learn about our mission to help women look and feel their very best, every day, here.
Sign Up for Daily Content and Receive Our Free Classic Wardrobe Checklist