Alterations are the single most important element in dressing well.
Think of the most stylish woman you know.
She has her clothes tailored.
It doesn't matter where you shop or how much you spend on your clothes. I don't care if you buy full price at Neiman Marcus or exclusively discount shop at T.J. Maxx. Alterations are necessary regardless of your body type. If you shop in the Petite, Missy, or Plus departments, you need alterations.
Alterations make you look slimmer and taller and your outfit, regardless of the price tag, look more expensive.
Ever since the first man walked into the first store and purchased the first suit, offering men alterations has been standard retail operating procedure. Today, even men's discount stores have an alterations department.
Yet, it is still not standard practice for women. Other than some better department stores and a few specialty boutiques, alterations are rarely offered to us. This means for women to get the tailored look they desire, we have to take it into our own hands. (Pretty much like everything else in life.)
One of my first jobs out of college was as the manager of a high-end boutique in Philadelphia. What set us apart from some of the competition was the fact that we offered in-house tailoring, something unheard of for most small stores.
It was that experience, all those years ago, that taught me the importance of alterations. The store's seamstress taught me everything I know about garment construction. She was a master.
She was also wonderfully eccentric.
One time, when she wanted a pay raise, she built a fort out of cardboard boxes around her workspace and refused to speak English for a week. So, I not only learned how to reconstruct a blazer, but I also learned a few Portuguese curse words and an unconventional way to negotiate.
Have I mentioned it was the best job I ever had?
But I digress.
It's hard for the untrained eye.
Years ago, I was in the closet of a dear client who purchased a light blue blazer on her own. When she put it on, I told her it was at least two sizes too big. She didn't believe me until I pinned the blazer for alterations and had her look back in the mirror.
"This was what I thought it looked like!" she exclaimed.
That's when I it dawned on me; most people don't see how things fit them the way a professional will.
Finding a great tailor is a challenge as they are a rare breed of experts. Your best bet is to ask around your community. Use referrals or look online.
I love using community Facebook pages to find local resources. Any local Facebook moms group will have countless referrals – those women should rule the world.
Of course, there will be the occasional perfect fitting piece. But in general, the core pieces of your wardrobe will need a little nip and tuck.
A Simple Guide to Alterations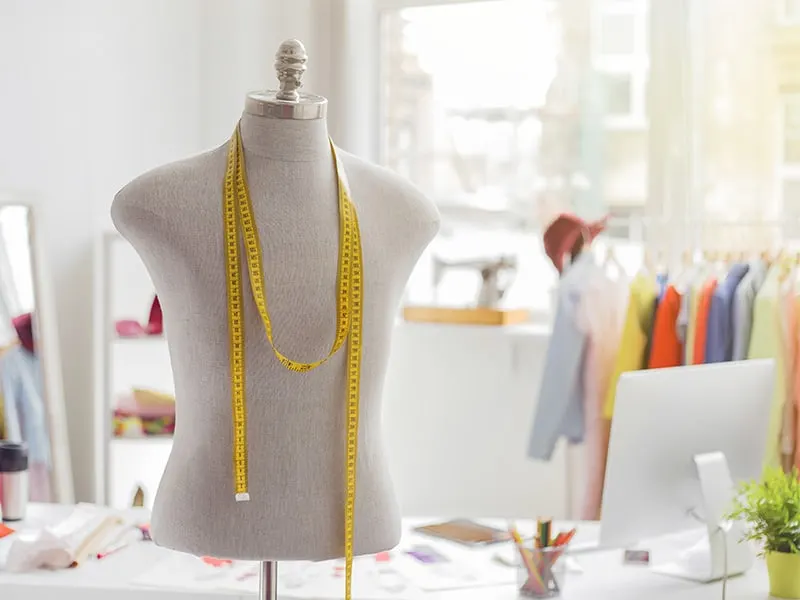 Practice the 10% rule.
Take 10% of your total shopping budget and set it aside for alterations.
Alterations should adjust, not recreate, a garment.
Don't overcomplicate the process. Alterations are not meant to make a garment something that it's not. Rather, you want to make it perfect for you based on what it is.
Darts and seams are your blueprints.
As you start to use alterations, you'll begin to look at garments like a tailor. As you get familiar with what you can and cannot alter, you'll see darts and seams as roadmaps. Remember, if you have a dart, you can use it to alter a garment. If you don't have one, you don't want to create one. That would be reconstructing a piece and is never worth it.
Fit your largest part and tailor the rest.
Consider your largest body part and fit from there. If your shoulders are broad, fit them first and alter down. If you have a full bust, make sure your blazer can button properly and tailor the rest of the garment, etc.
Listen to your tailor.
A good tailor will tell you if something is worth the cost of the alteration or not. For years, we had a wonderful tailor who has since retired. She would always tell us if the alteration was worth it, or if we were better off replacing the item.
For this post, we'll break down what kind of alterations to consider.
Waistband
By far, this is the most popular and useful alteration. If your hips are bigger than your waist, and that's the case for most of us, fit your hips and fix your waistband.
Have your waistband hit you based on the rise of the pants. A shorter rise will result in a waistband that sits lower. A longer rise will allow your waistband to hit at about your belly button.
Hem
Hems on pants and skirts are another popular yet overlooked alteration. Of course, if your pants are too long, you can have them altered.
Less popular but just as effective is to have your hem let down. I'm 5'10 and often have to have the extra length in an otherwise great fitting pair of pants let out to give me an extra one or two inches.
Petite? Hems are particularly important for you. Petite sizes are not based on length but proportions. If you're buying petite sizes because they give you the length you desire, you may get a better fit in the Missy department.
You can also be petite with long legs. In that case, purchase a petite size and have the hem taken down like I do.
When hemming jeans, be sure to keep the original hem.
As for sleeve hems, the best practice is for your sleeve to hit the top of your wrist.
Looking for skirt length guidance? Check out our recent post, "Best Skirt Lengths for Work."
Shoulders
If you have narrow shoulders, take in the shoulders of your jackets, blazers and dresses. This will make a big difference in how your look comes together. When the shoulder of your blazer hangs over your natural shoulder, your jacket will look oversized.
This, in turn, gives the appearance of your clothes wearing you.
Back and side darts
Jackets, blazers, and dresses often have one long or two parallel seams running down the back. You'll also see two seams or darts on the front of the garment at the natural waist. These are there to create shape. If you find that a blazer fits in your shoulders and bust but feels full in your waist, have your darts taken in a tiny bit. This simple alteration completely changes the look and fit of your clothes for the better.
Fullness out of pants
Have you ever tried on a pair of pants and loved the way they fit except it feels like there is too much fabric in the legs? You can fix this by taking some of the fullness out. A tailor will be able to see how much to take out and how to balance it with the cut of the pants. Likely, they'll start right below the hipbone and go all the way down the side seam to the hem.
Belt loops
If you wear a belt with your pants, keep your belt loops. If you never wear a belt, and sometimes tuck in, have your belt loops removed. You never want to see a belt loop without a belt. Super simple fix.
Remove pockets
Do you hate it when you can see the outline of your pockets through your pants? Me too. You can have them removed. Along those lines, do your pockets pull open when you move? If you don't need them, and the pants otherwise fit, you can have your pockets sewn shut for a smooth fit.
This is a repost from Feb. 2016. With so many new readers we thought it would be helpful to share it again!