Our Body Type Series continues with How to Dress an Hourglass Body Type.
This series is designed to help break down the basic guidelines for dressing all body types.
A naturally occurring hourglass body shape is by far the rarest. So, popular culture considers it the gold standard for women's bodies.
In our conversations here, I hope we change this narrative that one body shape is superior.
Women's bodies are a marvel; we should celebrate them in every shape and size. And no matter our shape and size, we all have features to celebrate and ones we're not so crazy about.
Hourglass Body Shape Formula
There are a few things to remember about the hourglass body type.
Your shoulders and hips are the same size and you have a very defined waist.
Women with a hourglass body type are often curvy, and can highlight their features with well tailored garments, elongating necklines and figure flattering fabrics.
Hourglasses actually have a lot of options, however, the one main thing to avoid is oversized, shapeless pieces.
To figure out where you land in the shape spectrum, plus your measurements into the formula below:
Formula 1: waist ÷ shoulders or bust = ≤ 0.75 .
In this equation, you want to use whichever measures more, either your shoulders or bust.
If the number is ≤ 0.75, then your waist is 25% smaller than your shoulder or bust / waist.
How to Dress the Hourglass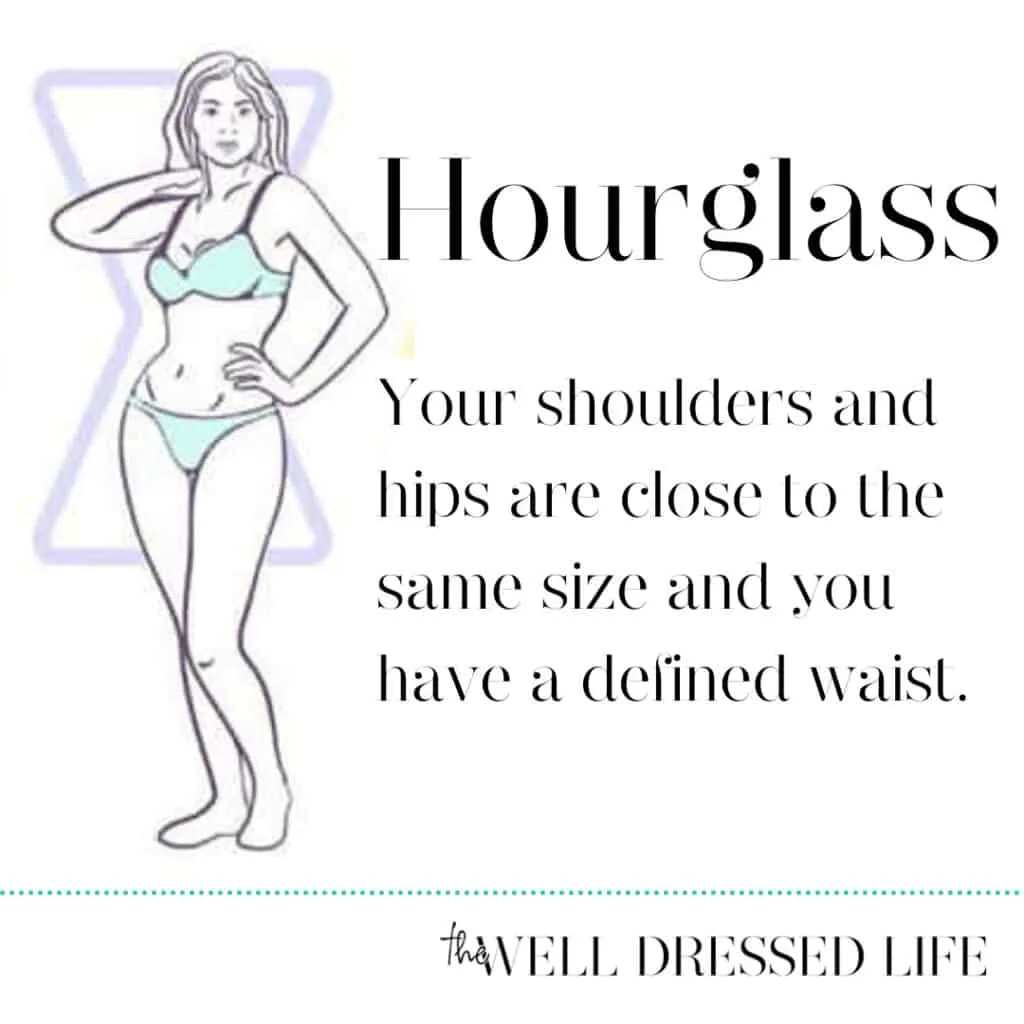 It's Important to Note: Bone structure tends to dictate body type rather than weight and height. Of course, we need to consider all these factors when we get dressed, so these guidelines are just that, guidelines.
Think of it like this:
Body Type is your bone structure.
Fit/Size is your proportion; you may be "regular," petite, tall, or plus.
Weight fluctuates for most of us, so it's very possible to straddle between two body types if you tend to gain weight in one specific area.
Below, I rounded-up four images of famous women with a hourglass body types to give you a visual.
I included different heights and sizes to show the diversity in the category.
Famous Hourglass Body Types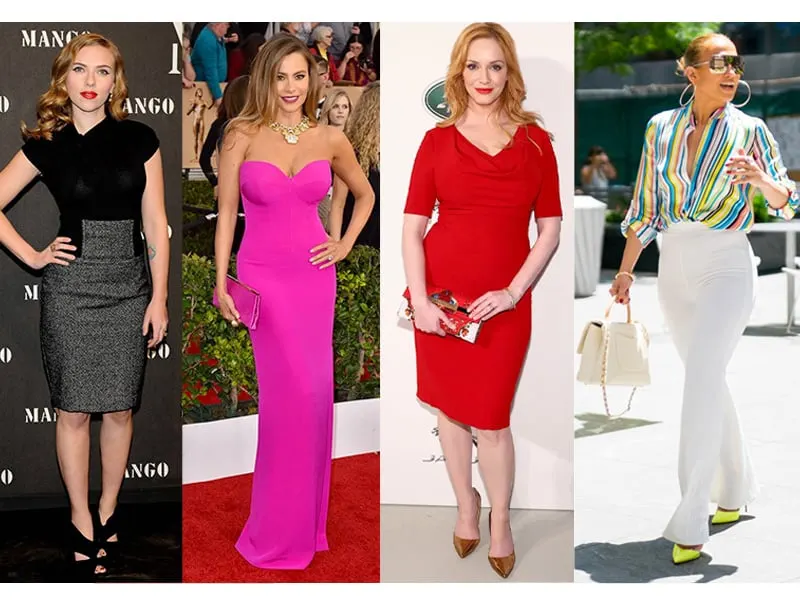 Let's start with Scarlett Johansson.
She's a beautiful example of a petite hourglass. Here, she's wearing a high-waist style skirt that highlights her waist and extends her legs, and gives her height.
Next, Sofia Vergara embraces her curves and knows how to dress them.
A quick Google image search will show you that she never goes off her track, opts for body-hugging dresses, and separates v-necklines and bold accessories.
She might not be the poster child for everyday dressing, but let her inspire you to bring some fun and confidence to your looks.
Wear a bold color, make sure your clothes fit perfectly and use your necklines to draw the eye into your waist.
Then we have the stunning Christina Hendricks, who is 5'7 and considered "plus-size."
This is one of the best examples I've come across of an appropriate real-life look; everything is perfect.
The sleeves hit at the right length, the asymmetrical neckline is a modern way to elongate her neck and draw the eye in, her skirt hits at the ideal spot right at the top of her knee.
Even her natural tone shoes with a pointed toe give an elegant finish to her leg.
And just because the example is a dress, think about how you can break the elements into separates.
Finally, Jennifer Lopez.
Now, listen, it's common knowledge that J.Lo treats her body like a temple.
Her intense diet and fitness routines are well documented. Not only is she the picture of clean living, but her access to the best of every resource and her incredible work ethic has allowed her to create and maintain her body. I want to make sure we're all clear that no one simply wakes up looking like this.
That all said, the lesson here is TAILORING. For the hourglass body type especially, fit is the key to confident dressing.
Here's why I like the look above: she's wearing a high-waisted, flare leg pant, that helps balance her shoulders and hips.
She pairs the pants with a pointed-toe shoe. Again, this is an elegant way to finish the line of your leg. Hourglass body types should avoid round or square toe shoes as they won't compliment your shape as well.
Then, she tucked in her vertical striped blouse, which brings back her incredible shape, and plays with color and pattern.
Best Tips for Dressing Hourglass Body Types
As you can see, there is a lot of variety in the hourglass body type. Frankly, you can wear almost anything. The name of the game here is fit.
What should you avoid?
Don't wear anything ill-fitting or oversized.
Avoid tunics and tops that hang off your bust.
Overly embellished tops or ones with high necks may not be the most flattering.
Best Tops for Hourglass Body Types
So many choices!
From v-necks, scooped, and wraps and top with an elongating neckline will be the most flattering. You can even do something like a one-shoulder top if you pair it with a high-waisted bottom.
Best Bottoms for Hourglass Body Types
Look for high-waisted options that show off your waistline. A tie or belted waistband is a fun accessory to include.
You can wear almost any shape leg from wide to narrow, be sure you balance your top half and cinch in your waist.
Avoid cropped pants; they may cut you off at an awkward spot and will throw off your proportions.
Best Dresses for Hourglass Body Types
V neck, wrap, and fit and flare dresses are at the top of the list.
You'll also look fantastic in bodycon dresses, garments with side ruching, or gathering at the waist.
You can wear an aline or a straight skirt, just make sure the length of the skirt hits your leg at the most flattering spot, otherwise the bottom can look too full.
Remember, these are guidelines. I can't reinforce this enough. Everyones body type is unique.
Use these recommendations as starting point in dressing well, knowing that you'll have to make adjustments for your unique needs.
.