In our How to Dress Your Body Shape Series we shared the mathematical formula you can use to help determine your body type. The feedback from our community has been fantastic, with so many of you sharing your surprising results.
So let's continue to dive into the topic by breaking down the best tips and recommendations for each body type, starting with The Rectangle.
You might also hear a rectangle referred to as "straight."
You are considered a rectangle body shape when your shoulders and hips are proportionate, with little definition in the waist.
How to Dress a Rectangle Body Shape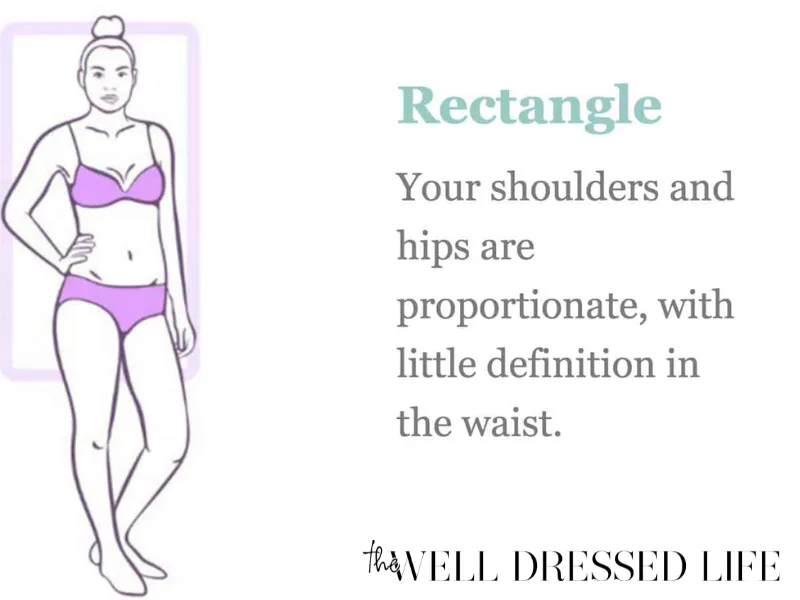 NOTE: Bone structure dictates body type rather than weight and height. Of course, all factors are considered when we get dressed, so these guidelines are just that, guidelines.
Think of it like this:
Body Type is your bone structure.
Fit/Size is your proportion; you may be "regular," petite, tall, or plus.
Weight is a factor to consider which tends to fluctuate for many of us.
It's helpful to read about all of the different body types because the more you understand balance and proportion, the easier it will be to get dressed.
Also, if you fall in between two body types, you'll want to learn about both so you can start to find your way between them.
The Challenges of a Rectangle Body Shape
The main challenge a rectangle faces when getting dressed is her subtle waist.
Some "experts" will tell you a rectangle lack curves, but I don't agree. Many rectangles, myself included, have curves.
Our challenge is highlighting them in a balanced way which usually comes back to defining our waistline.
Below, I rounded-up four images of celebrities with rectangle body shapes, to give you a visual.
I included different heights and sizes to show just how diverse each body type can be.
Famous Rectangle Body Types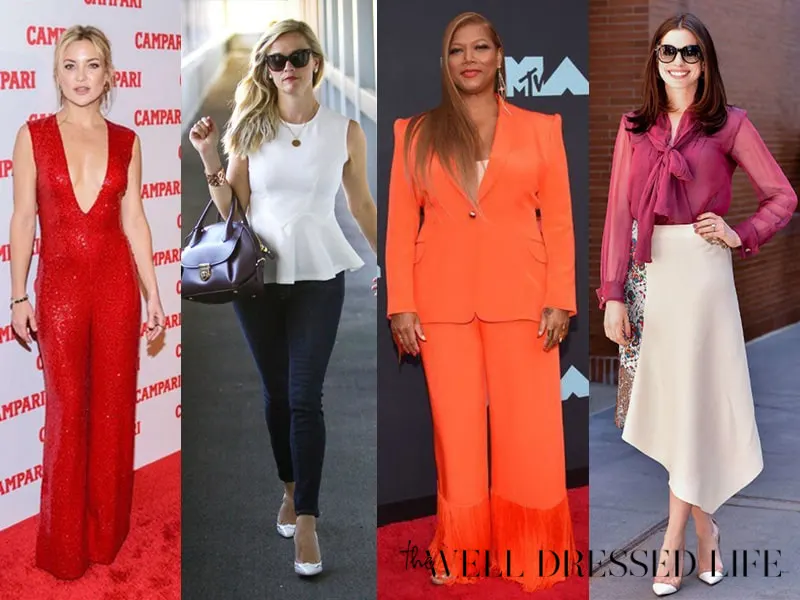 Let's start with Kate Hudson. She is about 5'6 and the most "typical" of the rectangles with her thin and athletic build. In this picture, her exaggerated and daring v-neckline pulls the eye toward her waist, creating the illusion of a smaller waist.
Of course, you don't need to go so low. In real life a v-neck jumpsuit would be a fun alternative.
Next, cute as a button, Reese Witherspoon is a true petite at 5'1. In this outfit, she's wearing a peplum top with long skinny jeans, creating both a cinched waist and a curve at the hip.
The stunning Queen Latifah is my favorite example because she is tall, 5'10, and considered "plus-size." Interestingly, people often assume that you must be an hourglass if you are curvy, but she is an excellent example of a curvy rectangle.
You'll notice the perfect placement of her blazer button with a strong shoulder. This combination creates a beautiful shape, elongates her neck, and shows off her stature.
Anne Hathaway is also on the tall end of the spectrum at 5'8.
I love this unexpected look because it shows the variety of styles a rectangle can wear, especially pieces with asymmetrical detail, texture, and pattern. Of course, her height helps her pull off all this at once, but you can mimic the general theories she's combining.
For example, the skirt and blouse create contrast, and her waistband sits at the smallest part. She's also wearing a top with an embellished v-neck, a go-to trick for rectangles.
Finally, her pointed shoes give an elegant finish to the line of her body.
The Best Styles for a Rectangle Body Shape
For all body types, you want to focus on balance and highlight your favorite features.
We have a lot of power in our choices once we know what we're doing. For example, we can create height and curves if we like, downplay what we're not crazy about, and all that helps us feel a little more confident in how we show each day.
In the range of body types, the rectangle has the most options. However, avoid boxy and shapeless clothes since they won't do anything for you.
Tops and Sleeves for Rectangle Body Shapes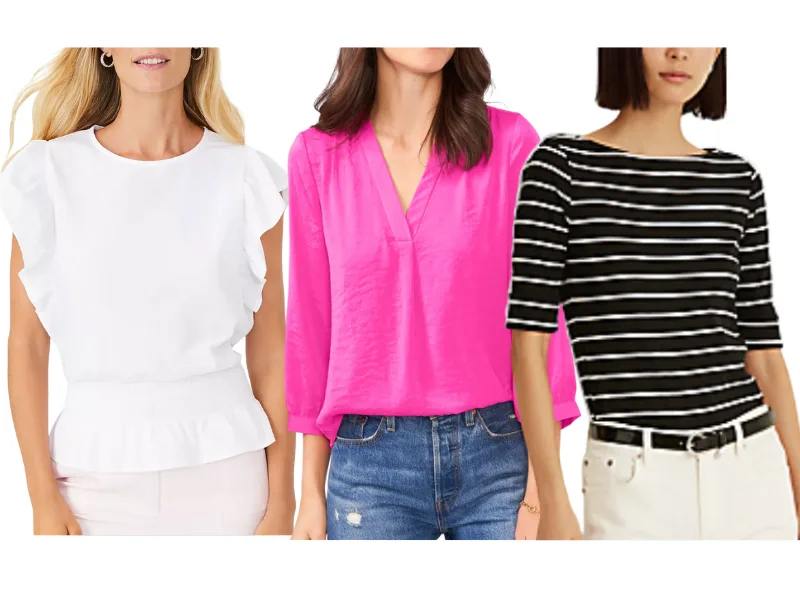 Smocked Waist Flutter Sleeve Top, Ann Taylor, 30% off $59.50 | Rumple Fabric Blouse, Vince Camuto, $74.00 | Striped Boatneck Top, Ralph Lauren, $49.50
Look for tops with scoop and v necklines or one that elongates the shoulder line.
A few great options above you can pick up or use as inspiration.
First is the Smocked Waist Flutter Sleeve Top by Ann Taylor. It's available in regular and petite for 30% off $59.50. This has two flattering elements. First, the delicate flutter at the shoulder helps build out your shoulder, which creates the illusion of a bigger difference between your shoulder/ hips and waist.
Second, a peplum detail helps pull the eye in and gives you a more defined waist.
Next, the Rumple Fabric Blouse by Vince Camuto is available at Nordstrom in several colors. A v-neck is universally flattering, but it's made even more wearable by pairing the neckline with a 3/4 sleeve.
You may be surprised to learn that wearing a 3/4 sleeve instead of a full sleeve is another way to minimize a fuller waist because it draws the eye up and away.
Think about it like this: a full-length sleeve will end at the waist and extend the line, making your waist appear larger. The 3/4 sleeve breaks up that line.
Finally, this Classic Stripe Boatneck by Ralph Lauren is an elegant style for rectangle body shapes and a 3/4 length sleeve.
Need a Blazer?
A strong shoulder in a jacket or blazer will give the illusion of a more defined waist, like the Queen Latifah example above.
You'll look great in a one or two-button classic blazer, a wrap style, or anything belted.
However, avoid an oversized style and anything with an extreme puff sleeve. Also, skip boxy cuts of any kind.
Pants for Rectangle Body Shapes
Lucky for you, you have your pick of most pant styles.
Whether you're looking for jeans or traditional trousers, mid to high-waisted bottoms will work. Skip low rise, but, frankly, I think everyone should 🙂
Go with a skinny, straight, boot, or wide-leg cut.
You want to avoid oversized or dramatically full bottoms.
Dresses for Rectangle Body Shapes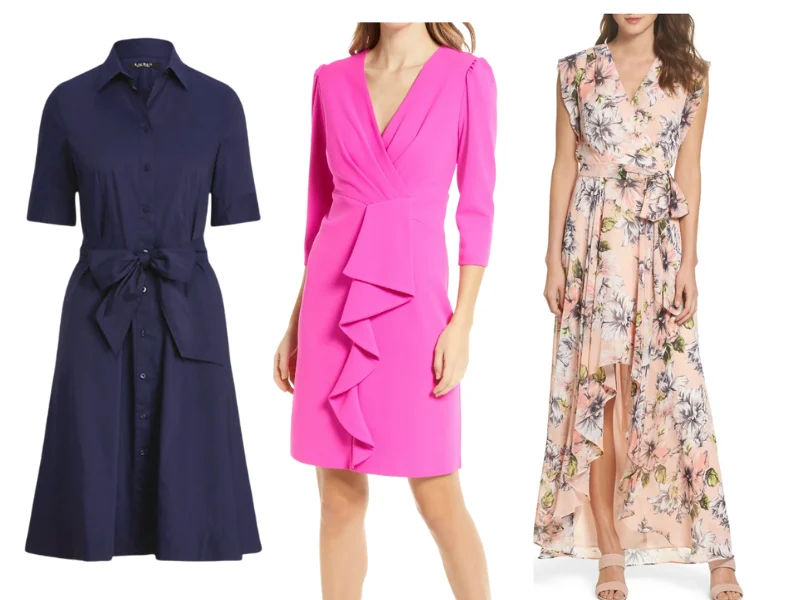 Shirt Dress, Ralph Lauren, $125 | Cascade Ruffle Crepe Sheath Dress, Julia Jordon, $119 | Floral Ruffle High/Low Maxi Dress, Eliza J, $168
Again, rectangles have many options when it comes to dresses.
Still, your best bet is a fit and flare, a-line skirt, a sheath with a defined waist like a seam detail, something with side ruching, a wrap dress, and anything cut asymmetrically, and you can have fun with shoulder detail as long as your waist is fitted.
Yesterday we featured this classic Shirt Dress by Ralph Lauren, with a structured shoulder and full a-line skirt. We sold it out in black, but it's still available in navy.
This pink Sheath Dress by Julia Jordan has many flattering elements: a subtle shoulder detail, v neckline, 3/4 length sleeve, detailed waist, and an asymmetrical ruffle.
Finally, we've featured this Eliza J a few times, and it's lovely. The high/low hem is incredibly flattering, giving your leg length. And the detail at the shoulder and the wrap belt provide the illusion of a defined waist.
Avoid trapeze-style dresses and anything that falls off your shoulders or bust into a straight line.
Remember, these are guidelines.
If you put something on and it breaks all the "rules," but you feel great in it – wear it!
Of course, wear whatever you want. But I've found over the years that the more we understand what feels good on our bodies and why we increase our choices, getting dresses becomes easier.
Everyone's body type is unique. For example, if you fall into the rectangle shape category but have a full bust, you will not want to wear the same thing as a petite rectangle with no curves.
Use these recommendations as a starting point in dressing well, knowing that you'll have to make adjustments for your unique needs.
52 Outfits in 2022!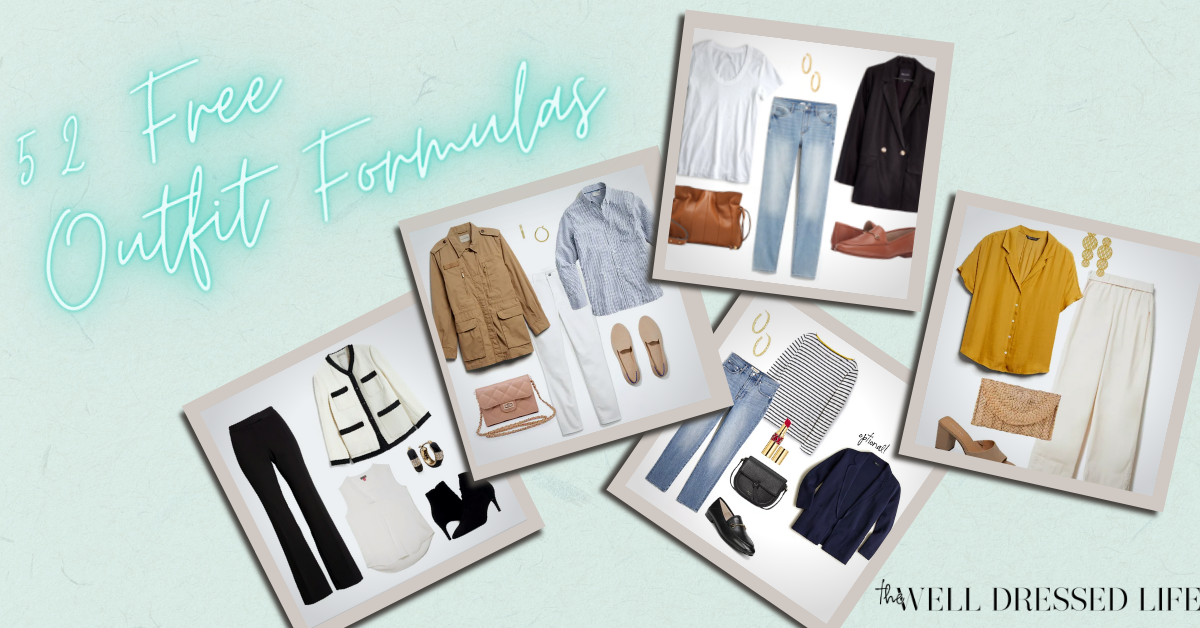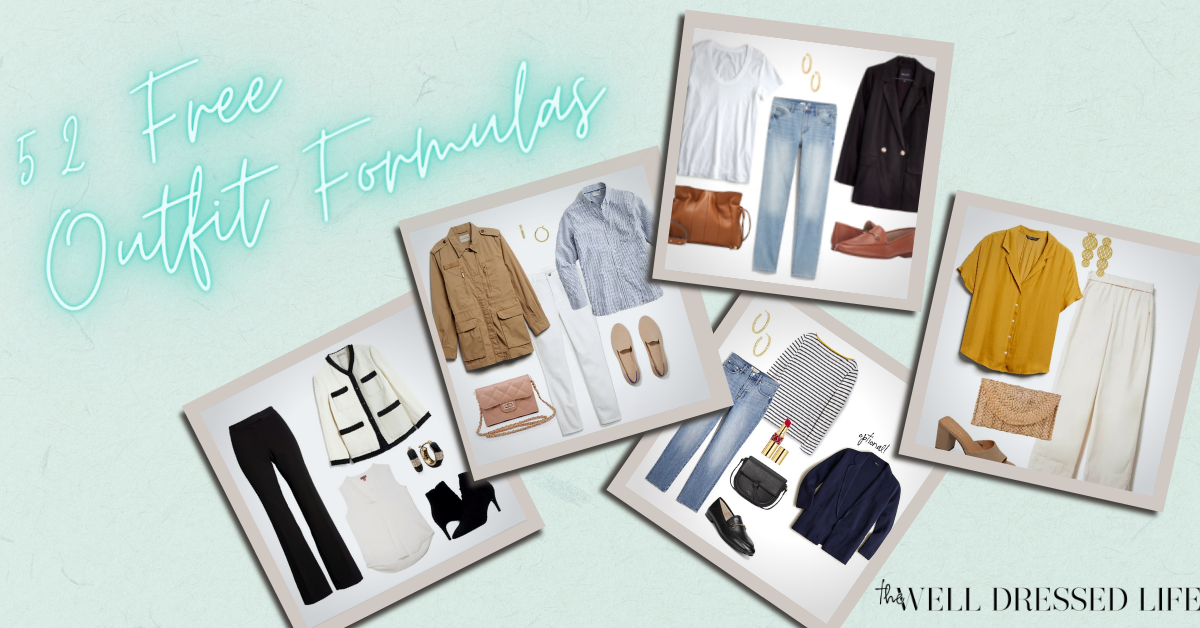 Follow Us on Instagram!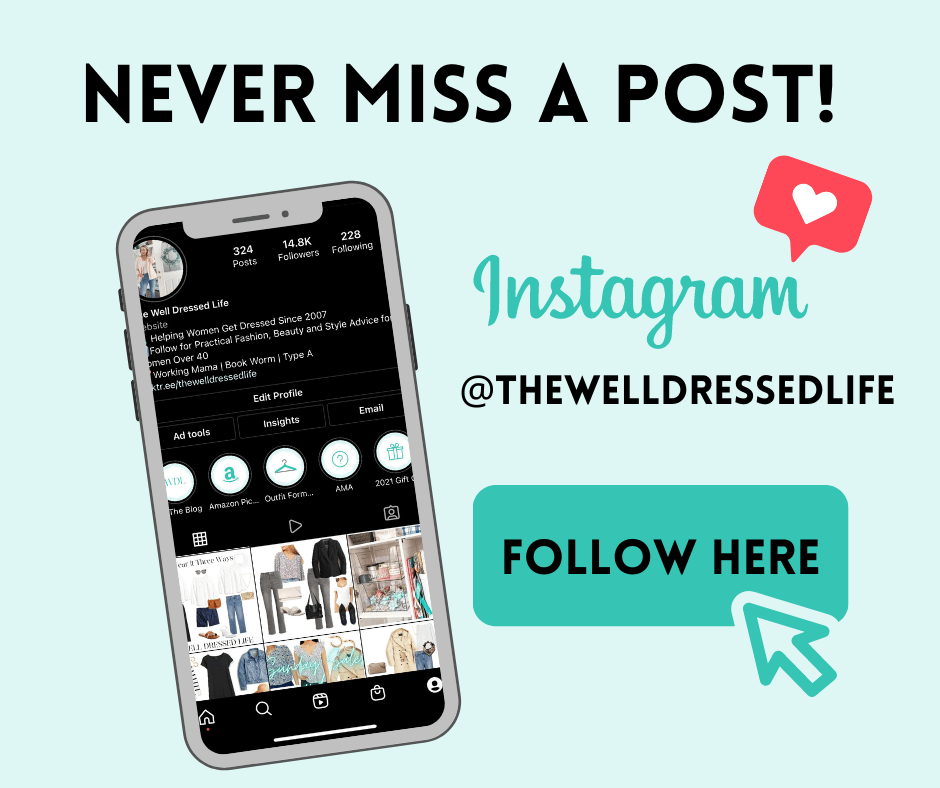 Our Style Content is Inspired by Our Readers
Our readership inspires all of our posts and is not sponsored or paid for by brands or retailers.
Recommendations are based on my experience as a personal stylist and wardrobe consultant for over a decade. I worked with busy, down-to-earth women who wanted to look chic and feel confident but were often confused by so much of retail.
Some links are affiliate links, which means if you purchase via our site, we receive a small commission.

If you enjoy our content and would like to help us grow, please follow on Instagram and join our Private Facebook Group to access more advice and exclusive in-depth conversations with other like-minded women.
Learn about our mission to help women look and feel their very best, every day, here.
Sign Up for Daily Content and Receive Our Free Classic Wardrobe Checklist