Our How to Dress Your Body Type is a series designed to help break down the basic guidelines for dressing all body types. To get started, use this mathematical equation to figure what you are; you may be surprised! Today, we continue with How to Dress an Inverted Triangle Body Type
It's Important to Note: Bone structure tends to dictate body type rather than weight and height. Of course, we need to consider all these factors when we get dressed, so these guidelines are just that, guidelines.
In our conversations here, I hope that we start to change this narrative that one body shape is somehow superior. Women's bodies are a marvel, and we should celebrate them in every shape and size. And no matter our shape and size we all have features to celebrate and ones we're not so crazy about.
Think of it like this:
Body Type is your bone structure.
Fit/Size is your proportion; you may be "regular," petite, tall, or plus.
Weight fluctuates for most of us, so it's very possible to straddle between two body types if you tend to gain weight in one specific area.
The Inverted Triangle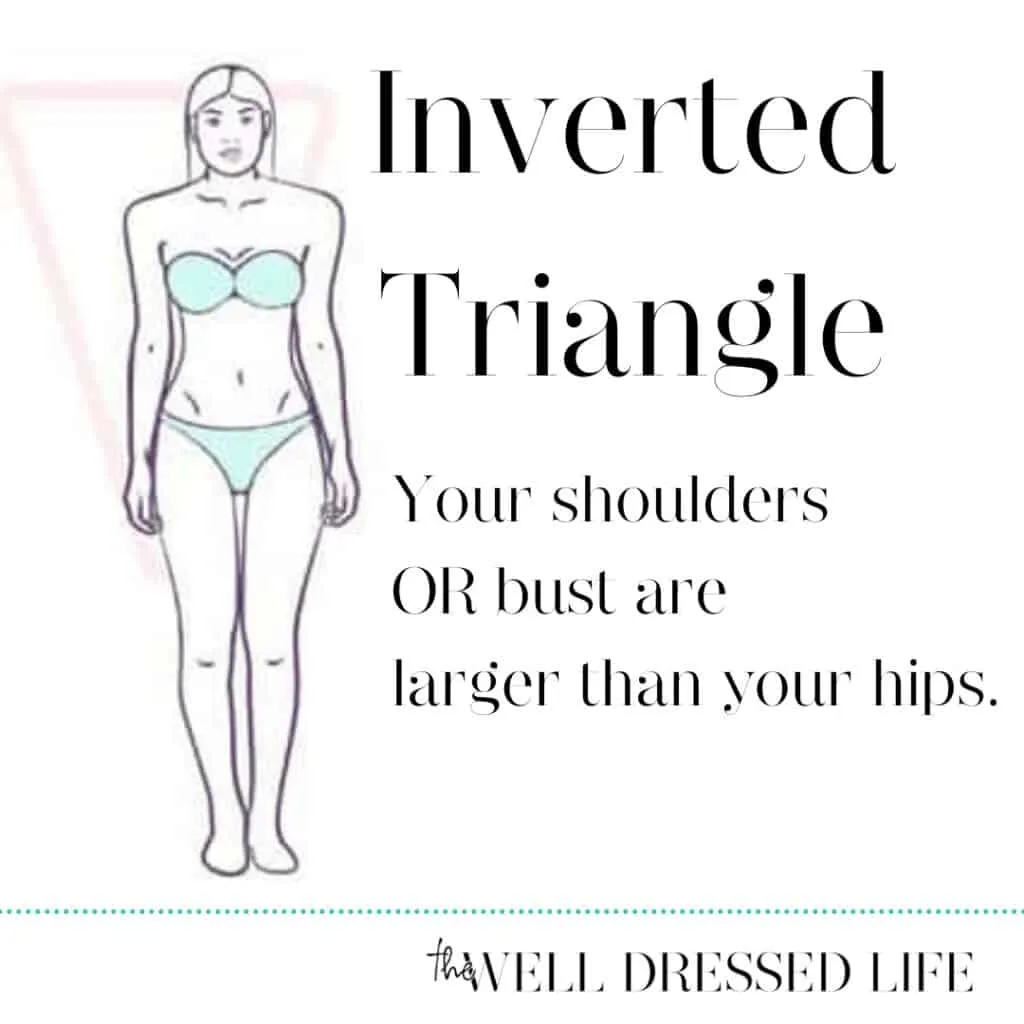 There are a few things to remember about the Inverted Triangle
Your shoulders or bust are larger than your hips, and your hips tend to be narrow.
Below, I rounded-up four images of famous women with an inverted triangle body type to give you a visual. I included different heights and sizes to show the diversity in the category.
Famous Inverted Triangle Body Types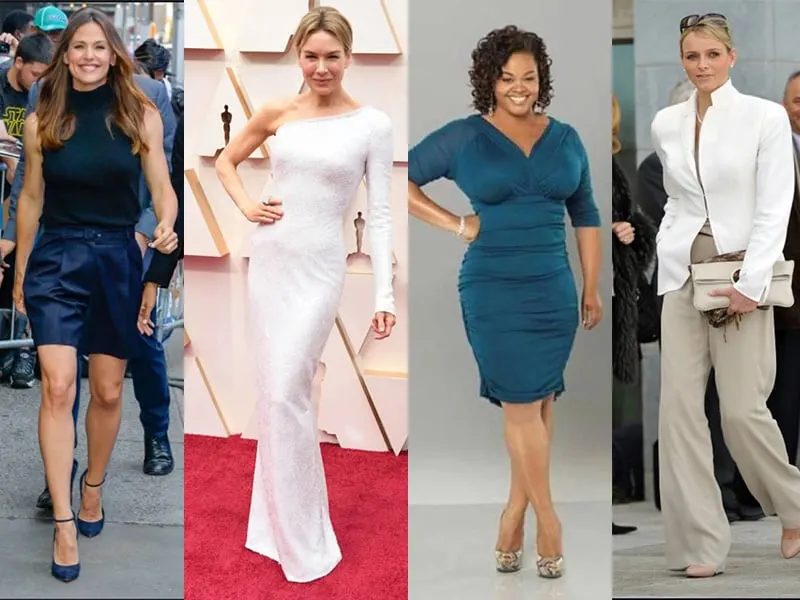 First up, the delightful Jennifer Garner, who is tall at 5'8. I picked this look specifically because she's creating a shape by wearing a pleated front pair of shorts. This adds volume to her narrow waist and hips, balancing out her shoulders.
Next, Renee Zellweger always does a fabulous job showing off her gorgeous shoulders. When you dress, focus more on what you love about your body and less on what you'd like to change. As a result, you'll find you feel more empowered and confident.
If you fall into the category of an inverted triangle, asymmetrically cut tops, like her one-shoulder dress, or off-the-shoulder looks, are excellent for you as they will both highlight and minimize your shoulders.
Next, Jill Scott is a fantastic example because often, inverted triangles are also full busted. I love that she highlights her curves in a way that brings balance to her look. She does this here with a v-neckline. AND it still shows off her gorgeous legs.
If a fitted dress feels intimidating, you can create a similar look with a swing or caftan-like dress that stops at your knee.
Finally, Charlene, Princess of Monaco, is a tall, athletic, inverted triangle. Of all the examples, her shape is the most pronounced. The look featured above is not your typical royal look, but it does show a more realistic separates-based outfit.
The line of her blazer pulls in her waist, the length helps create volume, and her trousers are a full leg, again balancing out her shoulders.
Best Tips for Dressing Inverted Triangle Body Types
Focus on bringing attention to your waist, volume to your hips, and balancing your shoulders and bust.
What should you avoid?
Skip embellished or strong shoulders. Shoulder pads are a no-no because you don't need them. Also, avoid skinny pants.
Best Tops for Inverted Triangle Body Types
Off the shoulder or one-shoulder, v-necks, scoop necks. Peplums will help you create a hip.
Try jackets that are waist-length or cropped. If your coat is long, consider one with a belt to bring attention to your waist.
Best Bottoms for
Inverted Triangle Body Types
Focus on straight, wide, or bootleg bottoms. Avoid super skinny bottoms.
You can quickly wear more trendy pants, with pleat or tie-waist details.
Best Dresses for
Inverted Triangle Body Types
A wrap, fit-and-flare, a-line, or straight skirt with a complimentary top similar to those mentioned above are all perfect options. A swing style or caftan-inspired cut that hits at the knee will also look fantastic.
Remember, these are guidelines. I can't reinforce this enough. Everyone's body type is unique. Use these recommendations as a starting point in dressing well, knowing that you'll have to make adjustments for your individual needs.
Our Style Content is Inspired by Our Readers
Our readership inspires all of our posts and this post is not sponsored or paid for by brands or retailers.
Recommendations are based on my experience as a personal stylist and wardrobe consultant for over a decade. I worked with busy, down-to-earth women who wanted to look chic and feel confident but were often confused by so much of retail.
Some links are affiliate links, which means if you purchase via our site, we receive a small commission.

If you enjoy our content and would like to help us grow, please follow on Instagram and join our Private Facebook Group to access more advice and exclusive in-depth conversations with other like-minded women.
Learn about our mission to help women look and feel their very best, every day, here.
Sign Up for Daily Content and Receive Our Free Classic Wardrobe Checklist