Welcome back to How to Dress Your Body Shape Week!
Understanding your unique body type is a key step in creating a style and wardrobe you love.
So over the next five days, we will highlight each one, and break down the best tips and recommendations for each body type, continuing today with The Round.
The round body type is also referred to as a circle or apple.
Round Body Shape Formula
There are a few things to remember about the round body type.
First, your shoulders are broad, and your hips are narrow, OR your hips are even to your shoulders.
You likely have a larger bust, but that is not a requirement.
A round shape, also known sometimes as an Apple Shape, is really defined by a wide waist.
To see where you fall add your measurements to the formula below:
Formula: Waist ÷ Shoulders and Bust = ≥ 1.05
If the number is ≥ 1.05, your waist is more than 5% bigger than your shoulders or bust, and you fall into the round or apple body type.
The most important factor is your lack of a defined waistline.
This becomes your biggest challenge when getting dressed.
How to Dress a Round Body Shape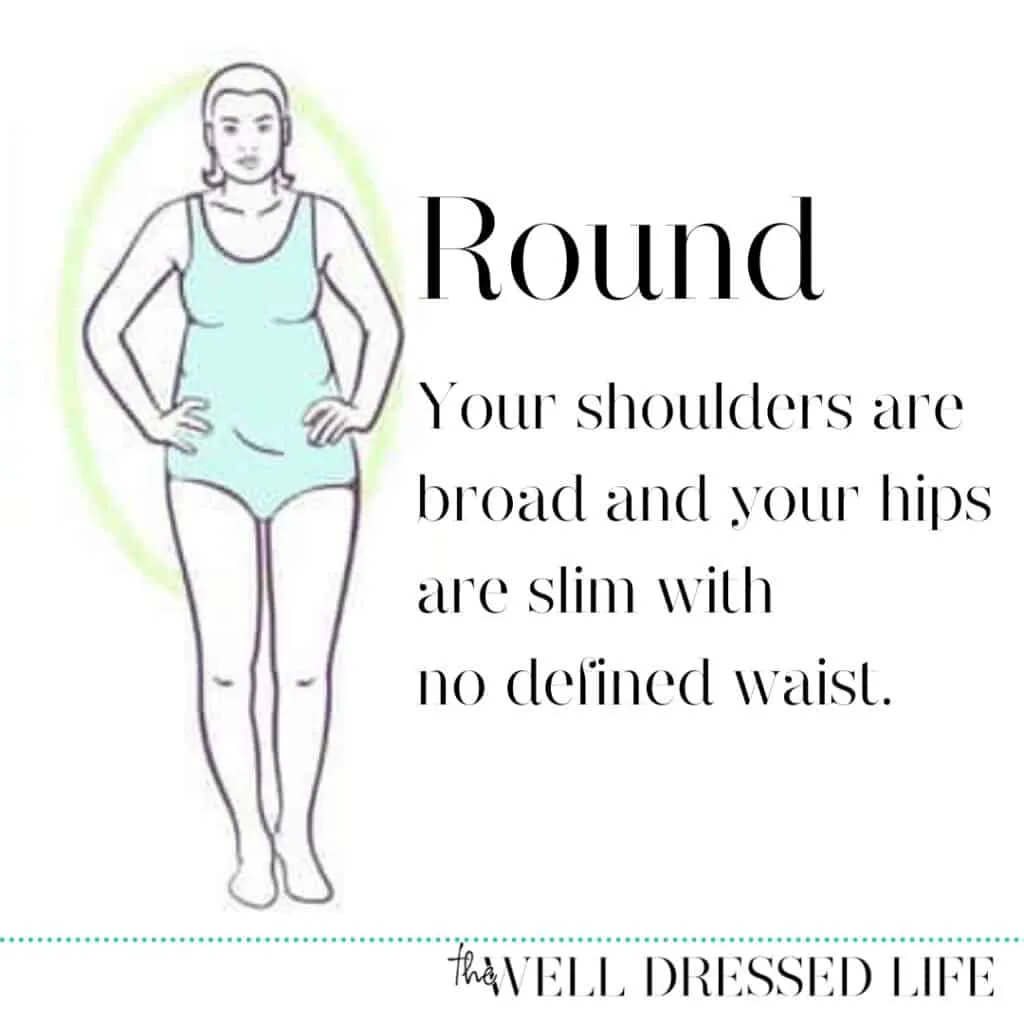 NOTE: Bone structure dictates body type rather than weight and height. Of course, all factors are considered when we get dressed, so these guidelines are just that, guidelines.
Think of it like this:
Body Type is your bone structure, your body composition.
Fit/Size is your proportion; you may be "regular," petite, tall, or plus.
Weight is a factor to consider which tends to fluctuate for many of us. So, if you gain weight in your mid section, you may find yourself leaning towards round at some point in life.
It's helpful to read about all of the different body types because the more you understand balance and proportion, the easier it will be to get dressed.
Also, if you fall in between two body types, you'll want to learn about both so you can start to find your way between them.
The Challenges of a Round Body Shape
Women with a round body type tend to cover their shape with oversized shirts or long flowy pieces.
And, that's fine if that's your style and you feel confident, but often you end up hiding your shape.
Instead, we're going to focus on tips that will create the illusion of a waist, highlight your favorite features, and show off your legs, if you want ;).
Below, I rounded-up four images of famous women with round body types to give you a visual.
I included different heights and sizes to show the diversity in the category.
Famous Round Body Types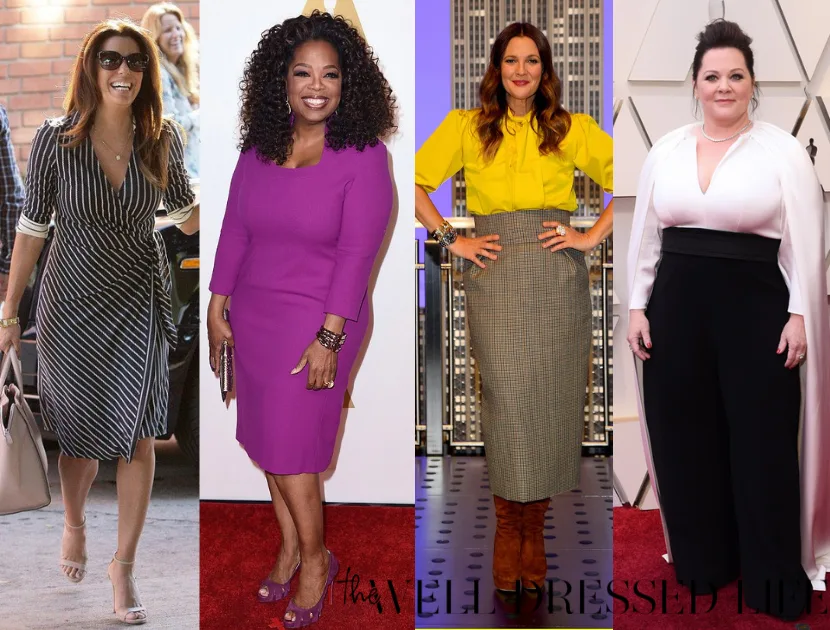 I use photos of celebrities that are the least styled and not photoshopped to give you the best "real-life" perspective, at least as real-life as Hollywood can be.
But this brings up a colossal conversation that I'm not diving into here about what many of these women have physically gone throw to stay thin during their time in the entertainment industry.
Often, when they inevitably gain weight, with age and lifestyle changes, we get to see their actual body type.
This is true for many of us.
If I restrict my eating and made it my job to work out with a trainer, I could have a waist significantly smaller than my shoulders and hips.
I would be unhappy, but I could do it.
That, however, is not reasonable or healthy, so I'm a rectangle when I'm at my average weight.
So please note I want to be respectful in how we have this discussion about other women's bodies and our own.
Let's start with Eva Longoria because I bet you'd never consider her a round body type because she is petite and teeny tiny (she's 5'2″).
There is a misconception that round immediately equals plus size, which is simply false.
She does a great job creating a shape with her clothes.
In the example above she's wearing a wrap dress, which is universally flattering on every body shape, especially the round.
It both highlights curves and pulls in the waist.
Plus, if you wear one that hits at the knee, you can show off your legs, again, if you want.
Next, Oprah.
Oprah is a fantastic example of how to dress a round body type.
She almost always has some waist-defining element in her clothes.
In the dress above, she's using ruching to create that pulled-in look, making her appear more hourglass than round.
Next, national treasure, Drew Barrymore.
I'm just so proud of her, you know?
And I love how honest and heartfelt she is about … everything.
She's a true round shape, and is a wonderful example of having fun with fashion. Often we think we need to be conservative in dress and "hide" our body. But she often plays with color, fabric and texture.
Here, I like how she brought her waistline up a bit to not only define it, but to make her legs look longer. She's cutting herself into thirds instead of in half.
Also, her top does two things. First, the bright color pulls your attention to her face. Second, the detail at the shoulder extends them, making her waist appear a little more balanced.
Finally, Melissa McCarthy is always well dressed.
She is fearless in her choices and it pays off.
The look above shows the importance of fit and balance.
Her trousers are perfection, tailored to the ideal length with a wide leg that balances her shoulders and mid section.
See how she draws attention to her waist by clearly defining it with a detail? And she's creating a waist by putting it right under her bust, which is sometimes our smallest point.
You may have the instinct to do the opposite by having your top fall off your shoulders and drape over your belly.
But that's when you run into looking pregnant.
So instead, don't be afraid to create an illusion of a waistline with a fitted detail.
Best Tips for How to Dress a Round Body Type
As you can see, there is a lot of variety in the round body type.
Of all the body shapes, this is the one you may find yourself stepping in and out of if you gain weight in your middle.
Generally speaking, dressing in one color (or monochromatically) will help create a long line. As will dressing off a "column of color."
That means you keep the under pieces of your look one color, like black, and then cut it with a top layer, like a white jacket.
But that doesn't mean you can't mix and match colors.
Like the Drew Barrymore example, just by moving up her waistline so it doesn't cut her in half, you can easily wear separates.
What should you avoid?
Overly exaggerated details on your shoulders or bust line, ruffle front tops, and jackets won't do anything for you.
Skip crew and turtleneck lines.
Say no to pleated front pants; also avoid tie waist pants (also called paper bag pants) and narrow-legged bottoms.
Best Tops for Round Body Types
A scoop or v-neck top is universally flattering and especially great for a round shape.
You can also wear a wrap, faux-wrap, or ruched side top to create a more defined waist.
A peplum that lays flat rather than flares out will also look lovely.
Asymmetrical and halter necklines are excellent options that will minimize your shoulders.
OR actually build out your shoulder with subtle structure.
For jackets, look for single breast options that sit at your natural waist; this will help give you a long lean look.
Best Bottoms for Round Body Types
Straight or wide-leg pants or jeans work best since they balance your hips and shoulders. The wide-leg will also draw your eye into your waist.
Look for pants with back or side zips to keep your front smooth; the less detail there, the better.
Best Dresses for Round Body Types
The same guidelines for your tops apply to the top of your dresses. For the bottom half, go with an aline or a straight skirt instead of a pencil.
Avoid pleats or any fabric or gathering that will create extra volume – however, gathering on an angle, like, in a faux wrap top or dress will be lovely.
Remember, these are guidelines.
I can't reinforce this enough. Everyones body type is unique. Use these recommendations as starting point in dressing well, knowing that you'll have to make adjustments for your unique needs.