I have been searching for a Velvet Blazer to feature this season and found one worth sharing, available in an inclusive size range and reasonably priced.
This versatile piece can be dressed up for cocktail attire or as a festive layer with jeans.
So let's create two easy formulas for this season.
As always see what you have in your closet first before you buy something new. And if you need a something consider one of our recommendations below.
Outfit Formula: The Velvet Blazer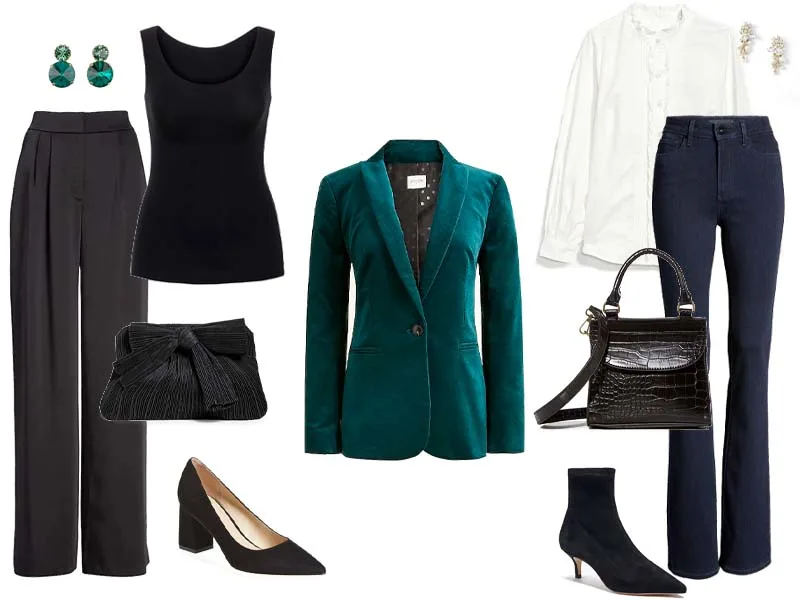 Velvet Blazer, $98.50 | Satin Pleated Wide Leg Pants, $59 | Block Heel Pumps, $160 | Tank, $58 | Emerald Earrings, $150 | Pleated Bow Clutch, $250 | Bootcut Jeans, $109 | Ruffle Trim Shirt, $40 | Booties, $265 | Top Handle Crossbody, $40 | Pearlized Crystal Earrings, $89.50
Let's start with our Key Piece, the Velvet Blazer. This one is from J.Crew Factory, available in "classic" and petite sizes, in 00 – 24.
The blazer above is their green option. It reads teal in the image, but in person, it's green. You can also pick it up in black.
Fit is always important but essential in these two looks. You want the blazer to fit nicely on the shoulders and sit next to your body through the waist.
At this price, currently under $100, spending $20 – $30 more on alterations would be worth it if you need them.
Outfit Formula: An All Black Column
We talk about this kind of dressing strategy frequently. You create a "column of color" with a bottom and top in coordinating colors. You can play with fabric and texture, but the color is the same.
This gives your body a long line and helps make the look cohesive.
Here, I started with a simple tank, assuming that you keep the blazer on for the night.
This one from Spanx is fantastic as a first layer. Available in XS – 3X, black, with the PERFECT neckline for a one-button blazer.
Next, grab your favorite pair of black pants. You can wear any style with this blazer; it's your choice.
The coated jeans we've all been raving about would be fun here, or slim-cut ankle pants like these four-season stretch from J.Crew.
But I wanted to feature a satin pair and found these from Express.
With a subtle pleat detail at the waist and a very wide leg the create a different silhouette from what you might be used to, but worth mentioning.
If they feel too full you can always have a little fullness taken out of the leg.
Currently on sale for under $60, so the extra cost of the alteration could be well worth it.
Because the leg is wide, you need a shoe that balances the volume of the pant.
So I'm back to using these Marc Fisher block heel pumps in black velvet.
Then on to accessories.
If you have the budget, I advocate buying a few well-made, timeless pieces and wearing them on repeat.
And that's what we're doing with this black pleated bow clutch from Loeffler Randall. It's so gorgeous; why would you carry another bag if you had this one?
And then, I wanted to play with the green for earrings and found these stunning earrings from Jennifer Behr.
They are not terribly expensive but more than what I usually feature for a statement earring, but they are so beautiful, I just wanted you to know they exist.
Outfit Formula: With a Statement Blouse
Next we're layering this white ruffled blouse from Old Navy, featured in our recent What to Buy at ,under the blazer, creating a casual, feminine tuxedo vibe.
Then, we're working with dark jeans.
Here, I'm using a pair of dark wash jeans from Paige with a slim boot cut. I like the bootcut here to bring some balance to the structure of the blazer.
If you prefer a skinny, go for it; keep the wash clean and dark, and have the hem go to the top, middle, or cover your ankle.
Because I used a bootcut bottom, it's the perfect opportunity to wear your new sock booties.
I LOVE this splurge-worthy pair from Coach.
You want the hem of the jean to sit or "puddle" on top of the bootie creating a subtle break.
And then, accessories you might already have.
This top-handle crossbody is a Reader Favorite from The Drop and is fun and affordable.
Then I'm reusing these pretty crystal earrings from Ann Taylor, for just a hint of sparkle.
We featured in last week's Outfit Formula, when they were on sale, so if you scooped them up then, great. If not, wait for them to be on promo, don't buy these at retail.