As a content creator committed to size-inclusivity, Old Navy is one of the few retailers that make my job a little easier by offering are range of sizes, including regular (or missy), tall, petite, and women (or plus), with incredible prices before they layer on a promotional discount.
Often, when I wear one of their pieces, it's the one I get complimented on the most.
My best advice is to layer these with your better-quality pieces to create a timeless, classic look.
Wear a better shoe, carry your best bag, and incorporate your jewelry. The key to dressing well on a reasonable budget is knowing where to splurge, spend, and save, and mixing high and lower-priced pieces.
The only real challenge when shopping at Old Navy is their volume of inventory. So it's important to know what you need and what works for you.
Otherwise, you'll be overwhelmed.
Of course, I'm here to help!
I focus on casual basics, lounge, and activewear. And this time of year, I like lightweight sweaters, novel tops, jeans, and the occasional dress.
Skip their accessories and shoes; they will cheapen your look.
Let's go shopping.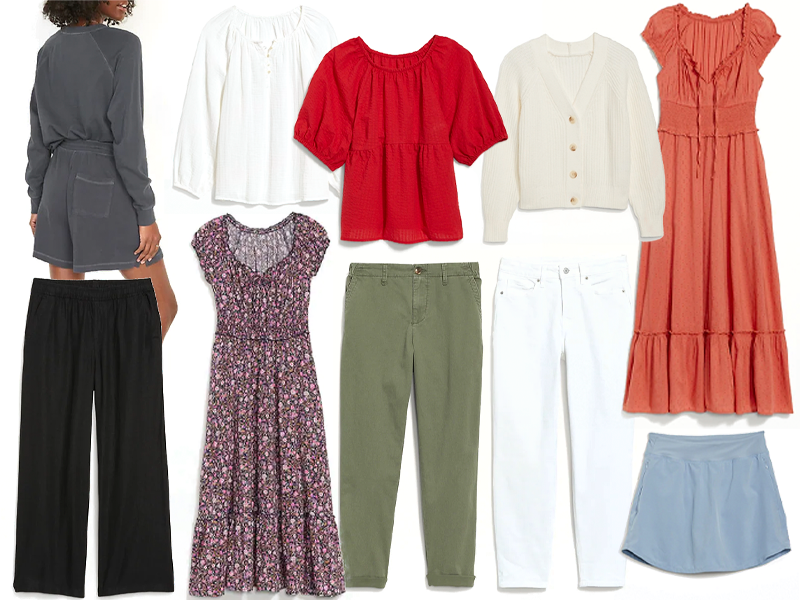 Today you can take an additional 50% off at check out, so these prices are crazy good. The sale ends tonight.
Knowing what you are looking for and the pieces you already have, here are my picks for Spring: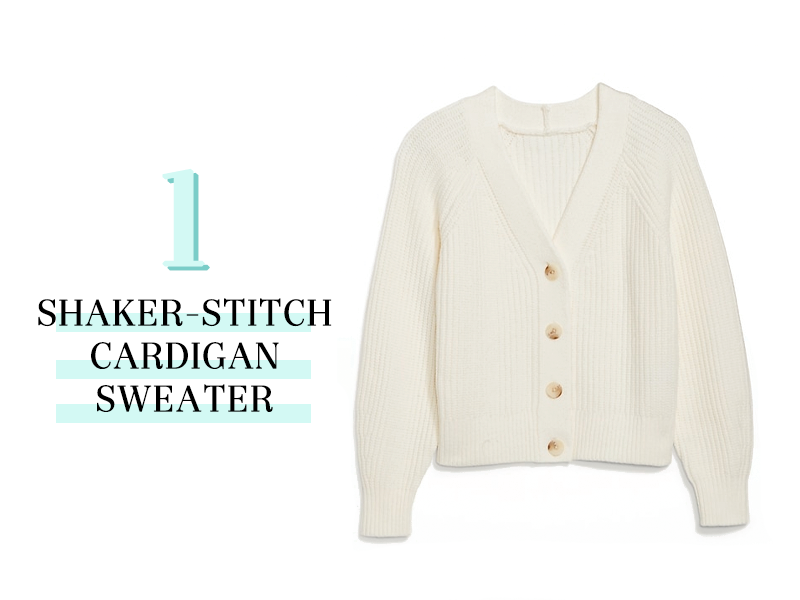 Shaker Stitch Cardigan Sweater, $45 (plus 50% off at checkout, ends today)
Jenni Kayne is a gorgeous brand of clothes. We love her backless mules and she is known for her knitwear, specifically her boyfriend cardigan.
But they are priced at about $300 a piece, and while I would argue they are worth every penny, it's not realistic that we have a closet full of them.
If you like that look, ON's Shaker Stitch Cardigan Sweater has a similar style.
I ordered this in the cream, but it's also available in a soft pink and yellow, in sizes XS – 4X including tall sizes. With the discount it's only $22.
Pair with jeans, shorts or throw it over a casual dress. (options below).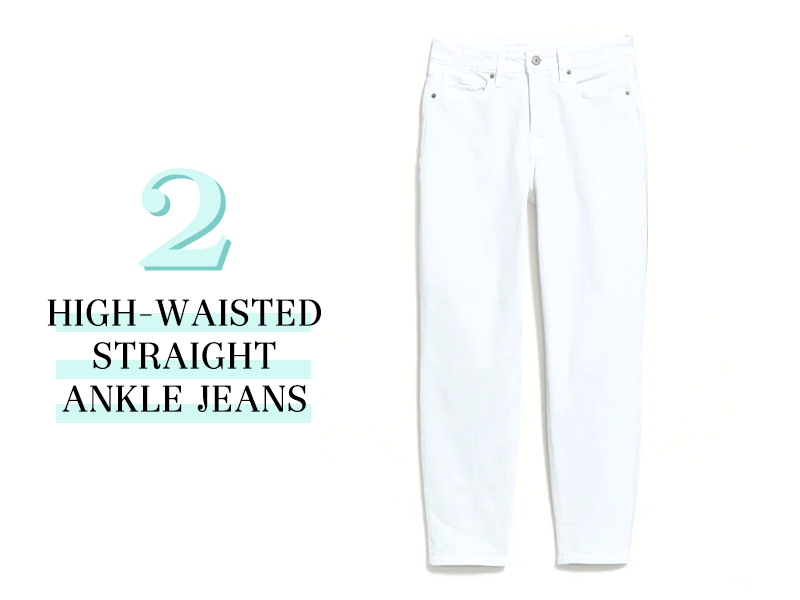 High Waisted Ankle Jeans, $40 (plus 50% off at checkout, ends today)
Twenty bucks for white jeans? How do you say no?
I wear white jeans to death this time of year, so having a few on hand helps me make outfits easily, one pair can be in the wash and another is in the closet ready to go.
A straight leg is a versatile style, that flatters most body types and boy do I love a high waisted pant.
I would absolutely wear these jeans with the cream sweater above and tan sandals.
Available in 00 – 30 in regular and tall sizes.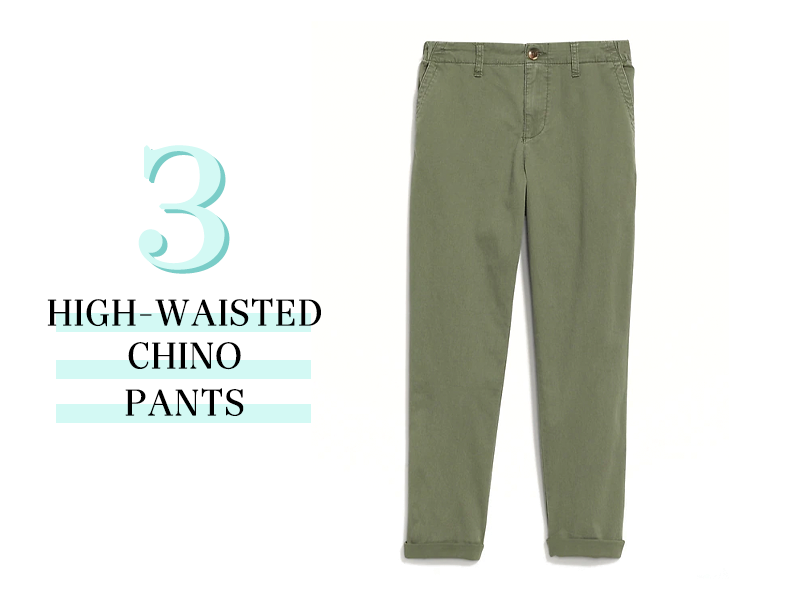 High Waisted Chino Pants, $40 (plus 50% off at checkout, ends today)
Another $20 pant (with the discount at checkout) are these High Waisted Chino's available in a ton of colors.
Earlier this season we talked about How to Wear Olive Pants Three Ways. You can use these chino's in green if you want to recreate some of those looks.
We also did a feature on How to Wear Classic Chino's and NOT Look Frumpy, these come in two neutral options, and either will work in those looks as well.
Available in regular, tall and petite in XS – 4X.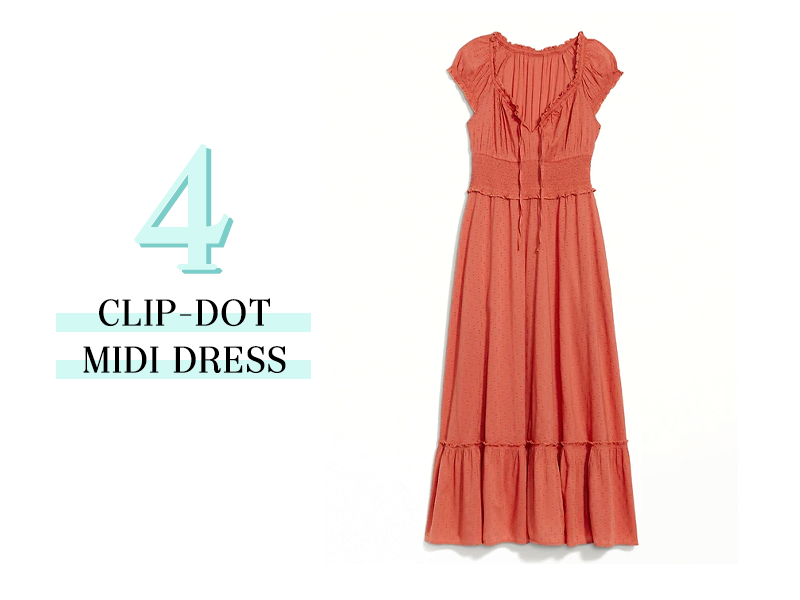 Clip-Dot Midi Dress, $45 (plus 50% off at checkout, ends today)
I don't always love a Midi Dress, but I do appreciate the need for one, especially if you're not a fan of shorts.
I like the neckline, and the puckering at the waist of this one, it's a more flattering shape then the tent shaped dresses we're seeing everywhere.
The top of this dress will work best on you if you are small up top, so narrow shoulders and a small bust. I would skip if you are broad and full busted.
Wear a flat casual shoe with this, no pumps, no wedges. It's meant to be easy and relaxed.
I'm featuring the color "poppy" but I ordered the black because I'm me.
Conversely, I also ordered this bright pink dress, with a gorgeous neckline. It's very outside my stye comfort zone but I think I'll be happy I have it this summer,
Available in sizes regular, petite and tall in sizes XS – 4X.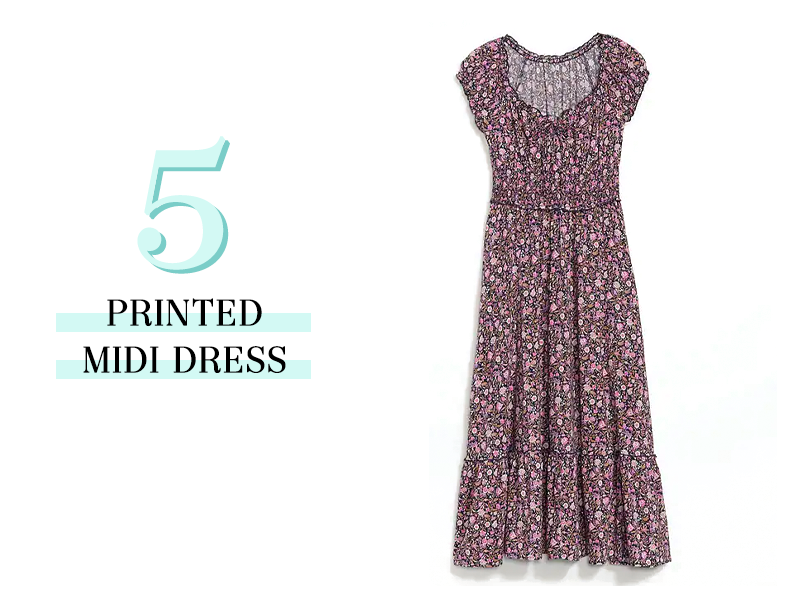 Printed Midi Dress, $45
Another dress option, very similar to the previous dress, only this one comes in two pattern options, a purple floral (above) and yellow.
The top of this is a bit cleaner, but still better if you have narrow shoulders and a small bust.
Available in regular and tall, in XS – 4X.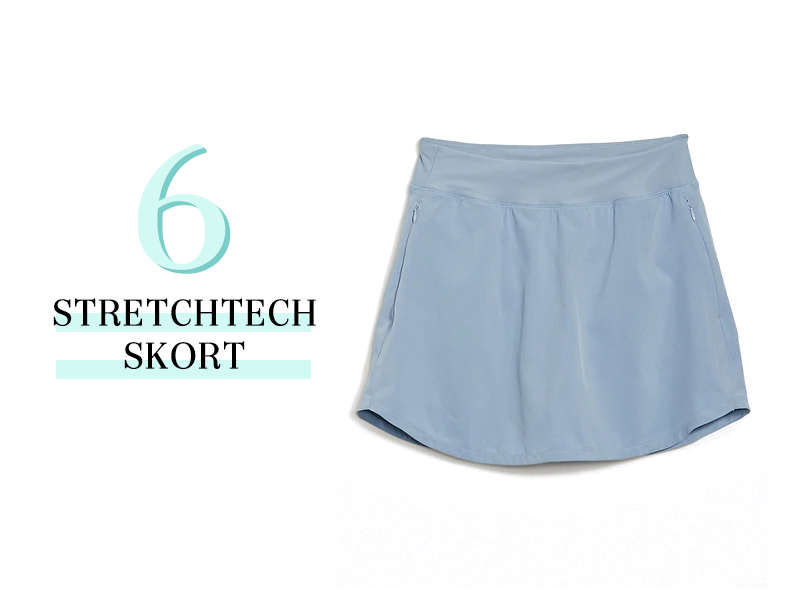 StretchTech Skort, $30
This skort is selling out quickly so sizes and colors are limited.
It's a fantastic deal at $15 (with discount at checkout). I love a skort in the summer, especially if you're active, maybe you go for a long walk in the morning or you're running after kids.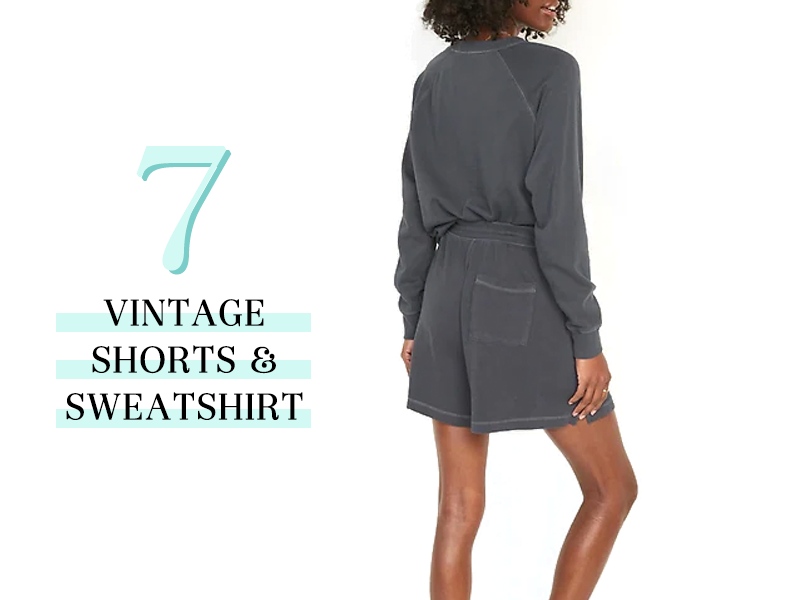 Vintage Shorts, $20 | Sweatshirt, $30
For early summer mornings, sipping coffee outside, or to slip into at the end of a busy day, I love a short and sweatshirt set, and this one is fab.
And with the discount, BOTH pieces TOGETHER are $25.
I stocked up and bought the panther (above) and the "mollusk" – a pretty neutral.
Available in regular, tall and petite, in XS – 4X. Vintage Shorts here, Sweatshirt, here.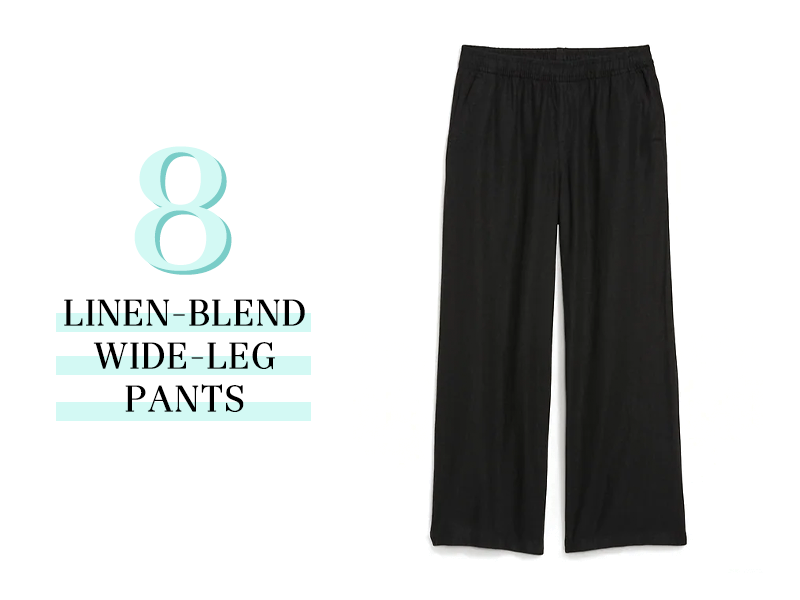 Wide Leg Linen Pants, $40
I really like these Wide Leg Linen Pants, available in black, green and a fun bright blue.
These are wonderful if you don't like shorts, and need a bottom for warm weather.
You can dress these up or down. Pair with a simple tee and casual flats. Or dress up with silk shell, your better sandals and some jewelry.
Available in regular and tall in XS – 4X.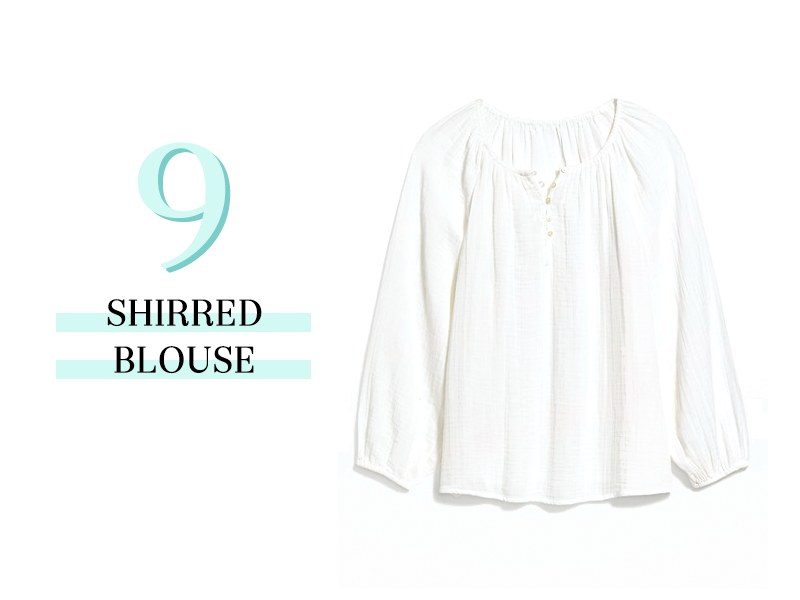 Shirred Blouse, $35
You can pick this simple shirred blouse up in a few colors, but I think the white looks the most expensive.
When you want to wear your jeans or shorts with something better than a tee-shirt, this is what you wear.
It serves the same purpose while elevating the look. Wear a high-waisted bottom, and keep the buttons undone to create an open neckline.
I would half tuck to create a longer line to your leg.
Available in regular, tall and petite, in XS – 4X.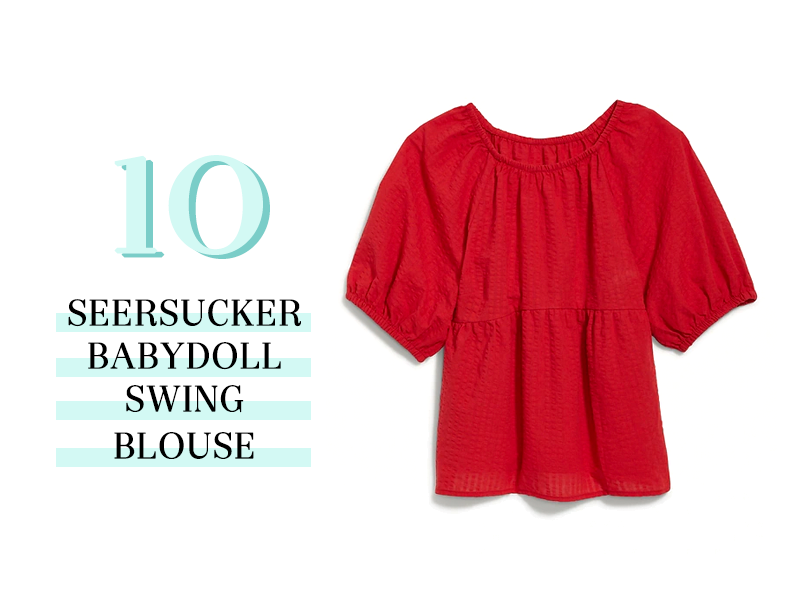 Seersucker Babydoll Swing Blouse, $27
Finally for pop of color, this Seersucker Babydoll Swing Blouse is available in few colors, including red, a poppy pink, and of course white and black.
Another top option you should wear with a high-waisted bottom.
I would add a simple necklace to contrast the crew neckline, like this chain from Madewell.
The seersucker material gives the top texture and creates visual interest.
Pair with the white jeans above or a pair of clean lined shorts for a complete look.
Available in regular, tall and petite, in XS – 4X.
Our Style Content is Inspired by Our Readers
Our readership inspires all of our posts and is not sponsored or paid for by brands or retailers.
Recommendations are based on my experience as a personal stylist and wardrobe consultant for over a decade. I worked with busy, down-to-earth women who wanted to look chic and feel confident but were often confused by so much of retail.
Some links are affiliate links, which means if you purchase via our site, we receive a small commission.
If you enjoy our content and would like to help us grow, please follow on Instagram and join our Private Facebook Group to access more advice and exclusive in-depth conversations with other like-minded women.
Learn about our mission to help women look and feel their very best, every day, here.
Sign Up for Daily Content and Receive Our Free Classic Wardrobe Checklist