When our girls were little, we had no expectations for them to become athletes.
I mean, absolutely zero.
Of course, they played rec sports to have something to do and meet friends, but that was it.
Maddie, our oldest, was very much not into it.
We have a picture of her literally picking daisies in left field. She was sweet, earnest and loved Harry Potter and Hamilton, so my money was on her becoming a theater kid.
When Ava, our middle, was little, she had a natural ability but was never the best kid on the team, so we figured we'd see where it went and not go crazy.
They were both quirky girls who walked to the beat of their own drum.
Fast forward to today, Maddie rows for one of the best high school programs in the country, and Ava is one of the top travel pitchers in the state.
And I have NO IDEA how we got here, with two extremely competitive, gritty athletes.
But it proves my long-held belief that kids declaring their sport at eight years old is silly.
We showed them all their options and let them figure out what they loved.
Of course, once they found their passion we went all in.
There are daily practices, trainers, specialized coaches, and private lessons, and then weekends are spent driving all over the state for two-day tournaments and regattas.
They both have tremendous opportunities because of the work they've put in, so I'm grateful we can provide them with all this support.
But this fall has been intense.
The challenge is basically, how can two people with two careers and an almost four year old be in three different places, and how are we getting any work done?
Bri and I have been two ships passing in the night.
So when we had a rare Friday night with no sports, and the girls didn't feel like hanging out with friends, we immediately grabbed a reservation and headed out.
Outfits in Real Life: Coated Jeans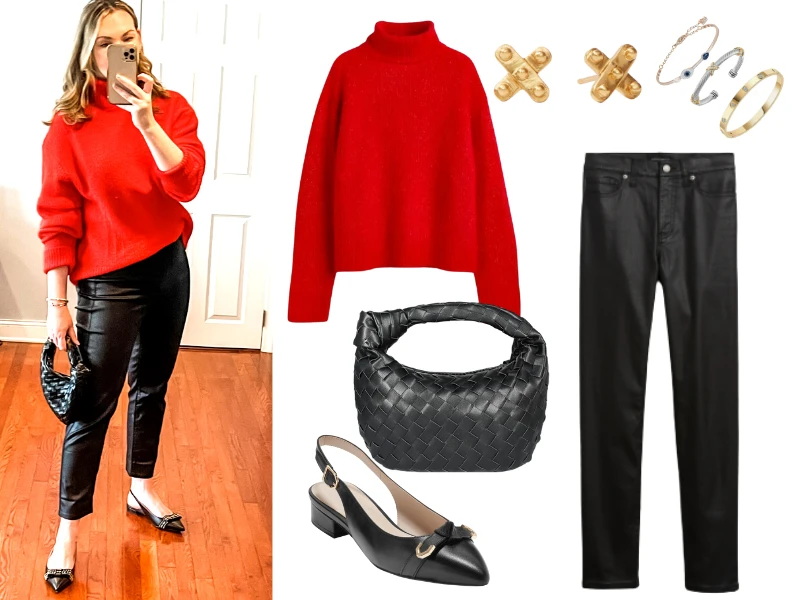 Coated Jeans, $40 | Turtleneck Sweater, $25 | Slingback Flats, $90 | Earrings, $65 | Woven Bag, $45
If we don't make plans and have a proper "date," I'm absolutely no company after 9 pm.
So physically leaving the house is important for us. Otherwise, I'll stress about one of the dozens of things on my never-ending to-do list.
It's also nice to get a little dressed up.
For this look, I grabbed our Reader Favorite Coated Jeans from Banana Republic Factory instead of my usual dark-washed pair.
At this point, everyone might already have these. They are so stinking comfortable and a steal for under $40 in sizes 00 – 20.
You have two options here.
Above I am wearing their curvy slim-coated jean, on sale for $32 plus an extra 15% off. I have a bit of a booty, so the curvy fit is fantastic for me.
I'm wearing the size ten, but I could have done the 8, so if you are between sizes, go down one because they will stretch.
I also have a pair of slim-coated jeans on sale for $40 plus an extra 15% off.
They are the same fabric but have different style number.
I bought a size 12 in the tall option, and they fit well. For reference, I am 5'10 and wear between an 8 – 12, depending on the cut.
I like having the extra length I get in the tall because the hem sits right over my ankle, and I can tuck a sock boot in the pant hem for one long line.
You can pick between regular, tall, and petite in this style.
For some color, I added this red turtleneck sweater from H&M (featured in our round-up).
It's soft and only $25, available in five colors in XS – XXL.
Above I'm wearing the medium, and it's full, I would probably size down to the small, and I'm not usually small in anything anymore.
I tucked the bottom of the sweater into my waistband and turned the turtleneck over instead of under, giving it a cleaner finish.
Then, a pair of slingback flats. I'm wearing an old J. Crew pair from a few seasons ago, but this option from Cole Haan gives a similar look and is on sale at Nordstrom Rack.
My flats have little studded details, so I mimic them with the Soho Earrings from Julie Vos.
Finally, I grabbed this chic little woven bag from Amazon. It doesn't fit a lot, but there is plenty of room for your phone, keys, card case, and lipstick.
And we were off to have a quiet grown-up dinner where we talked about the kids the whole time. LOL
Outfits in Real Life
Outfits in Real Life is our weekly series in which I share my outfits made up of recently featured and new items.
I share photos entirely unfiltered, with zero photoshop and no airbrushing. I'm not working professional hair and makeup – clearly, and no one is steaming my clothes. I
'm getting dressed amid chaos like everyone else to reinforce the point that you can pull together classic and chic outfits with a bit of guidance from The Well Dressed Life. 😉
This post is not sponsored or gifted. I buy everything myself so that I can advise with no strings attached.