Sometimes, we overcomplicate getting dressed.
A composed outfit doesn't need to be fussy or have a lot of layers, and it also doesn't need to be wildly expensive.
All you need is a basic understanding of balance and take an extra step in making sure you have a few elements that pull it together.
I ofter hear from readers that they just need "a few cute tops to wear with jeans."
Life is a lot more casual than it use to be and we are all a lot more busy, so having a couple "cute" and easy tops to throw, that feel finished, will help you get out the door quickly, and feel stylish too.
And that's what I'm featuring today, an easy sweater and jeans look that showcases the importance of having the right elements on hand to pull a cohesive outfit together quickly.
This would be a nice option for Thanksgiving, or a low-key night out with friends.
Outfits in Real Life: Cute Sweater and Jeans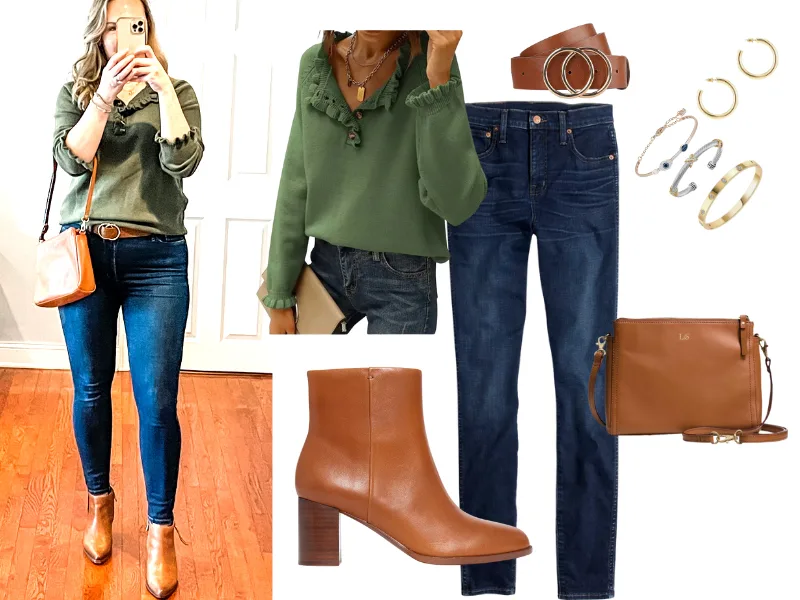 I wore this on a day date with my 12-year-old last week.
We went to the mall (such a disappointment for me, not so much for her), had lunch, and just had the best time chatting about everything.
The sweater will look familiar. I featured it yesterday in our Amazon Fashion Finds Round-up.
The quality is impressive, especially for $42, and it's available in S -XL. I'm wearing the large, and it fits well, though I will line-dry it, so it doesn't shrink.
Lots of color options are available.
I paired it with skinny jeans.
I will die on this hill, and you can bury me in my skinnies.
My legs look long and lean here, why would I wear anything else?
You probably already have a pair, so wear them. The dark wash looks best.
Above is an option from Madewell, on sale for 40% off with code OHJOY.
Then I added the circle buckle belt, also featured in our Amazon Fashion Round-up.
I did a little front tuck to show off the buckle, but left it out in the back.
And then grabbed my Lo & Sons Pearl Crossbody (on sale right now so grab one if it's been on your list) and tan ankle boots.
I'm wearing a pair from Sam Edelman last year but I found this very similar pair from Madewell, available in black and tan, also 40% off.
These are those elements that make a big impact.
First, they all "go" together. They are not a perfect match, but they are in the same family.
Second, and most importantly, the buttons on the sweater are done in a tortoise finish, so by pulling that neutral out, you create symmetry with color, creating a "well-dressed" look.