A popular request coming in from our community is outfit ideas to "look cute" at your kids sporting events.
So today, I'm sharing an outfit formula that I turn to this time of year, featuring one of my favorite casual staples, The Sporty Skort.
Outfit Formula: The Sporty Skort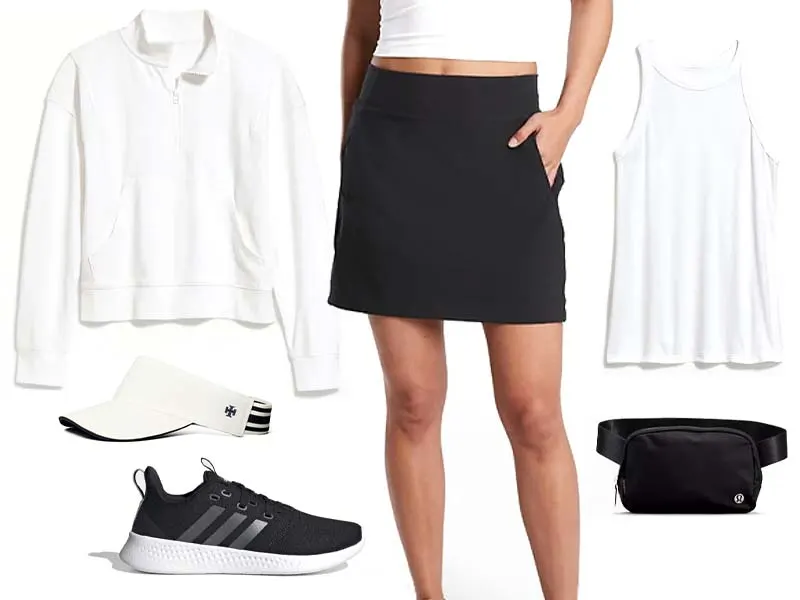 Skort, $59| Half Zip Sweatshirt, $45 | Rib Knit Tank, $12 | Sneakers, $53 | Belt Bag, $38 | Visor, $48
As long-time readers know, I spend a considerable portion of my weekends on a sideline somewhere.
And in the summer months, that means long, hot days of travel softball.
Sports eat up a lot of our "free time," so I have to be organized and up and dressed in the mornings before the rest of the house.
Creating a uniform or formula I can put on quickly takes the guesswork out of my mornings so I can get my gang settled and out the door without losing my mind.
The key piece to that formula is the sporty skort. I love these things. They fit like a bike short, but the overskirt makes them more flattering.
And I should note that I think bike shorts are cute too; I just like the extra coverage and variety a skort provides.
Here, I'm using the 16″ Brooklyn Skort from Athleta. Available in sizes 0 – 26.
I also really like The Women's Tulip Hem Skort from Carrie Underwoods line CALIA available at Dicks in sizes XS – 3X.
Finally, SPANX has an option called The Get Moving Skort that gets rave reviews. I just ordered it to see if all the hype is worth it. It's expensive at $88 but I've always been happy with their quality. Also available in XS – 3X.
Next, let's talk tops options.
Above I'm using layers, that you can take on and off.
When you're baking in the sun, a simple, breathable tank is all you need. But you might want a lightweight sweatshirt if you're in and out of air conditioning.
For this outfit I'm using two affordable finds from Old Navy.
This racerback ribbed performance tank is only $12 ( with an extra 25% off at check out). With tons of color options in all sizes you can stock up.
If you'd like something more finished, opt instead for a traditional sleeveless golf shirt. I wear this one.
And the optional layer is this cotton blend, half-zip sweatshirt priced at $45 with an extra 25% off.
You can throw this over the tank or golf shirt.
For shoes, a sneaker is the obvious choice. I love the look of white sneakers but I always keep a black aside so I can hide the dirt. The above sneakers are by Adidas on sale for only $53.
For trips to the snack stand, the Lululemon Everywhere Bag is the best. You can keep your phone, keys, cards and cash close to your body and stay hands free.
Finally, I usually wear a baseball hat, but I came across this bougie visor from Tory Burch and had to share it.