We're in the middle of our January Wardrobe Challenge, and we're talking A LOT about taking the styles we love, the ones we aspire to and translating them into real life outfits.
THIS WILL BE HELPFUL EVEN IF YOU'RE NOT DOING THE CHALLENGE THIS MONTH.
In the first week of the Challenge, I have our participants "pin" inspiration images onto their Pinterest Board, with the direction to pin whatever they love without considering body type, budget, or lifestyle.
The goal is to get a high-level view of their authentic personal style.
And, inevitably, the one question that comes up is, how do we take the inspiration we see from all this chic fashion in equally chic lifestyles and make them work in real, everyday life?
So I'm using today's Outfit Formula to show you how you can take what might feel like an unrealistic style perspective and make it work for a life that includes regular trips to Target and Costco.
Below is one of my personal inspiration pictures on my Pinterest Style Board: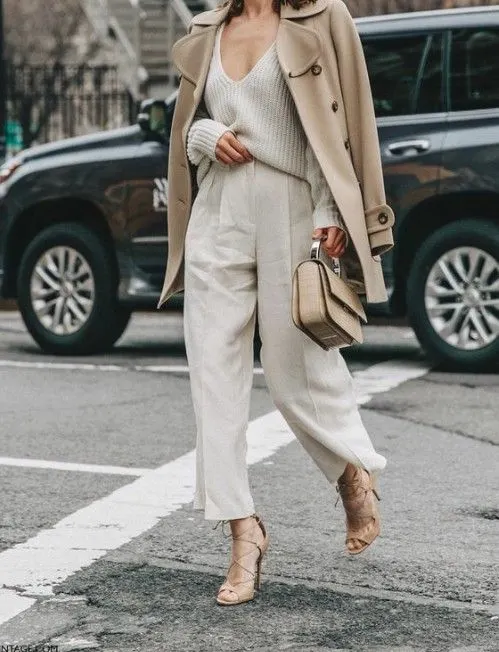 Beautiful? Yes.
Realistic? Not for me.
I'm a neutrals girl, so I adore the tonal color palette. And I love how the texture of the sweater, jacket, pants, and bag combine to create depth.
Of course, a Pinterest image wouldn't be complete without a sky-high pair of unmanageable heels.
In another dimension, this is me.
But in this timeline, I am a work-from-home mom with three kids, straddling between life with two teenagers and one four years old.
I live in gym clothes and work 12 hours a day on my computer.
I'm not going anywhere or doing anything glamorous enough for this look.
And this isn't by body type, but that's a whole other conversation.
So how do we take this and make it work for the suburban, casual mom life with someone who still wipes their nose on your leg?


Think of it like this; we're deconstructing the romanticized version of our style to make it practical.

Here's how I would do it:
Outfit Formula: The Sweatsuit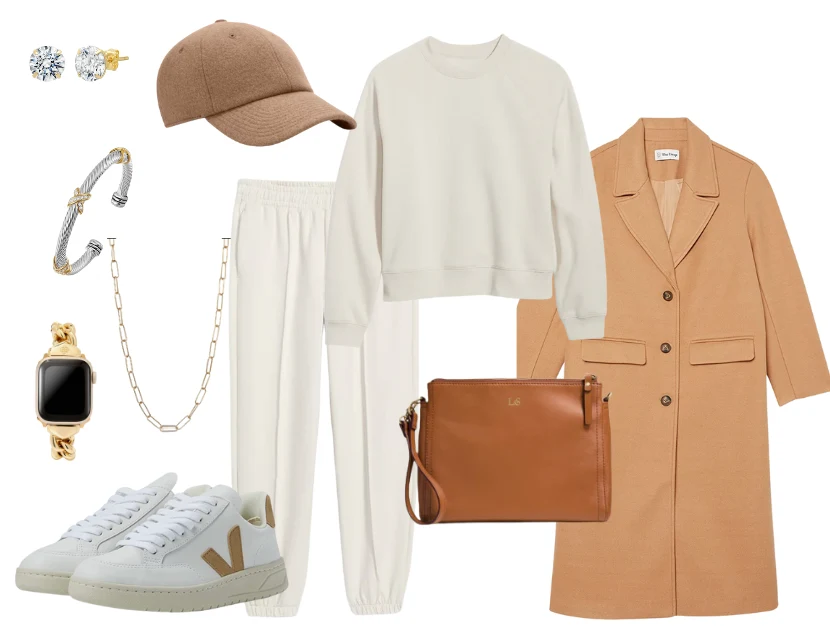 We're taking a silly, inexpensive sweatsuit and we're making it feel chic and glam.
Above, we're featuring a crewneck sweatshirt and coordinating joggers from Old Navy.
I'm using the color "Wish Bone" but do you and wear whatever color you like.
The Old Navy Set comes in eight colors, in all sizes, including tall and petites up to a size 4X. Sold separately, the sweatshirt is $34.99 and the joggers are $44.99, both with 35% off at checkout.
Whatever you buy, I don't want you spending here. There are SO many great sweatsuit/loungewear options at Old Navy, Target or Amazon.
Let me know if a round-up would be helpful.
Notice, though, that the sweatsuit is not oversized. It's comfy, but not baggy.
And the joggers are tapered, with a seam down the front, giving a tailored look.
Keep it to one color so we can create a monochrome look.
For shoes, we're swapping stilettos for sneakers.
This is about taking the colors, elements and feeling you get from an inspiration picture, and making it your own, not recreating it exactly.
I love Veja sneakers for this kind of outfit. I have these in several colors, but this white and tan option gets the most wear.
I happily pay retail for these as they sell out quickly. Currently, The Style Room by Zappos has them for $165 in the best size range.
But, again, work in your budget. If you picked up this pair of trainers from J.Crew on sale (featured a few weeks ago), they work well here too.
And then we elevate the outfit.
So instead of a big puffy jacket we're swapping it with a tailored top coat. I like this one from Amazon's The Drop line.
I've been nothing but impressed with their quality since I started buying their pieces.
You could also use our Reader Favorite $60 coat also from Amazon. (Feature here earlier this month).
I'm giving you two option because our Reader Favorite has a narrow size range, and The Drop coat is in sizes XXS – 5X – please note this runs large, if you order read the reviews for some more guidance.
Now, this is when I get emails yelling at me, reminding me that some people live in areas where it snows and they need to wear heavy winter coats. To which I say, I also live in a region that gets snow and a parka would seem like the obvious choice.
I added a tan baseball cap from All Birds incase you'd like to not have to deal with your hair. A wool cap is a bit more dressed than an athletic one. I wear both.
You can start to see how we're playing with fabric and texture, creating that same interest with layered pieces, just in a different way.
The trick to making your everyday, basics, like a sweatsuit feel elevated is in your accessories and a little grooming.
Throw on a five minute clean make-up face. Grooming is half the battle in looking pulled together.
And add some updated jewelry.
Above, I'm using some familiar pieces. All of these are available in gold or silver/white-tone.
Starting with the Mejuri chain necklace that is under $200. Or pick one up at Target, these are everywhere.
I also recently discovered these oversized studs on Amazon. They are substantial and not inexpensive (at least for Amazon jewelry) but they are a lovely stand-in until one day, after I pay three rounds of college tuition, I can maybe afford the real thing.
And then, we're updating your Apple watch band with this option from Kendra Scott, available in gold, silver or rose-tone
Finally, grab your bag. Above is the Lo&Sons Pearl Crossbody