Last week, I shared this ribbed body-con style dress in our Outfit Formula Series.
Before I hit "published," I was a bit worried because, as we've come to expect from a lot of Amazon clothing, the product image is modeled by an otherworldly creature, who doesn't mess with carbs, and has perky boobs a long slim waist and perfectly proportioned hips.
So, I can't believe I even ordered it, but this year I've committed to going back and finding the old me, the girl that loved fashion and clothes so much that she decided to make a career out of it.
The girl who was never intimidated trying something on.
The girl who got dressed up for any and every occasion.
The girl who couldn't fathom there being a time when she would battle with her body.
And while that girl is now 43, and that body has been through the wringer, I want to get back that spirit of having fun with clothes, trying new things, and for the love of GOD, embracing and loving my life-giving body, curves, and all.
So, as promised, for today's Outfit in Real Life, here is me in said dress.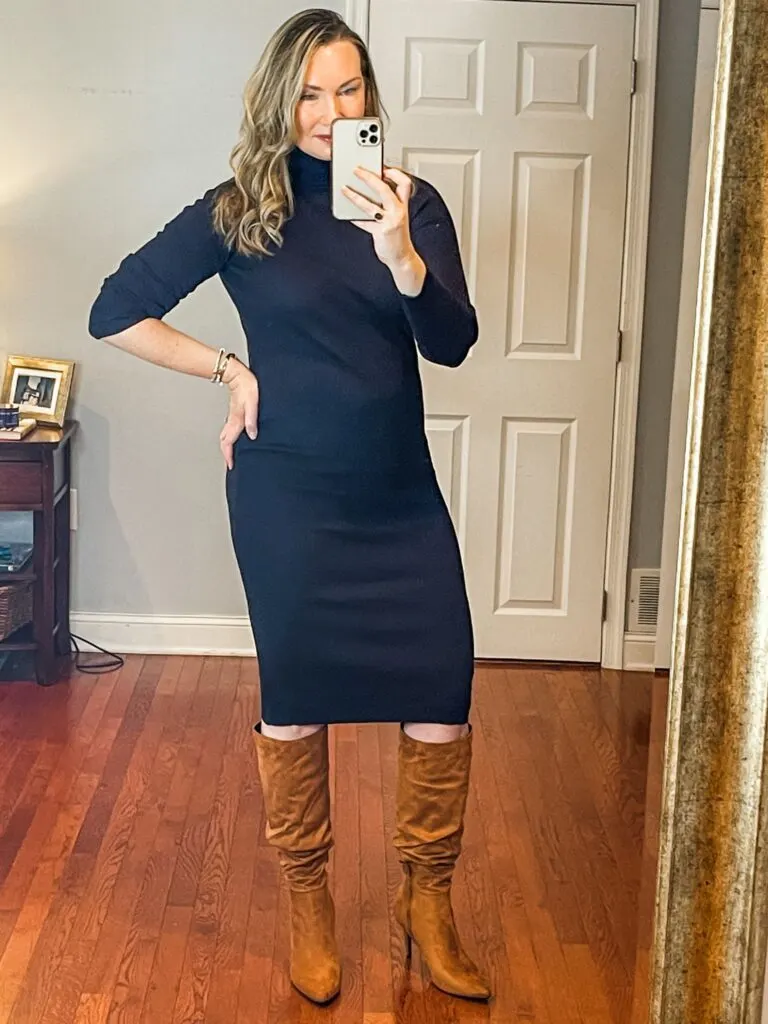 I don't hate it.
In fact, I really like it.
So much so that I now have it in olive, black and dark navy, which is what I am wearing above.
It's a dark, dark blue, that really only looks blue when you put it next to black. In fact, it looks more blue in the photo than it will in person.
Am I wearing Spanx? You better believe it.
You have a lot of body-shaping options, I'm wearing this pair that go up to your bra line.
"I haven't left the house without lycra on these thighs since I was 14."
For reference, I am 5'10 and wear anywhere between an 8 – 12; in this dress, I took a large.
The dress is under $40 and comes in a ton of solid colors, DO NOT buy the color-blocked options; they are hideous.
Now, let's break down the rest of the outfit because I found some GOOD stuff, all from Amazon.
Outfit Finishers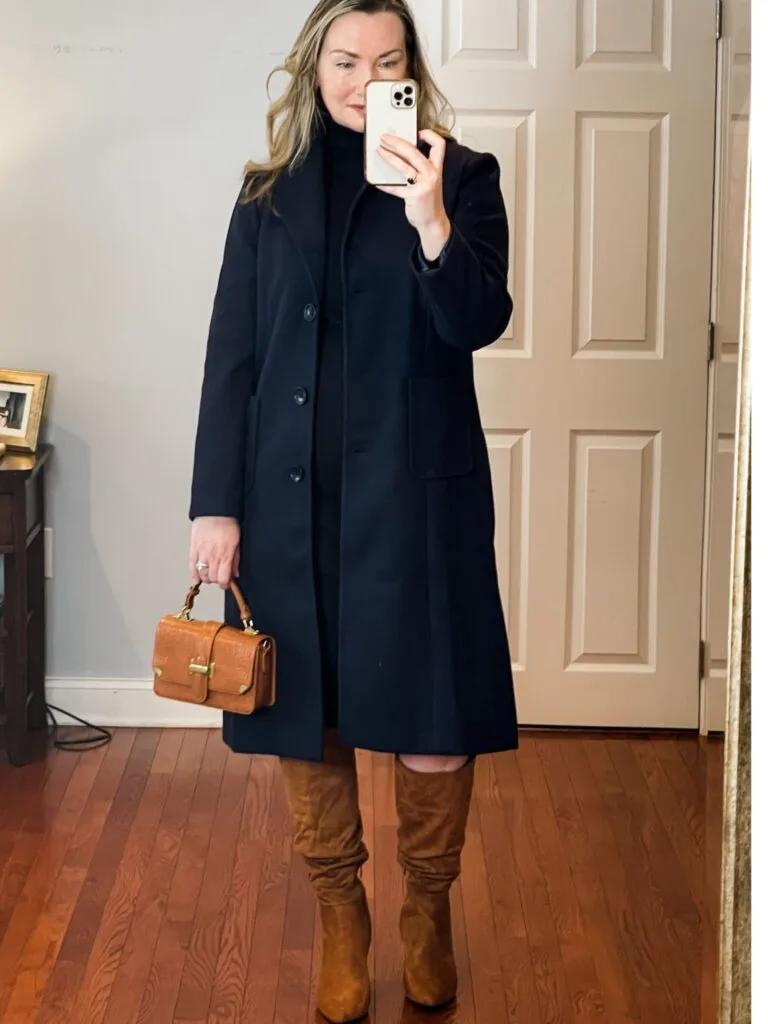 I love a coat.
I have too many, but I don't care because I wear them and use them to complete an outfit.
So much of dressing well is in the layers and details.
So consider what you're putting on top of your outfit. Having a few top coats on hand is a much better alternative than throwing your North Face on top of your dress.
And listen to me; this coat is INCREDIBLE. It is lined and has tonal buttons, so you have so much more versatility, and it's only $60.
I have it in navy (above), red, and black because that's what I do; if I love something, I buy all the colors, especially when it's this affordable.
Next, the boots. I went with a slouchy style instead of the tall, slim boots I usually wear because I'm stepping outside of my comfort zone.
But go ahead an wear any of the tall, slim boots you already have.
If you're looking to add something different, these are great. Available in a range of neutrals including tan (above) and black for just under $70.
They are surprisingly comfortable, the heel is high (3.5″) so be aware of that. I have a normal size calf and they fit well. They even have a band at the top that helps keep them up.
I love tan paired with navy, of course, you can wear black, no problem.
The tan adds depth and richness to the outfit and pairs nicely with this gorgeous little bag.
I was influenced to buy the bag after seeing it on TikTok, and it's another fantastic find.
It's tiny, but your essentials will fit perfectly, and it's well-made. It also comes with a nice strap to turn it into a crossbody bag if you want to avoid carrying it by the handle.
It's available in this tan and black, which sells out fast but just came back in stock.
Taking my cues from the hardware on the bag, I'm wearing my tried and true hoops in the gold 20 MM.