Earlier this week I wore these fleece lined leggings in our Outfits in Real Life feature, and they immediately became a best seller.
After, I received several requests for how to style them in outfits, so I'm using them in today's Outfit Formula to create two classic looks perfect for cold weather.
And there are a lot of amazing finds below, at great prices.
Let's dive in.
Key Piece: The Fleece-Lined Legging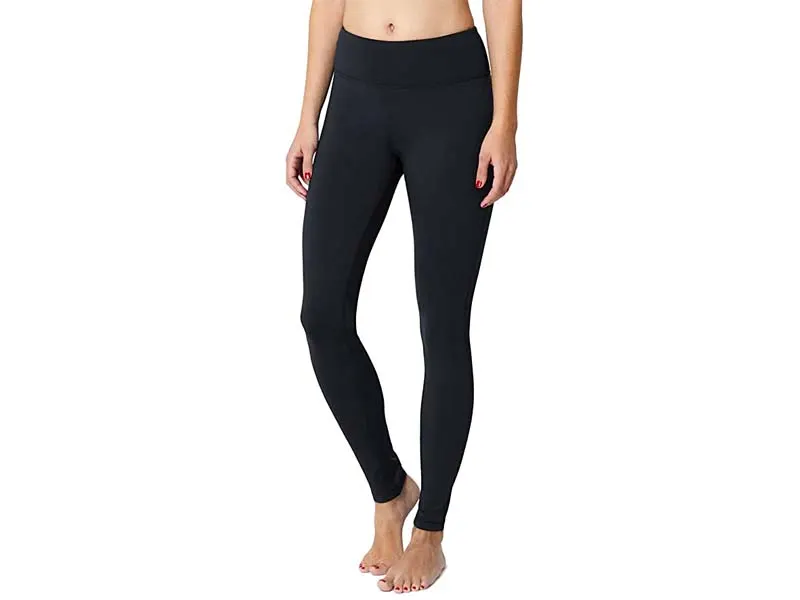 This specific pair from Amazon is awesome, with over 20,000 Five Star reviews, so it's not just me raving about them.
I like them for a few reasons.
The size range is XS – 3XL. I'm 5'10 and wear a large.
You can get them with or without the side pocket.
They also have a water-resistant option. I ordered these for my oldest, who rows and is on the water in cold weather, and she loves them.
The quality is excellent; they fit and wash well and keep you warm.
I wear these frequently, from down on the river watching our daughter row to staying cozy on a ski weekend (where I solely partake in the Apres aspect of the sport) to working from home in my always cold house, these are a go-to.
Outfit Formula: The Fleece Lined Legging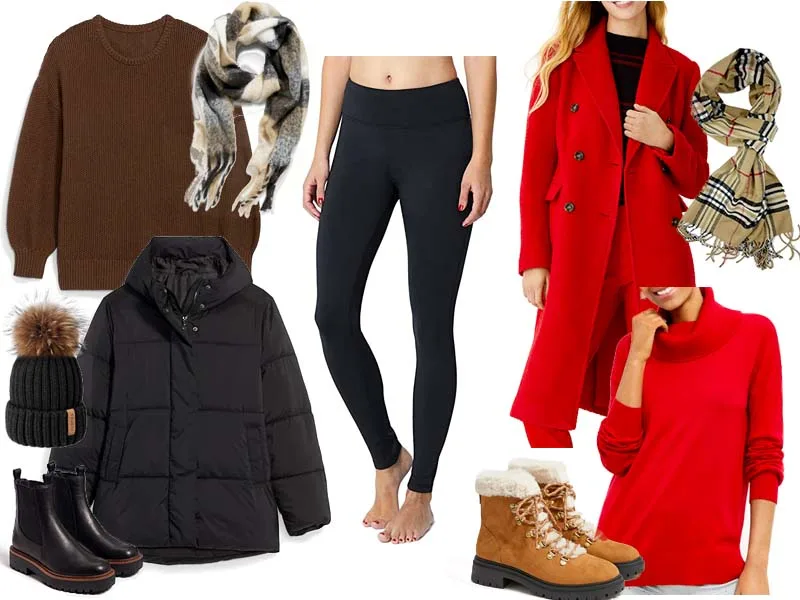 Tunic Sweater, $34 | Chelsea Boots, $170 | Cozy Scarf, $18 | Puffer Jacket, $90 | Faux Fur Hiking Boots, $140 | Wool Coat, $258 | Cowl Neck Sweater, $65 | Scarf, $13
Above, I created two looks, with many pieces you already have and a few new additions.
The first look is something I would wear working at home, with elements that make it easy to leave the house looking like a person.
I am starting with this textured tunic sweater from Old Navy. I like that it is long enough to cover your bottom but not oversized in an overwhelming way.
Available in XS – 4X in regular, tall, and petite for $39.99 with 35% off at checkout.
I'm using the color espresso to show how you can mix different neutrals to create a sophisticated color palette.
Now at home, I would just wear a pair of Ugg slippers, but if I had to venture outside, I'd throw on my Chelsea Boots.
We like this pair from Sam Edleman.
If you have the sold out pair from Caslon from earlier this season (they are the ones I wear), you don't need another pair.
I'm realizing as I'm putting this all together that I have a few Old Navy pieces here. This time of year you can't beat their prices, and as a content creator that really values size-inclusion, they are one of the few retailers that always deliver.
I'm using this scarf, on sale for about $12.
Look for scarves that pull different colors together. Here, this one helps make the black legging and brown sweater make sense. Just by adding the scarf you're creating a more cohesive look.
Then, a warm coat. We've shared a few over the last few weeks. Including the Oraly coat on Amazon, which is another fantastic option here.
Above is another Water-Resistant Hooded Puffer Jacket also from Old Navy, on sale for about $60, in a range of colors, in regular, tall and petite, in XS – 4X.
For our second outfit, I'm wanted something polished and warm.
The town next to us hosts Stag & Doe nights once a week leading up to Christmas. Stores stay open later, the lights on main street are beautiful and then you stop and get dinner and drinks. You're in and out of shops, bars, etc.
So this is what I would wear.
Starting with a pretty cowl neck tunic sweater, from LOFT. On sale right now for just under $40.
Available in regular and petite, in XXS – XXL, which is pretty good for LOFT.
Then, a red coat, because why not.
I like the style above, from Ann Taylor, sizes are limited, but there is a petite option. And right now you can take $100 of any order of $250, so this comes down to $158 – much better.
What I want you to know about are these boots from J.Crew Factory. Available in black or chestnut (above), they are currently marked down to just under $60 with code SALE60.
Finally, I added the Burberry dupe scarf from Amazon that we featured on Tuesday. It's only $13 and you can wear it with pretty much any neutral combination.