You may have noticed half-zip sweatshirts popping up everywhere recently.
It's not like they haven't been in style, they have always been around, but over the last few seasons, the style has dominated athleisure, making it a new classic.
It's SUCH a better option than a crew neck since the zipper and collar help frame your face and create a more flattering "V" neckline.
And since it is gaining popularity, options are available at various price points.
You can spend here if you want; stores like Aritzia, Everlane and J.Crew all versions for about $90
But sweats fall in the "SAVE" category for me.
Related: Where to Splurge, Spend and Save in Your Wardrobe
So this week, we have two Outfit Formulas featuring this slightly oversized, half-zip sweatshirt from Amazon for $30.
Outfit Formula #27 & #28: The Half Zip Sweatshirt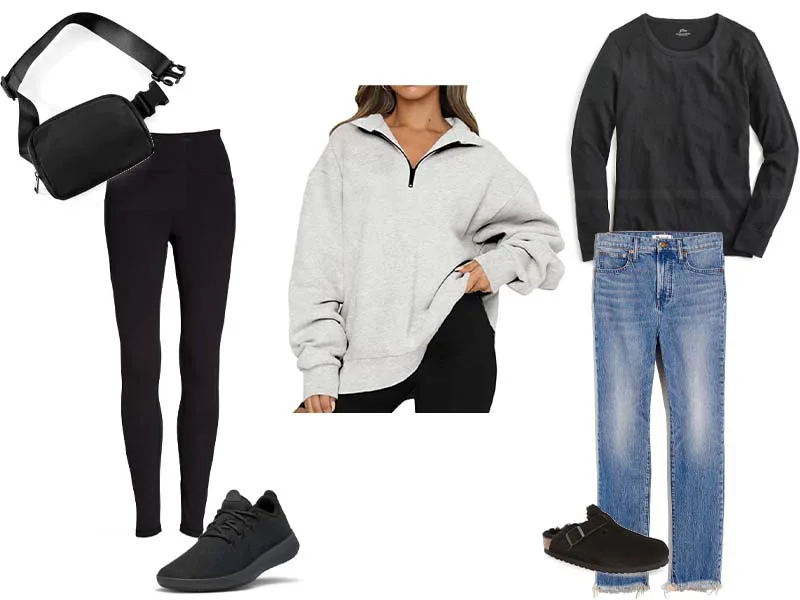 Half-Zip Sweatshirt, $30 | Leggings with pockets, $79 | Wool Sneakers, $125 | Belt Bag, $19 | Long Sleeve T-Shirt, $22.50 | Vintage Jeans, $128 | Shearling Clogs, $170
Thanks to a recommendation from TikTok, I picked this sweatshirt up in grey (featured) and black and already know it will get significant wear, especially for early morning workouts or sitting on the sidelines on the weekends.
It's bit oversized and boxy, which I like.
We're offering two "formulas" because, frankly, the leggings seemed obvious but also a go-to.
So let's start there.
Grab your favorite leggings.
Above, I'm featuring my all-time favorite from Zella at Nordstrom. They are $80, but I promise they will last for years.
They are especially lovely in the cooler weather because they are a bit thicker, and the pockets are extra helpful.
And a quick note, I do not work out in these. Instead, I wear less expensive options from Old Navy and Amazon.
These are my "nice" leggings. Also tell me you're a mom without telling me you're a mom.
To keep the outfit sporty, we're using a belt bag; this one is an Amazon dupe of the Lululemon version that keeps selling out.
I have the Lululemon one, only because I didn't know this existed, but reviews claim it's the same bag.
To keep the line of your leg long, I went with these are all black, wool All Birds.
All Birds is a fantastic brand, making comfortable, high-quality footwear with a genuine focus on sustainability. This pair is made for walking, is warm and water-repellent. Perfect for the fall.
In our second formula, we're going with a relaxed pair of boyfriend jeans.
Featured is a pair from Madewell, with a slim straight leg and raw hem.
Here, I would drape our key piece over your shoulder and wear a simple black long-sleeve tee (J.Crew makes a nice one)
Finally, for shoes, brace yourself because we're rocking a pair of Birkenstock Clogs.
Listen, I don't know who I am anymore, but I'm here for the comfort, so I ordered a pair. I can see these living at my backdoor, ready to slip on to run to all the places.
52 Outfits in 2022!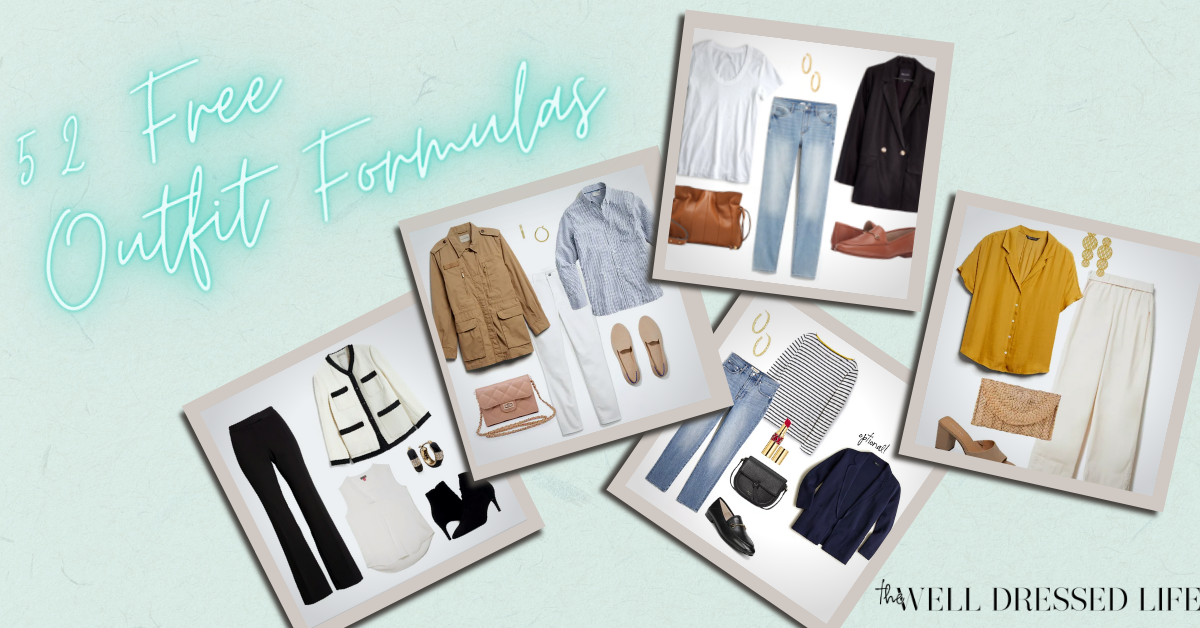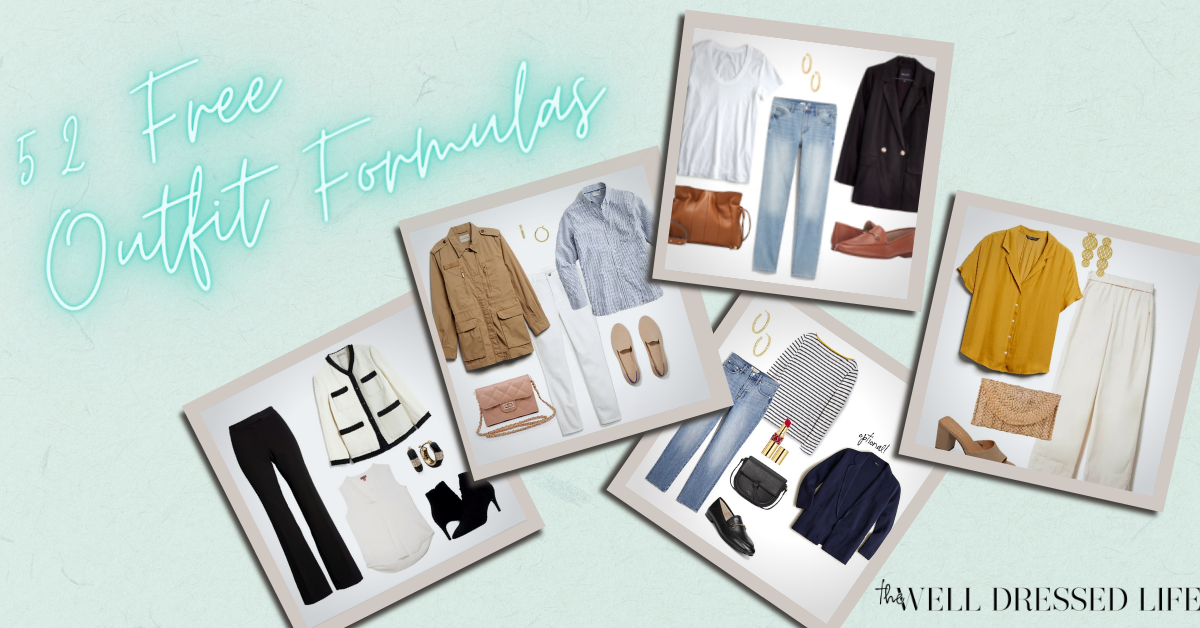 Follow Us on Instagram!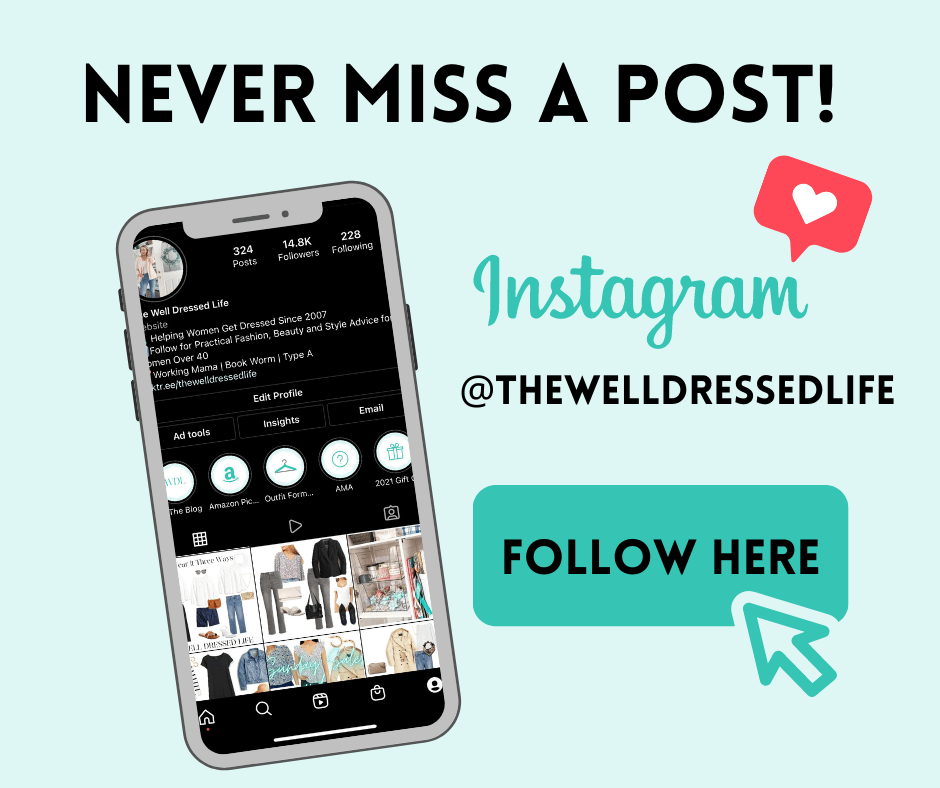 Our Style Content is Inspired by Our Readers
Our readership inspires all of our posts and is not sponsored or paid for by brands or retailers.
Recommendations are based on my experience as a personal stylist and wardrobe consultant for over a decade. I worked with busy, down-to-earth women who wanted to look chic and feel confident but were often confused by so much of retail.
Some links are affiliate links, which means if you purchase via our site, we receive a small commission.

If you enjoy our content and would like to help us grow, please follow on Instagram and join our Private Facebook Group to access more advice and exclusive in-depth conversations with other like-minded women.
Learn about our mission to help women look and feel their very best, every day, here.
Sign Up for Daily Content and Receive Our Free Classic Wardrobe Checklist