Earlier this week, my friend and I were texting about the breaking news that Jenna Lyons joined the Real Housewives of New York cast.
Of course, that's a whole other mindless conversation, but we inevitably started reminiscing about the heyday of J.Crew, when Lyons was in charge.
That's when my friend said that she thinks fashion has been quite dull since the pandemic.
I thought, uh, I guess it has been.
See, I've been so happy to finally have something other than joggers to offer readers that I hadn't noticed; there are not as many interesting pieces.
And don't get me wrong, no one is happier to see 90s style come back than I am, but it is inherently minimal.
So with the holidays coming up, I'm intentionally threading in a few items bursting with personality or an unexpected twist to help us zhush up some of our basics.
We're doing that here with today's Outfit Formula: The Novelty Heel.
Outfit Formula: The Novelty Heel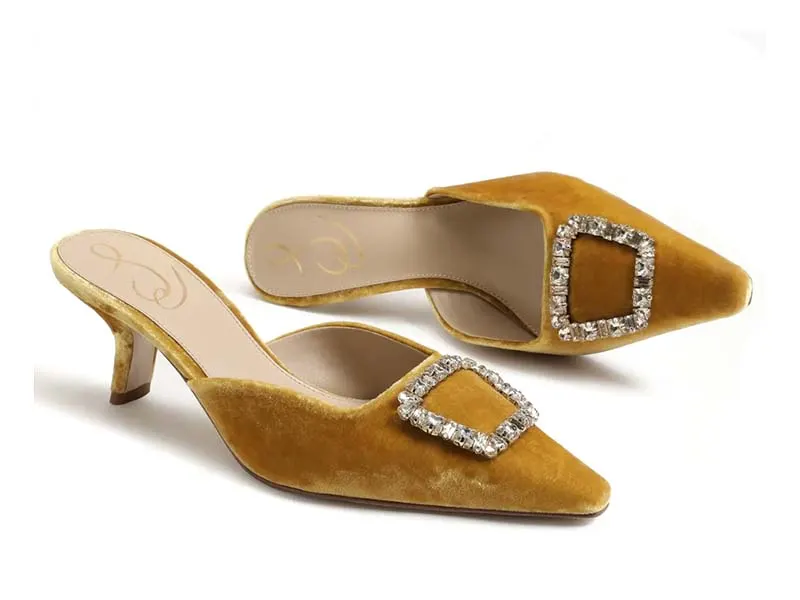 Kitten Mule, $159
These are the Sam Edelman Brit Kitten Heel Mule, and I adore them, especially in the saffron. But you can choose from eight gorgeous prints and colors.
What's funny is that I could never wear this color up against my face, but in a shoe, it adds a pop of personality and pairs well with a surprising variety of colors.
In our formulas below, I'm sharing two ways to wear them.
As always, use these ideas as a way to spark inspiration, think about what you have in your closet first, and if you need to bring a new piece in, consider some of our vetted recommendations.
Outfit Formula: The Novelty Heel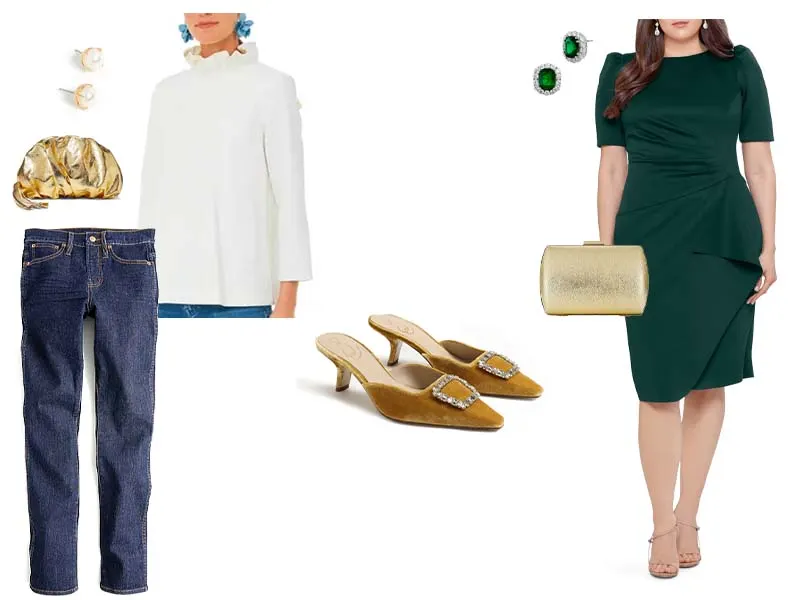 Slim Straight Jeans, $109 | Blouse, $128 | Ruched Clutch, $98 | Pearl Studs, $40 | Midi Dress, $198 | Cushion Stud Earrings, $75 | Gold Clutch, $20
I love an impractical white blouse.
Something with a ruffle, an oversized bow, or ridiculous trim. It's the epitome of a rich-lady-chic. Her nickname is Bunny; she lives in Palm Beach, doesn't know what a "kid sports weekend" consists of, and her style is immaculate.
And Tuckernuck makes so many tops for Bunny. Like this divine option with its high ruffled neckline AND giant bow in the back. Available in XXS – 3XL in white, black, navy, and pink. I bought the white for the holidays.
Pair with skinny bottoms.
Yes, skinny or very slim straight pants.
Honestly, I don't understand why they are telling us to get rid of our skinny jeans. Nothing else will look right with this top.
Skinny jeans, slim coated or faux leather bottoms, but they have to have that skinny or cigarette leg.
Featured above is J.Crew's Mid-Rise Slim Straight Leg, in a wide range of sizes. But wear your favorite.
Otherwise, the look goes sideways.
Let's talk for a moment about accessories.
Sometimes, when you go bold, you have to weave that element with different intensity levels throughout the look.
For example, if your neckline is high and dramatic like it is here, an earring that is too big will fight with the details of the top.
But one that's too small won't add any value.
Here, these Pearl Studs are perfection. I frequently wear these and always receive compliments.
And this ruched gold bag plays off the gold in the earring and the yellow of the heel.
In our second formula, we're using a cocktail dress.
So if you have a wedding or formal event on the calendar, try to mix things up.
Above, we're using a hunter green dress since it's seasonally appropriate, from the brand Xscape, available at Nordstrom. I like the detailed shoulder, side ruching, and flattering, asymmetrical drape in the front.
Check out the brand if you need a short or long dress for an event. Their styles are gorgeous and they offer a range of sizes including plus at reasonable prices.
Then I found pretty green earrings and a simple gold bag.
The shoe is the star here.
Why?
Because we're playing with the concept of color pairing. And we know that green and yellow sit next to each other on the color wheel, which means they are complementary pairs.
And because we're using the rich tone of each color, saffron (yellow) and hunter (green) the look is elegant and sophisticated.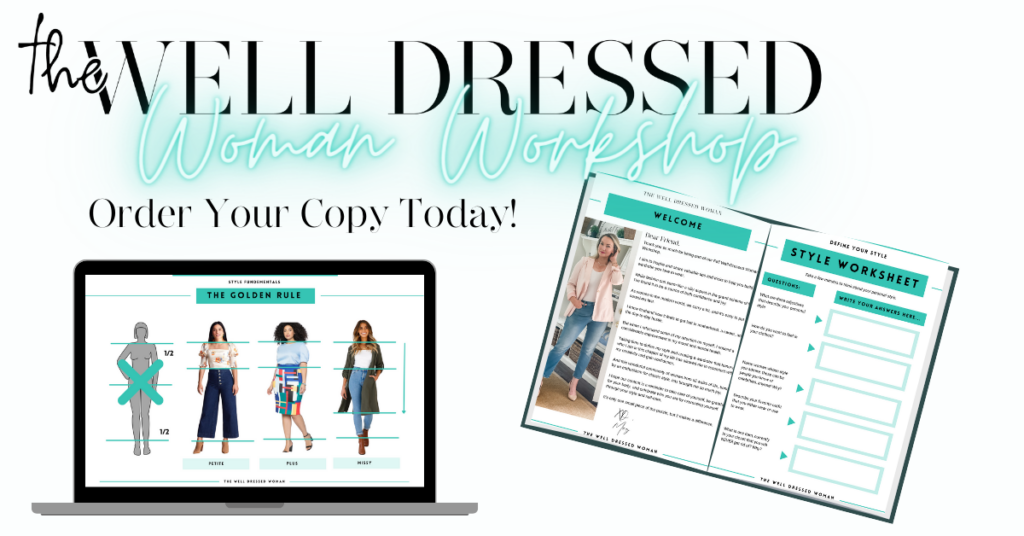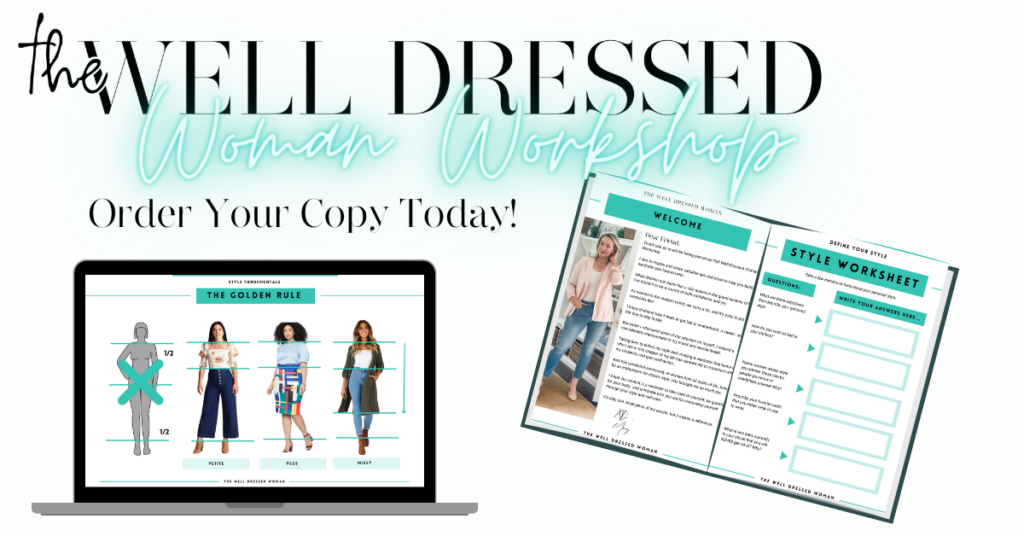 If you missed our LIVE Well Dressed Woman Workshop for Fall 2022, you can now purchase the recording and eWorkbook!
52 Outfits in 2022!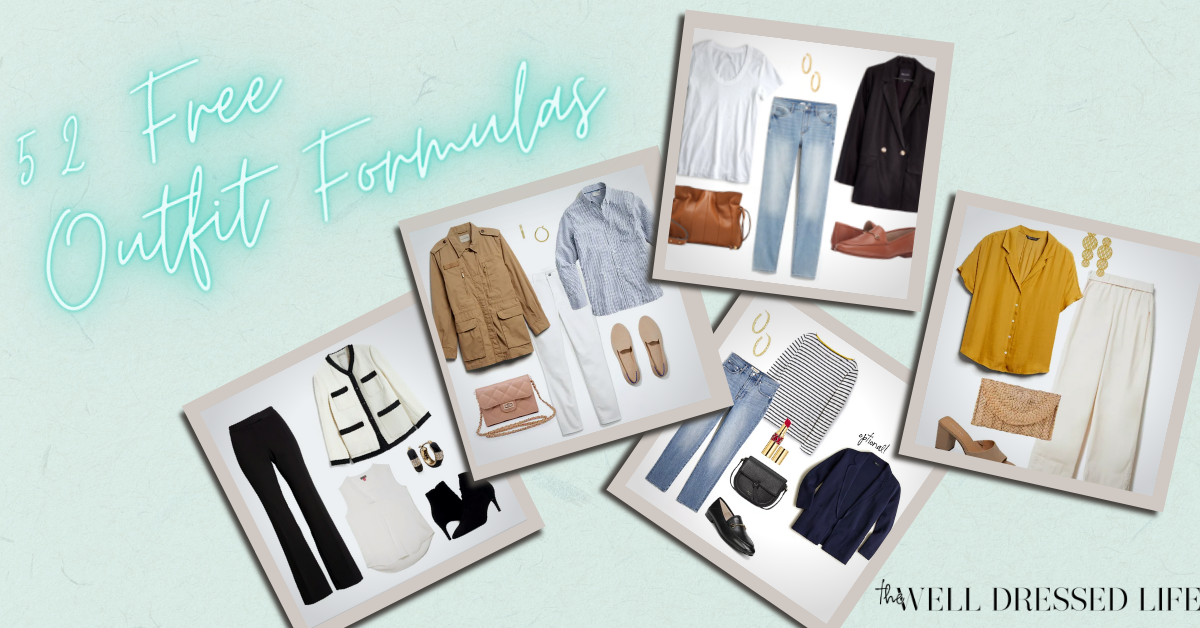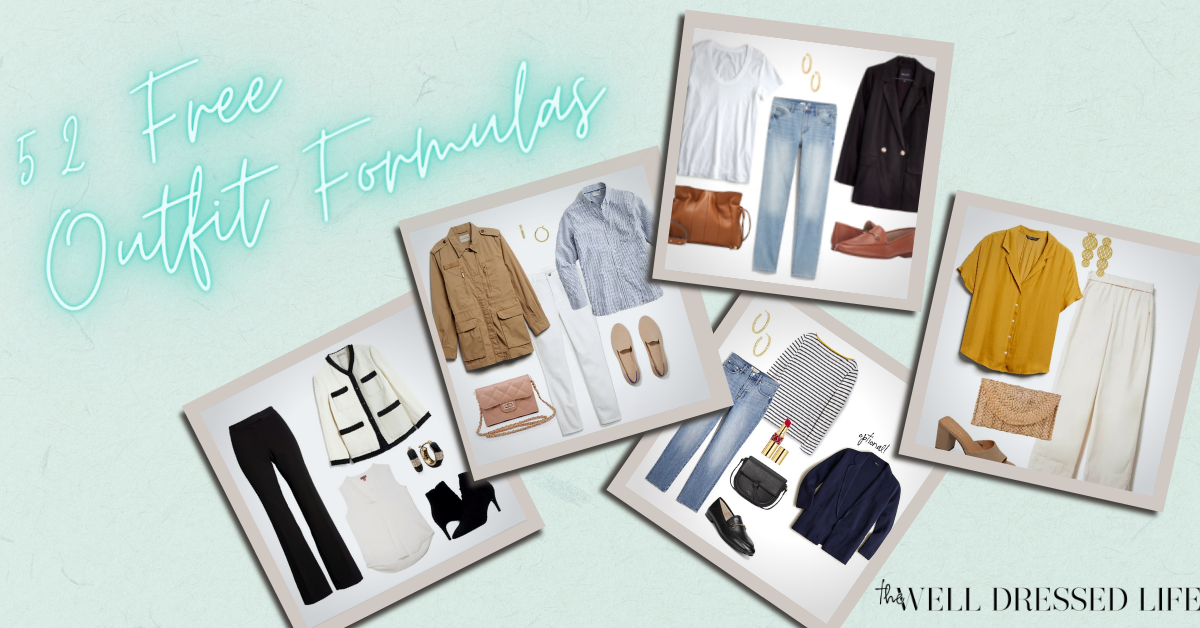 Follow Us on Instagram!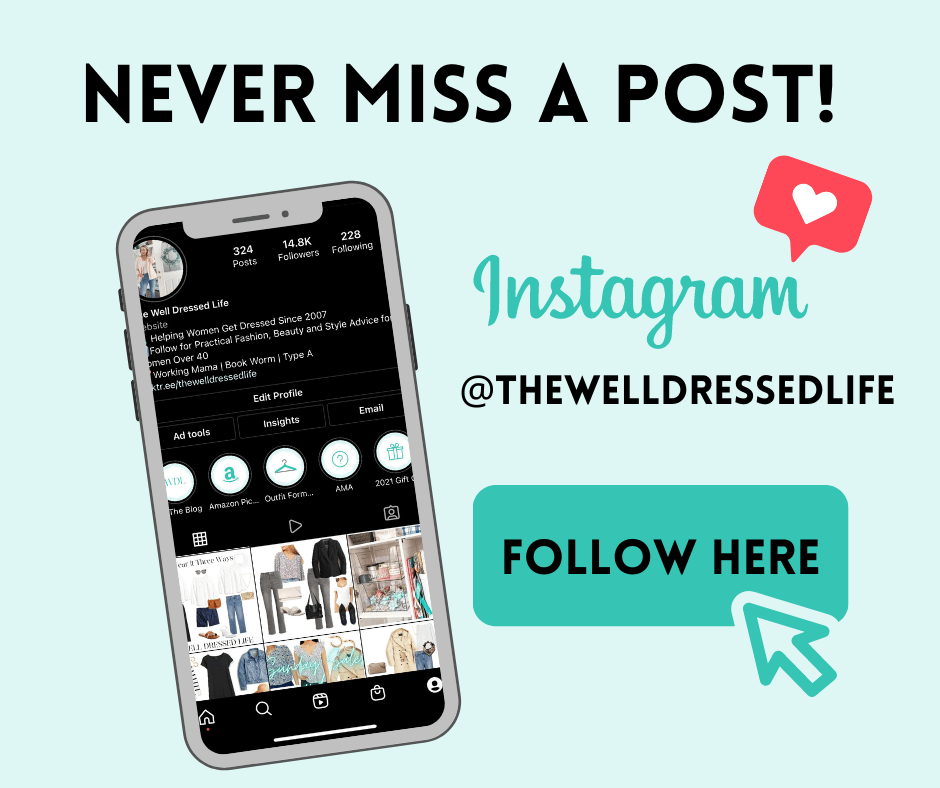 Our Style Content is Inspired by Our Readers
Our readership inspires all of our posts and is not sponsored or paid for by brands or retailers.
Recommendations are based on my experience as a personal stylist and wardrobe consultant for over a decade. I worked with busy, down-to-earth women who wanted to look chic and feel confident but were often confused by so much of retail.
Some links are affiliate links, which means if you purchase via our site, we receive a small commission.

If you enjoy our content and would like to help us grow, please follow on Instagram and join our Private Facebook Group to access more advice and exclusive in-depth conversations with other like-minded women.
Learn about our mission to help women look and feel their very best, every day, here.
Sign Up for Daily Content and Receive Our Free Classic Wardrobe Checklist