Who doesn't love the feel of a professional blow out? There is nothing better than the bounce in your hair and your step when you walk out of the salon feeling and looking like a million bucks.
In those few fleeting moments, we are fabulous. And then we come home, try to do it ourselves and fail miserably. Over the years I've gotten pretty okay at it, but I've never been able to master the process.
That's why we love, L.O.V.E the Revlon Hair Dryer & Volumizing Styler.
Of all the products we love and recommend, it's our most favorites and also the most affordable. I've invested in better tools (still love my T3 Hairdryer).
The challenge is, how much time it takes to get ready. And we're all sort on time these days.
So when my friend Lauren told me how much she was liking the Revlon Hair Dryer & Volumizing Styler I decided to give it a try.
Why We Love Revlon Hair Dryer & Volumizing Styler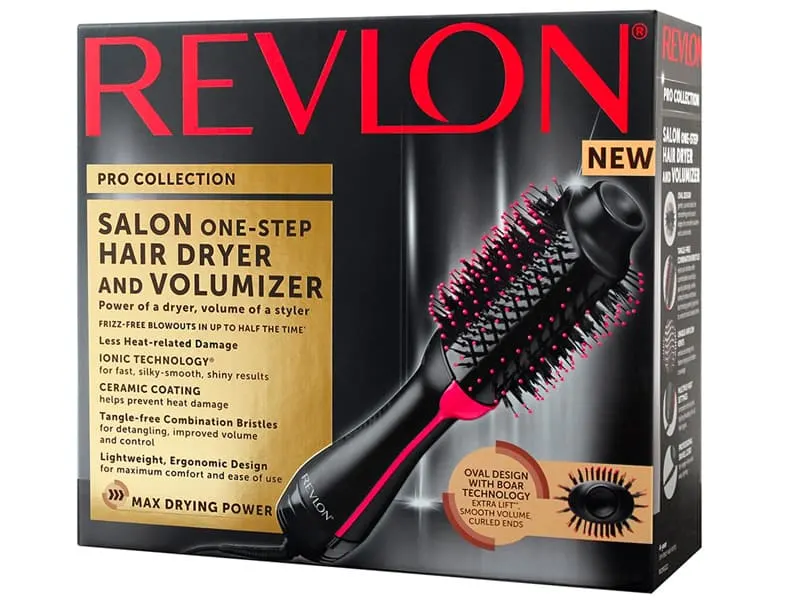 Revlon Hair Dryer & Volumizing Styler, $45 Over 18,000 5 Star Reviews
Here's what you need to know about Lauren. She's like a walking Consumer Reports. She might be the most well-researched person I know.
When I found out I was expecting Vivian, a full eight years after having Ava, I went into a little panic about having to figure out all the new baby gear we would need.
I should have known not to worry since a day later there was a spreadsheet in my email listing all of her favorite products, with prices, where to buy and why she loves them. When the girl says to buy it, you buy it.
It's been over a year since I started using this ,and I can happily say it's deserving of the hype and cult like following. It works best on medium (shoulder length) or longer hair. The barrel is large so anything too short won't catch.
It's not perfect but it's close.
To help you figure out if this is something that would make your life easier, I broke down my likes and dislikes.
Dislikes
It's (a little) heavy.
Given how lightweight everything has gotten these days, I was surprised by its weight. It's not terrible, but if you have arthritis or bad shoulders, it might not be for you. The good news is because it's so effective, you move quickly through the process.
Watch for burns.
The brush only has one heat setting, which some beauty bloggers knock in their reviews. That doesn't bother me so much, since when I blow dry my hair, I blast it on the highest setting to save time. (#notabeautyblogger)
What I would call out is that as you learn how to use it, you'll burn the tips of your fingers. Once you get used to it, you won't, there's just a learning curve.
Likes
Professional Results
If you're used to going to places like Drybar, you're not going to get those kinds of results. You also won't have someone providing unlimited mimosas. What you will get is straight, shiny, smooth hair, with a good amount of volume and an elegant bend at your ends.
Time Saver
If my T3 cut my getting ready time in half, this gizmo cuts it in half again. I can be out the door with dry and styled hair in 15 minutes.
Travels Well
I used to pack my T3 hairdryer and curling wand when I traveled. Now, I bring this and a few velcro curlers to keep the hair along my crown up while I do my makeup to maintain volume. So much easier.
No More Tangles
Simultaneously using a hairdryer and brush always leads to getting your hair caught up in the bristles, or sucked into the drier. No matter how well I detangled beforehand, something inevitably got mangled somewhere. I don't know how it works, but I have had no issue with knots or tangles when using this brush. Hallelujah.
Bottom line?
The Revlon Hair Dryer & Volumizing Styler by Revlon leaves me one happy camper. I use it on most days because I save time and my hair looks finished.
It's 100% worth the hype.
---
Our Content is Inspired by Our Readers
Our readership inspires all of our posts and is not sponsored or paid for by brands or retailers.
Recommendations are based on my experience as a personal stylist and wardrobe consultant for over a decade. I worked with busy, down-to-earth women who wanted to look chic and feel confident but were often confused by so much of retail.
Some links are affiliate links, which means if you purchase via our site, we receive a small commission.
If you enjoy our content and would like to help us grow, please consider following on Instagram and join our Private Facebook Group to access more advice and exclusive in-depth conversations with other like-minded women.