Last week, my 14-year-old, Maddie, ordered some summer clothes online. I gave her a budget and told her she could get whatever she wanted. Knowing my need to control everything, I'm attempting to be more "chill," encouraging her to develop her unique style. Luckily she isn't into some of the more skimpy pieces marketed toward her demographic, so I didn't have to worry about what she bought.
I never saw her so genuinely excited, from the autonomy she had placing the order to waiting for it to arrive. Then, finally, it showed up yesterday, and she tore it open, squealing as she pulled each new piece from the box.
Every single item could have been from the Delia's catalog.
From the color combinations and styles to the daisy dangle earrings, she looked like the coolest girl from the mid-90s.
Boy, have the 90s have come back with a furry.
It's wild to see how everything old is new again, and surprisingly, one trend I'm not mad about is the rise in bodysuit popularity.
Why You Might LOVE a Bodysuit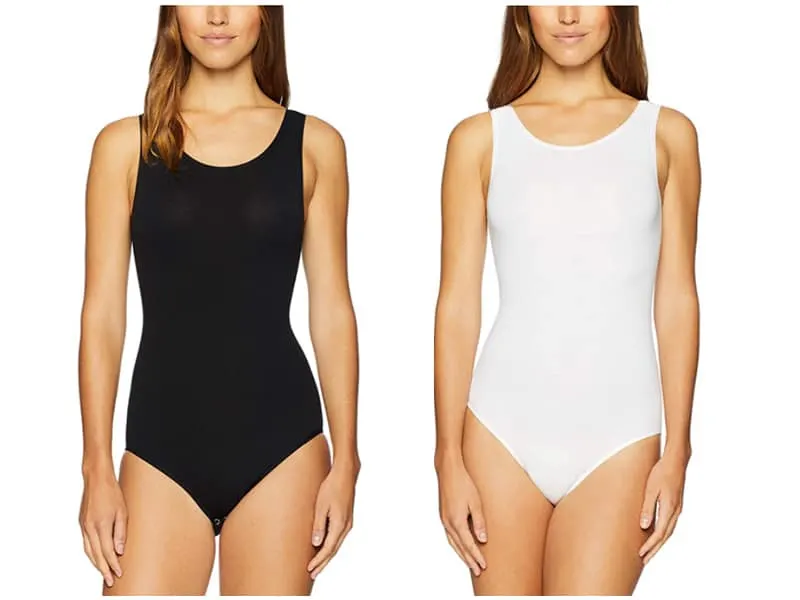 Bodysuit, $18.50 in black and white
As I've gotten older I just assumed they would be a pain in the neck to wear. But to my surprise, they are pretty comfortable and practical.
The trick is to find a decent one that gives you some support. After reading reviews on dozen of different options, I ordered this affordable bodysuit off of Amazon by Yummie.
Yummie is a brand that creates undergarments, activewear, and a selection of fashion pieces that incorporates elements of shapewear into its designs. Described as a "hug, not a squeeze."
If you want to give one a try this bodysuit (under $20) is a fantastic option. It's NOT a thong (can you imagine?), and it has a high back, so you can wear it with your everyday bra and a universally flattering neckline.
So why is this so great, and how can you wear it?
It's kind of like wearing a tank top and Spanx at the same time. Wear it alone or as a layer under a summer-weight cardigan or light blazer.
I like it styled simply with shorts, jeans or a long pair of linen trousers for a tucked-in look that smoothes out your waistline.
Easy-peasy.
Our Style Content is Inspired by Our Readers
Our readership inspires all of our posts and is not sponsored or paid for by brands or retailers.
Recommendations are based on my experience as a personal stylist and wardrobe consultant for over a decade. I worked with busy, down-to-earth women who wanted to look chic and feel confident but were often confused by so much of retail.
Some links are affiliate links, which means if you purchase via our site, we receive a small commission.

If you enjoy our content and would like to help us grow, please follow on Instagram and join our Private Facebook Group to access more advice and exclusive in-depth conversations with other like-minded women.
Learn about our mission to help women look and feel their very best, every day, here.
Sign Up for Daily Content and Receive Our Free Classic Wardrobe Checklist