Women often think that self-care has to be a big production. But the truth is I don't have time for leisurely lunches or days spent shopping. And while I appreciate a good girls trip to a spa, I can pull one off maybe once a year. Instead, I try to incorporate small indulgences during the day. It's amazing how much more grounded you feel when you step out of your crazy life and refocus on yourself, even if it's just for a minute or two.
Our days are busy, so creating routines that include little treats can make all the difference. Maybe it's your quiet morning hours with a cup of coffee or a few stolen moments with a good book. Perhaps you've figured out how to meditate or wake up early for yoga. Whatever it is, if it makes you feel better when you're done, keep doing it.
Personally, I like a sweaty workout a few times a week. I love how strong I feel; I notice a big difference in the quality of my sleep. I also use my beauty regime as my time to take care of me. Investing in effective products, and taking my time with them gives me the quiet I need to unwind after another overly scheduled day.
Recently, I picked Goop's Himalayan Sea Salt Scalp Scrub. I'm not sure what I expected, but it's so unusual, in the best way possible.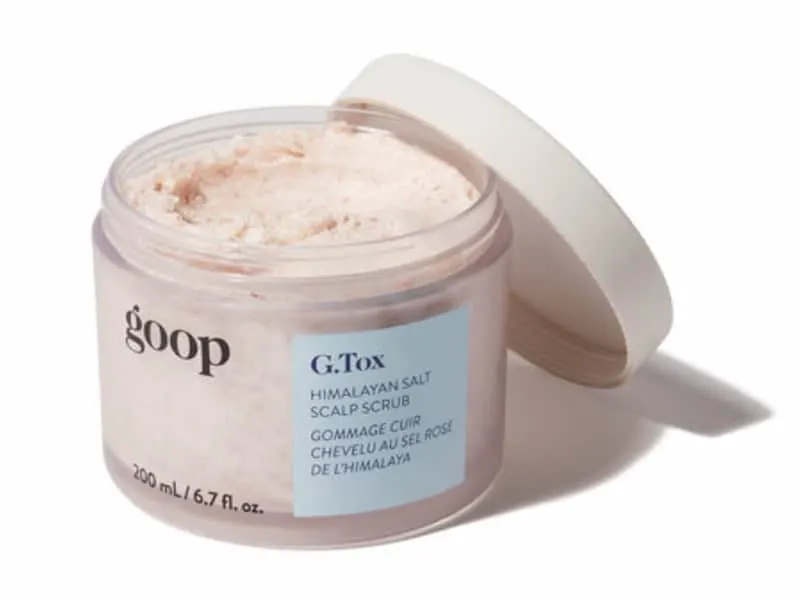 Shampoo, $42
First of all, this is not your everyday shampoo. Instead, use it once a week, a few times a month or as you feel you need it. The idea is that you cleanse your hair while scrubbing your scalp which feels incredible. Like when you get your hair washed at the salon, only better. Scrubbing your scalp not only feels amazing but helps keep your hair healthy. It will remove product build-up, oils and exfoliates dead skin, helping create shine and volume.
Goop's scalp scrub feels like a mix between a body scrub and a whipped body cream. It takes a minute to get used to it, and another minute to get it working, but when it does, it's heavenly. Focus on your scalp, and work the product down your hair. You'll get a little lather but not what you're used to. Take your time rinsing it out, and follow up with your regular conditioner.
I use it on Sunday nights when I do a "Sunday Prep." That's when I take extra time to do a mask, white stripes and exfoliate in the shower. You'll feel soooo clean and fresh, it's the perfect way to start a new week.