Remember when you first started wearing makeup?
I do.
When I was a teenager, and in my early 20s, I would layer on everything. Concealer, liquid foundation, and powder, so much that my face didn't match my neck.
I contoured my cheeks and jawline and tried to reshape my perfectly lovely nose.
Luckily, as we age, we start to understand the importance of letting our skin breathe and that less is more.
We realize that we spent years, maybe decades covering up our natural beauty. And now it's finally time to find confidence in who we are and embrace all of our unique features.
To be clear, I would never be accused of being "low maintenance." Instead, I like to say I front-end my effort.
A few years before I turned 40, I began to seriously focused on making my skin as healthy as possible.
I drink a ton of water, invest in ineffective products, wear SPF every day, and moisturize, moisturize, moisturize. I even splurge on a few facials throughout the year with an esthetician.
With all that effort, I want my skin to shine through.
I don't want to pile on pore-clogging, wrinkle-highlighting products.
Instead, I look for cream-based products that combine coverage with good-for-your-skin ingredients.
This time of year especially, I like to keep my skin bare as much as possible. And these are the products that help me look healthy and pulled together and take less than five minutes to apply.
5 Products for a 5 Minute Face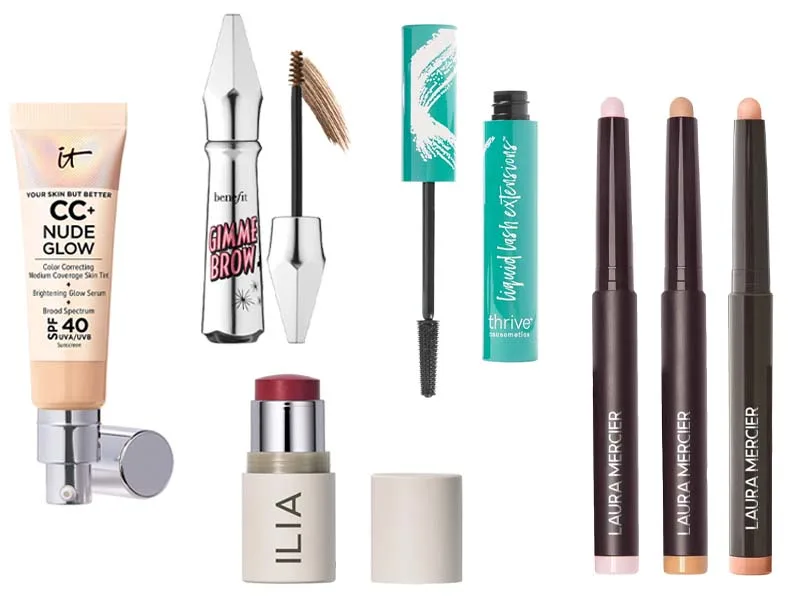 As many of you already know, I follow a specific nighttime skincare routine, and a straightforward one in the morning. Being diligent with these routines has made all the difference in my skin.
These are the five beauty products I wear every day.
It's a beautiful base that you can add to if you need more coverage or want to create a more dramatic look. I sometimes add bronzer, and define my eyes with liner if I want to perk up the look.
But this is it 90% of the time.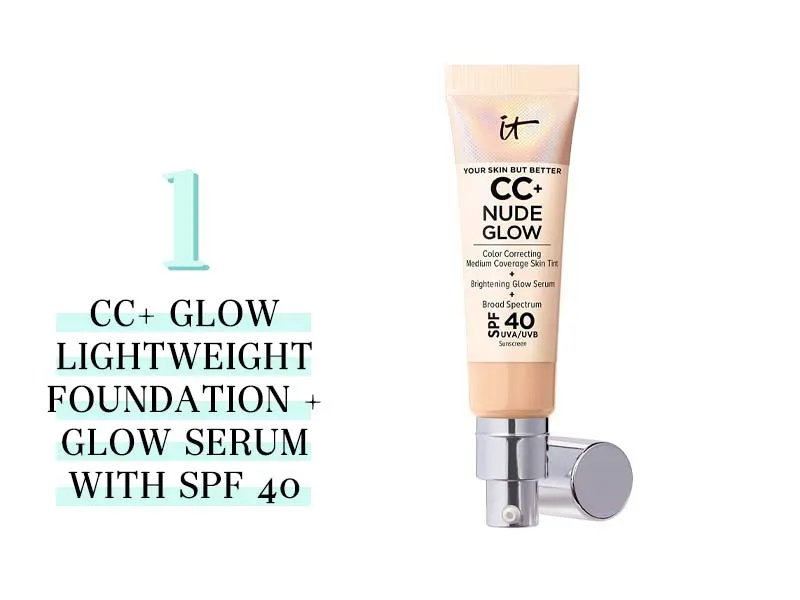 CC+ Nude Glow Lightweight Foundation + Glow Serum with SPF 40, $42
CC & BB Creams are like a highly pigmented tinted moisturizer. And IT cosmetics has a fabulous lineup of them. Their Your Skin But Better CC Cream with SPF 50 was my go-it for years, and I still love it.
But for spring and summer, I switched to CC + Nude Glow Cream, which is essentially the same but makes your skin luminous.
For reference, I have fair, sensitive skin that easily gets red. However, I also have freckles, and I want to balance minimizing redness while letting my freckles shine through. Both of their creams do allow for that.
And the CC+ Nude Glow comes in 20 different shades that focus on pigment and undertone in your skin. I wear the fair with cool rosy undertone.
To apply I dab some product on my t-zone and then work out with a damp beauty blender.
Sometimes, I put a little bit of the Laura Mercier Translucent Loose Setting Powder on top, but not always.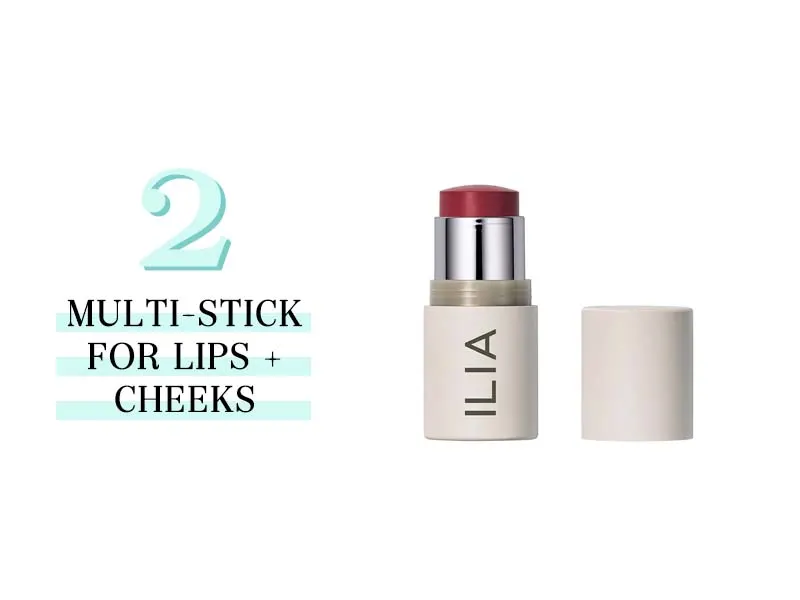 Multi-Stick For Lips + Cheeks, $34
Ilia is a new-to-me brand that you may have seen as it is all over social media, known for its effective and clean makeup.
I've been trying out some of their products, and this multi-stick for lips and cheeks is at the top of my list.
First, I love a double-duty product. I ordered the color, "a fine romance" and the pigment is lovely, giving you healthy-looking cheeks and perfect pop of color on your lips.
I should mention, I am also loving the GOOPGENES lip balm trio.
The traditional balm is incredible and the two tinted options keep your lips super hydrated with just a touch of color. Highly recommend, they make a great gift too.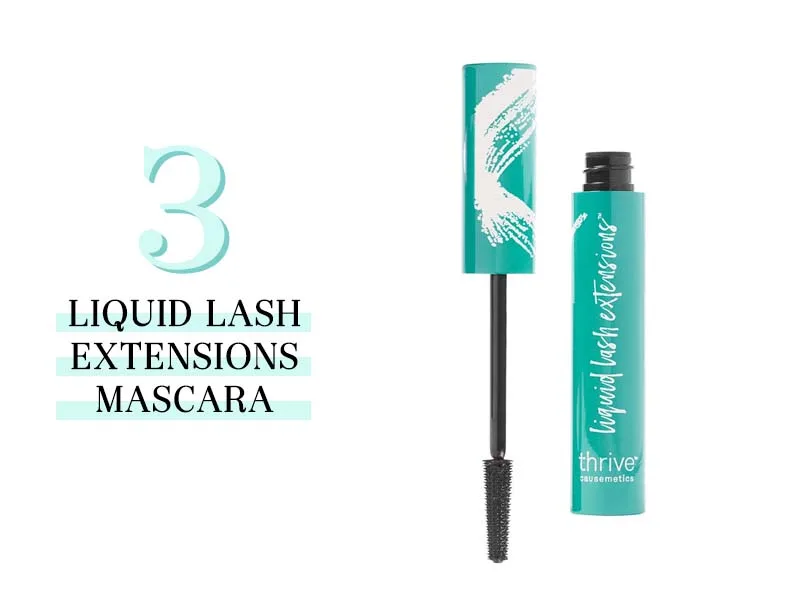 Liquid Lash Extensions Mascara, $24
This is the best mascara I have ever used. You're lashes look a mile long and it washes off in flakes instead of all over your face.
My older daughters have their own and wear it every day too.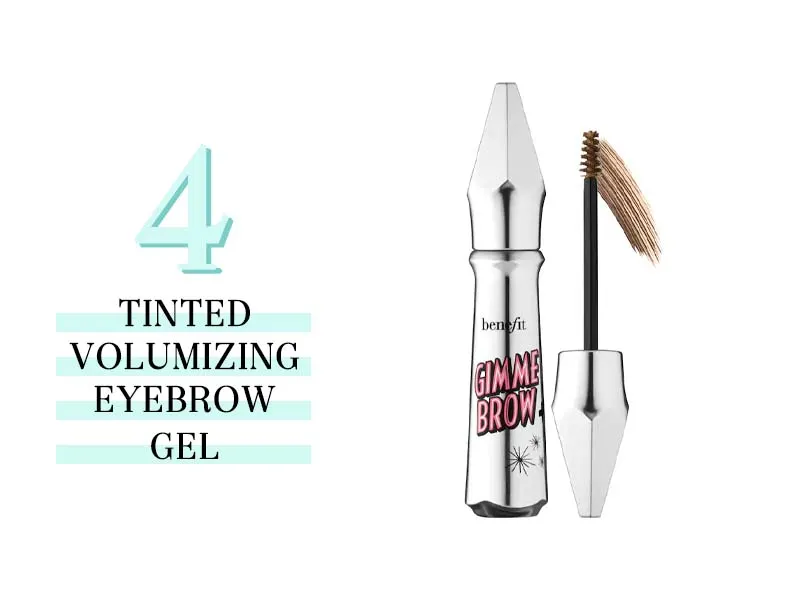 Tinted Volumizing Eyebrow Gel, $24
If you want to maintain a youthful appearance, pay attention to your eyebrows.
They not only frame your face, but they give it its structure.
If I leave my eyebrows undone, my face loses its shape. When I take a second to do them, suddenly I have my cheekbones back – it's crazy.
So I turn to two products. On a regular day, I use the Tinted Volumizing Eyebrow Gel from benefit.
You simply brush it on, and it leaves your brows groomed with a touch of color.
When I want a more dramatic look, I use the Anastasia Brow Wiz Pencil and then lightly brush on the tinted eyebrow gel to set it.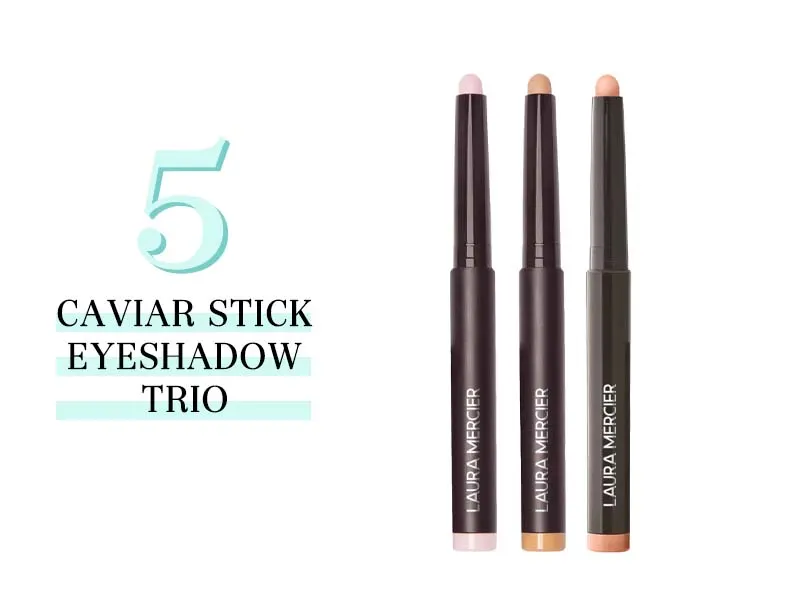 Caviar Stick Eyeshadow Trio, $45
Ever since I discovered Laura Mercier's Caviar Stick Eyeshadows, I have almost completely stopped using traditional eyeshadow.
They come in many colors, and you can purchase a single stick.
Last summer, I bought this trio from the Nordstrom Sale, and it's just right for me.
I use the palest tone as a highlighter under my brow and in the corner of my eye.
And then I'll smudge on one of the neutrals on my lid. Makeup artists would probably cringe at my technique, but it works for a quick daily look.
52 in 2022!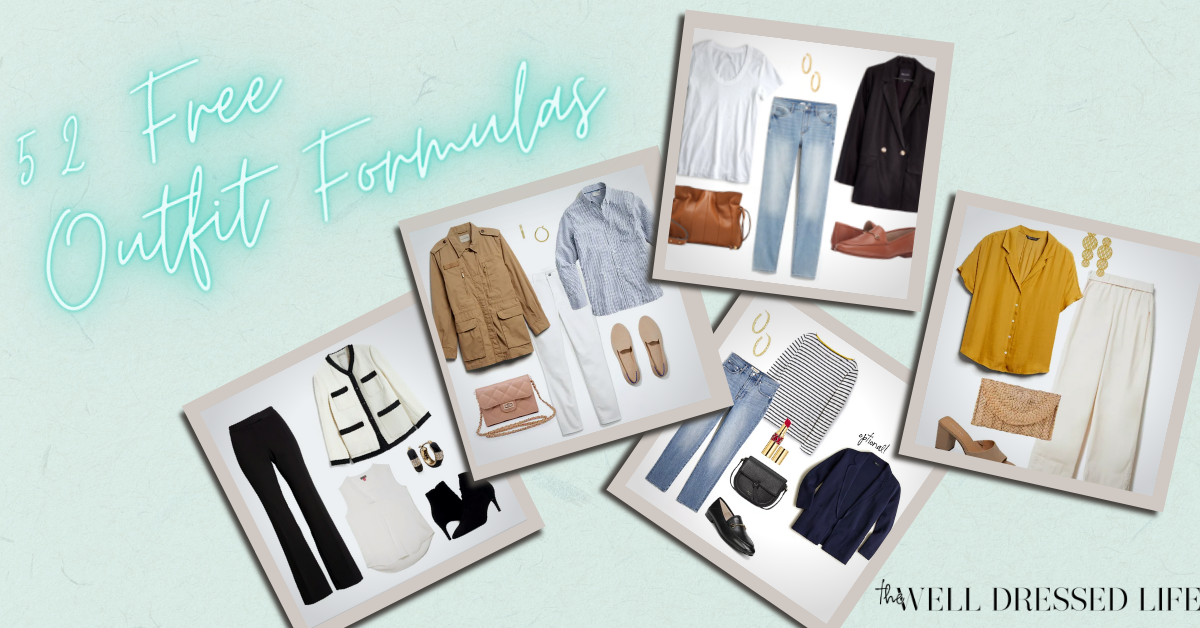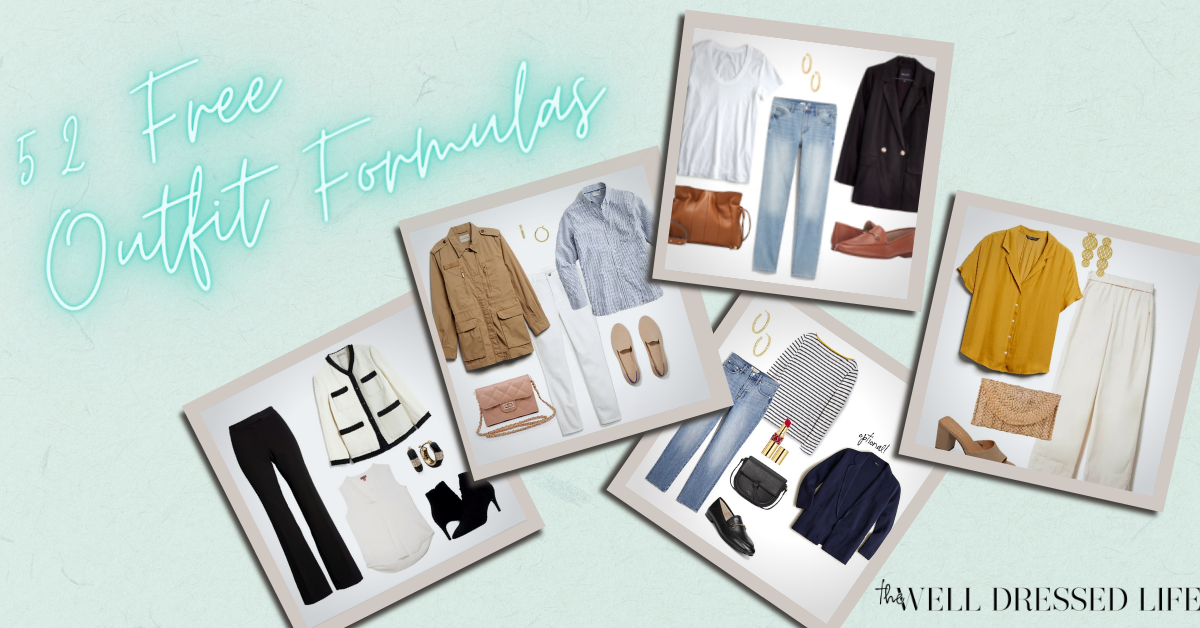 Follow Us on Instagram!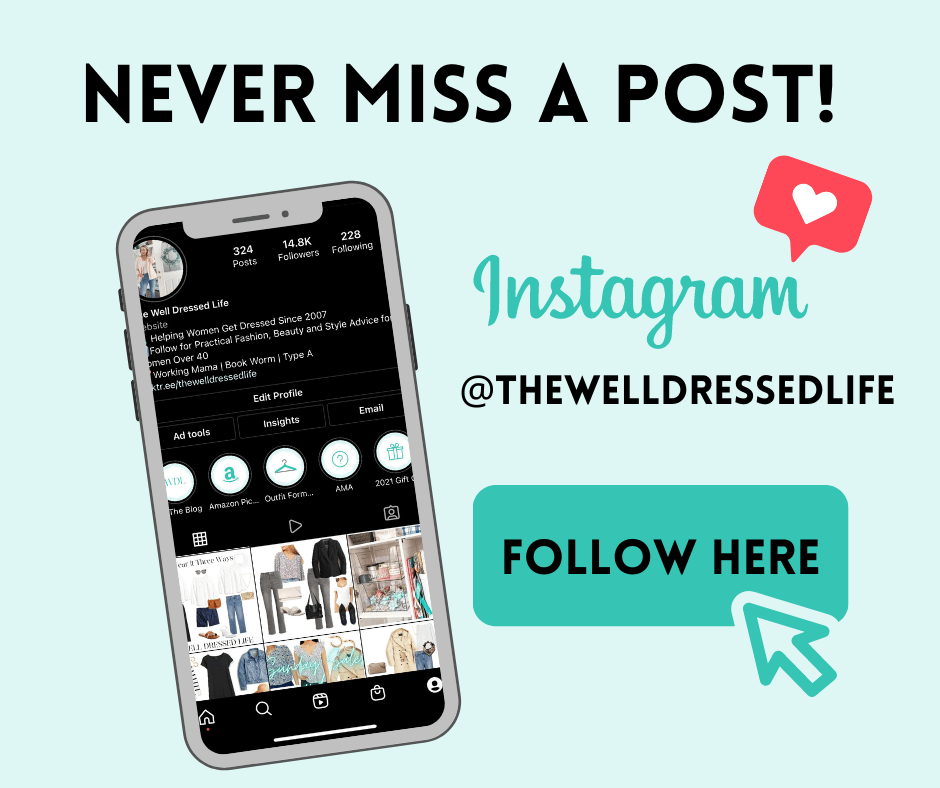 Our Style Content is Inspired by Our Readers
Our readership inspires all of our posts and is not sponsored or paid for by brands or retailers.
Recommendations are based on my experience as a personal stylist and wardrobe consultant for over a decade. I worked with busy, down-to-earth women who wanted to look chic and feel confident but were often confused by so much of retail.
Some links are affiliate links, which means if you purchase via our site, we receive a small commission.

If you enjoy our content and would like to help us grow, please follow on Instagram and join our Private Facebook Group to access more advice and exclusive in-depth conversations with other like-minded women.
Learn about our mission to help women look and feel their very best, every day, here.
Sign Up for Daily Content and Receive Our Free Classic Wardrobe Checklist