From December 21st – December 30th stop by The Well Dressed Life every morning to see our Best Posts of 2021. Today, we're starting our day off on the right foot with a Simple and Effective Morning Skincare Routine.
Having an effective morning skincare routine does not have to be complicated. On the contrary, it should be simple compared to what you do at night. This is because your nighttime routine should heal and repair your skin while your morning routine prepares and protects it for the day.
We've talked at length about the importance of a nighttime skincare routine, so let's break down what to do in the morning.
Like my nighttime routine, I use a combination of drugstore and luxury products. I use what works for me and encourage you to do the same. Do your research for your skin type, and give each new product a try for at least 30 days.
I have tested dozens of products over the years. It's an investment of time and money, but the benefit is healthy skin that makes me feel confident.
As in all of these beauty articles, I hope you get one or two takeaways. If you leave today's post motivated to tighten up your routine, and commit to wearing sunscreen – I did my job 🙂
A Simple and Effective Morning Skincare Routine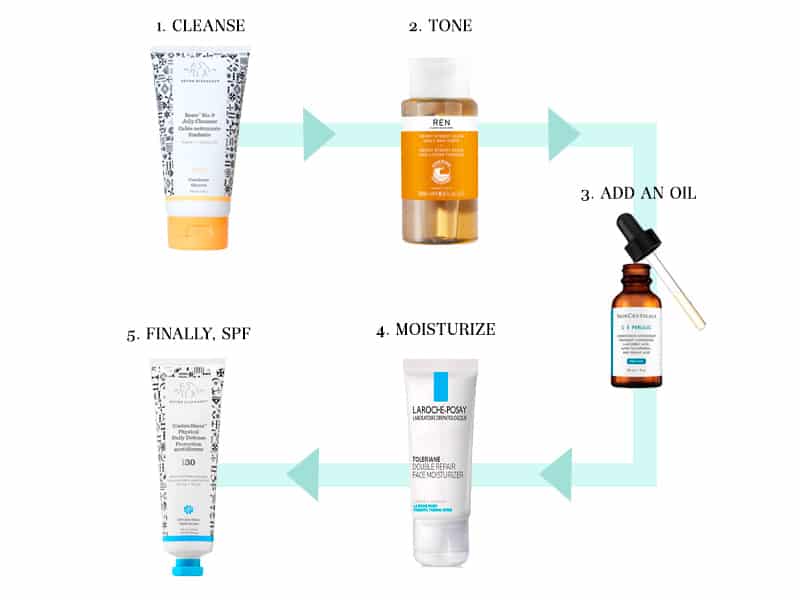 Drunk Elephant Beste No. 9 Jelly Cleanser, $32 | REN ready Steady Glow Toner, 38 | SkinCeuticals C E Ferulic, $166 Vitamin C | La Roche-Posay Toleriane Niacinamide Double Repair Face Moisturizer, $20 | SPF Drunk Elephant Umbra Sheer™ Physical Daily Defense SPF 30, $34
5 Steps to Prepare and Protect
Cleanse
There are many schools of thought about what you should do in the morning. One popular idea is that you do not have to wash your face, the argument being that you went to bed with clean skin and over cleansing can stripe your skin of natural oils. Instead, some experts recommend you simply splash water on your face and move to the next step.
This would make sense if you are someone who jumps out of bed and goes right into your routine.
Me? I roll out of bed by 6 and head straight to the coffee machine. By the time I have a chance get ready for the day it's almost 9 and my face has been touched 100 times. So, I still wash my face with my favorite, the Drunk Elephant Beste No. 9 Jelly Cleanser.
Tone
Next, I tone. I adore the REN Ready Steady Glow Toner. It's the best of everything a toner should be. It exfoliates, brightens, tightens, and hydrates. Even though my skin is sensitive, I this gentle enough to use morning and night.
Vitamin C
Vitamin C is a powerful antioxidant that works to stimulate collagen production in your skin. It also fights fine lines and brightens your complexion. Skincare experts also tout it as one of the best anti-aging ingredients you could ever use.
You want to use Vitamin C in the morning because it helps protect your skin from free radicals.
I've tried several different Vitamin C products over the years, from drugstore brands to $200 + serums. I ended up splurging on SkinCeuticals C E Ferulic.
It gets high praise from beauty experts and consumers alike. And while the upfront cost is steep, it lasts about three months. Of everything I've tried, this has been the most effective.
A little goes a long way, so put a few drops in your hands and press it into your face and neck. Be sure to give it. a few minutes to absorb.
Moisturize
Next up, moisturize. After the Vitamin C settles, add a layer of moisturizer. I love the La Roche-Posay Toleriane Niacinamide Double Repair Face Moisturizer. I find it incredibly hydrating and non-greasy. I also love that it's only $20 and available at Target.
SPF 30 +
Finally, the single most crucial step in any morning skincare routine is SPF. If you're not protecting your skin upfront, there's no point in spending on products to repair it. You need to use a generous amount all over your face and neck.
On days I go makeup-free or use a traditional foundation, I use the Drunk Elephant Umbra Sheer™ Physical Daily Defense SPF 30,
Fair warning, this goes on as a thick white cream, like old school sunscreen from the 8o's. But it absorbs quickly with no filmy layer.
Other days, I use a little BB or CC Cream. Currently, I'm using the IT Cosmetics CC Cream with SPF 50, and I like the light coverage and protection.
Our Style Content is Inspired by Our Readers
Our readership inspires all of our posts and this post is not sponsored or paid for by brands or retailers.
Recommendations are based on my experience as a personal stylist and wardrobe consultant for over a decade. I worked with busy, down-to-earth women who wanted to look chic and feel confident but were often confused by so much of retail.
Some links are affiliate links, which means if you purchase via our site, we receive a small commission.

If you enjoy our content and would like to help us grow, please follow on Instagram and join our Private Facebook Group to access more advice and exclusive in-depth conversations with other like-minded women.
Learn about our mission to help women look and feel their very best, every day, here.
Sign Up for Daily Content and Receive Our Free Classic Wardrobe Checklist