Having an effective morning skincare routine does not have to be complicated.
On the contrary, it should be simple compared to what you do at night.
Your nighttime routine should heal and repair your skin while your morning routine prepares and protects it for the day.
Think of this as a framework you can follow and plug your preferred products into.
The products below are a mix of drugstore and luxury brands. (There are several recommendations and more budget-friendly options included).
But do your research for your skin type and needs, or talk to your dermatologist, and then give each new product a try for at least 30 days to see its efficacy.
I have tested dozens of products over the years.

It's an investment of time and money, but the benefit is healthy skin that makes me feel confident.
If you leave today's post motivated to commit to your routine and wear sunscreen every day – I did my job. 🙂
A Simple and Effective Morning Skincare Routine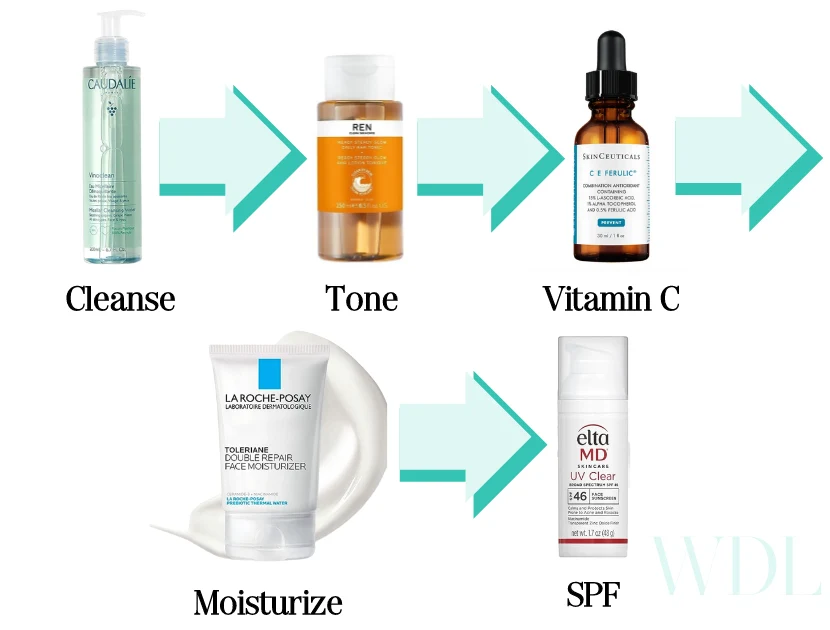 Caudalie Micellar Cleansing Water, $32 | REN Ready Steady Glow Toner, $22 – $40 |SkinCeuticals C E Ferulic, $182 | La Roche-Posay Niacinamide Double Repair Face Moisturizer, $21 | EltaMD UV Clear Face Sunscreen, SPF 46, $40
5 Steps to Prepare and Protect
Cleanse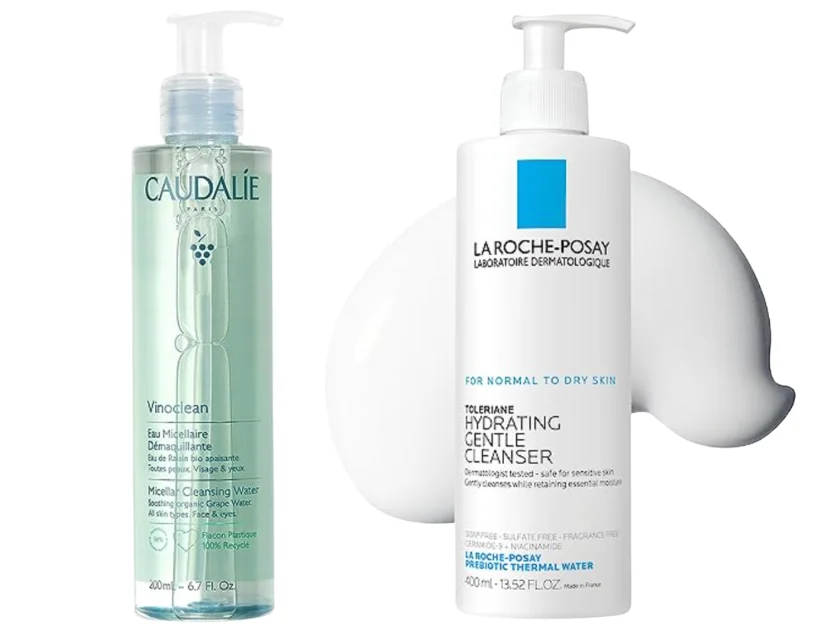 Some experts will tell you not to wash your face in the morning, arguing that, since you went to bed with a clean face, you risk over-cleansing your skin of its natural oils.
However, I can't imagine not washing my face after I wake up.
If you go to sleep using a chemical exfoliant, retinoid, or just a heavy night cream, you'll want to wash all that off. (More on that in a minute.)
And with a house full of kids, by the time I wash my face, it's been touched a hundred times.
You do want your morning cleanser to be gentle and protect the skin barrier.
I currently use the Caudalie Micellar Cleansing Water ($15 – $30).
This is really light and gentle while also hydrating. It's nice for the morning. You put some a cotton pad and wipe your face. You don't need to rinse it off.
I'm also never without the La Roche-Posay Hydrating Gentle Face Cleanser ($17.00). This is just a fantastic, do-it-all cleanser.
And long time readers know I adore the Tatcha Camellia Cleansing Oil, but I use it at night as the first step in a double cleanse.
A quick note: I'm often asked if I do my skincare before or after a workout.
I cleanse with the Caudalie first thing, throw on a little moisturizer and my sunscreen, and go to my workout.
THEN, I get home, shower , wash my face with the La-Roche Posay and do my entire routine.
There is no reason to waste your products if you are going to sweat and wash them off an hour later.
Tone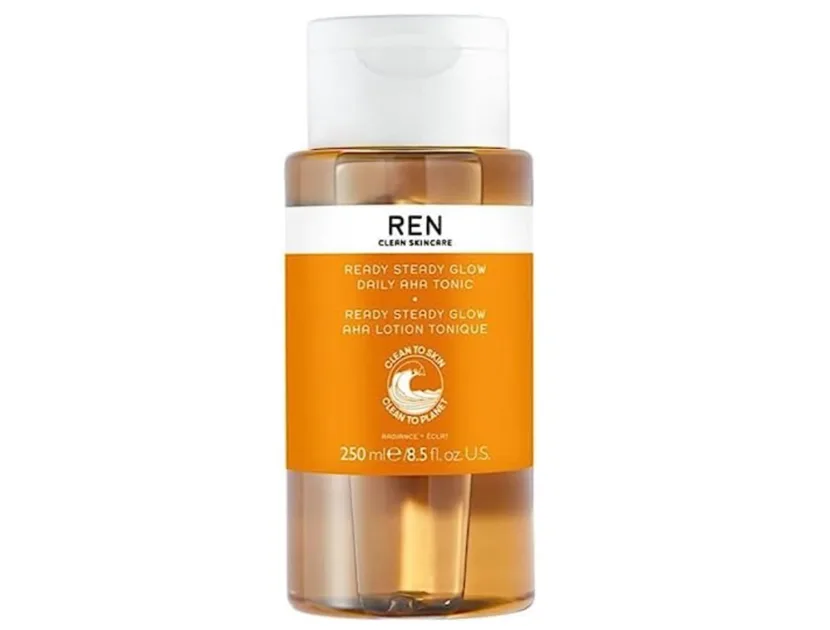 Next, I tone.
I adore the REN Ready Steady Glow Toner, a staple in my routine and the only one I will use. Even though my skin is sensitive, this is gentle enough to use daily.
It's the best of everything; it lightly exfoliates, brightens, tightens, and hydrates.
A toner like REN is essential for your skin in the morning if you use an exfoliant or retinoid at night as it removes any dead skin washing may have missed and it preps your skin for the next layer of active ingredients.
Vitamin C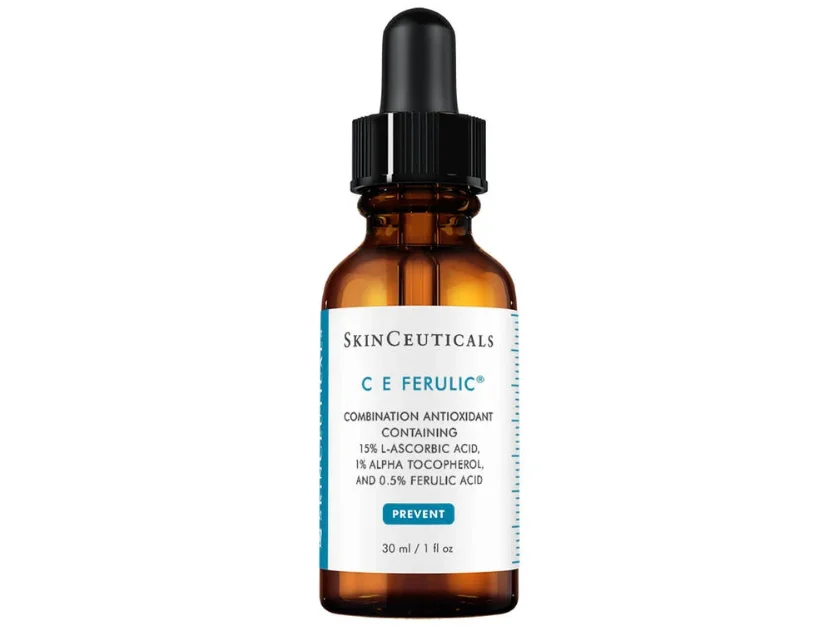 Vitamin C is a powerful antioxidant that stimulates collagen production in your skin.
It also fights fine lines and brightens your complexion. Skincare experts also tout it as one of the best anti-aging ingredients ever.
You want to use Vitamin C in the morning because it helps protect your skin from free radicals.
And use it on dry skin.
I've tried several Vitamin C products over the years, from drugstore brands to $200 + serums. There are a lot of solid products that can fit any budget.
I have splurged on SkinCeuticals C E Ferulic. Some might call this the holy grail of Vitamin C, with its cult-like following.
It gets high praise from beauty experts and consumers alike. And, for me, it's been the most effective of everything I've tried on my skin.
But it's expensive.
An alternative to SkinCeuticals is the MAELOVE Glow Maker. I found this thanks to a recommendation from a reader, and it's a nice alternative for under $40.
Is it as effective? No.
The SkinCeuticals is really impressive, but as a budget option it's a solid choice.
Now, some experts will take issue with these being in dropper bottles.
The idea is that when the formulation is exposed to oxygen, it loses its potency. However, I recently heard a dermatologist explain that that is likely only an issue when you're not finishing the bottle quickly.
I use this every day, so, unfortunately, for my wallet, it doesn't last long. I can get a month out of either bottle.
As a final alternative and a product on my list to try once I run out of what I have in stock, is the Vichy LiftActiv Vitamin C Serum.
This also comes in a dark bottle (just like the options above, and is essential to prevent oxidization) and is in an airtight applicator.
It's also under $30.
You must research your options and try a few different products to see what your skin can handle.
I have found that a serum with 15% L-ascorbic acid is perfect for my skin to see results. Generally, you don't want anything under 8%, or you won't see any change.
Also, I keep Vitamin C in the refrigerator.
Whatever Vitamin C you use, apply it to your face, neck, and hands and let it set for a few minutes. Brush your teeth or make your bed before going to the next step.
And you MUST wear sunscreen with Vitamin C.
Optional Layers
Before you moisturize this is where you can add optional serums.
Just be sure the vitamin C is absorbed and whatever you're layering works with Vitamin C.
I still use Vintner's Daughter Active Botanical Serum every day, morning and night.
I have a more in depth feature on why I would take this if I was stranded on a desert island here.
I also very much like the Naturium Niacinamide Face Serum, which I use after Vintner's Daughter. I use it instead of a basic hyaluronic serum.
Moisturize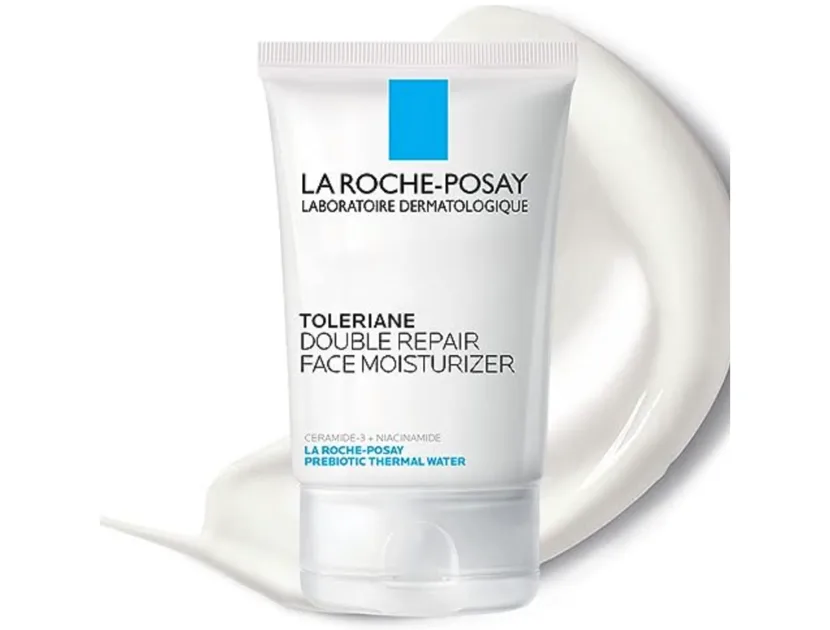 Next up, moisturize.
Add your moisturizer after the Vitamin C and whatever else layered on settles.
I love the La Roche-Posay Niacinamide Double Repair Face Moisturizer.
It is incredibly hydrating and non-greasy. I also love that it's only $20.
I will note, though, that I have sensitive skin, and their moisturizer option with SPF makes my eyes water and burn.
SPF 30 +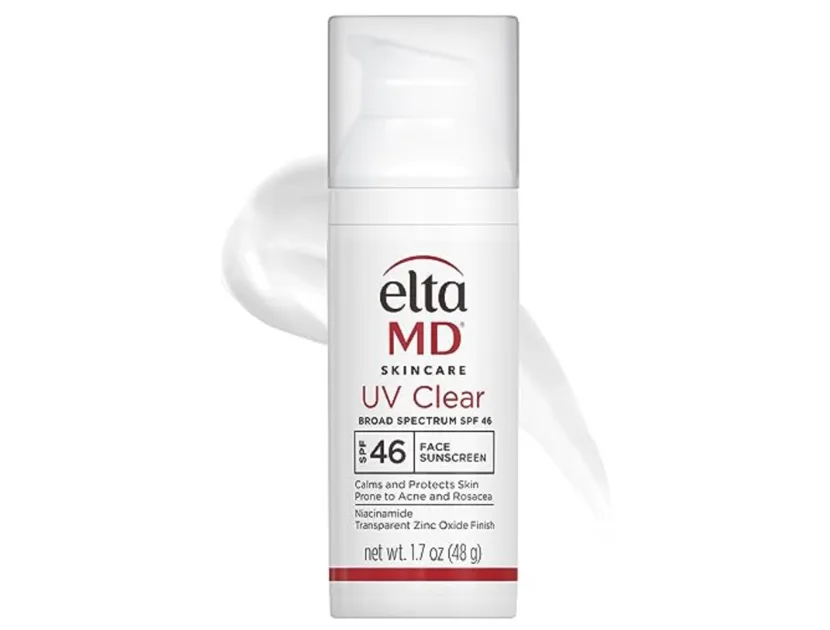 Finally, the single most crucial step in any morning skincare routine is SPF.
If you're not protecting your skin upfront, there's no point in spending on products to repair it.
You need to use a generous amount all over your face and neck.
I am a new fan of the EltaMD UV Clear Face Sunscreen, SPF 46. This has over 30,000 five star reviews on Amazon and it's well worth the praise.
It's GREAT for sensitive skin, especially if you have acne, redness or rosacea and it's just under $40.
Apply generously on your face, neck and don't forget your hands. It absorbs quickly and layers nicely under makeup.