Am I the only one who dislikes going to salons to get my hair and nails done? Sometimes I feel like I am missing the "salon is fun" gene. So many of my friends religiously maintain their weekly or monthly appointments, and they always look so perfectly groomed. Me? I find them to be huge time drains; I get antsy sitting in a chair for too long, and inevitably, my introverted tendencies make it almost impossible for me to maintain small talk for more than 15 minutes. Especially after a long day, I find the whole process exhausting.
Aside from all that, it's not inexpensive. We are weeks away from breaking ground on our reno, so I'm feeling like I'm bleeding money left and right. I have to concede my hair – I haven't dyed it on my own since college, and we're not going back to brassy blonde Megan. It's not worth the risk. But certainly, I can give myself a manicure. So off I went to figure out what I really needed to give myself a salon manicure at home.
How to Give Yourself a Salon Manicure at Home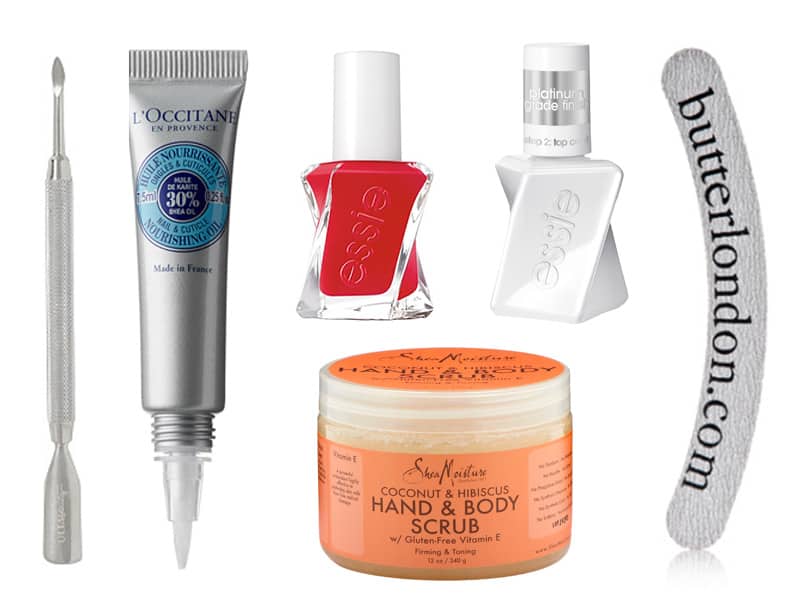 Top Coat, $11.50  |  Nail Polish, $11.50  |  Hand Scrub, $10  |  Cuticle Oil, $20  |  Cuticle Pusher, $12.50  |  Nail File, $2
How to Give Yourself a Salon Manicure at Home
The secret to a quality, shiny, and long-wearing manicure at home is using quality products and taking the time to prep your nails. Here's how I give myself a salon manicure at home.
 Trim your nails.  I keep mine short because my nails grow fast, I'm always typing and I'm blessed with long nail beds.  Plus, the shorter you keep your nails the less you'll deal with chipping and the longer your manicure will last.
Use a scrub.  I found this scrub at Target last year and use it almost every day.  It's great for your body pre self tan and on your hands and nails. It gently exfoliates while leaving your skin soft and smooth.  After I trim my nails I scrub this on my hands and nails and gently push my cuticles back with a warm wash cloth.  It's a great buy for under $10.
Take care of your cuticles. Depending on the state of your cuticles you might need a little more than just pushing them back with a wash cloth.  To clean up your nail bed, brush this cuticle oil around the area and gently push with with this cuticle pusher.  To keep my cuticles in good shape, and make subsequent manicures easier, I brush a little of the oil on my nails at night before bed.
File. Don't go crazy with this step.  All you want to do is lightly file down any rough edges. I like this curved file by Butter London because it helps you easily create a "rounded square" shape.
Dry off.  Take a dry towel and wipe any extra moisture off your nails before you polish.
Polish. The woman who used to do my nails regularly did an incredible traditional manicure. I could never figure out what she did that kept it looking so perfect for so many days.  It turns out; she skipped the base coat step. "If you prep the right way, you don't need it," she told me. And boy, it makes a huge difference.  Next, use your favorite polish.  I can't recommend Essie Gel Polish enough.  The colors are pretty, and the formula is so smooth and easy to apply.  The brush is wide and flat, so you can cover your entire nail in three simple swipes.  The trick is to place the brush on your nail bed a little above your cuticle line and then gently push down so the polish spreads evenly.  Two coats of color will do it, then apply the Essie Gel Top Coat.
Below is a picture of my nails FIVE days after I did them.