There is a difference between looking stylish and looking expensive.
Lots of women look stylish. Style is personal and subjective.
We've discussed dozens of tips over the years around how to look stylish on a budget so today, let's take it up a notch with a new set of tips on how to look expensive without breaking the bank.
The Difference Between Looking Expensive and Being Stylish
I say "expensive," but you could call it sophisticated, or elegant. It's a different kind of style that tends to lean more classic than trendy and incorporates luxurious details.
When I was a stylist, I would ask new clients to give me examples of famous women whose style they admired. I was a helpful exercise because it gave us a visual to work towards.
With little exception I would hear: Claire Underwood in House of Cards, Scandal's Olivia Pope, Alicia Florrick in The Good Wife, and every actress in every Nancy Myers film ever.
It's funny that these are all fictional characters, but their style is consistent, elegant, and high-end with enormous production budgets to match.
It's easy to look expensive when your clothes are expensive. But since most of us can't live our lives in Max Mara, we need to put in a little more effort and get creative.
When you break down each character's look, they offer lots of inspiration. With some time and strategy, you can look just as incredible, and stay in your typical, real-life budget.
To achieve their look, the usual guidelines apply, like taking time to define your style and focusing on fit.
To go from stylish, to expensive, there are some elements that will make or break your look.
Today we're mapping out the non-negotiables, the things you NEED to do if an expensive, elegant style is your end goal.
Let's get started.
How to Look Expensive in 6 Easy Steps
Splurge, Spend and Save to Create Expensive Style
To pull off an expensive look and stay within a normal budget you need to learn the art of mixing high and low pieces together. This post dives into it in greater detail, but to start it's important to understand where to put your dollars.
Split your budget into three categories: Splurges, Spends, and Saves.
Splurge
Splurge on pieces that will have lasting, sometimes lifelong impact. I'm not telling you to buy all of these things at once.
Instead, think of these as items you collect over time. You want to be able to wear them just about every day without worrying about them "going" with anything in particular:
-An iconic, classic, timeless handbag.
-A gorgeous belt. (The Hermes buckle belt is going to be my gift to myself for getting close to something that resembles my pre-baby body … eventually.)
-A trench or other staple coat.
-An indulgent accessory, or jewelry like a pair of diamond studs or pearls.
-Anything vintage or heirloom quality. Think about pieces you're saving for a special occasion, or have been handed down to you. Incorporate these into everyday outfits when they make sense.
Spend
Spend on better basics, and by spend, I mean to focus a more significant percentage of your budget for these, whatever your budget might be:
-A great fitting pair of dark jeans.
-A classic four-season wool suit or blazer.
-A sheath dress.
You get the point, the pieces you wear over an again that work within your lifestyle. Just buy the best quality you can afford.
Save
Save on anything you won't wear frequently or doesn't have staying power:
-White tees and tanks.
-Printed tops and skirts.
-Special occasion pieces. Either buy on sale or use Rent the Runway.
-Any trend, novelty piece or a new style you are trying out for the first time.
When you put an outfit together be sure to include a Splurge to elevate your look, ground it with a Spend, and supplement the rest with your Saves.
Focus on Expensive Looking Fabrics
You're going to have to get over your all cotton wardrobe and go to the dry cleaner every now and then.
You cannot have a polished and elevated wardrobe with all wash and wear pieces. When I worked with personal clients, I was always so surprised at how many women didn't want to deal with dry cleaning.
I get that it adds up, and some people avoid it for environmental and health reasons, but it made my job impossible because all cotton is cute, not elegant.
Unless you're a personal trainer, you need pieces with structure, some lining, better blends like silk and cashmere and a few delicate details, all of which require extra care in washing.
Expensive Style Needs The Right Accessories
Knowing how to pair accessories is important. A good guideline is to pull from the same category. If you're dressing for the evening, carry a clutch not the bag you wore to work.
A lightweight shoe, like a strappy sandal, needs an equally light bag, otherwise the balance will be off.
Same goes for things like ankle boots and chunky shoes, they need something of equal weight.
Additionally, be sure that everything is in good condition. Keep shoes, belts and bags clean and polished, change out shoe laces, and replace items that are starting to look worn.
When purchasing accessories, think the simpler the better, especially if you are spending less.
For example, and generally speaking, an inexpensive handbag covered in logos and dripping in hardware will end up cheapening your entire look while the same priced bag with clean lines will help elevate it.
Monochromatic and Textured Pieces Make You Look Expensive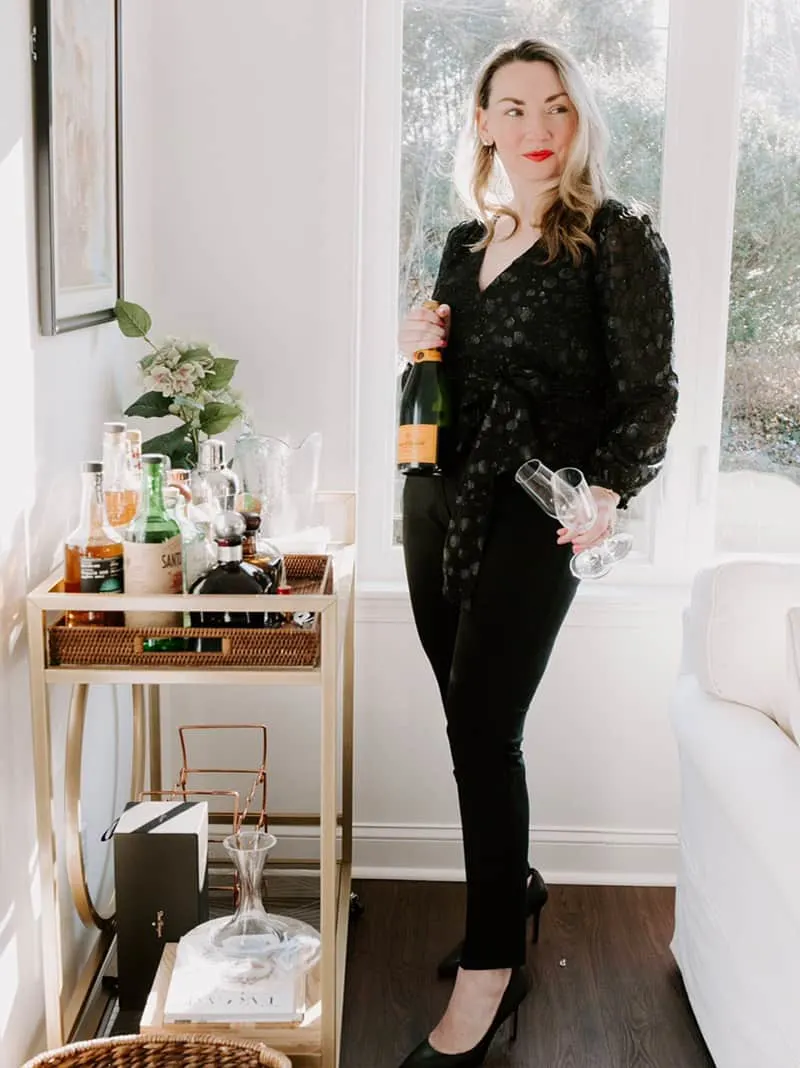 The power of keeping your look all one color cannot be overstated. It's a sophisticated way of dressing. But you want to be strategic with it, because you don't want to just wear all your black at the same time.
Instead, you want to layer on different tones and incorporate texture for a well composed outfit.
You can also mix neutrals, like black and navy, or cream and tan, and even not so obvious combinations like dark gray and forest green.
Texture can be a variety of options as well: cashmere, tweed, basket weaves, silk and any fabric with woven details. Texture adds depth and interest, it works the same way pattern does, but in a more modern way.
Note: You can wear pattern, just be deft in how you incorporate it.
Often, women who are looking for a classic look, will incorporate pattern to add interest but end up with an outfit that's more quirky than chic. (And if you WANT quirky, go for it, but that's not our goal here.)
Your Grooming Matters Most
One thing you can do to add a luxurious element to your look without buying a new piece of clothing is taking your personal maintenance up a level, and I say this as someone who hates spending time at the salon.
Honestly, I wish a van would pull up my driveway, stick me in and spit me out groomed and polished, Jetsons style. They do it for pets, why can't the do it for women with no time?
I get colored, waxed, scrubbed, occasionally sprayed and manicured not because I want to, but because I look 100% better. It's a difference maker.
The good news is, you can do a lot of this at home for very little money.
For example, set aside 30 minutes at the start of your week and give yourself a manicure. After years of spending time and money at the salon, I came up with this process for at home nails that I love.
You can be in jeans and a tee shirt, but if you are well groomed, you'll look fresh and shiny, even if your feeling exhausted and shabby. Which leads to our final tip …
Focus on Healthy Skin and Simplify Your Make Up
You'll find that once you get your skin in great shape, you need less makeup and you'll use makeup differently.
Instead of piling on layers, you'll let your skin shine through and use specific products to enhance your best features. Too much makeup, or makeup done in a haphazard way will cheapen your overall look.
Note: It took YEARS to get my skin to a good place, and it's always changing. Every hormonal or environmental change in our lives can send our skin into a spiral.
Consider working with someone who understands your skin and can make recommendations, then stay diligent with your routine, and drink tons and tons of water.
It will make all the difference. You can see morning and evening skincare routines here.
Know You Know How to Look Expensive
Think of the stylish women we mentioned at the top of the post. They are flawless, but not overdone. Their fit is impeccable, their style simple, they're not covered in logos, hardware or prints.
They also don't look plastic and have a realness to them, but there is something about them that makes them feel different, even though they are wearing basics.
It's because the costume designer is incorporating many of these tips, and while they have access to top labels, you can pull off something similar without spending a small fortune, by focusing on a few updates and paying extra attention to the details that matter.
Our Style Content is Inspired by Our Readers
Our readership inspires all of our posts and is not sponsored or paid for by brands or retailers.
Recommendations are based on my experience as a personal stylist and wardrobe consultant for over a decade. I worked with busy, down-to-earth women who wanted to look chic and feel confident but were often confused by so much of retail.
Some links are affiliate links, which means if you purchase via our site, we receive a small commission.

If you enjoy our content and would like to help us grow, please follow on Instagram and join our Private Facebook Group to access more advice and exclusive in-depth conversations with other like-minded women.
Learn about our mission to help women look and feel their very best, every day, here.
Sign Up for Daily Content and Receive Our Free Classic Wardrobe Checklist