I've spent a ton of time researching the best order to apply skincare products at night, for purely selfish reasons. As my arsenal of products has grown, I started to wonder if I was using them correctly, and, as it turned out, I wasn't. There is more to skincare than just slapping on some cream. Each layer has a purpose. Some products work best on damp skin; others require skin to be dry. All should have a minute to absorb for maximum effectiveness.
I'm sharing what I found with you today. Because, the correct process will ensure you are getting the most out the investment you are making in your skin. You'll see below, I use a combination of high end and inexpensive products.
A few things to keep in mind: I use the products below every single day. They work for my skin which is sensitive, dull and acne prone. I've dealt with cystic acne for years, and it killed my self-esteem. Since landing on this specific regimen over the last three years, my skin looks fantastic, and I've had no breakouts, so I happily spend the money. It's why I don't publish many beauty specific posts because I'm so loyal to the products I use, there's not much to talk about.
The point of this post is to share the order to apply your skincare and why. Everyone's skin and budget are different. Use the products that work best for you!
The Best Order to Apply Skincare Products at Night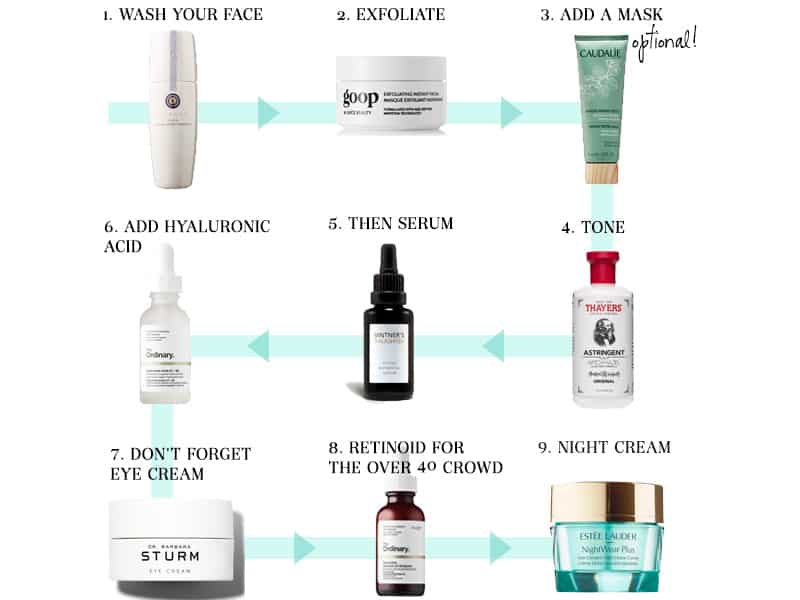 A good rule of thumb to follow is to layer your skincare according to weight, starting with the lightest and working your way to the thickest.
My process seems like a lot but it only takes about 10 minutes at night, and after a long day, it's a lovely way to mentally prepare to sleep.
Best Order to Apply Skincare Products at Night
Wash your face
Oil Cleanser, $48
Start with a gentle cleanser. I love this oil cleanser from Tatcha. It's light, odorless and it just melts off your makeup without being harsh or drying on your skin. I've been using it for a few months now and am completely in love. For years, I used Eve Lom's melting cleanser, another excellent option that goes from a solid to an oil by rubbing the product in your hands. Both are wonderful; the Tatcha is a bit more affordable and lasts me three months.
Exfoliate
Exfoliator, $125.
There are two products on this list that completely changed my skin. This is the first. Goop's exfoliating "mask" is incredible. They call it a mask, but it's not really. After you cleanse, apply a small amount all over your face, gently scrubbing away.
Let it sit for about three minutes, until it feels a little tingly, and then wipe it off with a clean cloth and warm water. Your skin will glow and feel like a baby's bottom. It's a splurge, and using a little every day lasts me about two months. I've been using it since it came out and will never go without it.
Face Mask – Optional
Mask, $39.
I don't do a mask every day, no one has time for that, but I will apply one a few times a week. My favorite and most frequently used is this Claudalie Detox Mask, great for cleaning out your pores and brightening skin.
Tone
Toner, $11
Use a toner after you cleanse and before you moisturize. It helps to remove any excess dirt, makeup or left over product from a mask. It also helps with acne and restores your skin's Ph. Thayers Witch Hazel in Rose Petal is my favorite. It's affordable, effective and there is something nostalgic about the scent. Every time I smell it I feel happy.
Then Use a Serum
Vintner's Daughter, $198
Listen, the price of this serum is bananas, I know. I'm also on my 5th or 6th bottle. It's the single best product I've ever used on my skin. You can read all about it's complex goodness here.
What I can tell you is since using it I don't have any breakouts and my skin looks more youthful. I use it day and night.
To apply gently push the serum into your skin. I use my jade roller for an added bit of massage.
Serums, in general, are essential because they have a higher concentration of ingredients that allow for better results. They also absorb into the skin better, so you don't waste any product. It's important to remember to let them absorb for a minute or two before you move to the next step.
Add a Moisture Boost
Hyaluronic Acid, $7.
The term "acid" turned me off for a long time, until I learned that it's not an acid at all. Rather, it's a gel like water substance that helps plump your skin and lock in moisture.
It's important to put this on damp skin so the gel has something to hold on to and is activated. So I apply my serum, let it sit, and then spritz my skin with this hydrating mist by Juice Beauty, then layer on the hyaluronic acid and let that sit for a minute or two. Also, I don't spend here, at all. I use The Ordinary's Hyaluronic Acid for $7.
Don't Forget Eye Cream
Eye Cream, $140
I use eye cream day and night, with a newborn at home it's essential. To apply, gently dab it around your eye area and, again, let it sit for a minute. This eye cream by Dr. Barbara Strum is no joke. It not only helps minimize wrinkles, it helps with tired, puffy eyes, something I know a little bit about these days. A small jar last me about three months.
Retinoid for the Over 40 Crowd
Retinoid, $10
If you are approaching (me) or are over 40 you need a retinoid or retinol. Retinoid is a stronger version of retinol and helps turn over your cells faster. While hyaluronic acid is activated by damp skin, you want to apply your retinoid product on totally dry skin.
Start by using a tiny amount, a few times a week as it can be drying and even burn your skin (happened to me) if you don't use it correctly. Because my skin is so sensitive, I only apply it two times a week. I apply on problem areas like the wrinkles on my forehead and some age spots on my cheeks. Do not rub it all over your face.
I also use The Ordinary's Granactive Retinoid* 2% Emulsion. You could spend so much more, but after reading the reviews on Sephora I gave it a try and it does the trick!
Night Cream
Night Cream, $56
Your skin does all of its regeneration while you sleep, so layer on a rich night cream to help it along. I've used so many over the years. La Mer makes an incredible one, so does Goop, but Estee Lauder makes my favorite and it's not a small fortune.
Related: The Beauty Tools I Can't Live Without
Shop My Favorite Nighttime Skincare Products