I've spent a ton of time researching the best order to apply skincare products at night for purely selfish reasons. As my arsenal of products has grown, I started to wonder if I was using them correctly, and, as it turned out, I wasn't.
There is more to skincare than just slapping on some cream. Each layer has a purpose. Some products work best on damp skin; others require skin to be dry. All should have a minute to absorb for maximum effectiveness.
I'm sharing what I found with you today because the correct process will ensure you are getting the most out of the investment you are making in your skin.
A few things to keep in mind: I use a combination of high-end and drug-store products every single day. They work for my skin, which is sensitive, dull, dry in areas, and acne-prone.
I dealt with cystic acne for years, and it killed my self-esteem. One of the reasons I was so reluctant to put my picture on the blog initially was how terrible my skin looked.
Since landing on this specific regimen, my skin has never looked better.
Please remember that this post's point is to share the order to apply your skincare and why. Everyone's skin and budgets are different. So use the products that work best for you. And, of course, you can eliminate any step that doesn't serve you.
The Best Order to Apply Skincare Products at Night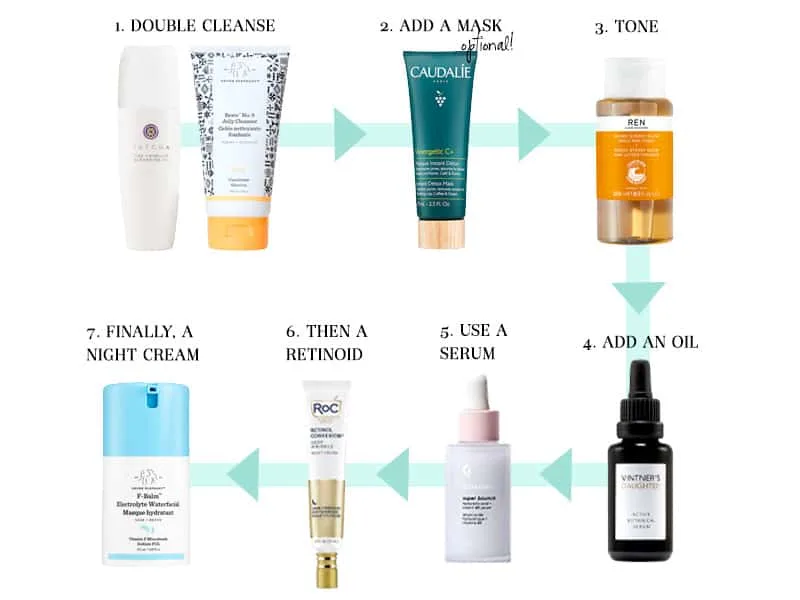 A good rule of thumb to follow is to layer your skincare according to the product's weight, starting with the lightest and working your way to the thickest.
Be as gentle with your skin through this process as possible. Avoid tugging and pulling, and don't use makeup wipes.
My process seems like a lot, but it only takes about 10 minutes at night and is a lovely way to end my day.
The Best Order to Apply Skincare Products at Night
Cleanse
Start with a gentle, oil-based cleanser. I love this oil cleanser from Tatcha. It's light, odorless, and melts off your makeup without being harsh or drying out your skin. I've been using it for a few years now, and there is no going back.
I follow up with a gel cleanser; my favorite is Drunk Elephant's Gel Cleanser No. 9. Double cleansing removes all of the makeup, sunscreen, dirt and grim of the day, and will help your restorative products work better.
Face Mask – Optional
Always put a mask on freshly clean skin.
Mask, $39.
I don't do a mask every day, no one has time for that, but I will apply one once a week, usually on Sunday night. My favorite and most frequently used is this Claudalie Detox Mask, great for cleaning out your pores and brightening skin. Best of all it only takes 5 minutes.
When I have a photoshoot or an event, and I want my face to look extra firm and lifted I use Hanacure's all in one facial kit. It's wild, but it really does work.
Tone
Use a toner after you cleanse and before you moisturize.
Toner, $38
I started using this REN AHA Toner after my favorite exfoliator by Goop was discontinued, and I'm so pleased with the results.
A toner should gently exfoliate, brighten, tighten, and hydrate – and this does all of that in a formula that is gentle enough to use every day.
Swipe it over your face and neck after you double cleanse and your skin will be set and ready for all your serums and oils.
Oils and Serums
Oils and serums have a higher concentration of ingredients. They absorb into the skin better, and a little goes a long way. It's important to remember to let them absorb for a minute or two before you move to the next step.
Vintner's Daughter, $198
I've used Vintner's Daughter for years. It's my holy grail, strained-on-an-island must have product.
The price is bananas. It's a splurge, for sure, but the other day, I changed Vivi's diaper and had poop on my forehead for an indeterminate amount of time, so I don't care.
It's the single best product I've ever used on my skin. You can read all about it's complex goodness here.
What I can tell you is since using it I don't have any breakouts and my skin looks more youthful.
I like to use it after I tone so all the ingredients have a chance to soak into my skin. To apply, add a few drops to the palm of your hand, and gently press the serum into your face and neck.
Related: The Beauty Tools I Can't Live Without
Add a Moisture Boost
I let the Vintners Daughter sit on my skin for a minute. Then I layer on Super Bounce from Glossier. It's a combination of 2% Hyaluronic Acid Complex and Pro-Vitamin B5 that adds tons of hydration to your skin.
Super Bounce from Glossier, $28
Let's talk about hyaluronic acid because the term "acid" turned me off for a long time. I thought it would be harsh, but instead, it's soothing and hydrating. It holds in moisture, making your skin plump and supple.
It's important to put this on damp skin, so it has something to hold on to and is activated.
So I apply my Vintner's Daughter, let it sit, and then spritz my skin with a bit of water. Then I layer this on my face and neck.
What I like the most about Super Bounce from Glossier is that, unlike other hyaluronic products, this is not sticky, so it gets into your skin without leaving any residue.
About Eye Cream
I stopped using eye cream about a year ago. It seemed unnecessary with all the products I already use, and honestly, I haven't missed it.
If you prefer to use one, this would be when you apply it, gently, around your eyes.
Retinol or Retinoid
If you are approaching or are over 40, you'll benefit from a retinoid or retinol.
Retinoid is a more robust version of retinol and helps turn over your cells faster. Typically, retinoid is available with a prescription, while retinol can be purchased over-the-counter.
Depending on what your using and what your skin can handle, start by using a tiny amount a few times a week as it can be drying and even burn your skin.
I can only use retinol because my skin is so sensitive, but I can use the ROC RETINOL CORREXION® Deep Wrinkle Night Cream every night with no issue.
While hyaluronic acid is activated by damp skin, you want to apply your retinoid product to totally dry skin.
So, be sure that any serums or oils you are using are completely absorbed before applying any retinoid-based product. And then let it sit for at least 20 minutes before moving on to your night cream.
Night Cream
Your skin does all of its regeneration while you sleep, so layer on a rich night cream to help it along.
I've used so many over the years. La Mer makes an incredible (and incredibly expensive) one; I used Estee Lauder NightWear for a few months and was happy with that as well.
Currently, I'm using the Drunk Elephant F-Balm™ Electrolyte Waterfacial Mask, and it's earned a permanent spot in my routine.
I keep this on my nightstand and apply it right before I go to sleep. This gives the retinoid/retinol time to absorb.
Shop T
he Best Order to Apply Skincare Products at Night
Shop this Post