It's common knowledge that I take skincare seriously. I've shared my morning and evening routines and all the products I use and love countless times.
My philosophy is to focus on skin health, I embrace aging with grace, and really just want to look as happy and healthy as I am.
When it comes to makeup, I'm not looking to cover up with layers of foundation and contour.
Rather, I use the least amount of high-quality products as possible.
I want to look like myself, only better, freckles and all.
And there are so many amazing products on the market right now, made with good-for-you ingredients for a wide range of skin tones.
So, I thought I would share what has worked for me and my over 40 skin.
These are my go-to's that allow me to create a natural, healthy, pretty face in only 5 minutes.
My Favorite Makeup for My Mature Skin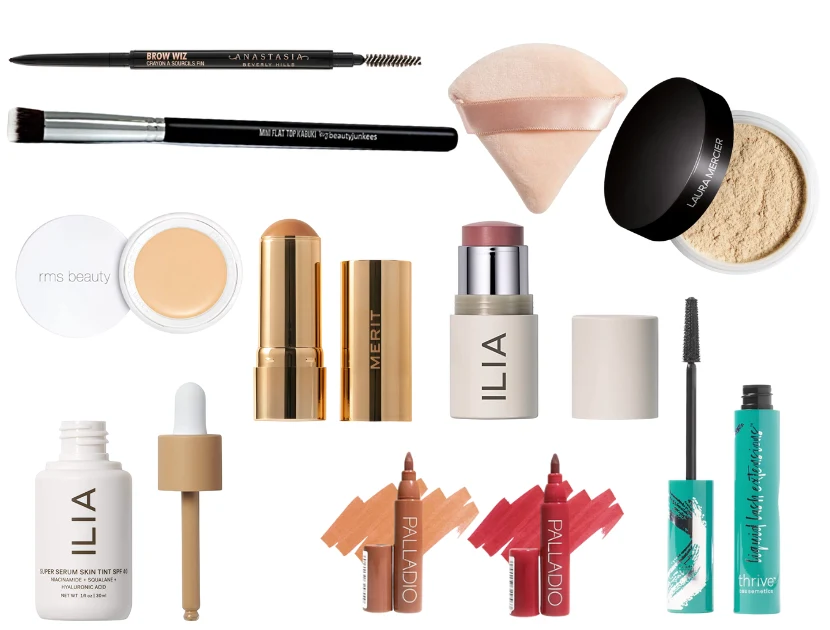 I have fair, sensitive, normal-ish skin.
I used to deal with cystic acne, but as I mentioned earlier this week, using Vintner's Daughter religiously over the last six years has been a total game changer for me.
However, I deal with redness around my nose and my cheeks. I get red so easily.
Most days I go make-up free.
I fully take advantage of working from home and I slather on products to keep my skin hydrated.
But to bring some life to my face, here's what I do.
I recently tried the Super Serum Skin Tint SPF 40 and it is glorious.
It combines niacinamide, squalane and hyaluronic serum with SPF 40 in a tint that gives you just enough coverage without hiding your skin.
Shake well and dab a few drops around your face and blend, paying attention to your chest and neck as well.
It's a 10/10 for me, wonderfully hydrating, not heavy at all, doesn't feel like you have anything one your skin.
Then I go with a little bit of concealer, only where I need it.
I was TikTok influenced to buy the RMS Beauty "Un" Cover-Up Concealer and it's a winner.
I hate when concealer is cakey, like you can feel it sitting on your skin. "Un" Cover-Up, however, is hydrating, and glides on smoothly. It doesn't crease or sit in your wrinkles.
I use two colors, the 00 and 11. Both are for fair skin, but the 11 has a yellow undertone which helps in reducing redness.
RMS also offers an inclusive range of skintones.
Sometimes, I skip this part, but most of the time I cover any imperfections and redness, and hide shadows around my mouth, nose and under my eyes.
I also always hide a stubborn age spot by my right eye.
You only need a small amount. And I use this inexpensive brush to help distribute the product only where I need it.
Try to get comfortable letting your skin breathe.
Then I let that sit and do my eyebrows.
This is important because our brows are the "frame" of our face. And, at least for me, as I've aged they have thinned out.
I use to have amazing eyebrows, so I try to recreate their natural shape.
This will be different for everyone, but one universal trick I've learned is to "fill-in up".
Meaning I take my pencil, the Anastasia Beverly Hills Brow Wiz is the best, and with barely-there strokes, I fill in the top of my eyebrows and extend them out and up, following their natural line.
I also use the Gimme Brow Eyebrow Gel from Benefit. I use this to "set" my brows, but it's a fantastic product if you still have full brows but need an infusion of color and depth.
Then I line my lips.
I shared this tip earlier this month.
To give your lips some natural dimension, I use this $8 lip stain by Palladio in nude and run it around the line of my lips. Then I go in with their berry stain. It sort of pulls out the natural tint of my lips without leaving them dry.
I can leave it just like that OR I add this lip and cheek tint, also by Ilia.
I love a double duty product and this one is my favorite. I wear it in "A Fine Romance" which is a deep, blue-based berry tone.
Finally, I add a little bronzer. I recently tried the MERIT Bronze Balm Sheer Sculpting Bronzer and it's gorgeous, simple and natural.
I swipe a little right below my cheekbones, around my hairline, and under my chin and blend, blend, blend.
And kudos to Merit for offering an inclusive range of bronzers. I wear "quince" for fair skin, but it goes to "monarch" for the deepest skin tone.
Finally, I keep my eyes simple for every day and just swipe on a few coats of the Thrive Causemetics Liquid Lash Extensions™ Mascara. Hands down the best mascara I've ever used.
And because I use cream based products, my skin at this point is a little too dew.
I take away some of the shine around my t-zone and under my eyes with the Laura Mercier Translucent Loose Setting Powder.
Tip: Apply the lightest amount of powder to just the areas you need a little mattifying with this triangle puff. I buy them on Amazon.
They are so much better than a brush because they press the powder into your skin leaving it looking almost like it has a filter on it.
And that's it!
If I feel like adding some umph I'll spend some time on my eyes and add some shadow and a bit of liner, but most of the time I keep them bare and let my brows and lashes stand out.
Maybe I'll do a quick video. Would anyone want to see that?