It seems like every day there is a new "must have" beauty tool that will "change your life." I've tried them all, partially so I can be informed, but mostly because I think it's fun.
The truth is, when it comes to our wardrobes and our beauty routines we don't need dozens of products and tools. Instead, we need a few well made, useful products.
Recently I did a purge of every drawer and cabinet of my bathroom. I got rid of all the rarely used lotions, everything that had expired, the countless bottles of half used self-tanner I accumulated in my search for the best one, a basket full of free samples and anything else I didn't love.
What I was left with is a streamlined, well-edited line up of the best of the best.
Last month, I shared my night time skincare routine. It's a little involved but it works for me, and my skin has never looked better.
A Peek at My Night Time Routine on Instagram
View this post on Instagram
Because I spend so much time caring for my skin at night, my morning routine is straightforward. I use the same oil cleanser to quickly wash my face, followed by Vintner's Daughter Serum, Caudalie moisturizer with SPF and a small dap of eye cream by Dr. Barbara Sturm (expensive but will last a full year).
I realized as I finished sorting through my products and writing out my evening ritual that there were just four tools I use in both my skincare and makeup routines that make a significant difference.
What's great is that aside from the fact that they are effective, they are also easy to use and affordable.
The Beauty Tools I Can't Live Without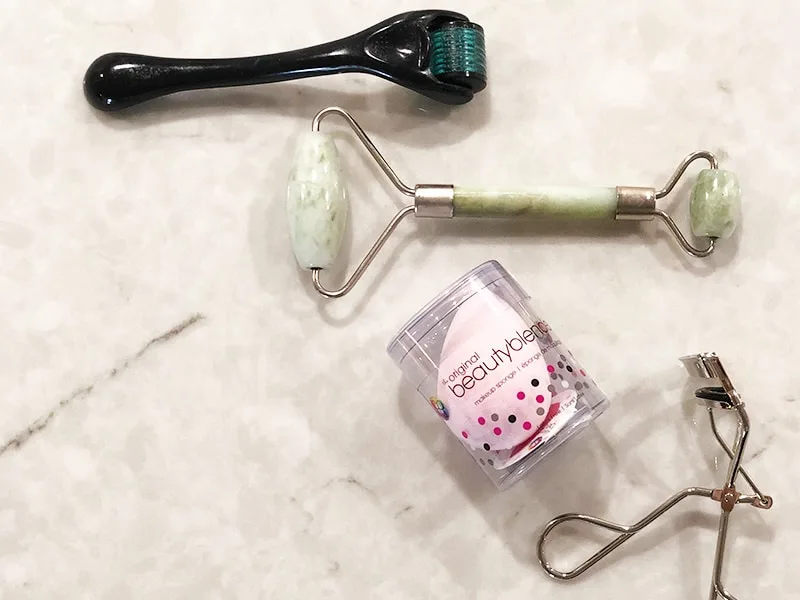 Microneedle Derma Roller
A microneedle is suppose to "exfoliate your skin and help plump and diminish fine lines and wrinkles." That's a bold promise we hear ALL THE TIME, but this gizmo really delivers.
I've used it every day for years and I see the most significant difference around my eyes. My skin is noticeably smoother, with less crows feet, and a few acne scars have faded.
It also helps your skin better absorb products. For example, I take a tiny bit of Vintner's Daughter ( 4 drops) and apply it to my skin. Next, I use the microneedle as directed: working in small sections rolling vertically, horizontally then diagonally across my skin.
It pinches a little but no big deal. Once you've covered the surface of your face, apply a regular amount of serum – about 8 drops to your skin, and gently press in. The roller helps the skin drink in the serum for maximum benefit.
Since this post was first published, I switched to this microneedle kit by Love & Pebble available on Amazon. It's under $25, and comes with 4 replacement heads, so it's a fantastic value and allows you to easily keep the tool sanitized.
Related: The $25 Microneedle Derma Roller We Love
Jade roller
I have three kids, a full time job, a husband who frequently travels for work and no nanny. Right now, I'm getting minimal sleep. So I'm T.I.R.E.D. But looking tired is not an option on most days.
I use this jade roller almost every morning. I roll it around my eyes to help reduce inflammation and puffiness. It's like giving your face a massage, it gets the blood flowing .
Don't spend here. There are some on the market for $50 – $100. Mine was about $10 and does the job – you can pick them up on Amazon, just make sure it's real jade.
View this post on Instagram
Beauty Blender
The trick to smooth and well-blended makeup is the Beauty Blender. There are many knock-offs out there, but the original is still the best. It washes better and lasts longer than the lower-priced alternative.
To use, pour a drop of foundation on the top of your hand and dab with a damp beauty blender. Then, working from your nose outward lightly press, or "bounce" onto your skin.
You'll notice you'll use less product and get better coverage, making it ideal for fresh and healthy looking makeup.
You can also use beauty blenders with powders as well. And, like the name says, it's the best for finishing your look by blending around your hairline, cheekbones and where your jawline meets your neck.
Tip! Don't throw out the container it comes in, use it to store it so it stays clean in your make up bag or sitting on your counter.
Shu Uemura Eyelash Curler
Finally, I've tried a dozen eyelash curlers over the years, from the free to the cheap to the super expensive and I always end up going back to Shu Uemura. This lash curler is durable, reasonably priced and, most important, easy to use.
What makes this one "the best" is that it fits all eye shapes so you can get all the lashes inside the clasp at once. It has a nice weight which makes it comfortable to use, and you get a natural bend to your lashes.
It's an easier way to get bright eyes and dramatic lashes without the time and expense of extensions.
_________________________________________________________
Our content is not sponsored or paid for by brands or retailers in any way. Recommendations are based on personal experience and my time working with women as a stylist and wardrobe consultant for over a decade. Some links are affiliate links, which means if you purchase via our site, we receive a small commission. All items have been personally purchased by me.
If you enjoy our content and would like to help us grow, please consider following on Instagram for even more free tips, and join our Private Facebook Group for access advice in-depth conversations with other like-minded women.