Mixing high and low fashion isn't just an intriguing headline; it's a practical strategy to create a composed outfit within a budget and my preferred way to shop and dress. In turn, our style posts are based on the idea that women spend on some things and save on others. Where you choose to do so is entirely up to you.
There's no right or wrong way to do it, but there are a few tips you can use to be most effective. Today, I'll share my best advice to balance designer or better quality "investment pieces," with budget-friendly, affordable items.
These tips will help you create a complete look where no one can tell where you spent and where you saved.
How to Mix High and Low Fashion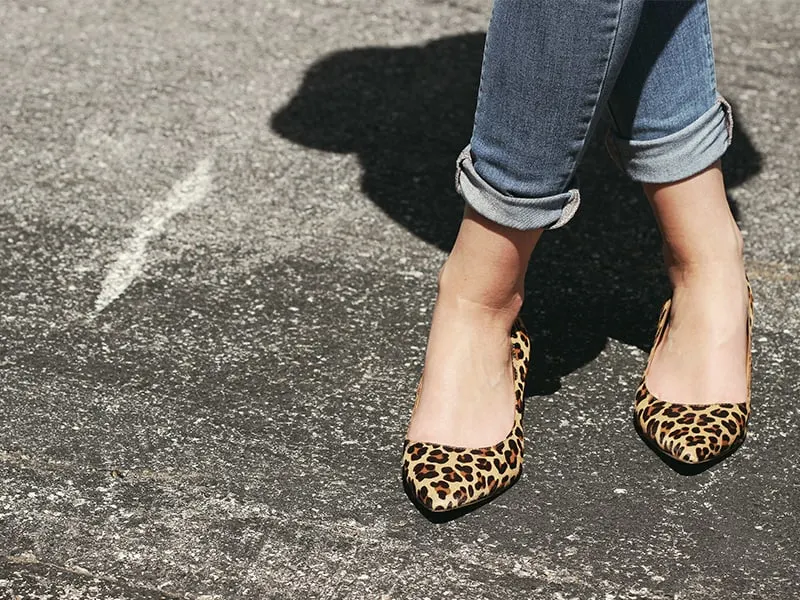 Don't buy knockoffs
Knockoffs are the best way to cheapen your look. Aside from the fact that trademark infringement is a serious issue and the counterfeit market is known to fund organized crime, they also dumb down your look.
Instead, opt for a better quality, ethical item for the cost of the counterfeit that will elevate your outfit.
The two Reader Favorites and under $50 bags we featured in 2019 are this Street Level Reversible Tote, perfect for casual days and this Sole Society Tote which is a bit more polished for work.
Do keep your shoes and bags neutral
Shoes
Whether you are splurging on a $600 pair of pumps or picking up something for $60, opt for the neutral, in the most classic shape and style possible. Both options will provide a better cost per wear because they will work with more looks and won't go out of style any time soon.
I've worn a range of brands and price points, from Jimmy Choo to Sam Edelman. I love them both, but these days I lean toward the affordable end of the spectrum since I have three kids to put through college;)
Handbags
Take the same approach with handbags. Regardless if it's designer brand or something under $100, skip the logo, avoid lots hardware and instead look for a go-with-everything color, you'll want to use every day.
Elevate Your Look
Bags and shoes are an excellent place to splurge on your high-end piece if your budget allows. Frequently, I receive emails from readers who want to treat themselves to an investment piece, to celebrate a promotion or significant birthday.
Either category will help elevate your look but, I would put my money towards the bag. You can carry a better designer bag for a decade while a shoe, regardless of how much it costs shows its wear and tear faster.
Do splurge on denim if you wear it a few times a week
The cost of denim can feel outrageous. Thankfully there are many low priced options you can buy to quickly fill a void in your wardrobe. We like Old Navy's Rockstar Skinny jeans. They are the best out there for the price. For a bit more, KUT from the Kloth (these bootcuts are awesome) and Wit and Wisdom will run you well under $100.
However, nothing beats the look, feel and fit of a dark wash pair of designer jeans. So if jeans are big part of your wardrobe, consider investing in one pair. You'll be amazed how much better the look and how long they last compared to lower priced options.
My hands down favorite jeans are by Paige Denim. You can pair them with a top from Target and look like a million bucks. We broke down the best jeans at every price in every size in our jean guide here.
Do Pick Your Five
Because everyones style and life is so different, there is no right or wrong category to spend when it comes to clothes. Your best bet is to think about it in two layers.
First, what are the five items you wear all the time?
For me it's jeans, a blazer, a dress, pumps, and boots.
Next, what are your fit issues?
I'm tall and kind of curvy, so pocket placement and length on jeans is essential. My height and shape make it more of a challenge to pull off an inexpensive dress or a blazer, so that's where I'll put the bulk of my budget.
I go either way with pumps and boots. I don't have a specific fit issue, but because I know I wear my shoes hard, I'm open to spending a little (not a lot) more.
Knowing your top five gives you "permission" to spend when necessary. It's not to say I wouldn't buy a less expensive dress (or jean or blazer) if it fits well … I sure will. I just know that most of the time I have to spend to get the fit and quality I need.
Because I know where spending makes sense, I can quickly eliminate other areas. I don't spend on things like cotton tees, and tank. The majority of the time I don't spend on sweaters or knits, and you'll never see me in an expensive layering piece like a blouse to top.
Your five will look much different than mine. Maybe you need a few great pairs of pants for work. Perhaps you have a foot issue and require a specific, pricey brand. They would be part of your five. But your five aren't written in stone. I will still spend on cashmere when I find the right piece, or I'll stay under $50, it depends.
Take some time to think about what you live in and what you need. It helps take away some of the overwhelm – and share your five in the comments below!
Do Incorporate (At Least) One of Your Five Every Day
Because your five are where you are spending, these are also the pieces you want to use as the basis of your outfit. By doing so, you are creating a solid foundation to mix in less expensive pieces.
On casual days this time of year I am almost certainly in jeans and a blazer. When I speak at corporate events I'm always in a dress and pumps. This formula helps insure I always look high quality and pulled together. Those are all part of my five.
The rest of my outfit will be structured around less expensive pieces. For example, I cannot justify spending hundreds of dollars on a blouse, so I'll wear a better pair of jeans and a blazer with a blouse from LOFT or Old Navy.
Don't Forget Accessories
Accessories will make an outfit, especially when you are crafting something out of a variety of resources. Don't wear too many, but wear enough to create the visual interest we always talk about.
Accessories are different than your "Five". They are purely based on what you like. Personally, I like a structured bag, simple jewelry and surprisingly, a good scarf in a sophisticated pattern.
You might like something totally different. Whatever your preferences, know them, and then look for them in a range of prices.
Do Wear Your Special Pieces Every Day
Don't be afraid to mix your precious pieces with fun and trendy items. That's the whole point. Over the last decade, I've been the very fortunate recipient of some pretty fantastic jewelry, all of which were gifts from my husband.
For our fifth wedding anniversary, he gave me a diamond ring that is still, to this day, the most exquisite thing I own.
When I opened the ring, he said, "this for special occasions."
"No", I said, "I'm wearing it every day."
And for the last 11 years, I've worn it every single day, now, stacked with my engagement and wedding rings.
Don't save your special pieces for special occasions. Wear them all the time. Whether it's a gorgeous piece of jewelry, or your grandmothers Hermes scarf, find ways to incorporate those pieces into your real life.
Don't Be Afraid to Mix in Inexpensive Items
When you wear those better pieces every day, they some how make all your other pieces look that much better. Go ahead and wear a $5 bracelet with the watch you bought for your 40th birthday. Or tie a $20 scarf around the handle of your Louis Vuitton. The less expensive item will not devalue the investment piece, rather, it will add some interest and personality. And of course, we're only ever complimented on the item that basically costs pennies!
Start with what you already have hanging in your closet, or buried in a jewelry box. Play around with layers, break out whatever you're saving for a special occasion. You can't make a mistake here, instead, pay attention to what feels great on and what feels a little off. Your instinct will be your best guide in figuring out how to pull off high low fashion.
Tomorrow starts our Fall 2019 Wardrobe Challenge. As usual it's totally free, and a lot of fun. All of it takes place in our Private Facebook Group. We welcomed almost 500 new members since we announced the style challenge. There's still time to join, our first challenge will be announced tomorrow. For more information check out our post from last week.