Pinterest in Real Life is a series we started a few years ago.
I'm bringing it back today because we have been flooded with questions about how to take the inspirational images you've pinned on Pinterest and make them work for your real life.
So I went through our Private Facebook Group and picked one from a reader who shared hers to deconstruct and make more wearable.
The goal here is for the Pinterest image to be an inspiration, to use it as a guide, and to help you make outfits with the pieces you already have in your closet and with items readily available in stores.
For our first post in our revived series, I'm using an image from our community member, Stacey.
Stacey is 50 years old and a teacher who says, "the styles I love and feel great in seem out of reach."
Below is an edited excerpt of what she shared in our Facebook Group:
"… having a style for work isn't really my issue- it's outside of work – time with friends, family, husband – where I can have a look that is 'me' is the tricky part. If I could style myself in what I love, it would be earthy, edgy, classic? Or maybe it's considered chic? (Still learning how to define it), which seem to be styles that contradict so my closet is full of lots of things that don't "go". I gravitate towards edgy but then think, oh no, too old for this
Im looking forward to learning how to mesh it all to find the right 'me' look"
How familiar does that sound?
Right off the bat, here's my two cents on being "too old" to wear something.
Age has nothing to do with what you can, should, can't or shouldn't wear.
Certainly as we age, our taste changes, our bodies look different and we may want to make adjustments to feel more comfortable and confident.
But aging is a gift, and I feel empowered by it, so wear and do whatever the hell you want.
Related: Stop Worrying About Dressing Appropriately for Your Age
The Importance of a Basic Wardrobe
On another note, Stacey shared that currently she feels like nothing in her closet "goes" together.
Which is such a common complaint.
My recommendation is to look at what you have and make sure you have basics.
Often, when we feel like our wardrobe is disjointed it's because we're missing basics, or those pieces that will bridge looks together. 🙂
So when you go to put an outfit together, make a note of what is missing and put that on your priority list.
Now, on to the look.
Today, I picked an image right off of the Pinterest Board Stacey shared with us.
Pinterest in Real Life: Classic Edgy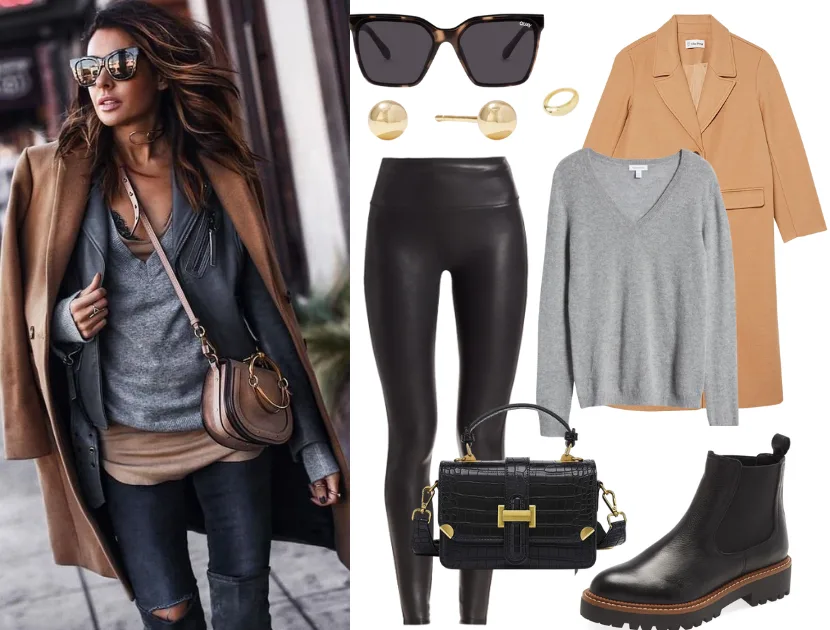 We focus on classic style here at The Well Dressed Life.
But think of classic style as the primary category with secondary styles underneath.
Stacey is correct; her personal style is classic-edgy.
You could be classic-modern, classic-preppy, classic-romantic, etc.
This is why your style is so unique. It's all in how you mix and meld aesthetics together.
This pin we pulled from Stacey's board is an excellent example of how sometimes, the editorial style we find on Pinterest is hard to translate into real life.

The inspiration picture shows a very layered look that made me giggle.
I would be dragged in the comments so hard if I recommended this.

Also, I'm going to go on a limb and guess that we don't want to show our black lace bra.

But the elements are all here: layered textures, neutral colors, a slim silhouette, and a few accessories with a rocker vibe; classic-edgy for sure.
Here's what I did:
Inspired by the leather jacket I started with a pair of our favorite Faux Leather Leggings from Spanx.
Honestly, these are the best. They have the best size range of any pair, and of all the ones I've tried, these stay in place and don't roll down.
Available in regular, petite and tall sizes in XS – 3X.
In the picture, you can see she is wearing a tall boot with a pair of distressed jeans.
Nothing wrong with that. But for this look I wanted to share another way to wear your Lug Boots.
Above is the pair we shared a dozen times from Nordstrom this season. They are sold out but I know so many of you have them, as an option, this pair from Sam Edelman is similar.
You can wear ANY heavy sole boot here.
Then, I found this grey cashmere sweater on sale for $64, also at Nordstrom in sizes XXS – XXL. I like that it is a little bit longer, but still slim fitting so you have some length with the leggings without it being oversized.
The v-neck will bring some airiness to the outfit and is perfect if you want to layer in some gold-tone necklaces.
You know I like to re-share different popular items with you, and this camel colored coat from Amazon's The Drop (in sizes XXS – 5X) was super popular after we featured it last week.
It runs large, so please read some of the reviews to get a sense of what size will work for you. You can have the length altered if needed.
You could also use our Reader Favorite $60 coat also from Amazon. (Feature here earlier this month).
OR, if the wool topcoat is too much you could use the J.Crew Regent blazer instead for an even more tailored look.
It's all about options!
Finally, accessories are more important than we think.
While they can be an after thought, or, maybe you're like me and you wear the same ones everyday, being thoughtful will them can really enhance your look.
Sunglasses are a mood.
I just bought this pair from Quay for my recent girls trip to Key West.
Then, I did a more polished bag because I wanted to bring back a bit of the classic element. I love this little crossbody from Amazon. We featured it in tan a few weeks ago. I have it in both colors.
I'm super impressed with the quality, the weight of it, and while it's tiny, you can fit what you need in it for a night out.
The black always sells out but it's currently back in stock.
The hardware adds a gold element into the look, so I paired it with these simple gold-studs from Uncommon James for under $40 and this dome-shaped ring from Verishop for under $70.
And that's how I would translate the look. Wear it to dinner, date night, out with girlfriends. And make it your own.
We're using earthy, neutral tones, and removing some layers for comfort. Mixing different textures like wool, cashmere and faux leather adds depth and interest, and working with accessories to add personality.