Outfits in Real Life is a weekly series in which I share my outfits featuring my recently recommended items.
Do we need more OOTDs from influencers?
I don't think so.
That's why I'm sharing these photos entirely unfiltered, with zero photoshop and no airbrushing
I'm not working with hair and makeup – clearly, and no one is steaming my clothes.
I'm getting dressed amid chaos like everyone else to reinforce the point that you can pull together classic and chic outfits with a bit of guidance from The Well Dressed Life. 😉
So today, I'm sharing a business-ready outfit with pieces I've had in my wardrobe for years, with a new pop of personality from a print.
Outfits in Real Life: Pop of Print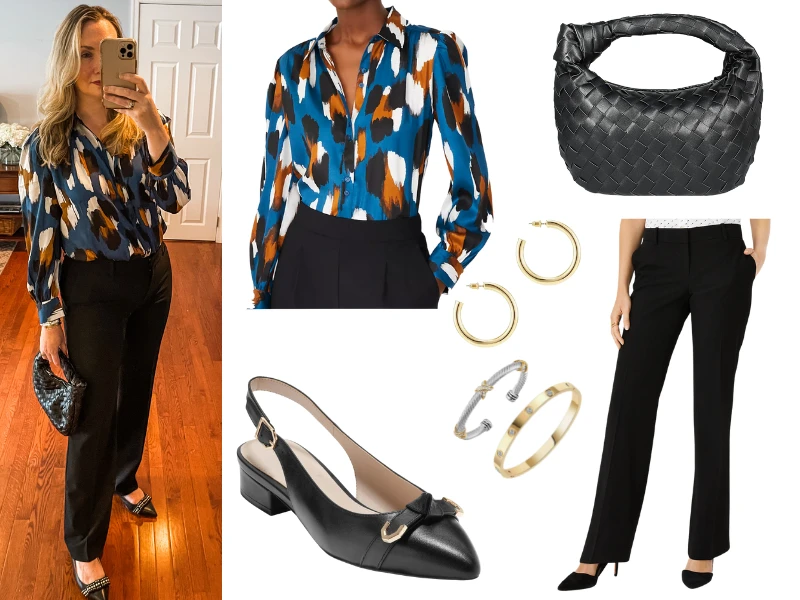 I have not worn a pair of black dress pants, or a blouse for the matter, since before the pandemic.
Even before that, when I had a meeting or corporate event, I almost always wore some kind of sheath dress.
But yesterday I had occasion to put on real pants: not jeans, not leggings and I wasn't feeling a dress.
So I grabbed some new and old pieces hanging in my closet, and I was so pleased with the end result.
Today's Outfit in Real Life can take you to the office, a quick business lunch or even an after work dinner or event.
The Outfit
It was a no-brainer to grab my new Ann Taylor blouse.
I'm very picky about prints, believing most of the ones in stores work against the principles of classic modern style.
But when done well, they can add personality and interest.
And when I saw this from Ann Taylor, it reminded me of Diane Von Furstenberg, so I immediately ordered it.
We featured this last week, and many of the sizes were waitlisted.
So I'm happy to report that it is in stock, available in regular and petite in XXS – XXL with at least 25% off, and if you sign up (free)for their reward program, you get an extra 15% off.
Here are a couple of things to note.
First, I sometimes have to size up in tops to fit my shoulders and arms, and if you look at the sleeves on the model, they look extra slim.
So much so that I was pretty sure they were retouched.
But "in real life," the sleeve on the blouse is full and fits well.
Product pages being photoshopped should be illegal. It is so frustrating. It's why you have to try things on because you never know.
Second, because there is volume in the blouse throughout the shoulders and sleeves, you'll want to create balance.
I did that here with a pair of classic, mid-rise, full-length trousers from Ann Taylor. These are a few years old but are still available in sizes 00 – 18 in classic, petite, and tall, in black or navy.
For reference, I am 5'10 and wear between an 8 – 12.
I tried on the 10 and 12 in the curvy fit, and there was almost no difference. So I went with the 12. There is more room in the waist band, but it fits my curves well.
And I do not have to wear tall sizes here, there is enough in the hem that I can let down if I want tow ear a high heel.
Please note I am wearing pointed flats with this as an alternative to heels.
They provide the same elongating, elegant finish to the leg without dealing with any discomfort heels might give you.
I'm wearing an old pair from J.Crew, but they have elements that work.
First, they're a slingback, which I call a "trending classic." They are excellent for this transition time of year.
They also have a bit of ornament, with a bow covered in studs. Count elements like this as an accessory.
I found a similar pair from Cole Haan that you can wear the same way on sale at Nordstrom Rack.
Determining your pant length is essential to creating a well-tailored look.
I'm often asked, "what do I do if I sometimes want to wear heels and other times I want to wear flats?"
And no one ever likes my answer, but here goes, you need two pairs of pants, one for heels and one for flats.
So if you find a pair of pants you love, and you want heel height options, buy a second pair.
You'll notice in my picture that the bottom of my hem puddles on the top of my foot. This is called a "break."
That's what you want to ask for if you take your pants to a tailor or seamstress.
You don't want the pants to drag in the back but go as long as possible.
Regardless of heel height, this is how you want your full-length trousers to fit.
Finally, I added my everyday jewelry, a combination of fine pieces, and several of my inexpensive Amazon finds, this cuff, this bangle, and these $15 hoops.
And for the bag, I grabbed this small woven crescent-shaped bag (another fun trend for fall), also from Amazon, for about $40.
Registration Closes on Thursday!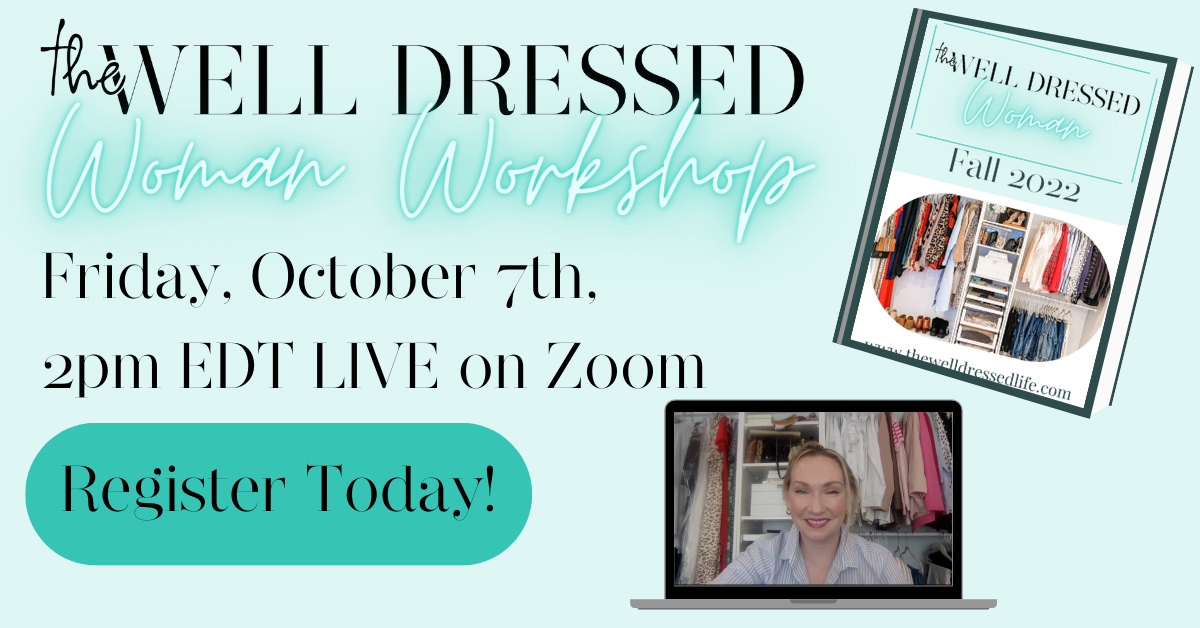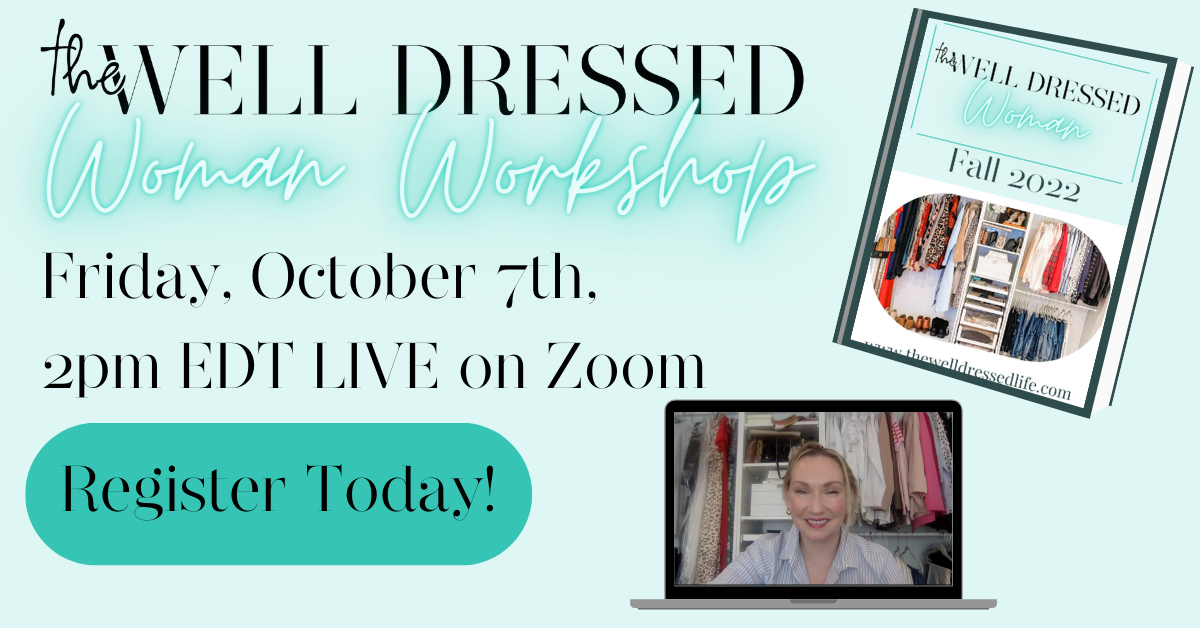 52 in 2022!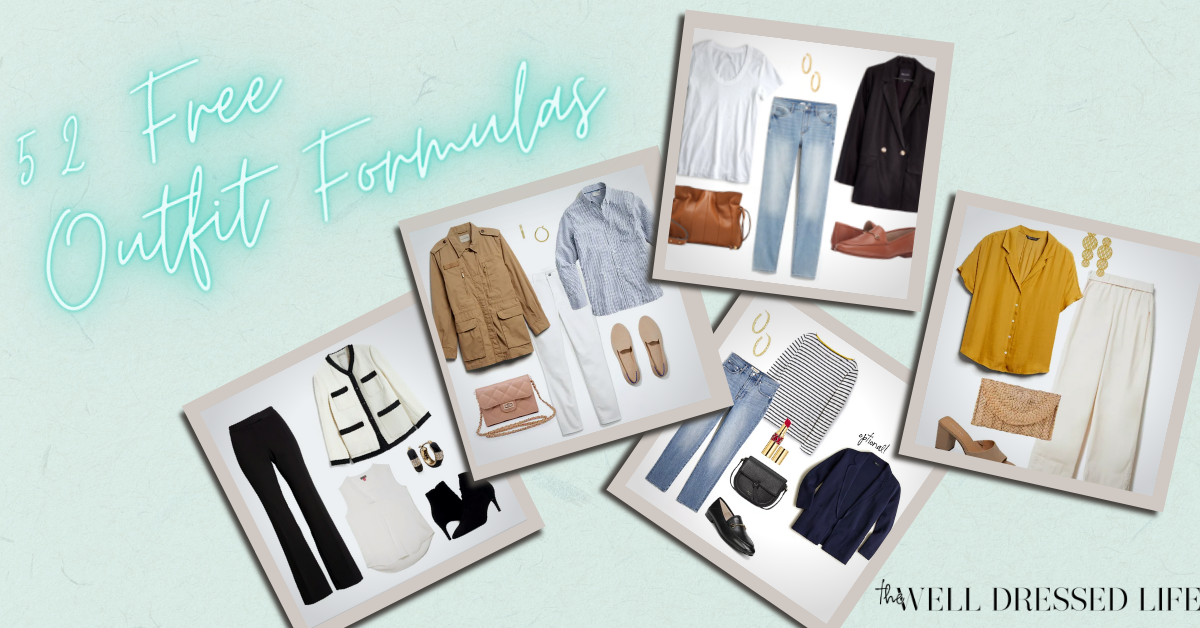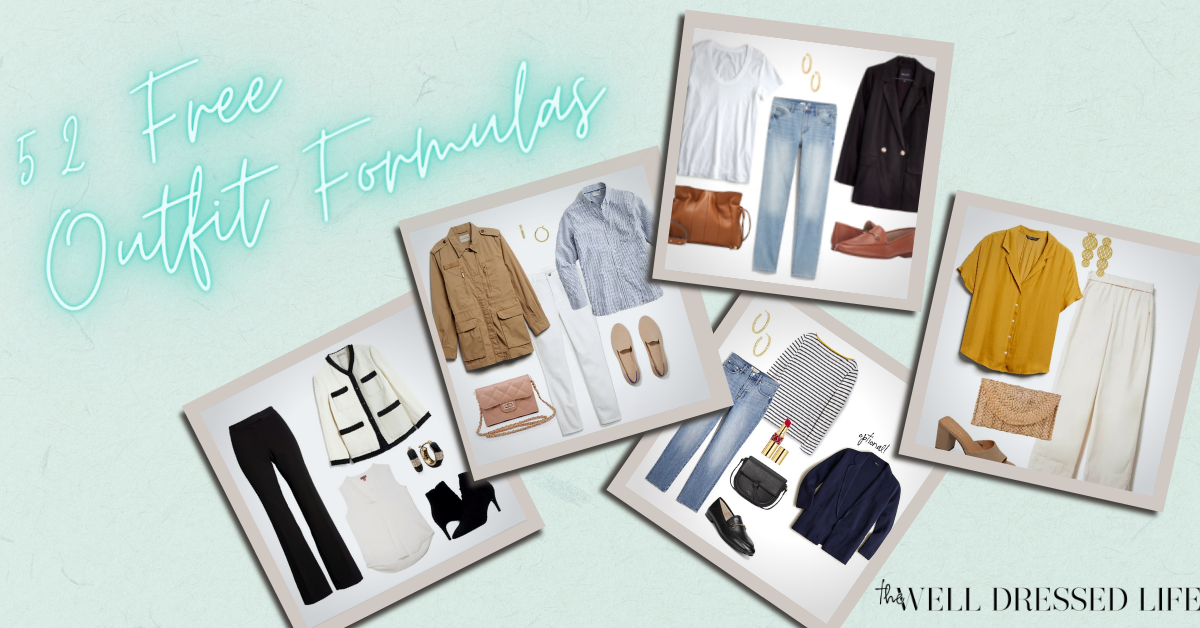 Follow Us on Instagram!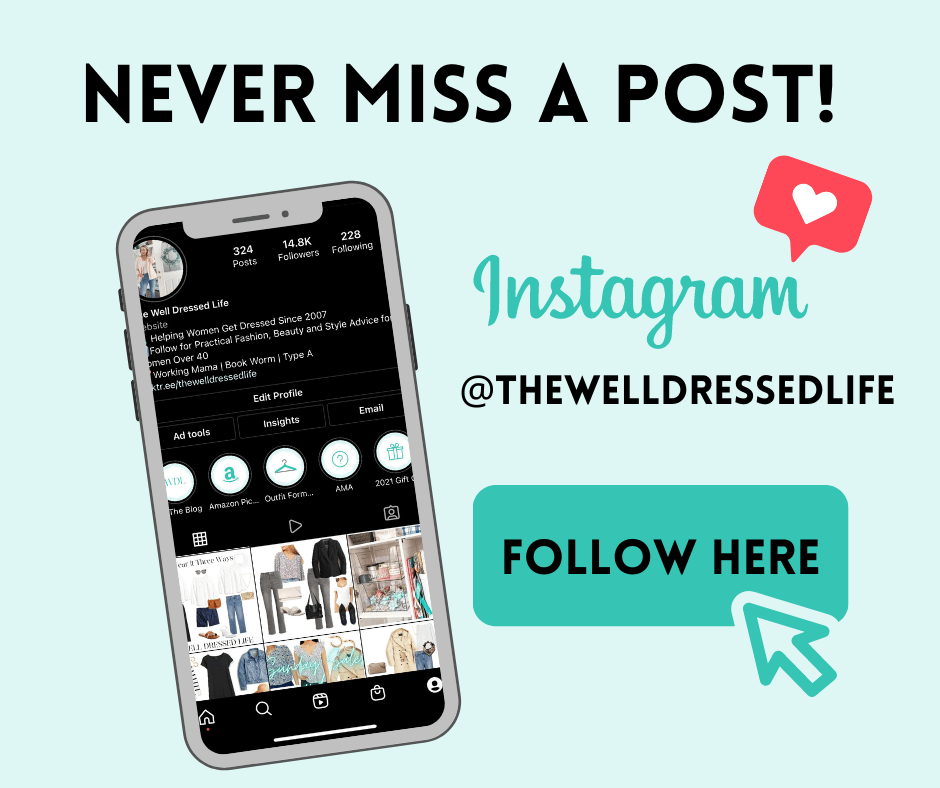 Our Style Content is Inspired by Our Readers
Our readership inspires all of our posts and is not sponsored or paid for by brands or retailers.
Recommendations are based on my experience as a personal stylist and wardrobe consultant for over a decade. I worked with busy, down-to-earth women who wanted to look chic and feel confident but were often confused by so much of retail.
Some links are affiliate links, which means if you purchase via our site, we receive a small commission.

If you enjoy our content and would like to help us grow, please follow on Instagram and join our Private Facebook Group to access more advice and exclusive in-depth conversations with other like-minded women.
Learn about our mission to help women look and feel their very best, every day, here.
Sign Up for Daily Content and Receive Our Free Classic Wardrobe Checklist