Last week, I turned 43.
I've never said this about any other year before, but 42 was amazing.
Not that the year wasn't without its challenges because it was, big time, but it was perhaps the best year of my life because I'm ending it finally feeling like the best grown-up version of myself, like someone I can be really proud of.
With my birthday so close to the holidays, I ease into a New Year mentality a few weeks early.
This time last year, I was in bad shape physically, emotionally, and mentally. I was lost, and sad about a lot of things.
But I committed to making significant changes and stuck with them.
Now, I'm on the other side of a year of deep personal work, and I can tell you some magical stuff happened the second I prioritized my peace and started to learn to love myself.
And I'll share more of that maybe later but for now, if you're having thoughts like, what if I just went all in this year?
Do it. Do it. Do it.
I'm walking into 43 feeling incredibly optimistic, confident and grateful about this next chapter in my life.
And a date night that required a bit of dressing up was the perfect way to celebrate another trip around the sun.
Outfits in Real Life: Birthday Dinner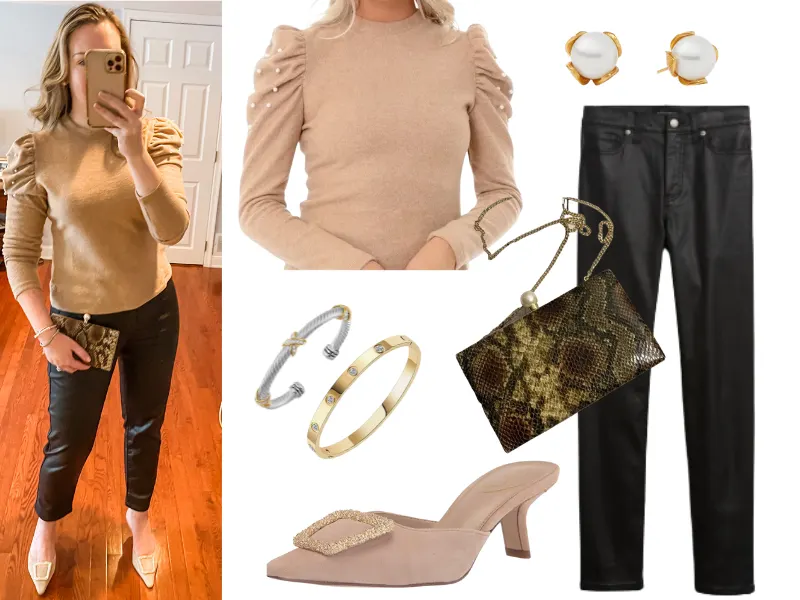 I knew I wanted to build an outfit with my coated jeans from Banana Republic Factory because they are comfortable but look special.
I like these so much that I have two pairs: the slim cut in a size 10 and the curvy, above, in a 8.
Finding a top was challenging because I was in a mood and didn't like anything.
So I opened the drawer where I keep my delicate/embellished tops and pulled out the sweater above, with exaggerated shoulders and pearl detail on the sleeves, and thought, "maybe?"
I bought this sweater by the brand Pomander Place from Tuckernuck this time last year, thinking I'd wear it around the holidays.
When it arrived, it didn't fit, and I couldn't return it.
I remember putting it on and being in tears. I was beyond frustrated. I gained so much weight over COVID and other nonsense that my body didn't feel like it was mine anymore.
This was the starting point of being so fed up I changed everything.
When I put it on last week, it fit perfectly, which felt rather poetic.
I've lost 25 pounds so far, and while I have a ways to go, I am starting to physically feel like myself again.
And listen, this year was about so much more than weight loss for me. So while it's nice to fit into my clothes, it's a lot deeper than that.
Before you ask, I didn't do any crazy diet. I just started working out like I did before the pandemic, paid attention to what I was eating and dialed back booze.
Anyway, I'm surprised by how much I love this top because it's a bit extra for me, but it's fun, and I adore the pearl details.
This style isn't available, but they have some other interesting pieces. This one is the same shape without pearls. I also like this simple black top with sleeve detail, and this tee-shirt weight option with a similar shoulder in black, white or stripe.
I brought pearls into the rest of the look with the Juli Vos Penelope Pearl Studs. These are gorgeous. Above I'm wearing them in the large size.
For bracelets, I wear a combination of the same bracelets everyday. Here I'm wearing our two top Amazon sellers: this Cable Wire Bangle, a David Yurman Dupe and this CZ Bangle, a Cartier Love Bracelet Dupe. Both under $20.
Then, I added the Sam Edelman Brit Jewel Mule. We've featured these a few times over the last month or so.
Above is the color cappuccino, which comes across like a classic light neutral. You can find these on Amazon here.
I also have them in this rich saffron color, you can get them and several other colors on sale at Nordstrom.
Are they comfortable? Sure. I'm not going to run a marathon in them, but for dinner, or a holiday party, they're great.
And that's it.
I found this snakeskin print hard case clutch with a pearl closure in the back of my closet, I bought for a steal at H&M ages ago.
So, keep those little bags in classic styles, you never know when they'll totally make an outfit. 🙂