Today we're going to talk about how to clean your make-up brushes, an essential but often overlooked step in a healthy skincare routine.
There are dozens of ways to go about this, BUT, last year, I stumbled on an inexpensive and easy tool to use that cleans and dries your brushes in seconds.
SECONDS.
As usual, this post is not sponsored. I buy everything myself and try out dozens of different items and gadgets that never make it to this site.
Last year, during the early part of lockdown, I ordered this make-up brush cleaning kit from Amazon in the middle of the night when I couldn't sleep. And then I promptly forgot about it until it landed on my front door.
Admittedly, when I unpacked it, I thought it was going to be absolute junk. Still, I grabbed my make-up brushes and got to work.
In minutes my brushes weren't just clean, they were dry. And this goofy, middle of the night impulse buy became one of my best purchases of last year.
How to Clean Your Make-Up Brushes in Minutes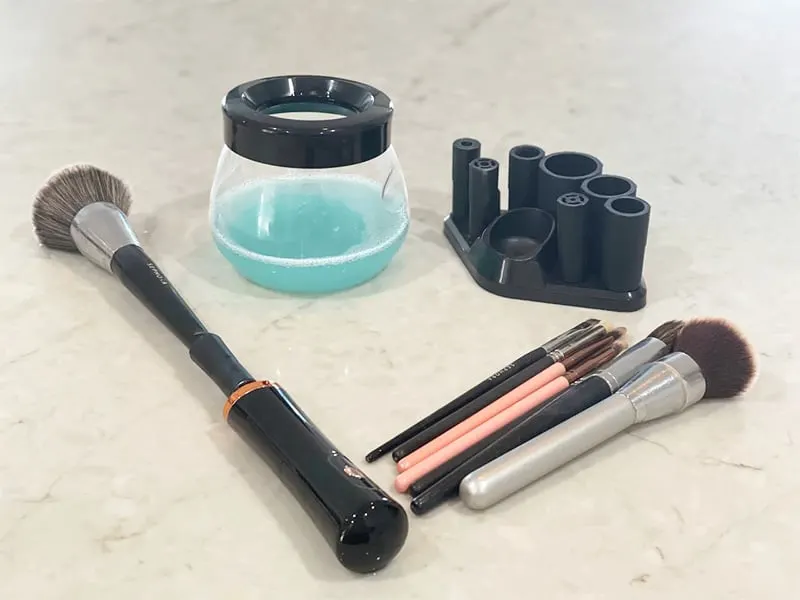 All you need is this brush cleaning kit and some Dawn dish soap.
The kit comes with a bowl, the battery-operated wand, and various collars used to help hold any size brush and attach them to the wand. You'll also receive a storage stand to keep the collars organized.
Simply take one of your brushes, find the best collar to fit, attach it to the wand and then dip it into the bowl filled with soap and hot water.
Dunk the bristles up and down for 10 seconds, and then push the button on the wand to spin.
When you're ready to dry, slowly lift the wand and spin it in the bowl above the waterline.
The brush will be dry in about 30 seconds.
Dry like you can use it immediately. No more laying flat to dry overnight.
You'll have to replace the soap and water a few times, but other than that, this is the most efficient way to clean make-up brushes I have ever come across.
Shop This Post: Make-Up Brush Cleaning Kit, $21
How Often Should You Clean Your Make-Up Brushes?
Once a week is ideal.
How Should You Store Your Make-Up Brushes?
The most important thing to remember is where NOT to store them. Avoid keeping them out on your counter or vanity in your bathroom. They will absorb all the moisture in the room (along with other gross things) and will become a breading ground for bacteria.
Our Style Content is Inspired by Our Readers
Our readership inspires all of our posts and is not sponsored or paid for by brands or retailers.
Recommendations are based on my experience as a personal stylist and wardrobe consultant for over a decade. I worked with busy, down-to-earth women who wanted to look chic and feel confident but were often confused by so much of retail.
Some links are affiliate links, which means if you purchase via our site, we receive a small commission.

If you enjoy our content and would like to help us grow, please follow on Instagram and join our Private Facebook Group to access more advice and exclusive in-depth conversations with other like-minded women.
Learn about our mission to help women look and feel their very best, every day, here.
Get on The INSIDER Waitlist for Spring/Summer 2021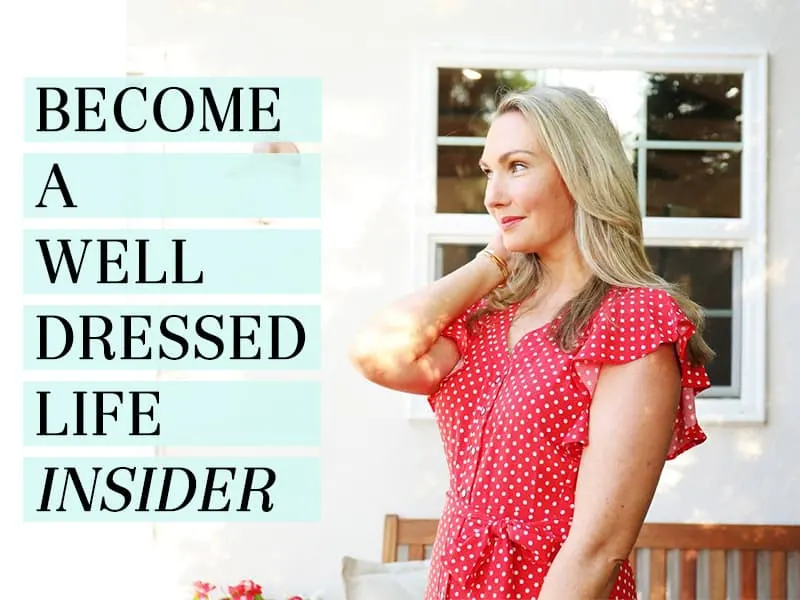 Sign Up for Daily Content and Receive Our Free Classic Wardrobe Checklist