Today, we continue our Nordstrom Anniversary Sale coverage focusing on Workwear, Reader Favorites and Splurges.
This is a fun post!
For these recommendations, I followed the same strategy as yesterday's post highlighting the best Basics, Coats, and Shoes.
I look at our analytics to determine what brands and styles historically work for readers, and I asked myself, "what would I put in a dressing room if I was setting it up for a styling client?"
Then, I spend hours sorting through every item in the sale to curate a list of practical and stylish things at the best possible price for our readers.
You might find something new, decide to grab a fresh version of an old fave, or indulge in a designer item.
Today is July 7th, so the sale is open to Icon and Ambassador level cardholders.
As always, sizes are inclusive whenever possible, but please remember items come in and out of inventory.
What to Buy at the Nordstrom Sale: Workwear, Faves and Splurges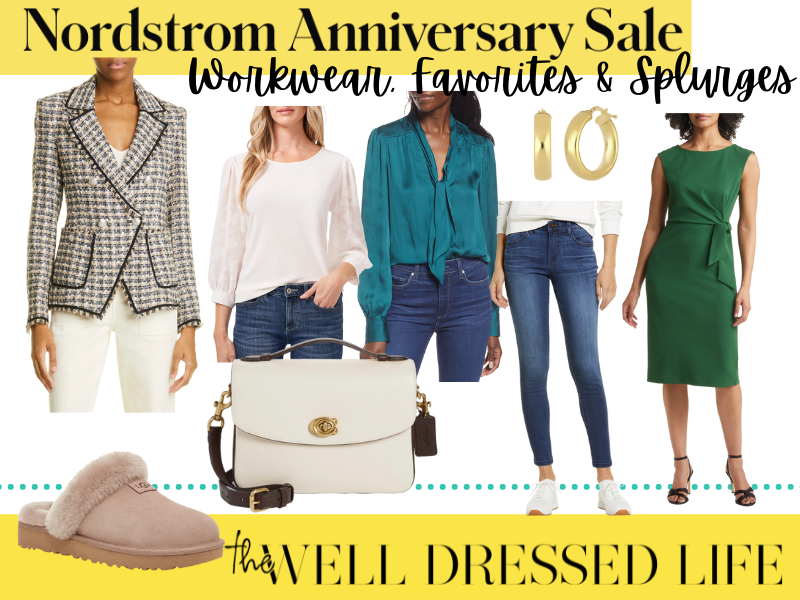 Nordstrom Sale Workwear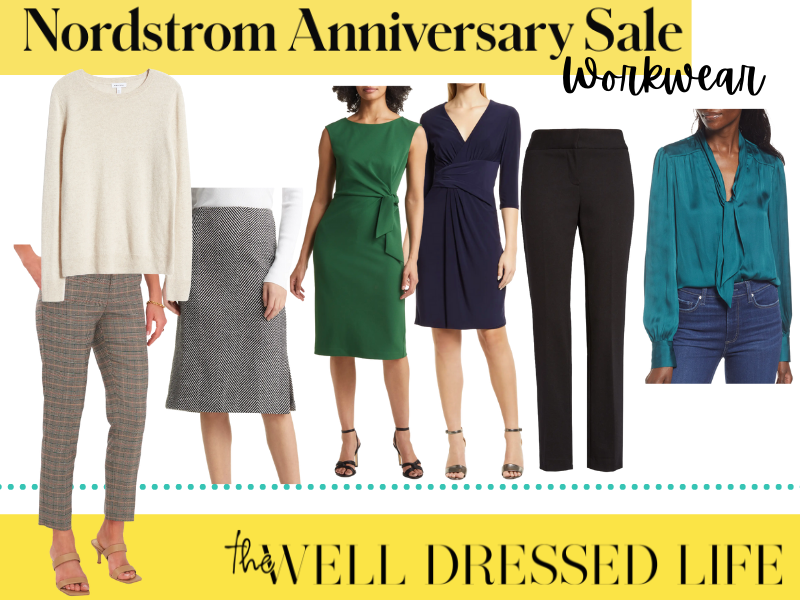 If you are rebuilding your professional wardrobe or need a couple of new things for Fall, there are some fantastic options in the workwear category.
Tops
HALOGEN®, Raw Edge Tank, $28: I'm buying multiples of this raw edge tank, in black and white to layer under blazers and cardigans this Fall, available in XXS – XXL.
PAIGE Cleobelle Tie Neck Blouse, Retail: $189, Sale: $125. I look for blouses like this in season and never find one I like. This one, however, is gorgeous.
Jackets
OPEN EDIT Fitted Blazer, Retail: $79, Sale: $49.90. A simple, classic, go-with-everything black blazer for just under $50. Yes, please. Available in sizes XS-XL here and plus size here.
KUT FROM THE KLOTH Milana Faux Suede Moto Jacket, Retail: $129, Sale: $85.99. Moto jackets are always popular around here in the Fall. This one by KUT from the KLOTH is lovely and available in four fabulous colors in sizes XXS – XXL.
TREASURE & BOND Knit Blazer, Retail: $99, Sale: $65. This is a no-brainer for Fall. I love the depth of color and how well it will pair with everything from casual jeans to tailored black pants.
Bottoms
HALOGEN® Herringbone High Waist Pencil Skirt, Retail: $89, Sale: $49. Classic style and pattern work with any white or black top.
Vince Camuto Ponte Knit Skirt, Retail: $69, Sale: $45. (not pictured) If you need to replace a basic black skirt, give this under $50 option a try. You'll need to hem it to hit the most flattering part of your leg, but that's an easy alteration. Also available in a gorgeous green.
VINCE CAMUTO Plaid Ankle Trousers, Retail: $99, Sale: $65. For something different, I love plaid pants; this ankle-length option can be dressed up or down all season long.
Spanx Perfect Black Pants, Retail: $128, Sale: $85: (not pictured) I ordered these for myself from last year's Sale and wore them to death. They're a more polished alternative to leggings.
Vince Camuto Stretch Trousers, Retail: $74, Sale: $49. (not pictured) We frequently feature these trousers, available in sizes 00 – 16.
Dresses
ELIZA J V-Neck Body-Con Jersey Sheath Dress, Retail: $148, Sale: $89. Classic styling with an actual twist, I adore this versatile jersey dress for the office or any time.
HARPER ROSE Ruffle Detail Sleeveless Sheath Dress, Retail $168, Sale:$99. The flutter at the waist is so chic, and for under $100, you can't beat the price.
TAHARI ASL Cap Sleeve Side-Tie Sheath Dress, Retail $129, Sale: $79. How gorgeous is this green dress? Also available in red. You can wear this to the office or even to a holiday party.
Nordstrom Sale Reader Favorites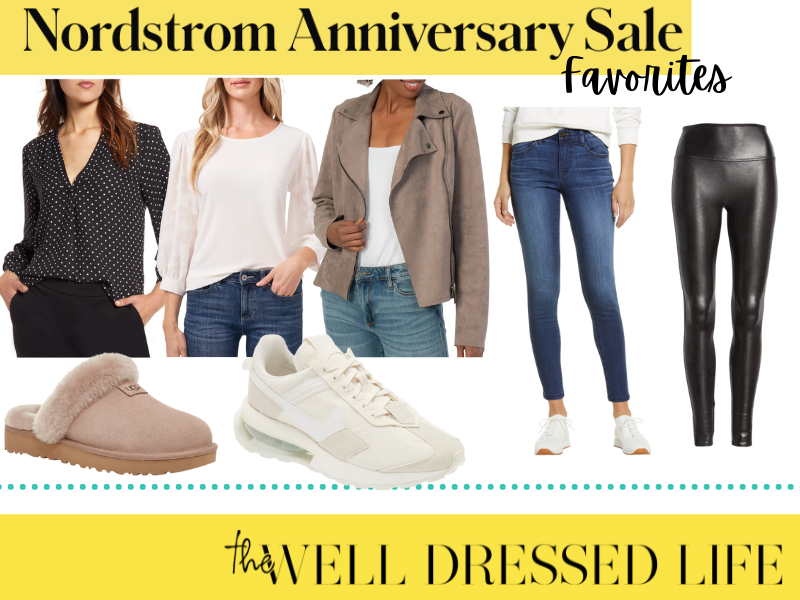 Below, I'm highlighting the items that have historically been your favorites.
NORDSTROM Moonlight Eco Short Pajamas, Retail: $59, Sale: $40 This is the short version of these extra comfy pajamas that have been a reader favorite for years. You can pick up the long version here.
VINCE CAMUTO Polka Dot V-Neck Top, Retail: $74, Sale: $49. Another best seller and reader favorite. You can pick this up in the polka dot (featured), or you can pick up a similar style in green or pink here.
CeCe, Lace Sleeve Blouse, $45: We recently started to reguarly feature the brand CeCe. They are just the thing when you want a pretty top or blouse. This blouse was a Reader's Favorite last holiday season. Available in five colors, from XXS – XXL.
RAILS Hunter Plaid Button-Up Shirt, Retail: $168, Sale: $109. Rails make some of our favorite shirts, but they are expensive at regular prices, so I always grab a few during the Sale. This year I bought the classic white and the blue and white plaid. Available in XXS – XXL.
Madewell, Kent Colorblock Sweater, $58: This cardigan is already popular and will likely sell out. Available in XXS – XXL.
SPANX Faux Leather Leggings, Retail: $98, Sale: $64: If you want to try a pair of faux leather leggings, or need a second pair, now is the time to grab them; this is the best price you'll find; and they always sell out in season.
WIT & WISDOM Ab-Solution Ankle Skinny Jeans, Retail: $68, Sale: $45. Our go-to, look-great-on-everyone skinny jeans. Already a great price at retail but a can't-miss on Sale. Available in 0 – 18, including petite.
UGG® Genuine Shearling Slipper, Retail: $100, Sale: $69. I never pay full price for UGG slippers because you can always pick up a pair during the Sale. And since I have a house full of teenage girls, I also pick up a few pairs for under the tree.
NIKE Air Max Pre-Day Sneaker, Retail: $130, Sale: $104. Finally, another category to find some savings in is sneakers. They have an excellent selection of Nikes. I scooped up these funky-looking Air Max Pre-Day Sneakers for walks and to attempt to look cute in athleisure.
Nordstrom Sale Splurges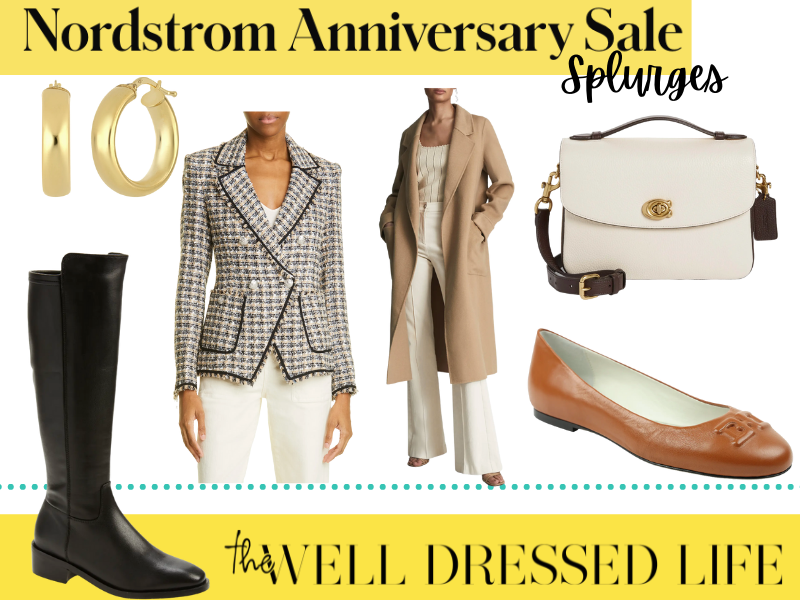 Finally, splurge-worthy buys, from bags to boots to blazers.
COACH Colorblock Leather Crossbody Bag, Retail: $350, Sale: $199. I was a little bummed that no Tory Burch is featured in the Sale, but I think that's because they are using Coach as their prestige brand this year. And I do like this white leather crossbody on Sale for $199. It's super chic and different looking.
BRUNO MAGLI Bibi Flat, Retail: $325, Sale: $219. I mentioned yesterday that I adore these flats from Burno Magli. This is the kind of sale item I'd like to see more of, a lovely splurge with timeless style that adds to your wardrobe. These run small, so size up.
AQUATALIA Cambria Weatherproof Riding Boot, Retail: $595. Sale: $380. If you have the budget, the deal on the AQUATALIA riding book is incredible. You will have them forever.
BONY LEVY Katharine 14K Gold Hoop Earrings, Retail: $495, Sale: $370. Are you building a jewelry capsule? Then you can't go wrong splurging on a classic gold hoop.
REISS Elise Wool Blend Longline Coat, Retail: $590, Sale: $395. The first gorgeous coat I ever bought was from REISS. I wore it for years, and it served me so well. Worth every penny. This longline coat is stunning and timeless and a terrific value.
VERONICA BEARD Theron Houndstooth Blazer, Retail: $698, Sale: $450. Finally, I would buy this stunning blazer in a heartbeat if I had a place to go. It works with ivory, black, or denim. It's so gorgeous it hurts.
52 Outfits in 2022!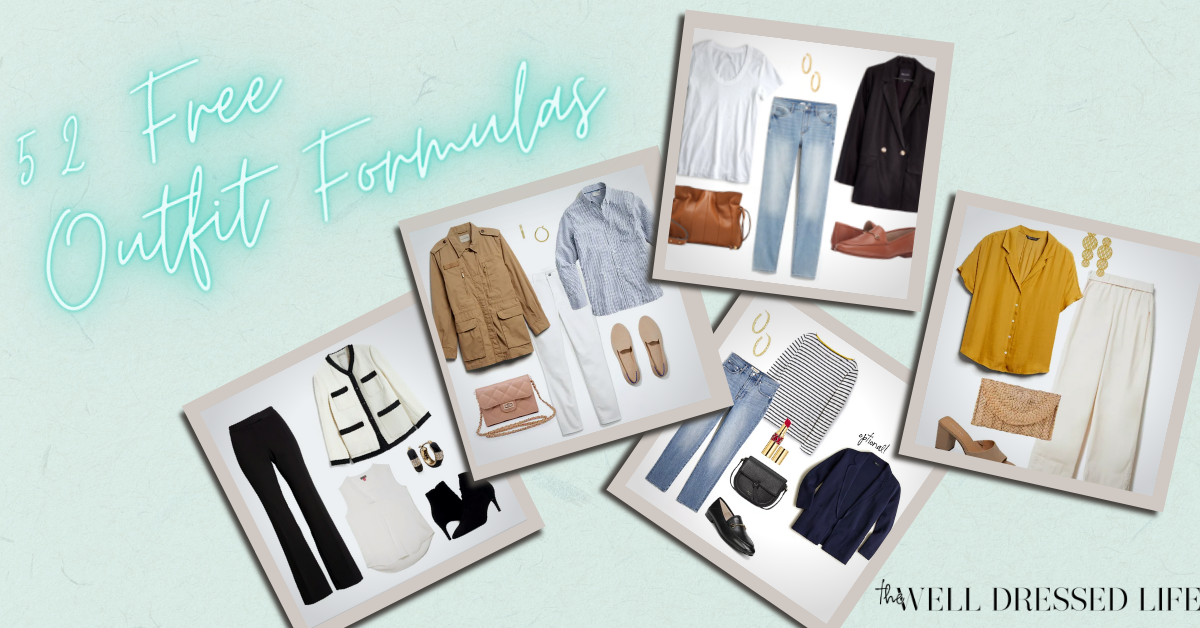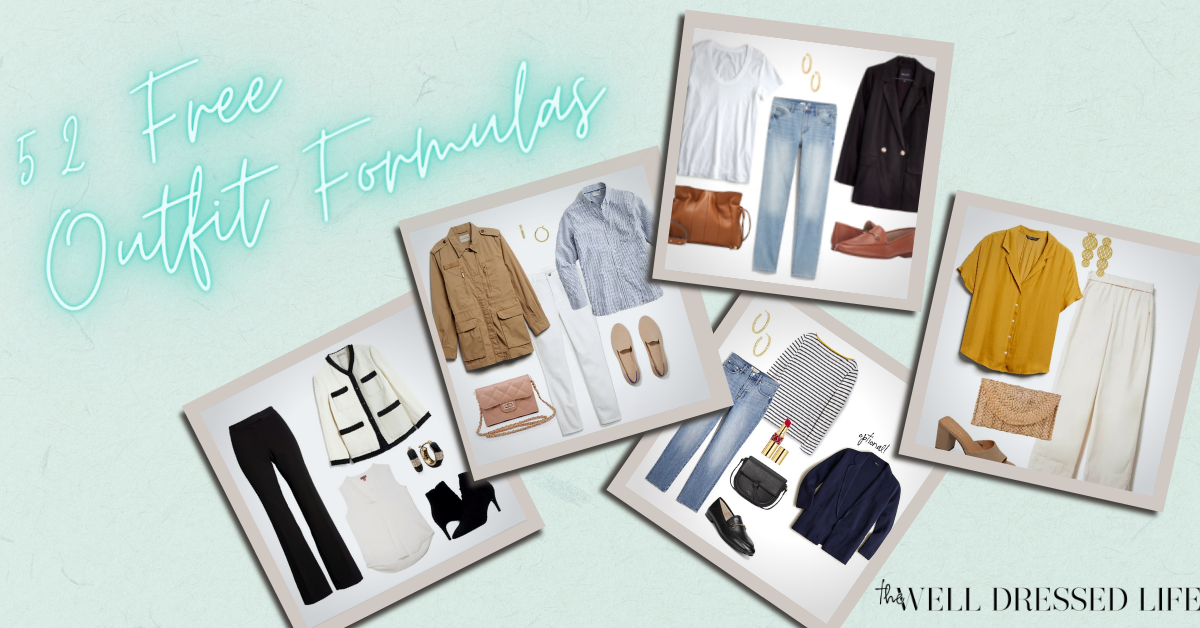 Follow Us on Instagram!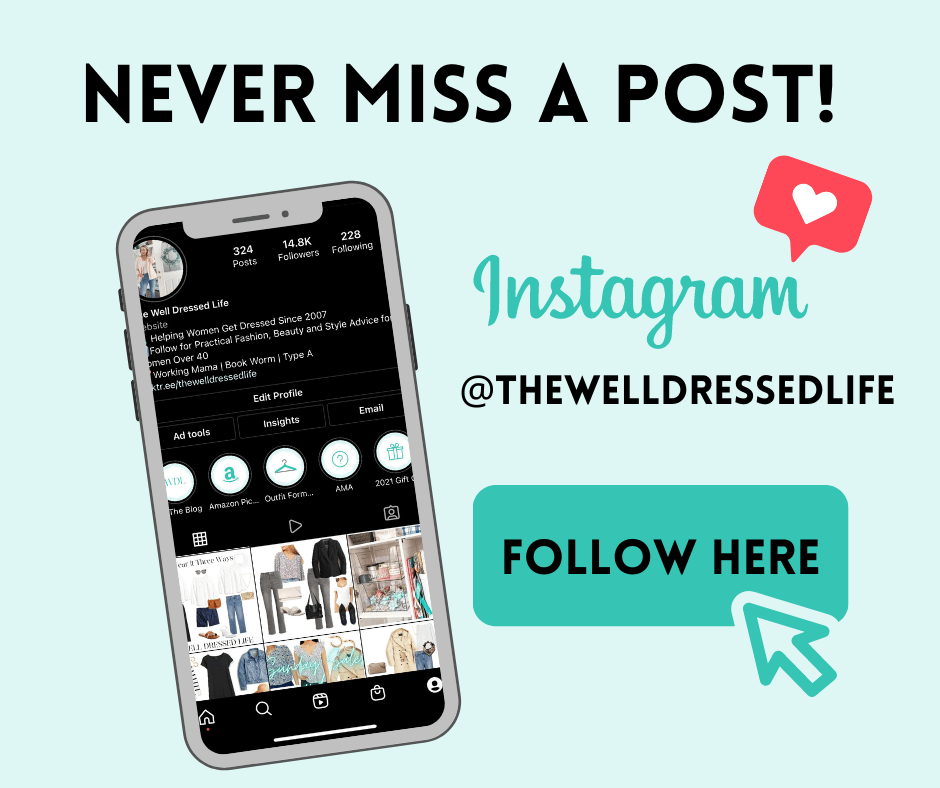 Our Style Content is Inspired by Our Readers
Our readership inspires all of our posts and is not sponsored or paid for by brands or retailers.
Recommendations are based on my experience as a personal stylist and wardrobe consultant for over a decade. I worked with busy, down-to-earth women who wanted to look chic and feel confident but were often confused by so much of retail.
Some links are affiliate links, which means if you purchase via our site, we receive a small commission.

If you enjoy our content and would like to help us grow, please follow on Instagram and join our Private Facebook Group to access more advice and exclusive in-depth conversations with other like-minded women.
Learn about our mission to help women look and feel their very best, every day, here.
Sign Up for Daily Content and Receive Our Free Classic Wardrobe Checklist