Continuing with the Nordstrom Sale, I'm highlighting the top Beauty, Bags, and Accessory today.
Today's post isn't too involved, just the best of the best. I sorted through the entire selection to highlight only the items I know you are looking for or already love. This particular assortment offers some of the best savings in the sale.
Nordstrom Sale: Beauty, Bags and Accessories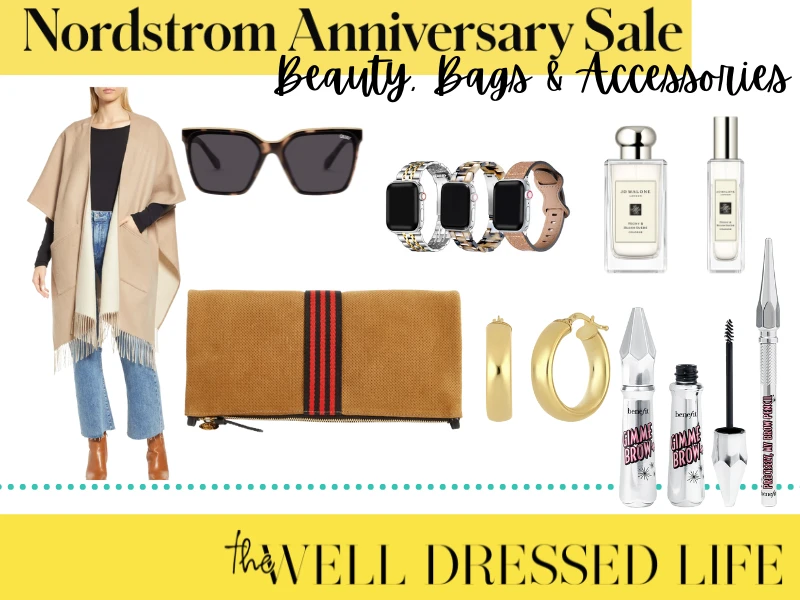 All cardholders may begin shopping starting tomorrow, July 9th. The sale opens to the public on July 15th. And I'll keep everyone updated on restocks and deals in our Private Facebook Group.
Nordstrom Sale Beauty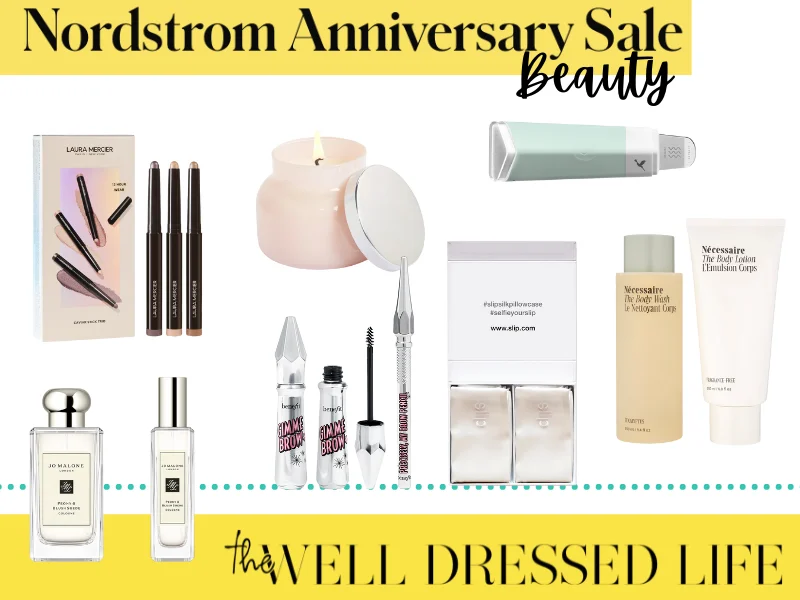 Since the savings are significant, most of my beauty splurges come from this sale. I own and use every single item below. So pick up something for yourself or buy it now and hold onto it until the holidays to give as a gift.
JO MALONE LONDON™ Peony & Blush Suede Fragrance Set, $165. Peony & Blush Suede is my absolute favorite fragrance of all time. It's divine, and this is a great price. Every time I wear it, at least one person tells me how great I smell. Immediately add to cart for me.
LAURA MERCIER Caviar Stick Eyeshadow Trio, $58. I adore these eyeshadow sticks. They blend beautifully, don't sit in your crease, and have a lovely pigment.
NÉCESSAIRE The Body Duo Set, $30. Nothing feels better than taking a shower after a sweaty workout and using this fresh-smelling shower gel and lotion.
CAPRI BLUE Volcano Signature Candle Jar, $23. I ordered several of these to keep in the gift closet. They are the best.
BENEFIT COSMETICS Gimme Brow Set,$20. Long-time readers know I am eyebrow obsessed and crazy for Gimme Brow. This is a fantastic price for the set.
DERMAFLASH DERMAPORE Ultrasonic Pore Extractor & Serum Infuser, $66. I just ordered this, so I'll have to report back, but I'm down to try pretty much anything in pursuing clear skin.
NUFACE® Trinity® Facial Toning Kit, $199: I splurged on this face toning gadget a few years ago and frequently used it. It uses microcurrents to help rejuvenate and tighten your skin.
PMD Clean Facial Cleansing Device, $66: (not pictured) I replaced my old Clarisonic with the PMD Facial Cleansing Device. This uses silicone bristles (so it doesn't hold dirt and bacteria) to help massage and deep clean your skin.
Slip Pillowcase Set, $125 – I can't sing the praises of these silk pillowcases enough. They stay cool at night, feel indulgent, and have many beauty benefits like reducing wrinkles and preventing hair breakage. You can certainly buy one of the dupes on Amazon (they are nice too), but I can confidently say that nothing compares to the original, and they make beautiful gifts.
Nordstrom Sale Bags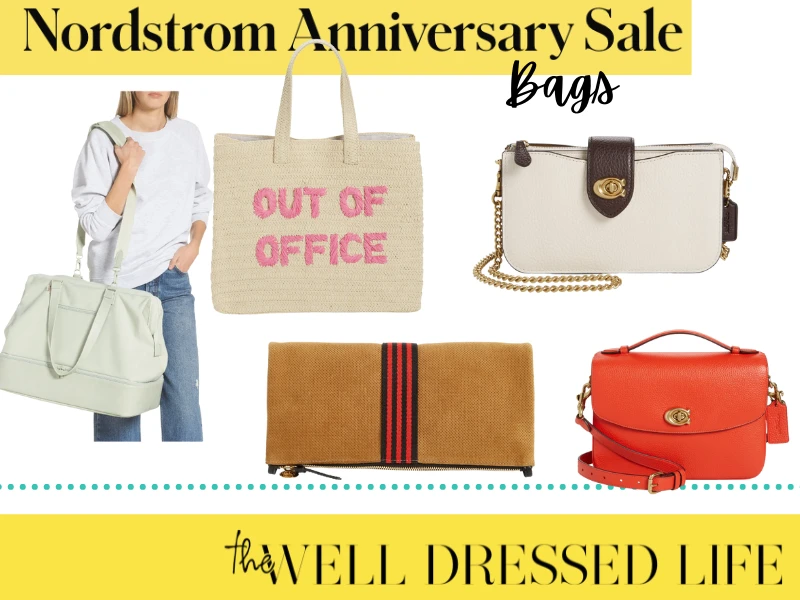 The bags I've purchased over the years during this Sale have been some of my favorites.
BÉIS Weekend Travel Bag, Retail: $98, Sale: $68. My girls frequently steal my weekender bag, which is fine until we go somewhere together. So picked these up for them to take to our upcoming weeks at the beach.
COACH Pebbled Leather Crossbody Bag, Retail: $350, Sale: $199. I'm surprised how much I love this red Coach bag. It's gorgeous, nice size and timeless shape. Also available in black.
COACH Colorblock Leather Crossbody Bag, Retail: $150, Sale: $99. For just under $100, I adore this slim Coach crossbody. It's simple, chic, and will go with anything.
CLARE V. Perforated Suede Foldover Clutch, Retail: $245, Sale: $164. You're coming home with me. I love how CLARE V. designs mix timeless style with a preppy vibe. If you keep your wardrobe in solid, neutral colors, you can carry this bag all day and night.
BTB LOS ANGELES Out of Office Straw Tote, Retail: $98, Sale: $58. I love a fun, cheeky beach tote.
KATE SPADE NEW YORK Mini Small Square Stud Earrings, Retail: $32, Sale: $19. We regularly feature these Kate Spade earrings. They look like little glittery fireworks on your ear, and this is the best price I've ever seen them.
MADEWELL Story Set of 3 Layered Necklaces, Retail: $48, Sale: $32. If you're like me and terrible at layering necklaces but love the look, grab a set of three. Bonus points are that it mixed metals, making it ultra-versatile.
BRACHA Initial Pendant Necklace, Retail: $50, Sale: $36. My girlfriend wore this with a simple cotton dress to her 4th of July party this year, which looked so pretty. Great price at under $40.
THE POSH TECH Assorted 3-Pack Apple Watch® Bands, Retail: $99, Sale: $65. You probably don't love the bands that come with the Apple watch. This set comes with three options. My favorite is the two-tone, which will easily dress your outfit.
NORDSTROM Reversible Wool & Cashmere Travel Ruana, Retail: $149, Sale: $98. I just ordered this to replace a similar style I had for years that I pretty much wore out. You'll be surprised how much you use something like this. I throw it over everything; it's great on nights you don't need a coat, super chic with a turtleneck, or over a white shirt or long sleeve cotton tee.
QUAY AUSTRALIA Level Up 51mm Square Sunglasses, Retail: $65, Sale: $44. Finally, I have accumulated a handful of QUAY sunglasses. You can't beat the price. You can try a bolder style without a huge commitment; keep one in the car and pool bag, so you're never stuck without a pair.
52 Outfits in 2022!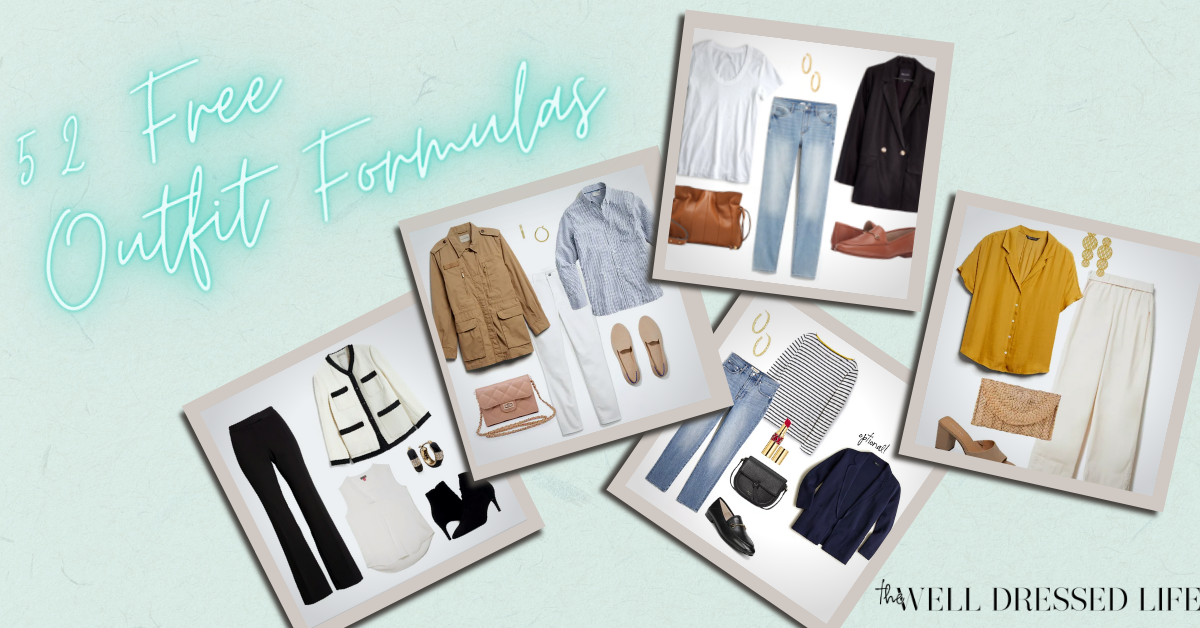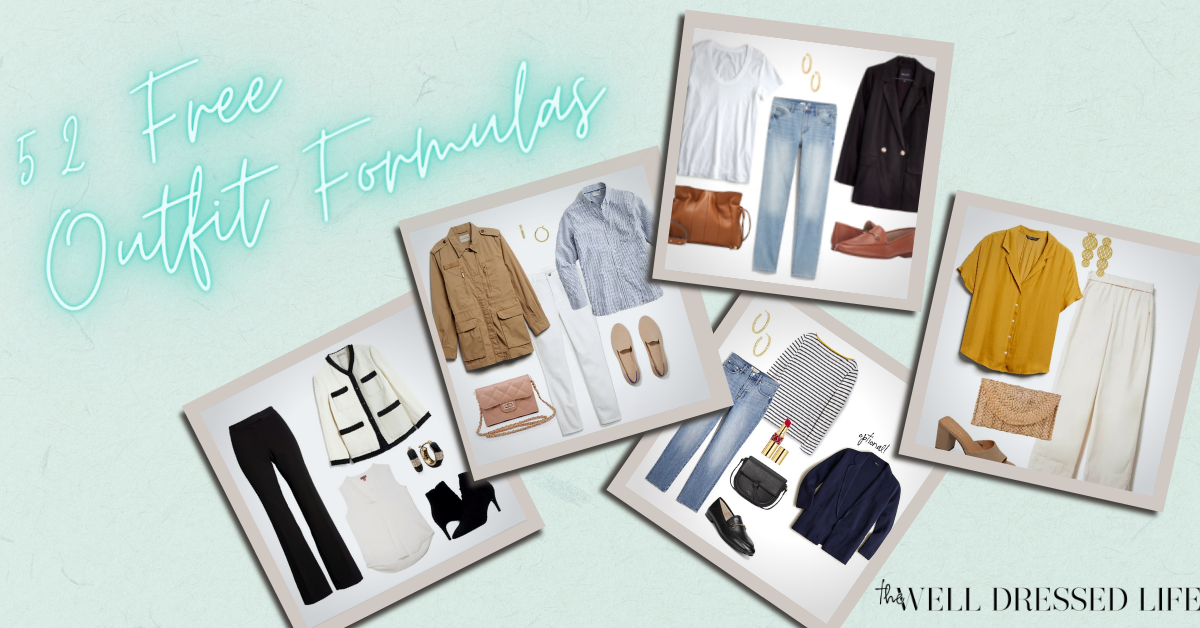 Follow Us on Instagram!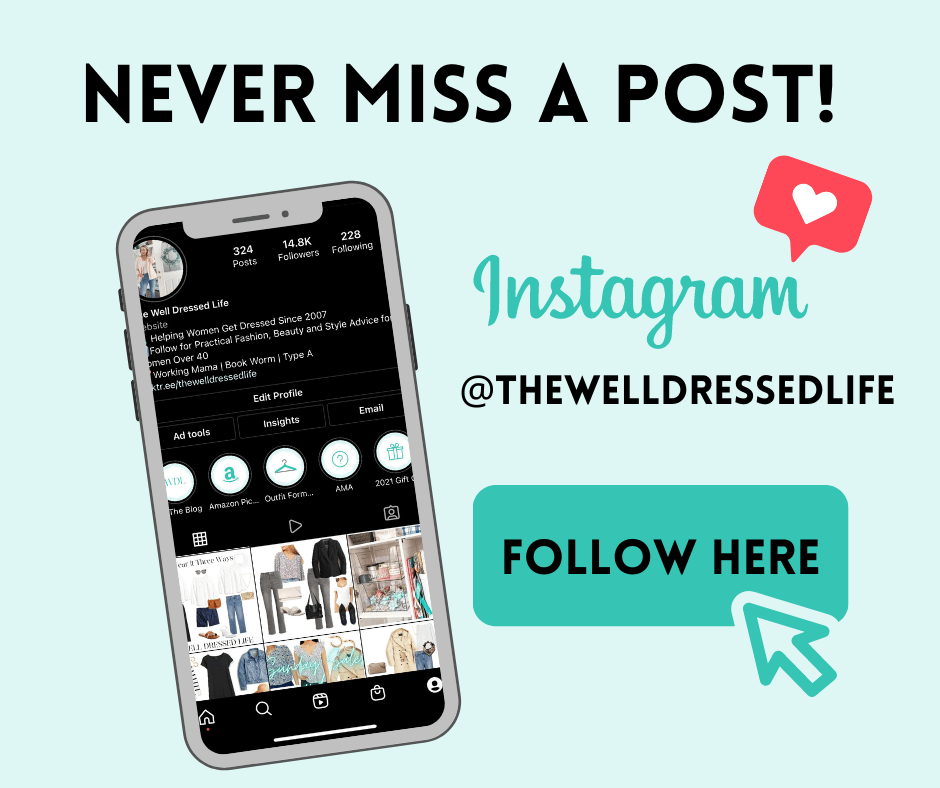 Our Style Content is Inspired by Our Readers
Our readership inspires all of our posts and is not sponsored or paid for by brands or retailers.
Recommendations are based on my experience as a personal stylist and wardrobe consultant for over a decade. I worked with busy, down-to-earth women who wanted to look chic and feel confident but were often confused by so much of retail.
Some links are affiliate links, which means if you purchase via our site, we receive a small commission.

If you enjoy our content and would like to help us grow, please follow on Instagram and join our Private Facebook Group to access more advice and exclusive in-depth conversations with other like-minded women.
Learn about our mission to help women look and feel their very best, every day, here.
Sign Up for Daily Content and Receive Our Free Classic Wardrobe Checklist