There is a trick to creating an easy work "uniform" that you are likely already using without even knowing. It's called dressing from a "column of color" and it is the easiest way to quickly pull together a professional look.
Start by creating a column of color with your better neutral basics. You can use any combination: tank/skirt, top/pant or dress (a solid structured sheath works best) as long as it is one color like black, navy, grey, or winter white.
This "column" creates one continuous line and acts as a base. Then, simply add a blazer, preferably with some interest or a color that complements the column. The blazer works to add contrast which creates a visual that makes your body look longer and leaner.
Below is work wear look I pulled together combining some pieces I've had forever, and two updated items, including this gorgeous jacket that is under $60 and stunning flats I found on sale at J.Crew.
How to Dress off a Column of Color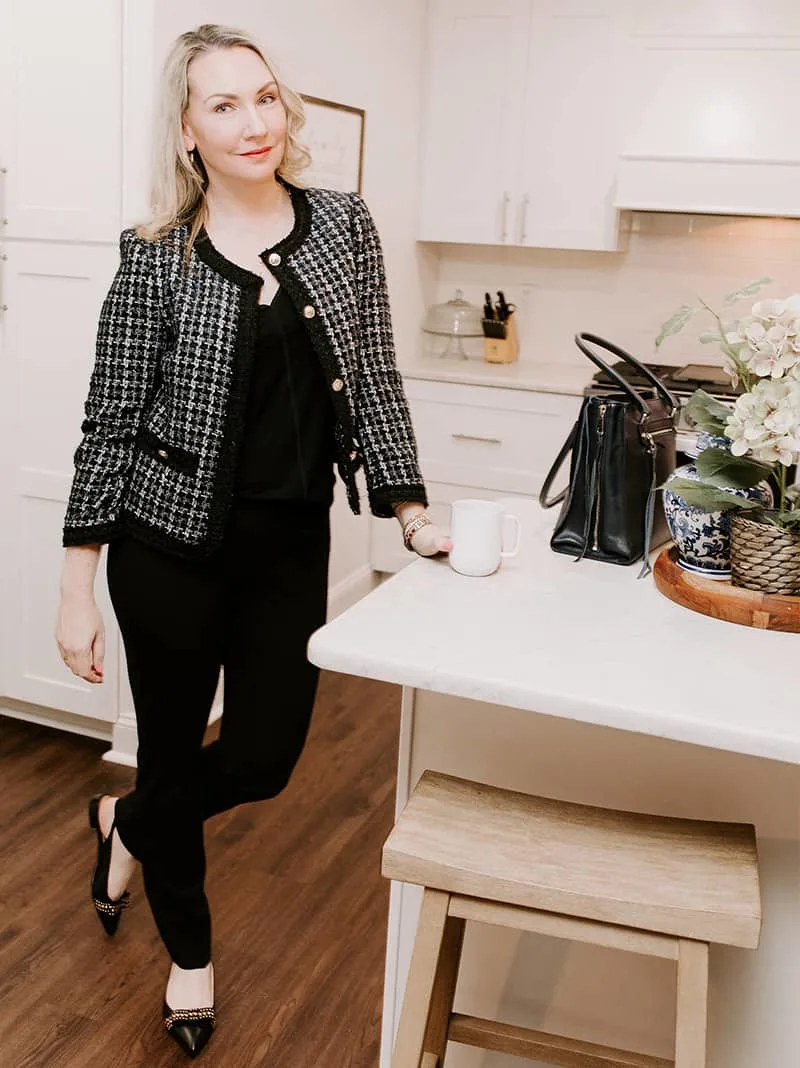 Jacket, $60 | Pants, $265 | Shoes, $99 | Similar Tank, $65 | Similar Bag, $298 | Hoops, $55
Rarely am I this impressed with a jacket, but H&M hit it out of the park. I picked this up last week for $59 (regular price). Online the sizes are limited but at the H&M in King of Prussia (PA) there was a rack full of them.
This beauty fits true to size, I'm wearing an 8. Feels great on, it's substantial but not too heavy and doesn't feel bulky even though it's tweed. And it's lined. Lined – for under $60.
Any time I find something that combines black and navy, I scoop it up, because it's a piece that will pull so many other items together. Wear it with an all black column, swap out black for navy or throw it over a white tank and dark jeans for a super chic Friday office look.
Despite the affordable price point, this is a quality and will live in my closet for as long as it fits!
Just take a look at the details …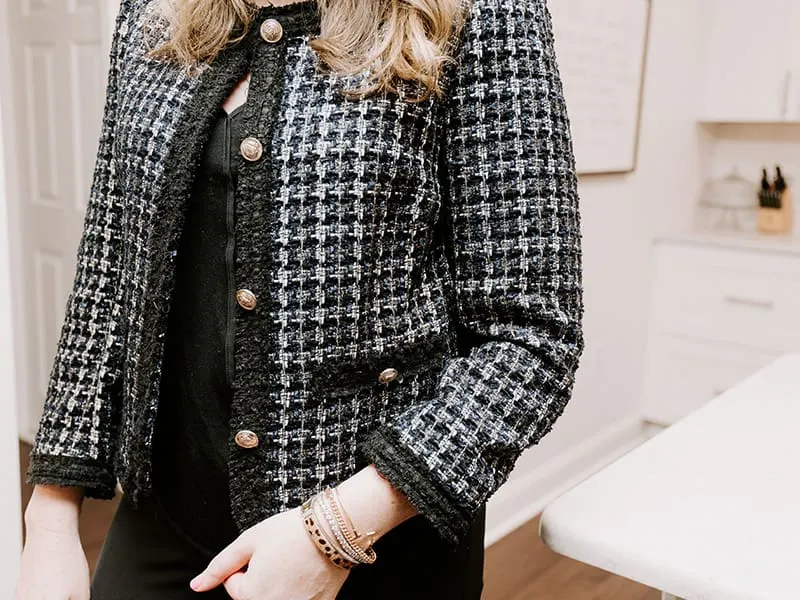 Related: Easy Red Blazer Outfit for Work
Extra Special Touches
In the same trip I hit J.Crew for some end of year sales and walked away with more shoes than I needed. My favorites are these slingback flats with bow stud details.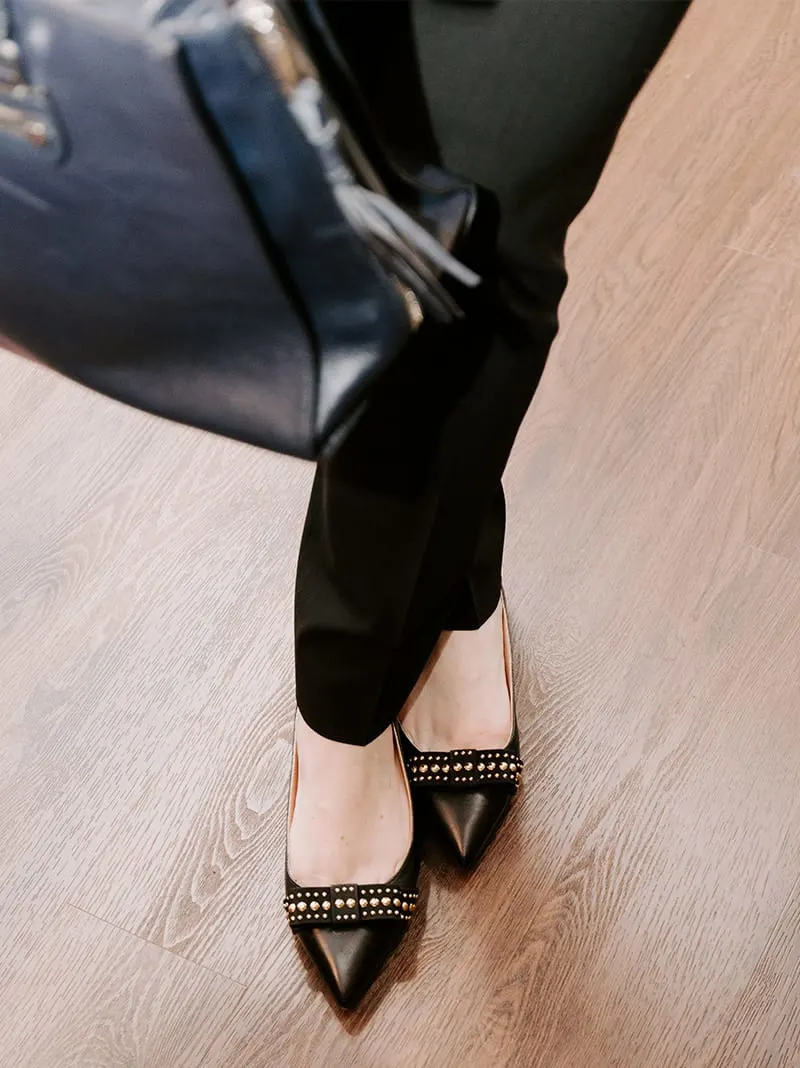 These are the kind of shoes that make my heart sing. They are flat, so I don't feel too tall, and I can walk in them all day. But it's the studded ribbon bow that instantly sold me.
Tip! Look for extra little details on simple styles of shoes to elevate a basic outfit. Doing so adds visual interest, which creates overall depth.
Here, I like how the shoes balance out the busy-ness of the jacket by creating proportion.
I paired my two new purchases with some serious wardrobe workhorses I've had forever. Theory makes my favorite suit pants. They are expensive so I try to buy them when they go on sale so I have a few to rotate through. I've had the ones above for at least 5 years and wear them all the time.
Note: Theory's sizing is all over the place, so you might have to size up more than usual.
My tank is from Banana Republic. I linked to a similar option here. They have great sales so if you don't need on right away, keep an eye out for a discount code.
Finally, I'm wearing the gorjana hoop earrings I featured on Monday. They are light and comfortable – I can't recommend the enough.
This outfit is a beautiful example of how to combine higher end pieces (the Theory pants) with something more affordable (the H&M Jacket) to create a look that feels sophisticated and doesn't scream like you shopped off the mannequin of one store.
Shop all items below: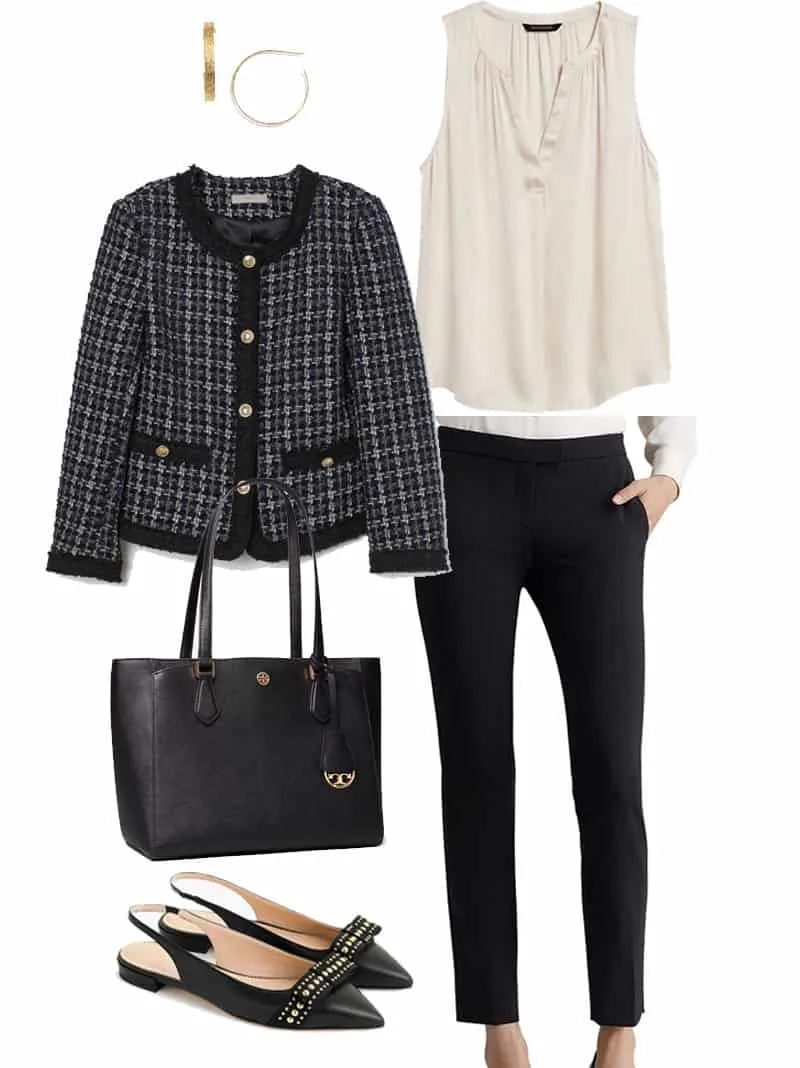 Jacket, $60 | Pants, $265 | Shoes, $99 | Similar Tank, $65 | Similar Bag, $298 | Hoops, $55
_________________________________________________________
Our content is not sponsored or paid for by brands or retailers in any way. Recommendations are based on personal experience and my time working with women as a stylist and wardrobe consultant for over a decade. Some links are affiliate links, which means if you purchase via our site, we receive a small commission.
If you enjoy our content and would like to help us grow, please consider following on Instagram for even more free tips, and join our Private Facebook Group for access advice in-depth conversations with other like-minded women.